6 Recipes to Help You Eat More Vegetables at Every Meal
Did you get your recommended three cups of vegetables today? What about yesterday or the day before that? Chances are, probably not. Recently, the U.S. Department of Agriculture's Economic Research Service (ERS) evaluated what vegetables Americans are consuming and in what form they take their produce. On a typical day, the average American eats about 1.5 cups of vegetables, and almost half of that is in the form of potatoes or tomatoes. Only about 10 percent of the vegetables consumed were in the form of dark greens or bright orange options.
Not only are Americans missing out on vital nutrients, the ERS report notes when they do eat a vegetable, it is generally prepared in a manner that adds fat and sodium while reducing the fiber content. Potatoes are often eaten as chips or fries, and tomatoes come in the form of sauces for pasta and pizza. To make healthy changes, the ERS says many Americans will likely have to reconsider how they eat their vegetables. To up your vegetable intake and break out of the tomato-potato trend, here are six recipes with more than their fair share of vegetables.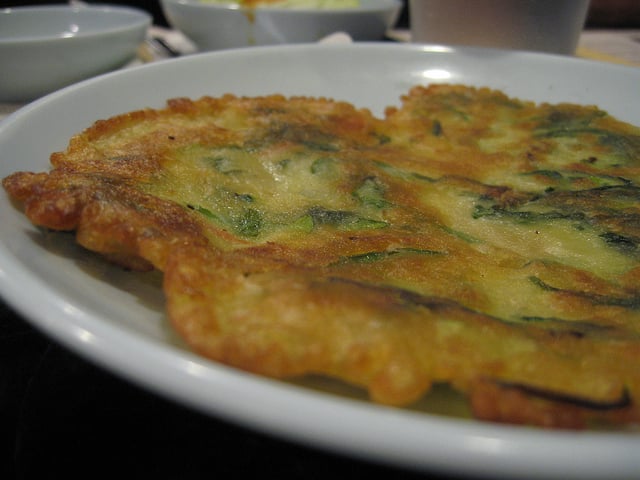 1. Vegetable Pancakes
Who says you can't have your cake and eat your vegetables, too? Certainly not Paula Deen, who gave her vegetable pancake recipe to the Food Network during an episode all about brunch.
Ingredients:
½ cup all-purpose flour
½ teaspoon baking powder
½ teaspoon salt
¼ teaspoon pepper
1 egg
¼ cup milk
1 cup grated carrots
1 cup grated zucchini
2 green onions, sliced
2 tablespoons oil
Directions: In a mixing bowl, stir together the flour, baking powder, salt, and pepper. In another bowl, beat together the egg, milk, carrots, zucchini, and onions. Add this to the dry ingredients and stir until combined.
Using a large skillet, heat 1 tablespoon of oil over medium heat. Pour the batter by tablespoons into the pan, making a few pancakes at a time. Cook about 2 minutes on each side until golden brown. Add the remaining oil to the pan as needed. Serve pancakes at once.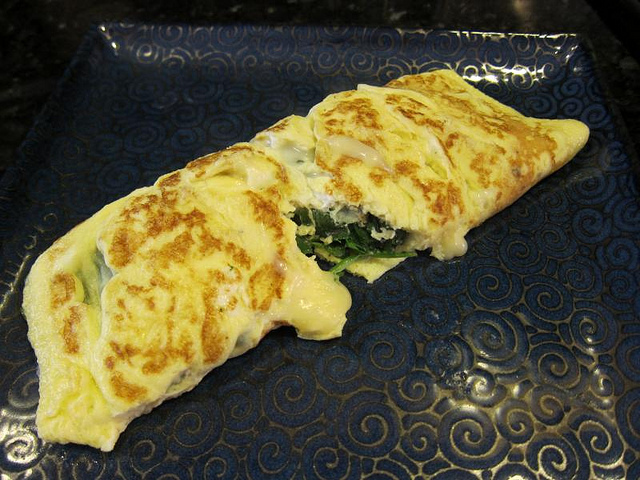 2. Rolled Omelettes
Leafy greens were one of the items highlighted in the ERS report, and you'll start your day off one step closer to this goal when you make Martha Stewart's rolled omelettes, which are filled with spinach. It will serve four, and instead of cooking your eggs on the stovetop, you'll bake them in the oven.
Ingredients:
olive oil, for pan
1 cup milk
⅓ cup all-purpose flour (spooned and leveled)
8 large eggs
1 tablespoon Dijon mustard
coarse salt and ground pepper
2 packages frozen chopped spinach, thawed and squeezed dry
1½ cups shredded cheddar (6 ounces)
Directions: Preheat oven to 350 degrees Fahrenheit. Brush a 10-by-15-inch rimmed baking sheet or jelly-roll pan with oil. Line bottom of pan with parchment, leaving a 1-inch overhang on the two shorter sides. Brush parchment with oil. In a bowl, whisk together milk and flour. Add eggs, mustard, 1 teaspoon salt, and 1 teaspoon pepper; whisk to combine. Pour into pan. Sprinkle spinach over top in an even layer. Bake until edges of omelet are set, 10-12 minutes. Sprinkle with cheddar; bake until cheese has melted, 2-4 minutes. Beginning at one shorter end, lift parchment and roll up omelet tightly, peeling back parchment as you go. Slice and serve.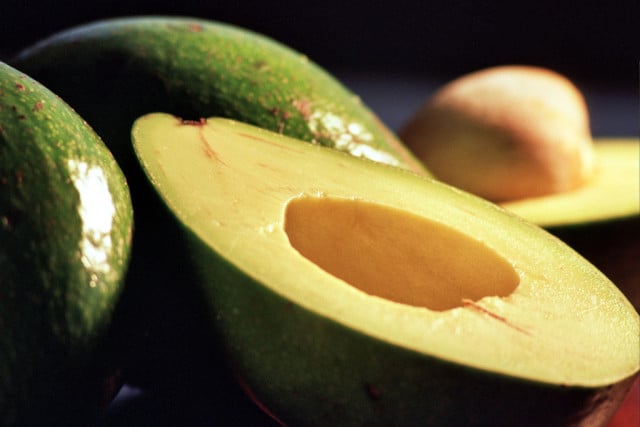 3. Avocado Mango Bruschetta
This recipe from Food.com can be snack, side, or breakfast (bruschetta is like toast, right?) and will bump up your fruit and veg intake for the day. The avocado-mango salsa will be creamy and sweet addition to any bread, so feel free to try it like that or in a wrap, too.
Ingredients:
18 ciabatta rolls or 18 slices baguette
2 tablespoons extra virgin olive oil, divided
1 avocado, ripe but firm (peeled, pitted, and diced)
1 cup diced fresh mango
¼ cup chopped red bell pepper
2 tablespoons snipped fresh basil
1 tablespoon lime juice
salt and freshly ground black pepper
Directions: Preheat oven to 400 degrees Fahrenheit; place bread slices on a baking sheet and brush with 1 tablespoon olive oil. Bake for 5-10 minutes to lightly toast. In a large bowl, lightly stir together remaining oil with all remaining ingredients, being careful to not mash avocado. Serve with toasted bread slices.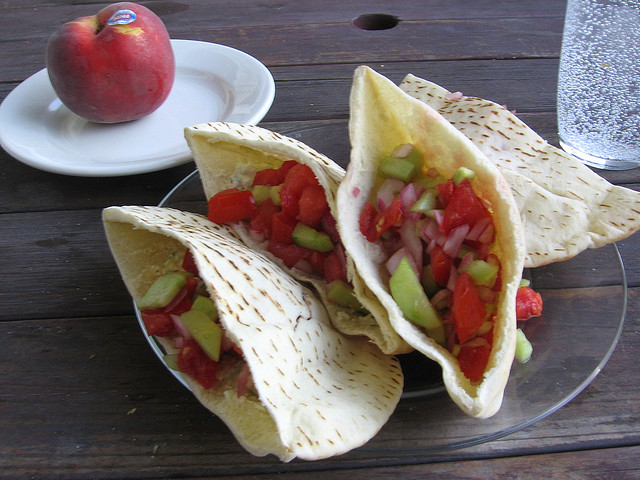 4. Hummus and Vegetable Stuffed Pita
According to the ERS report, raw vegetables were sometimes eaten, but most often vegetables were consumed in prepared dishes. With this recipe from Whole Foods, you'll still be "preparing" a dish, but by filling the pita pocket with raw vegetables, you're staying away from added fats and sodium.
Ingredients:
1 whole wheat pita bread, halved
½ cup hummus
⅓ cup lightly packed shredded lettuce or baby spinach
½ cup assorted raw vegetables such as halved cherry tomatoes, shredded carrots, sliced cucumbers, or avocados
Directions: Spread half of the hummus inside each pita half, then fill with lettuce and vegetables; serve.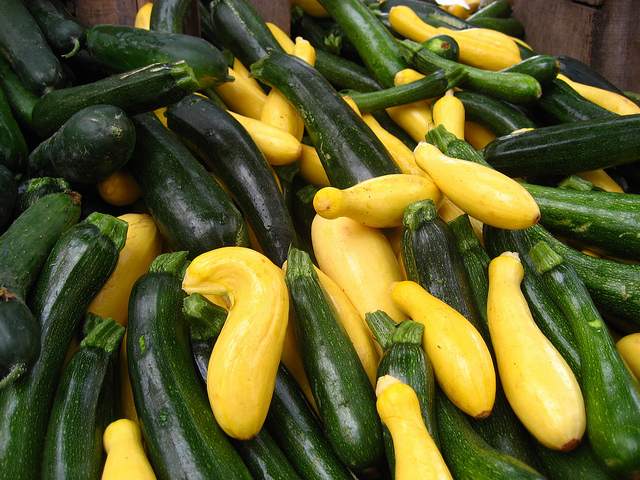 5. Vegetable Casserole
As a side dish for dinner tonight, make Food & Wine's vegetable casserole and see your daily intake tick way up. Made with fresh summer produce, it even includes the potatoes and tomatoes we love.
Ingredients:
extra-virgin olive oil, for drizzling
½ pound Yukon Gold potatoes, peeled and sliced ¼ inch thick
salt and freshly ground pepper
1 yellow bell pepper, thinly sliced
1 small onion, thinly sliced
1 large garlic clove, minced
1 teaspoon thyme leaves
½ pound plum tomatoes, sliced ¼ inch thick
2 small zucchini (½ pound), sliced on the diagonal ¼ inch thick
3 tablespoons freshly grated Parmigiano-Reggiano cheese
Directions: Preheat oven to 350 degrees Fahrenheit. Coat a 9-inch baking dish with olive oil. Spread the potatoes in the dish in an even layer; drizzle with oil and season with salt and pepper. In a bowl, combine the bell pepper, onion, garlic, and thyme, and season with salt and pepper. Arrange two-thirds of the bell pepper mixture over the potatoes and drizzle with oil. Top with the tomatoes and the zucchini; drizzle with oil and season with salt and pepper. Cover with the remaining bell pepper mixture and sprinkle with the cheese.
Cover the casserole with foil and bake for 40 minutes. Increase the oven temperature to 425 degrees Fahrenheit. Uncover the casserole and bake for about 20 minutes longer, until the vegetables are tender and glazed on top. Let stand for 10 minutes. Serve warm.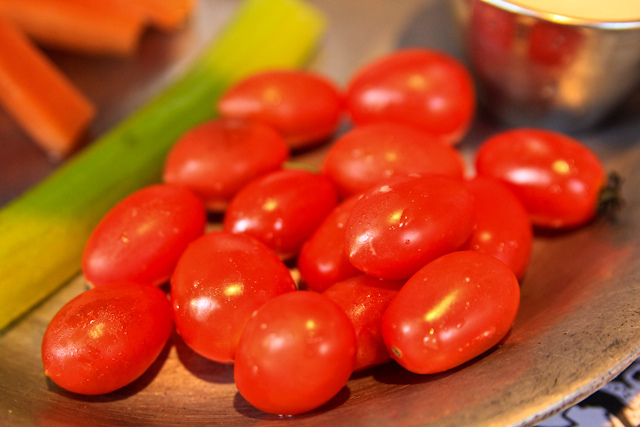 6. BLT Pasta
Another makeover to the usual way we get our vegetables comes from bacon, lettuce, and tomato pasta. Instead of in a sodium-filled sauce, the tomatoes shine on their own — along with a leafy green via arugula — in Real Simple's pasta dish.
Ingredients:
16 ounces rigatoni or penne
12 slices bacon
1 (7-ounce) package arugula leaves
1 pint grape or cherry tomatoes, quartered
¾ teaspoon kosher salt
¼ teaspoon black pepper
Directions: Cook the pasta according to the package directions. Drain and rinse under cold water. Transfer to a large bowl. Meanwhile, fry the bacon over medium heat in a large skillet until crisp. Transfer the bacon to a paper towel-lined plate. Spoon all but 1 tablespoon of the drippings into a small bowl; set aside.
Add the arugula to the skillet and stir until it wilts, 30-60 seconds. Transfer to the pasta bowl. Add the tomatoes and ½ tablespoon of the reserved drippings to the skillet and cook for 2 minutes. Transfer the tomatoes to the pasta bowl and toss. If the pasta seems dry, add up to 1½ tablespoons more of the drippings. Crumble the bacon over the top, season with the salt and pepper, and toss.
More From Wall St. Cheat Sheet: