6 Recipes Turning Fatty Fall Favorites Into Healthy Dishes
As the temperature drops, many of us turn to our fall favorites to keep us warm. Unfortunately, your savory stuffing, palatable pot pies, and marvelous mashed potatoes are often packed with calories, fat, and sodium. The good news? Comfort foods don't have to be unhealthy in order to be delicious. With these 6 recipes, you can easily prepare more nutritious versions of your favorite fall foods to indulge in, guilt-free.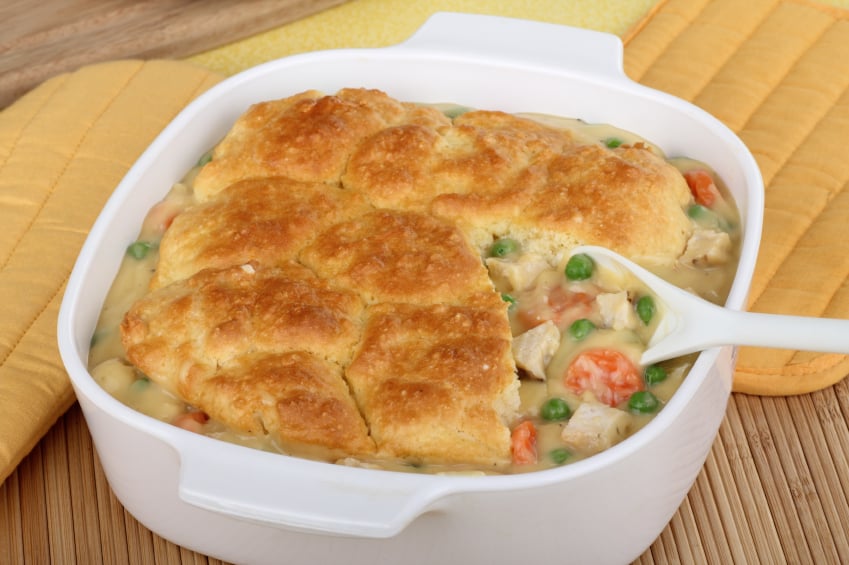 1. Light Chicken Pot Pie
Pot pie is a comfort food that can do a lot of damage to your diet. Web MD warns that an individual chicken pot pie from the Boston Market contains 780 calories, 47 grams of fat, and 17 grams of saturated fat. But why eat a high-calorie, fat-riddled dish when you can enjoy a healthier version that tastes just as good? Food Network's recipe yields 6 servings, with each containing 482 calories, 19 grams of fat, and 8 grams of saturated fat.
Ingredients:
Crust
1 cup all-purpose flour, plus more for dusting
¼ teaspoon baking powder
¼ teaspoon fine salt
4 tablespoons cold unsalted butter, cut into small pieces
1 large egg
2 tablespoons 2 percent milk
Filling
2 small Russet potatoes
4½ cups low-sodium chicken broth
5 medium carrots, cut into large chunks
1 to 2 teaspoons chopped fresh thyme
2 tablespoons extra-virgin olive oil
1 large onion, finely diced
3 tablespoons all-purpose flour
⅓ cup 2 percent milk
3 stalks celery, sliced
3 cups shredded rotisserie chicken, skin removed
½ cup fat-free plain Greek yogurt
1 cup frozen peas
½ cup minced fresh parsley
Kosher salt and freshly ground pepper
Directions: To prepare the crust, pulse the flour, baking powder, and salt in a food processor until combined. Add the butter, one piece at a time, pulsing until the mixture looks like coarse meal. Separate the egg; refrigerate the egg white. Beat the egg yolk and milk in a bowl, then add to the food processor, pulsing until the dough comes together. Turn out onto a lightly floured surface and gather into a ball. Flatten into a disk, wrap in plastic wrap, and chill at least 1 hour. Meanwhile, make the filling. Preheat oven to 425 degrees Fahrenheit. Prick the potatoes with a fork and bake directly on the oven rack until tender, about 45 minutes.
Cool slightly, then peel and break into small pieces. Bring the chicken broth, carrots, and thyme to a simmer in a small saucepan over medium heat and cook 2 minutes; cover and keep warm. Meanwhile, heat the olive oil in a large pot over medium heat. Add the onion and cook until soft, about 8 minutes. Sprinkle in the flour and stir until lightly toasted, about 3 minutes. Add the milk, celery, potato pieces, and warm broth mixture, and simmer until thickened, about 15 minutes.
Remove from the heat and stir in the chicken, yogurt, peas, and parsley. Season with salt and pepper. Transfer the filling to a 2-quart casserole dish. Roll out the dough on a lightly floured surface until about ½ inch thick and slightly larger than the dish. Beat the reserved egg white in a bowl; brush over the dough and season with salt and pepper. Press the dough against the sides of the dish. Place on a baking sheet and bake until the crust is golden brown, 20 to 25 minutes.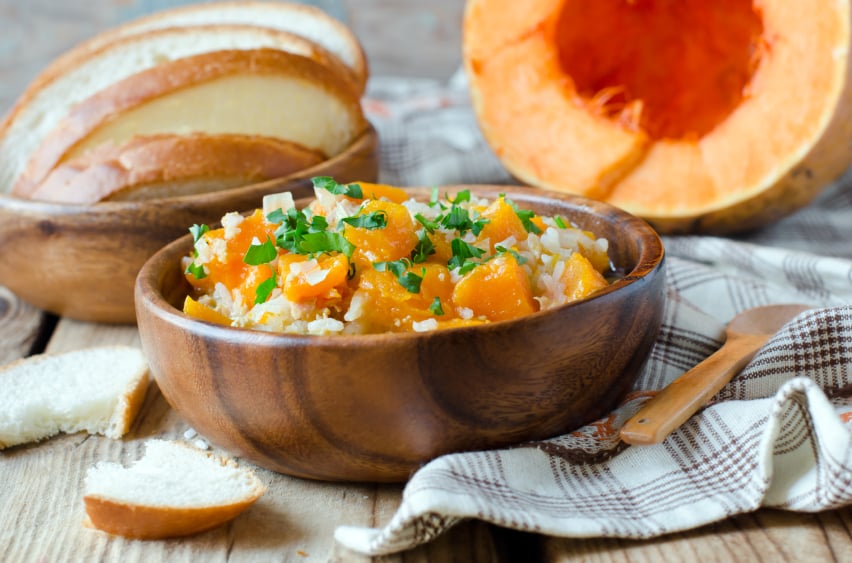 2. Chicken and Butternut Squash Quinoa Stew
Is there anything better than sitting down to a hearty bowl of stew on a cool autumn day? It may not seem as comforting, though, when you discover it is packed with fatty meat and unwanted sodium. Instead, try Mel's Kitchen Cafe's recipe via Yummly, which is both filling and nutritious. The recipe yields 6 servings, with each containing 300 calories, 8 grams of fat, and 290 milligrams of sodium.
Ingredients:
1 tablespoon extra-virgin olive oil
1 medium yellow onion, finely chopped
1½ teaspoons dried oregano
4 cloves garlic, finely minced
4 cups low-sodium chicken broth
1½ pounds boneless, skinless chicken thighs or chicken breasts
1 can (14 ounces) petite or regular diced tomatoes
3 cups chopped butternut squash (about 1 medium squash, peeled and seeded)
⅔ cup uncooked quinoa
½ teaspoon salt
½ teaspoon black pepper
1 to 2 cups chopped fresh spinach
Directions: In a large 4-quart pot, heat the olive oil until hot. Add the chopped onions, oregano, and garlic. Saute for 5 to 7 minutes, stirring often, until the onion is softened. Add the broth and bring to a boil. Add the chicken and boil until the chicken is cooked, 7 to 9 minutes. Remove the chicken to a plate. Add the tomatoes, butternut squash, and quinoa.
Simmer for 15 minutes, until the squash is tender and quinoa is cooked. If desired, scoop out some of the squash, mash it, and return it to the pot. Shred the cooked chicken and return to the pot. Add the salt and pepper, adding more salt to taste, if needed. Stir in the spinach. Cook 1 to 2 minutes, until the spinach is wilted. Serve warm.
3. Autumn's Hearty Low-Fat 3 Bean Chili
Chili is the perfect cold-weather comfort food: It's hearty, delicious, and satisfying. But it's also typically packed with unwanted saturated fat. To cut down on the fat, EatingWell recommends filling your chili with beans, rather than meat, which creates a fiber-packed, nutrient-rich dish. SparkRecipes' chili makes for a delicious dinner and is also perfect for potlucks. The recipe yields 8 servings, with each containing 195 calories and 2.7 grams of fat.
Ingredients:
1 pound extra-lean ground beef
1 green bell pepper
1 red bell pepper
1 medium white onion
Cumin
Chili powder
Oregano
Basil
Black pepper
3 (15-ounce) cans diced tomatoes
1 (15-ounce) can stewed tomatoes
1 can black beans
1 can great northern beans
1 can light red kidney beans
Directions: Brown beef and set aside. Place beans in a strainer and rinse thoroughly. In a big pot, combine all other ingredients. You can adjust seasoning to your preference. Add cooked beef. Stir in the beans. Let cook on medium low for 30 to 40 minutes, until the peppers are tender.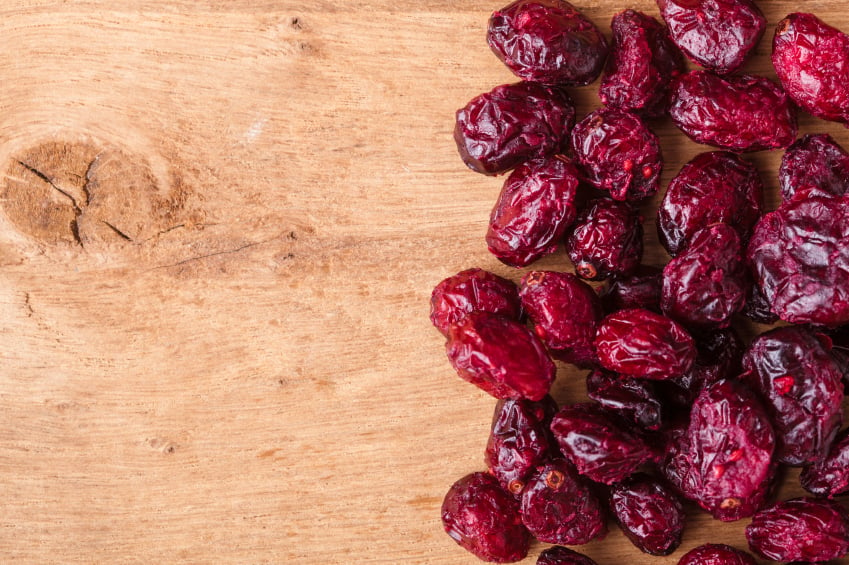 4. Bulgur Stuffing with Dried Cranberries and Hazelnuts
Stuffing may seem harmless, but it is often loaded with calories and fat. Fitness Together warns that gravy-covered stuffing that's made with butter and sausage can often contain more than 500 calories per serving. Instead, try EatingWell's recipe, a healthy version of the fall favorite that yields 10 servings and contains 210 calories and 7 grams of fat.
Ingredients:
1 tablespoon extra-virgin olive oil
3 cups chopped onions (2 large)
1 cup chopped celery, (2 to 3 stalks)
1 clove garlic, minced
½ teaspoon ground cinnamon
¼ teaspoon ground allspice
2 cups bulgur, rinsed
3 cups reduced-sodium chicken broth
1 bay leaf
¼ teaspoon salt, or to taste
⅔ cup dried cranberries
¼ cup orange juice
⅔ cup chopped hazelnuts (2 ounces)
½ cup chopped fresh parsley
Freshly ground pepper, to taste
Directions: Heat oil in a Dutch oven over medium heat. Add onions and celery; cook, stirring often, until softened, 5 to 8 minutes. Add garlic, cinnamon, and allspice; cook, stirring, for 1 minute. Add bulgur and stir for a few seconds. Add broth, bay leaf, and salt; bring to a simmer. Reduce heat to low, cover and simmer until the bulgur is tender and liquid has been absorbed, 15 to 20 minutes. Meanwhile, combine dried cranberries and orange juice in a small microwave-safe bowl.
Cover with vented plastic wrap and microwave on high for 2 minutes. Alternatively, bring dried cranberries and orange juice to a simmer in a small saucepan on the stovetop and remove from heat. Set aside to plump. Toast hazelnuts in a small, dry skillet over medium-low heat, stirring constantly, until light golden and fragrant, 2 to 3 minutes. When the bulgur is ready, discard the bay leaf. Add the cranberries, toasted hazelnuts, parsley and pepper; fluff with a fork.
5. Cauliflower Mashed Potatoes with Mushroom Gravy
A bowl of creamy mashed potatoes and gravy will quickly derail any diet. Rather than filling up on this fatty dish, prepare a similar side that's filled with nutritious and wholesome ingredients. Minimalist Baker's recipe is vegan, heart-healthy, and contains three servings of vegetables. It yields 4 servings and contains 277 calories and 10 grams of fat.
Ingredients:
4 ounces white or cremini mushrooms
2 tablespoons plus 1 tablespoon vegan butter, separated
1 tablespoon minced shallot
1 cup veggie stock
2 heaping tablespoons unbleached all-purpose flour
Pinch each salt, pepper, and dried or fresh thyme, chopped
5 red-skin potatoes, washed and scrubbed
⅓ head cauliflower, chopped
Directions: In a large saucepan, cover potatoes with water and bring to a boil. Reduce heat to a low boil and cook until a knife inserted slides off easily. In the meantime, add the cauliflower to a strainer or veggie steamer and place on top of the potatoes in the saucepan to cook at the same time. Cover with a lid to steam. Once both are soft and cooked through, transfer to a bowl and mash with a potato masher, adding salt and pepper and 1 tablespoon of vegan butter to season.
Set aside and cover to keep warm. In skillet over medium to medium-high heat, melt the vegan butter. Add the shallot and mushroom and cook for 10 minutes, stirring frequently. Cook until the mushrooms are soft and brown, and most of their liquid is evaporated. Stir in the flour with a whisk and reduce heat to medium. Cook for another minute or two. Slowly add veggie broth while whisking to reduce clumps.
Then add in the thyme and whisk again. Reduce heat to simmer and continue to stir until it reaches desired thickness, about 5 to 10 minutes. If it appears too thin, add a touch more flour and whisk. If it's too thick, add more broth. Season with salt and fresh ground black pepper to taste. Serve over cauliflower mashed potatoes. Store leftovers in the fridge in an airtight container for up to a few days.
6. Oatmeal Pecan Pie
Pecan pie is one of the worst fall foods for your waistline. "I personally love pecan pie, but it's one of the highest calorie pies there is," Jessica Hoffman, a dietitian, told PennLive. This isn't the case for CookingLight's oatmeal pecan pie, however, which is packed with heart-healthy nuts and oats. The recipe yields 12 servings, and each contains 311 calories and 11.3 grams of fat.
Ingredients:
½ (15-ounce) package refrigerated pie dough
Cooking spray
1 cup packed dark brown sugar
1 cup light corn syrup
⅔ cup regular oats
½ cup chopped pecans
2 tablespoons butter, melted
1 teaspoon vanilla extract
¼ teaspoon salt
2 large eggs, lightly beaten
2 large egg whites, lightly beaten
Directions: Preheat oven to 325 degrees Fahrenheit. Roll dough into an 11-inch circle. Fit into a 9-inch pie plate coated with cooking spray. Fold edges under; flute. Combine brown sugar and remaining ingredients, stirring well with a whisk. Pour into prepared crust. Bake at 325 degrees for 50 minutes, or until center is set. Cool completely on a wire rack.
More from Life Cheat Sheet:
Want more great content like this? Sign up here to receive the best of Cheat Sheet delivered daily. No spam; just tailored content straight to your inbox.