6 Savory Sandwich Recipes for Summer
Whether you're looking for a tasty sandwich to take on a picnic or just want to use some of the season's fresh vegetables, these 6 recipes are simply mouthwatering. The best part about sandwiches? There is hardly any preparation to them, ensuring you have a fast, tasty meal any time of the day. Ready to take advantage of summer's flavorful ingredients? Try out one (or all) of these delectable recipes.
1. Open-Face Avocado and Goat Cheese Sandwiches
Fresh lemon juice, soft goat cheese, ripe avocados, and delicious baguettes create a mouthwatering sandwich. By using fresh vegetables and flavorful seasonings, this Saveur recipe is summer perfection. The recipe yields 6 servings.
Ingredients:
3 tablespoons fresh lemon juice
1 tablespoon freshly cracked black pepper
Salt
¼ cup extra-virgin olive oil
4 ounces soft goat cheese
⅛ teaspoon finely ground black pepper
4 ripe avocados
Tabasco
6 small baguettes, halved and lightly toasted
Tomato slices
Cucumber slices
Directions: Put 1 tablespoon of the lemon juice, cracked black pepper, and salt to taste into a bowl; stir well. While whisking constantly, drizzle in olive oil to form a dressing; set aside. Put goat cheese, remaining 2 tablespoons of lemon juice, finely ground black pepper, the flesh from the avocados, and a few dashes of Tabasco into a bowl. Lightly mash with a fork; season with salt to taste. Divide avocado mixture between the 12 baguette halves and spread to cover each. Transfer baguettes to baking sheet and broil until just warmed through, 1 to 2 minutes. Top the baguette halves with tomato and cucumber slices, in any arrangement you wish. Drizzle some of the cracked pepper dressing onto each. Serve immediately.
2. Turkey Caprese Sandwich
A grilled turkey cutlet combined with fresh veggies and a rustic ciabatta roll creates a delectable and savory summer sandwich. Martha Stewart's easy-to-make recipe yields 1 serving and is a great go-to for weekend picnics.
Ingredients:
Ciabatta roll, split
Olive oil
1 thin turkey cutlet
Coarse salt and ground pepper
Mozzarella, thickly sliced
Tomato, sliced
Fresh basil leaves
Directions: Heat a grill or grill pan to medium-high. Brush split roll with oil and toast on grill. Season turkey with salt and pepper, brush with oil, and grill until cooked through. Layer mozzarella, tomato, and turkey on bottom half of roll; add basil. Sandwich with the top half of roll.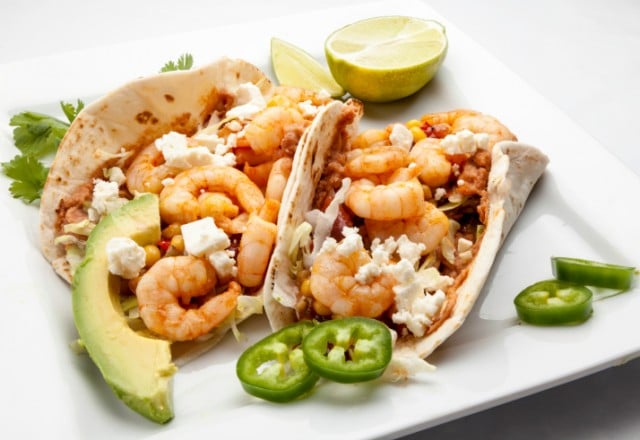 3. Shrimp Taco Pockets
A perfect lunch or dinner option, Good Housekeeping's Mexican-inspired sandwich is light, refreshing, and flavorful. Rather than using traditional taco shells, this recipe, which yields 4 servings, calls for pita pockets, putting a unique spin on an already delicious dish. Each serving yields 400 calories and 8 grams of fat.
Ingredients:
12 ounces (26- to 30-count) medium shrimp, cooked and peeled
½ cup salsa verde
½ cup pickled jalapeños, drained and finely chopped
¼ cup sour cream
1 ½ cup romaine lettuce
1 cup (from 1 ear corn) fresh corn kernels
1 small (6-ounce) orange pepper, chopped
1 small (4-ounce) tomato, chopped
¼ cup cilantro leaves, plus additional for garnish
4 pita breads, cut in half
½ cup queso fresco or mild feta cheese, crumbled
Directions: In medium bowl, toss shrimp with salsa. In large bowl, mix jalapeños and sour cream. Add romaine, corn, pepper, tomato, and cilantro. Toss until well-coated. Open each pita pocket. Divide shrimp and vegetable mixtures among pitas. Top with cheese and garnish with cilantro. Serve immediately.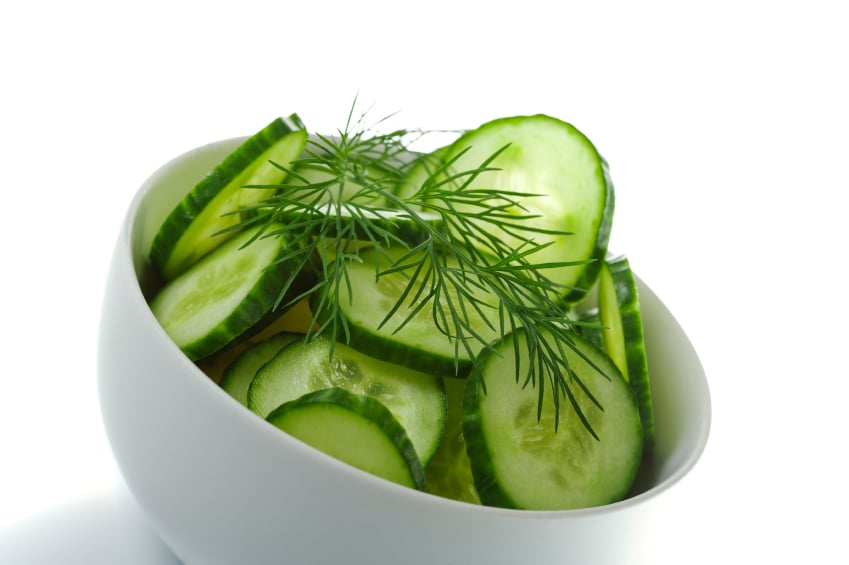 4. California Club Sandwiches
Multigrain bread, Dijon mustard, alfalfa sprouts, goat cheese, fresh cucumber, avocado, and bell pepper create a filling and nutritional sandwich. Prevention's recipe, which yields 2 servings, contains 286 calories and 12 grams of fat in each.
Ingredients:
4 slices country-style multigrain bread
1 ½ teaspoon Dijon mustard
½ cup thinly sliced cucumber
½ medium avocado, halved, pitted, peeled, and sliced
½ jarred roasted red bell pepper, drained and halved
1 ounce soft goat cheese, crumbled
½ cup alfalfa sprouts
Directions: Place 2 slices of the bread on a work surface. Spread one side of each with mustard. Divide cucumber, avocado, roasted pepper, cheese, and sprouts evenly among bread slices. Close sandwiches with remaining bread slices. Cut each in half.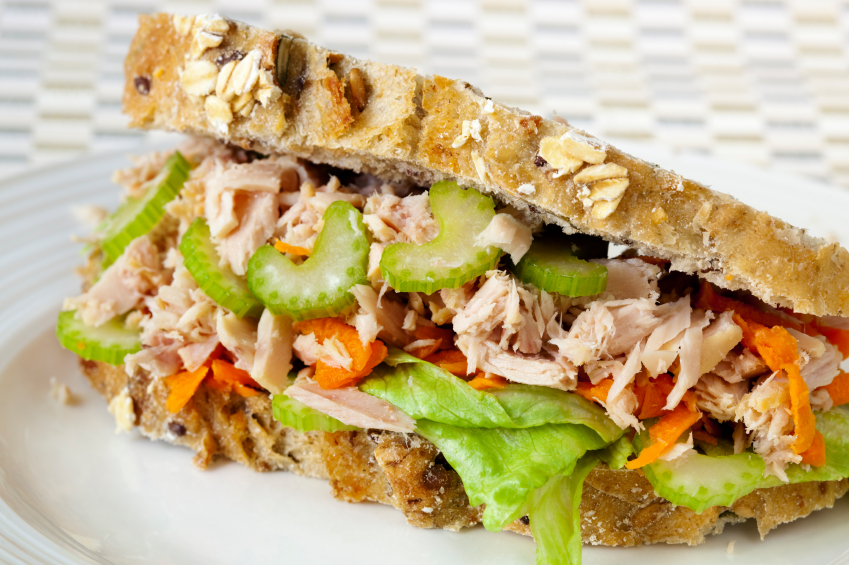 5. Garden Tuna Salad Sandwich
Each bite of Country Living's sandwich will be a tasty treat. There are plenty of fresh flavors in this recipe, which yields 6 servings, including tart, crunchy apple, and crisp, spicy fennel. Each sandwich contains 310 calories and 14 grams of fat.
Ingredients:
15 ounces solid light canned tuna, drained
½ cup chopped fennel
½ Granny Smith apple, cored and chopped
⅓ cup mayonnaise
1 tablespoon parsley vinaigrette
1 tablespoon lemon juice
1 ½ teaspoon fennel seeds
1 teaspoon ground coriander
1 teaspoon lemon zest
½ teaspoon sea salt
6 split hot dog rolls
6 Boston lettuce leaves
Directions: Combine the tuna, fennel, apple, mayonnaise, vinaigrette, juice, fennel seeds, coriander, zest, and salt and toss well. Line each roll with a lettuce leaf. Spoon ½ cup tuna salad onto each sandwich. Serve immediately.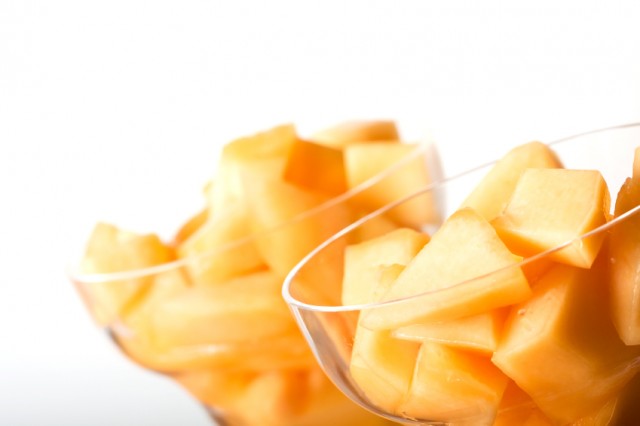 6. Summer Tea Sandwiches 
Whether you're headed to a summer picnic or having a casual get-together, Taste of Home's Summer Tea Sandwiches are an excellent choice. Mouthwatering flavors range from tarragon-seasoned chicken to fresh cucumbers to sweet cantaloupe. This recipe yields 12 servings, with 2 sandwich halves containing 212 calories and 6 grams of fat.
Ingredients:
½ teaspoon dried tarragon
½ teaspoon salt, divided
¼ teaspoon pepper
1 pound boneless, skinless chicken breast
½  cup reduced-fat mayonnaise
1 tablespoon finely chopped red onion
1 teaspoon dill weed
½ teaspoon lemon juice
24 slices soft multigrain bread, crusts removed
1 medium cucumber, thinly sliced
¼ medium cantaloupe, cut into 12 thin slices
Directions: Combine the tarragon, ¼ teaspoon salt and pepper; rub over chicken. Place on a baking sheet coated with cooking spray. Bake at 350 degrees Fahrenheit for 20 to 25 minutes or until a thermometer reads 170 degrees Fahrenheit. Cool to room temperature; thinly slice. In a small bowl, combine the mayonnaise, onion, dill, lemon juice, and remaining salt; spread over 12 bread slices. Top with cucumber, chicken, cantaloupe, and remaining bread. Cut sandwiches in half diagonally.
 More From Life Cheat Sheet:
Want more great content like this? Sign up here to receive the best of Cheat Sheet delivered daily. No spam; just tailored content straight to your inbox.