6 Savory Waffles Your Tastebuds Will Relish
Having breakfast for dinner doesn't have to mean you're eating something sweet. Come to think of it, breakfast doesn't have to be sweet either. Either can be made savory. So put that powdered sugar back in the pantry; you won't be sprinkling it on any of the following six waffles.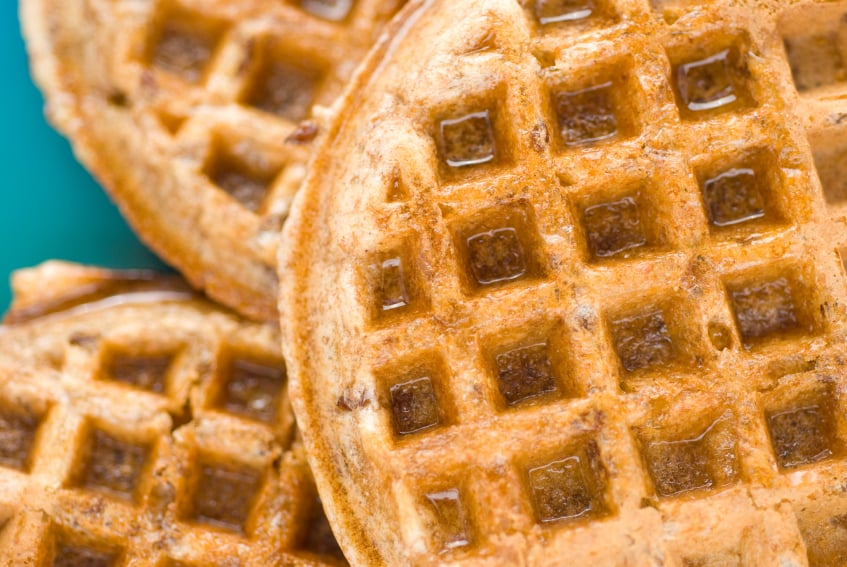 1. Gouda Waffles
Gouda cheese is described as smooth and light by Wisconsin Cheese, and because it melts so well, the buttery taste will easily find its way into the nooks and crannies of Relish's waffles. A hint of applesauce will keep your waffles moist, and it yields five servings.
Ingredients:
1 cup all-purpose flour
½ cup whole-wheat flour
2 teaspoons baking powder
½ teaspoon salt
3 eggs, beaten
1½ cups 2 percent reduced-fat milk
½ cup unsweetened applesauce
1 tablespoon canola oil
3 ounces Gouda cheese, shredded
Directions: Combine flours, baking powder and salt in a large bowl. Whisk together eggs and milk. Add applesauce and oil; stir to combine. Pour into dry ingredients and stir until just moistened. Fold in cheese.
Coat a preheated waffle iron with nonstick cooking spray. Pour about ¾ cup batter onto hot waffle iron. Close the waffle iron lid and cook until golden brown and cooked through. Makes five (7-inch) waffles.
2. Cheddar Waffle BLT
Turn your savory waffle into a sandwich with Chow.  Shredded Irish cheddar cheese was used, a product manufacturer Kerrygold describes as nutty and a little sweet in taste. A Belgian waffle maker is not recommended, and it yields six sandwiches.
Ingredients:
Waffles
12 thick-cut bacon slices (about 1 pound)
3 tablespoons melted unsalted butter, as needed
2 cups all-purpose flour
2 teaspoons baking powder
1½ teaspoons kosher salt
2 large eggs
2 cups whole milk
2 cups shredded Irish cheddar cheese (about 4 ounces), such as Dubliner
Assembly
2 tablespoons unsalted butter
6 large eggs
Kosher salt
Freshly ground black pepper
6 tablespoons mayonnaise
2 medium tomatoes, thinly sliced crosswise
12 romaine lettuce leaves
Directions: Heat the oven to 425 degrees Fahrenheit and arrange a rack in the middle. Arrange the bacon in a single layer on a rimmed baking sheet and bake until browned and crisp, about 20 to 25 minutes. Remove to a large, paper-towel-lined plate; set aside. Carefully pour the bacon fat from the baking sheet into a heatproof measuring cup—you will need ½ cup. If you don't have enough bacon fat, add the melted butter as needed. Reduce the oven temperature to 225 degrees Fahrenheit.
Whisk together the flour, baking powder, and salt in a large bowl to aerate and break up any lumps; set aside. Place the eggs in a second large bowl and whisk until just broken up. Add the milk and, while whisking, slowly pour in the bacon fat or melted butter until evenly combined. Add the cheese and stir until combined.
Add the milk-cheese mixture to the flour mixture and stir with a rubber spatula until the flour is just incorporated and no streaks, but potentially a few lumps, remain; set aside.
Heat a waffle iron to medium according to the manufacturer's instructions. Fill it with batter, close the lid, and cook until the waffle is golden brown. Transfer directly to a rack in the oven to keep warm. Repeat with the remaining batter until you have twelve waffles, placing the cooked waffles in a single layer on the rack in the oven.
To assemble, melt 1 tablespoon of the butter in a large nonstick frying pan over medium heat until foaming, about 2 to 3 minutes. Swirl the butter in the pan until the bottom is evenly coated. Add three of the eggs, season with salt and pepper, and fry undisturbed until the whites are set and starting to brown on the edges but the yolks are still runny, about 4 to 5 minutes. (The egg whites will be fully cooked, so no need to flip the eggs over.) Remove to a large plate. Repeat with the remaining butter and eggs.
Spread the mayonnaise on half of the waffles and top each with a fried egg. Divide the tomato and lettuce over the eggs, top with the bacon slices, and close with the remaining waffles. Cut each sandwich in half and serve.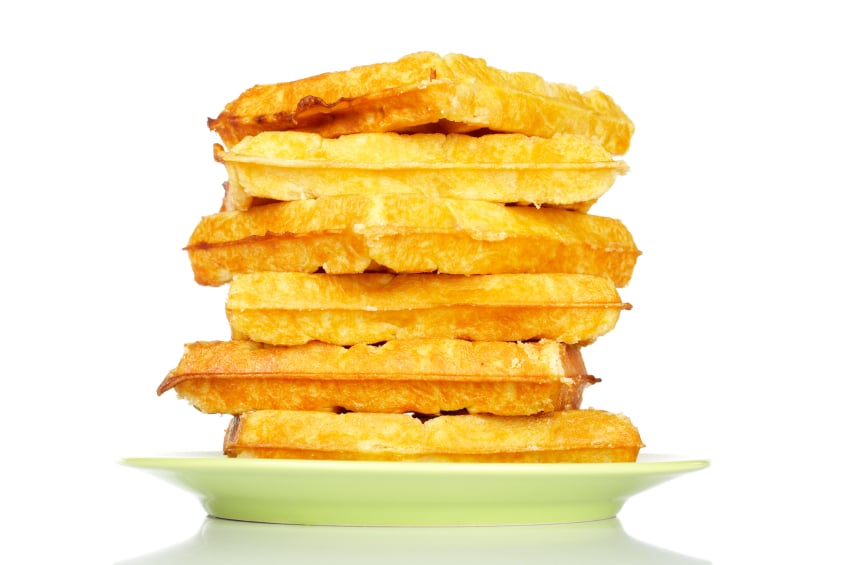 3. Crunchy Cornmeal Waffles
The first take on cornmeal waffles comes from King Arthur Flour. Topped off with melted cheeses and spinach–a chili con queso–the robustly flavored waffles will make a savory impact on your tastebuds. Chili would also be a fantastic pairing for the crunchy waffles.
Ingredients:
1¾ cups buttermilk
2 eggs
5 tablespoons butter, melted and cooled or ⅓ cup vegetable oil
1½ cups all purpose flour
1 cup yellow cornmeal
2 tablespoons sugar
2 teaspoons baking powder
1 teaspoon baking soda
1 teaspoon salt
2 tablespoons minced fresh chives; if using dry, use 3 tablespoons
2 to 3 teaspoons ground cumin
1 teaspoon ground chipotle pepper, or ¼ teaspoon hot pepper sauce
3 tablespoons dried tomato or bell pepper flakes
Chili Con Queso
½ cup prepared salsa
8 ounces cream cheese
1 cup grated Monterey Jack cheese
1 bunch scallions, sliced (about ¼ cup)
10-ounce package frozen, chopped spinach, defrosted and squeezed dry
Directions: To make the waffles, in a medium-sized mixing bowl, whisk together the buttermilk, eggs and melted butter or oil. In a separate bowl, blend together the dry ingredients, then quickly and gently combine the wet and dry ingredients. Let the batter sit for 10 minutes, to allow the cornmeal to soften. Drop the batter by ⅓-cupfuls onto a hot waffle iron, and bake until the waffle iron stops steaming. Yield: about ten 8-inch round waffles.
For the chili con queso, heat together, over low heat, the salsa, cream cheese and grated cheese, cooking and stirring until the mixture is smooth. Stir in the chopped spinach and scallions. Serve in a fondue pot or chafing dish to keep the mixture fluid; it'll thicken as it cools. Refrigerate any leftover sauce; it makes a wonderful dip for tortilla chips, or spread for a wrap sandwich.
4. Savory Cornmeal Waffles
The second way to make a savory cornmeal waffle is from Cuisinart and is not quite as spicy–unless you're heavy handed with the hot sauce. Serve your ten savory waffles with a side of bacon, ham, sausage, or eggs.
Ingredients:
1¼ cups all-purpose flour
1 cup cornmeal (yellow or white)
1 tablespoon granulated sugar
1 tablespoon baking powder
½ teaspoon baking soda
¼ teaspoon salt
3 ounces shredded sharp cheddar cheese (about ¾ cup)
2 tablespoons chopped fresh chives
1¾ cups reduced fat milk
6 tablespoons vegetable oil
2 large eggs
3-5 dashes hot sauce, such as Tabasco
Directions: Place flour, cornmeal, sugar, baking powder, baking soda, and salt in a large mixing bowl; stir to combine. Add shredded cheddar and chopped chives; stir. Place the milk, oil, eggs, and hot sauce a separate bowl; stir with a whisk to blend. Add to the dry ingredients and stir until smooth. Let batter rest 5 minutes before using. Preheat your waffle iron to medium according to the instructions.
Pour ⅓ cup batter just a little behind the center of the lower grid; allow batter to spread towards edges for 5 seconds. Close lid of waffle iron – green indicator light will turn off. When green indicator light turns on again, waffle is ready. Open lid and carefully remove baked waffle. Repeat with remaining batter. For best results, serve immediately. You may keep waffles warm until ready to serve in a 200 degree Fahrenheit oven.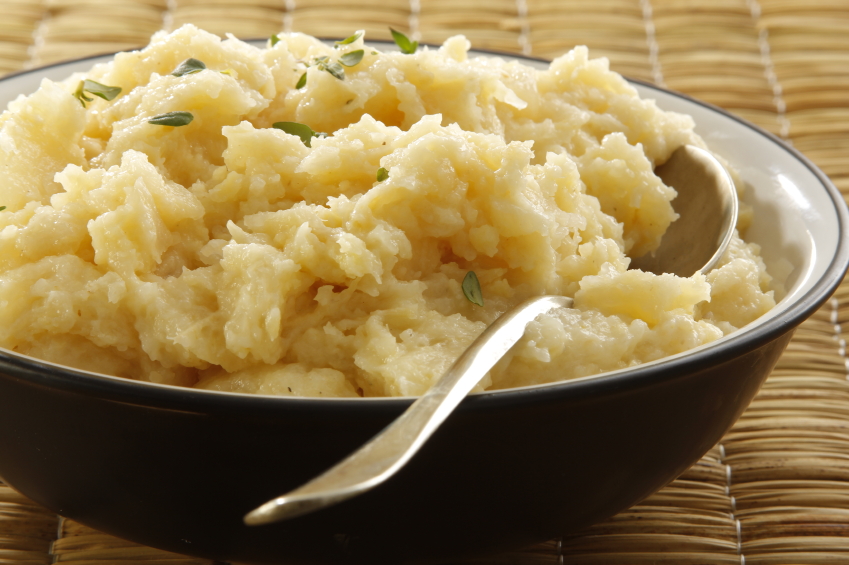 5. Potato Waffles
Comparable to potato pancakes, the potato waffles from AllRecipes.com will make last night's side into the main attraction the following day. Using 2 cups worth of mashed potatoes, make this delicious and practical dish when you need a new way to eat your potatoes. It yields about four servings.
Ingredients:
2 tablespoons butter
1 onion, chopped
1 tablespoon minced garlic
2 cups mashed potatoes
¼ cup all-purpose flour
2 eggs
¼ teaspoon salt
¼ teaspoon ground black pepper
Directions: Melt butter in a skillet over medium heat. Cook and stir onion and garlic in the melted butter until onion is tender, 5 to 7 minutes. Preheat a waffle iron according to manufacturer's instructions. Combine onion mixture, mashed potatoes, flour, eggs, salt, and black pepper in a large bowl until well blended. Scoop 1/4 to 1/2 cup batter (depending on size of waffle iron) into the center of waffle iron and close lid. Cook until golden brown, 3 to 5 minutes.
6. Savory Cheese Waffles
Double up on cheese, savoriness, and flavor with Linton Hopkins's recipe for Martha Stewart. The measurements for buttermilk are inexact, because you will start with 1½ cups, increasing as need be until the batter achieves a pudding-like consistency. When Hopkins serves the waffles at his Atlanta restaurant, he opts for a side of tomato soup.
Ingredients:
2 cups all purpose flour
1½ teaspoons baking powder
1 teaspoon baking soda
2 large eggs
1½ to 2½ cups whole buttermilk
5 tablespoons unsalted butter, melted
¾ cup grated Parmesan cheese
¾ cup grated Gruyere cheese
1 teaspoon sugar
Pinch of coarse salt
Freshly ground black pepper
Directions: Sift together flour, baking powder, and baking soda three times; set aside. In a medium bowl, whisk together eggs, 1½ cups buttermilk, and butter until well combined. Add flour mixture and whisk until smooth. Batter should have a pudding-like consistency. If necessary, add more buttermilk, ¼ cup at a time, until pudding-like consistency is reached. Stir in cheese, sugar, and salt; season with pepper.
Preheat a waffle iron. Add ¼ to ½ cup batter to heated waffle iron; close and cook until dark golden brown, 5 to 6 minutes, depending on your waffle iron. Repeat process with remaining batter and serve immediately.
More from Life Cheat Sheet:
Want more great content like this? Sign up here to receive the best of Cheat Sheet delivered daily. No spam; just tailored content straight to your inbox.