6 Scrumptiously Sweet Cannoli Recipes
There's nothing better than biting into a crispy, crunchy cannoli shell that's stuffed with a rich, creamy filling. Cannoli are truly divine desserts that can easily be made by bakers of every skill level. Whether you're craving caramel, chocolate or your basic cannoli, you no longer need to wait for your next trip to the bakery to enjoy this scrumptious sweet. Read on to discover which of these 6 cannoli recipes you'd like to prepare first.
1. Basic Cannoli Recipe
Novice bakers need not be intimidated by the thought of making a cannoli. Food Republic's recipe, which yields 18 cannoli, only requires five ingredients and uses pre-baked cannoli shells. This is an easily made and delicious dessert.
Ingredients:
1 (32-ounce) container part-skim ricotta cheese
¾ cup confectioners' sugar
1 teaspoon vanilla extract
1 cup mini chocolate chips
18 to 24 cannoli shells, pre-baked
Directions: In a medium bowl, stir together the ricotta cheese, confectioners' sugar, vanilla extract, and chocolate chips. Turn a resealable plastic storage bag inside out and spoon filling into one end. Carefully turn the bag right side out and snip a small hole in the end containing filling. To pipe into shells, start from the center of the shell outward to one end and repeat on opposite side. Dust with additional confectioners' sugar for garnish, if desired.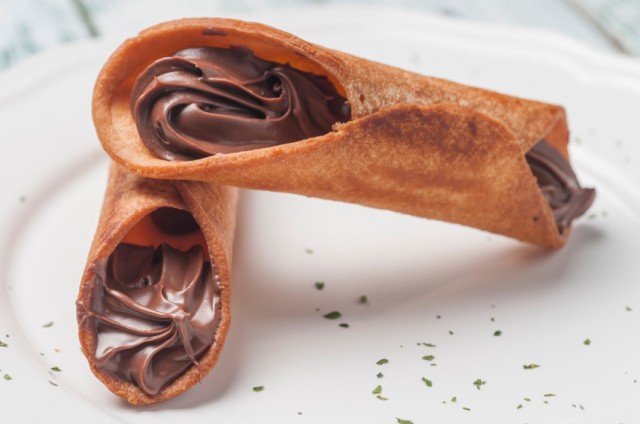 2. Chocolate Cannoli
Here's another easy-to-prepare cannoli recipe, but this one brings in a tasty chocolate element. This Better Homes and Gardens recipe, via Recipe.com, yields 12 servings and calls for oh-so-sweet ingredients such as cocoa, semisweet chocolate, and powdered sugar.
Ingredients:
2 cups ricotta cheese
¼ cup granulated sugar
4 teaspoons unsweetened cocoa powder
1 teaspoon vanilla
¼ cup miniature semisweet chocolate pieces
12 purchased cannoli cones
Powdered sugar
Directions: For filling, combine ricotta cheese, granulated sugar, cocoa powder, and vanilla in a medium bowl. Stir or beat until smooth. Fold in chocolate pieces. Cover and chill. Spoon filling into a pastry bag fitted with a large tip. Pipe filling into cones. Sift powdered sugar over cones. Chill up to 1 hour. Yield: 12 servings.
3. Butterscotch Cannoli
Butterscotch pudding, cream cheese, toffee bits, and butterscotch chips create a rich, gooey cannoli treat. Laura in the Kitchen's recipe, which yields 4 to 6 servings, calls for pre-made cannoli shells, making it another low-maintenance dessert creation.
Ingredients:
10 large cannoli shells
1 (8-ounce) package of cream cheese, room temperature
4 (3½ ounces) butterscotch pudding cups
½ cup powdered sugar
½ teaspoon ground cinnamon
½ teaspoon vanilla extract
½ cup butterscotch chips
½ cup toffee bits
Directions: In a large bowl, cream together the cream cheese, butterscotch pudding, powder sugar, vanilla, and cinnamon. Add the butterscotch chips and toffee bits and mix to combine. Using a disposable piping bag fitted with a large round tip, pipe the filling into the cannoli shells. Once they are all filled, sprinkle some toffee bits over each end of the cannoli.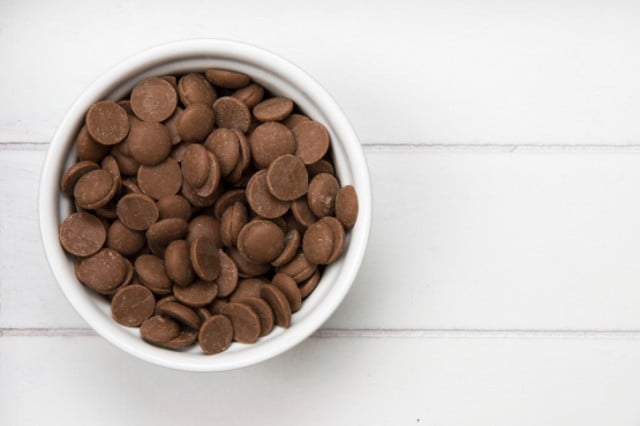 4. Mini Cannoli Cream Pastry Cups
In case you were hoping to put a fun spin on your dessert, Pillsbury's recipe creates a unique cannoli delight. Pie crusts, a creamy filling, and chocolate chips make for a rich and savory dessert delicacy.
Ingredients:
Filling
1 container (15 ounces) whole-milk ricotta cheese
½ cup powdered sugar
2 tablespoons granulated sugar
½ teaspoon vanilla
Cups
1 box refrigerated pie crusts, softened as directed on box
3 tablespoons turbinado sugar (raw sugar)
1 teaspoon ground cinnamon
Garnish
¼ cup miniature semisweet chocolate chips
Additional powdered sugar
Directions: In large bowl, beat all filling ingredients with electric mixer on medium speed until creamy. Place filling in 1-gallon resealable food-storage plastic bag; refrigerate while making cups. Heat oven to 425 degrees Fahrenheit. On lightly floured work surface, unroll pie crusts. Sprinkle each crust with turbinado sugar and cinnamon. Lightly roll rolling pin over sugar and cinnamon to press into pastry. With 2½- to 3-inch round cutter, cut out pastry rounds. Lightly press each pastry round into ungreased mini muffin cup. 
Bake about 10 minutes or until pastry cups are golden brown. Cool completely in pans, about 15 minutes. Remove from muffin cups to cooling racks. Just before serving, remove filling from refrigerator. Cut 1 bottom corner off bag; pipe scant tablespoon filling into cooled pastry cups. Sprinkle with chocolate chips and powdered sugar. Serve immediately. Store any remaining pastry cups at room temperature and filling in refrigerator.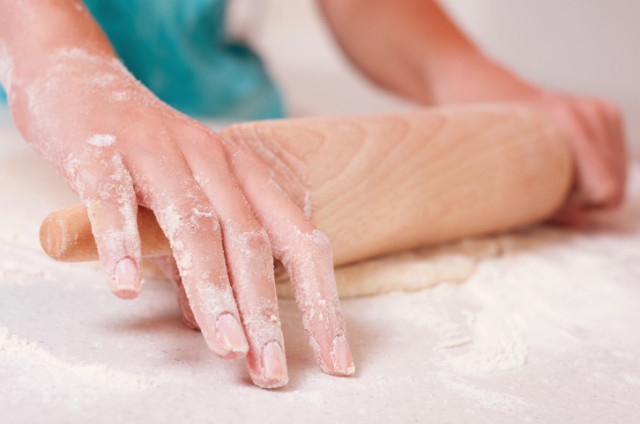 5. Cannoli
Ready to put your baking skills to the test? Food.com's recipe, which yields 24 servings, has you prepare your own cannoli shells and filling, creating a 100 percent homemade dessert.
Ingredients:
4 cups sifted all-purpose flour
2 tablespoons sugar
¼ teaspoon salt
3 tablespoons butter, softened
2 egg yolks
¾ cup white wine
Shortening, for frying
Filling
4 cups whole-milk ricotta cheese
1½ cups powdered sugar
1 tablespoon vanilla extract
⅓ cup finely chopped maraschino cherry
¼ cup semisweet mini chocolate chips
1 cup heavy whipping cream, optional
Directions: To make shells, mix flour, sugar, and salt in a bowl. Cut in butter. Add egg yolks; stir with a fork. Stir in wine, 1 tablespooon at a time, with a fork until dough clings together. Form a ball with the dough and let stand for 30 minutes.
Roll dough almost paper thin on a well-floured surface. Using the rim of a margarita glass, make circle imprints into rolled dough. Using a paring knife, make sure circles are cut all the way through. Roll each circle of dough around a metal cannoli tube, overlapping the ends and pressing to seal, flaring out the edges slightly.
Fry one or two at a time in hot melted shortening, about 360 degrees Fahrenheit, for approximately 1 minute, turning to brown all sides. Remove from hot grease and drain on paper towels, seam side down. Let cool a minute or two before trying to remove metal tube. To remove the tube, hold cannoli shell down on the paper towel and carefully slide the tube out one end. Leave cannoil shells on paper towel, seam side down, to cool completely. Note: Shells can be stored in airtight containers and made several days prior to filling.
For filling, drain ricotta cheese over cheesecloth if ricotta is watery. Combine ricotta cheese, powdered sugar, and vanilla extract until combined. Squeeze cherries with paper towels to remove all liquid. Stir in cherries and chocolate chips into the ricotta mixture, being careful not to over-mix. For a lighter filling, you may whip 1 cup of heavy whipping cream to form stiff peaks and fold into filling mixture at this step. Chill filling for about 30 minutes before piping into cooled cannoli shells. Keep refrigerated until time of serving.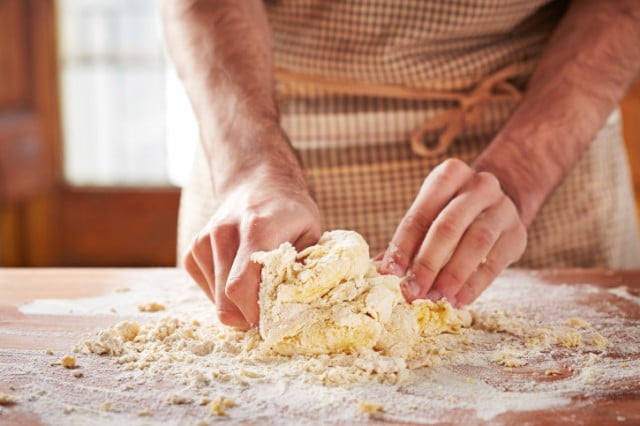 6. Homemade Cannoli Recipe with Mascarpone Cream
Cannoli shells, mascarpone cream, and chocolate-dipped edges await you with The Vintage Mixer's delectable recipe. This unbelievably rich offering yields 16 servings.
Ingredients:
1 cup all-purpose flour, plus more for dusting
1½ tablespoons granulated sugar
½ teaspoon unsweetened Dutch-process cocoa powder
¼ teaspoon ground cinnamon
¼ teaspoon coarse salt
⅜ cup sweet Marsala wine
1½ tablespoons vegetable oil
½ large egg white, lightly beaten
2 ounces semisweet chocolate
Confectioners' sugar, for dusting
Mascarpone creme
¾ cup whole-milk ricotta cheese (drained overnight with cheesecloth and squeezed dry)
¾ cup mascarpone cheese
¼ cup powdered sugar
½ teaspoon vanilla or Grand Marnier
½ teaspoon ground cinnamon
Pinch of salt
Directions: To make the cannoli shells, combine flour, granulated sugar, cocoa powder, cinnamon, and salt in the bowl of an electric mixer. Add Marsala and oil, and beat on medium speed until dough comes together. Using your hands, knead dough on a lightly floured work surface until smooth and elastic, about 15 minutes.
Wrap in plastic and let rest 30 minutes. Divide dough into 2 pieces. Pass 1 piece of dough through the widest setting of a pasta machine, or roll out into a thin sheet of dough. Continue passing through narrower settings until it is the thickness of a dime. Lay on a floured work surface. Cut out rounds with a 3¼-inch cutter. Gather scraps and re-roll.
Pour enough oil into a large, heavy saucepan to come about 4 inches up sides. Heat over medium heat until a deep-fry thermometer registers 380 degrees Fahrenheit. Wrap each round of dough around a 3¾-inch-long cannoli form, sealing with a dab of egg white. Working in batches of three or four, fry until golden, about 1 minute.
Using a wire skimmer or tongs, transfer to paper towels and let cool 5 minutes. Carefully slide out forms and let shells cool. Continue rolling, cutting, and frying the remaining dough. Melt chocolate in a heatproof bowl set over a pan of simmering water. Dip ends of cannoli shells in melted chocolate. Let set 15 minutes on parchment paper.
To make the mascarpone cream, mix filling ingredients together. Cover and refrigerate until ready to use, at least a couple of hours. When ready to serve, use a zip-top bag or pastry bag with ½-inch star tip. Pipe filling into one end of a shell to the center, then into other end. Repeat with remaining shells and filling. Dust with confectioners' sugar, and serve immediately.
More from Life Cheat Sheet:
Want more great content like this? Sign up here to receive the best of Cheat Sheet delivered daily. No spam; just tailored content straight to your inbox.