6 Seasonable Recipes for Fresh Summer Meals
Summer is officially here, and we think our plates and palates should reflect the light, bright, and fresh atmosphere of the season. At the same time, you don't want to find yourself habitually making the same corn on the cob or grilled chicken you start serving every summer. The season has no shortage of seasonal ingredients, and by using the freshest ones possible, you'll add bright colors to your meals and escape your customary culinary choices. To see how to add a little pizzaz to your plate, check out these six recipes.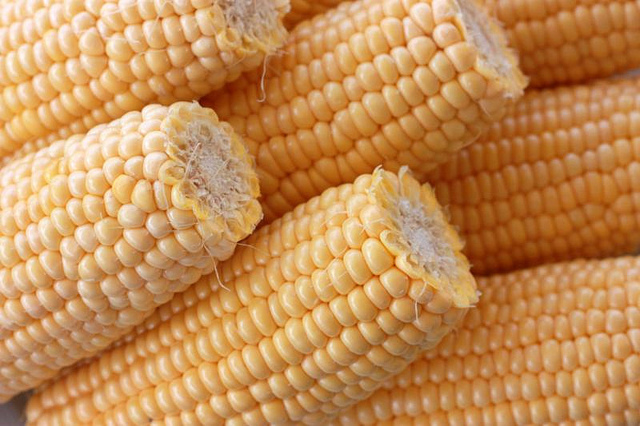 1. Summer Corn Sauté
When you've groen tired of corn on the cob, turn to this sauté from Bon Appétit for a new way to get fresh corn on your plate. Loaded with herbs, you'll find it to be a flavorful side dish that makes six servings.
Ingredients:
¼ cup (½ stick) butter
1 large shallot, chopped
1 teaspoon cumin seeds
6 cups fresh corn kernels (cut from about 9 large ears)
1 teaspoon coarse kosher salt
¾ teaspoon freshly ground black pepper
1 cup chopped assorted fresh herbs (such as basil, cilantro, chives, and parsley)
¼ cup chopped fresh dill
¼ cup chopped fresh tarragon
Directions: Melt butter in heavy large skillet over medium heat. Add shallot and cumin seeds. Sauté until shallot is golden brown, about 4 minutes. Add corn kernels, 1 teaspoon coarse salt, and ¾ teaspoon pepper. Sauté until corn is tender, about 5 minutes. Remove from heat and mix in all herbs. Season to taste with salt. Transfer corn to bowl and serve.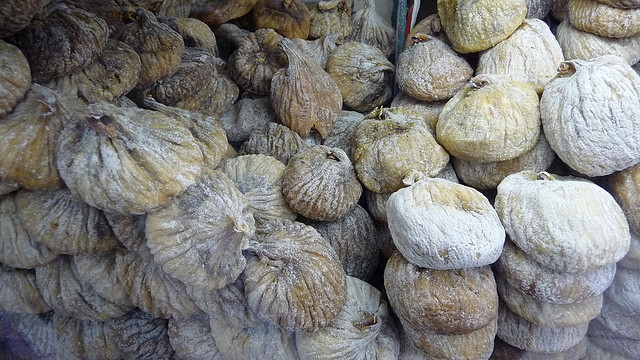 2. Apricot Fig Chutney
Take full advantage of fig season by making a chutney you can spread on sandwiches, crackers, meats, or anything else you can think up. Cooking Light's chutney makes 2½ cups' worth and takes about 30 minutes to prepare.
Ingredients:
3 cups apricots, peeled, pitted, and quartered
½ cup dried figs, quartered
½ cup white wine
⅓ cup sugar
¼ cup golden raisins
1½ teaspoons chopped thyme
1 tablespoon honey
1 tablespoon fresh lemon juice
1 teaspoon mustard seeds
½ teaspoon cumin
½ teaspoon ground ginger
½ teaspoon kosher salt
Dash of ground red pepper
½ jalapeño, finely chopped
½ shallot, sliced
2 tablespoons chopped cilantro
Directions: Combine all ingredients except cilantro in a large Dutch oven over medium heat and simmer. Cook 15 minutes. Stir in cilantro.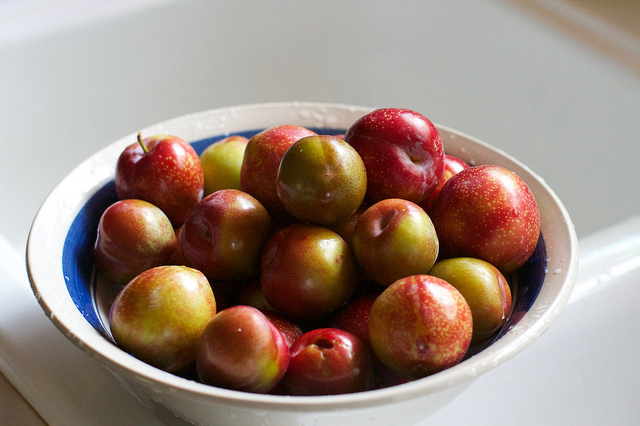 3. Grilled Chicken with Plum-Jalapeño Relish
Plums are just hitting their stride in June, according to Eat the Seasons, and they will be available until around September/October. Switch up your salsa and change your chicken by making this plum relish from Williams-Sonoma and New Flavors for Chicken to accompany your grilled chicken. Substitute whole chicken for chicken breasts or your favorite cut if desired; this recipe serves four.
Ingredients:
2 large plums, about ¾ pound total, halved, pitted, and cut into 1-inch pieces
½ cup finely chopped yellow onion
1-inch piece fresh ginger, peeled and minced
1 jalapeño chile, seeded and minced
1 garlic clove, minced
⅓ cup firmly packed light brown sugar
2 teaspoons coriander seeds
1½ teaspoons kosher salt, plus more, to taste
½ teaspoon freshly ground pepper
1 chicken, about 4 pounds, cut into 9 pieces
1 tablespoon extra-virgin olive oil
Canola oil for grilling
Directions: In a saucepan over medium heat, combine half of the plums with the onion, ginger, jalapeño, garlic, and brown sugar. Bring to a boil, stirring often. Reduce the heat to medium-low, cover, and cook, stirring occasionally, until the plums have broken down into a sauce, about 15 minutes. Stir in the remaining plums and cook just until they are heated through, about 3 minutes.
Meanwhile, fill a large bowl with ice water. When the plum relish is ready, transfer it to a heatproof bowl and nest the bowl in the ice water bath. Let cool in the ice bath while preparing the chicken. Toast the coriander seeds and pour onto a plate to cool. Using a mortar and pestle or a spice grinder, finely grind the coriander. In a small bowl, stir together the ground coriander, 1½ teaspoon salt, and the pepper. Brush the chicken pieces with the olive oil, then season with the coriander mixture.
Prepare a grill for indirect-heat cooking over high heat. Brush the grill grate with canola oil. Arrange the chicken pieces, skin side down, on the grill grate on the cool side of the grill. Cover the grill and cook the chicken for 20 minutes. Turn the chicken pieces over, cover the grill and cook until an instant-read thermometer inserted into the thickest part of the breast meat, away from the bone, registers 160 degrees Fahrenheit, about 20 minutes more.
Meanwhile, season the cooled plum relish with salt and transfer to a serving bowl. When the chicken is ready, transfer the pieces to a warmed platter and serve immediately. Pass the relish at the table.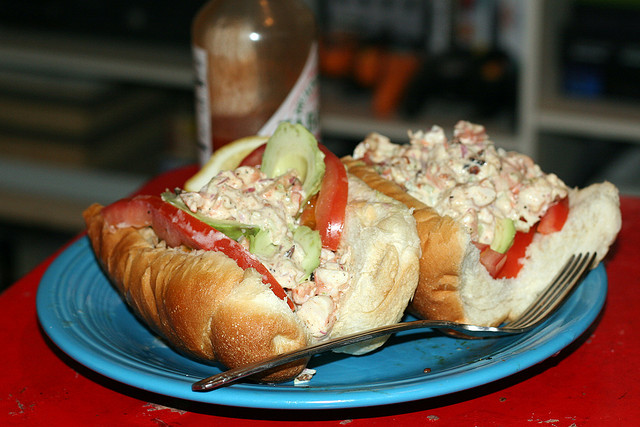 4. Shrimp Salad
Don't settle for your standby chicken or potato salad recipe when you could be making Taste of Home's shrimp salad. Not only is seafood a perfect bite of summer, but the recipe also makes uses of radishes, which are in season from the spring to the fall, according to Eat the Seasons. Including them in the salad will give the dish a peppery flavor; it makes nine servings. Eat as is, or enjoy as a sandwich.
Ingredients:
2⅓ cups uncooked small pasta shells
⅓ pound cooked salad shrimp
3 celery ribs, chopped
1 small onion, chopped
4 radishes, halved and sliced
4 hard-cooked eggs, chopped
1 cup mayonnaise
1 tablespoon prepared mustard
1½ teaspoons salt
⅛ teaspoon pepper
Directions: Cook pasta according to package directions. Meanwhile, in a large bowl, combine the shrimp, celery, onion, radishes, and eggs. In a small bowl, combine mayonnaise, mustard, salt, and pepper. Drain pasta and rinse in cold water; add to shrimp mixture. Add dressing mixture; toss to coat. Cover and refrigerate for at least 2 hours.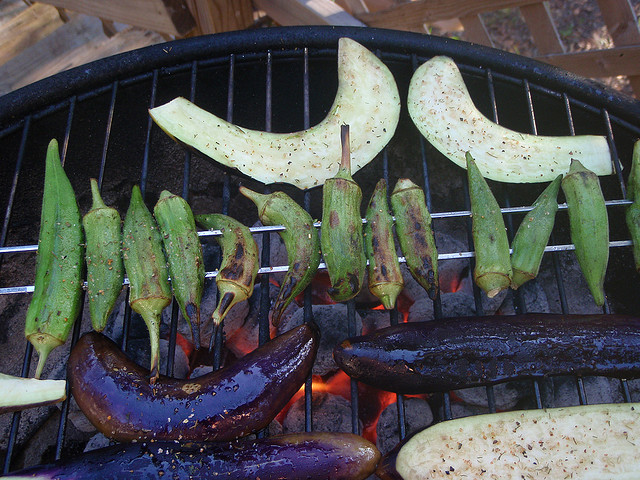 5. Peppery Grilled Okra With Lemon-Basil Dipping Sauce
People living in the southern parts of the U.S. can probably find okra year-round, but if you can't, Better Homes and Gardens says that you'll be able to purchase fresh okra during its peak season from May to September. Often fried or braised, Southern Living took a different approach to this green vegetable by grilling it, then pairing it with a lemon-dill sauce. This recipe makes eight side-dish-size servings.
Ingredients:
Cheesecloth or coffee filter
1 (32-ounce) container plain low-fat yogurt
¼ cup chopped fresh basil
2 tablespoons lemon juice
½ teaspoon minced garlic
¼ teaspoon sugar
1½ teaspoons salt, divided
1¼ teaspoons freshly ground pepper, divided
2 pounds fresh okra, trimmed
2 tablespoons olive oil
Garnish: freshly ground pepper
Directions: Line a wire-mesh strainer with 3 layers of cheesecloth or 1 (12-cup) coffee filter. Place strainer over a bowl. Spoon yogurt into strainer. Cover and chill 24 hours. Remove yogurt, discarding strained liquid. Preheat grill to 400 to 450 degrees Fahrenheit — high heat. Combine strained yogurt, basil, next three ingredients, ½ teaspoon salt, and ¼ teaspoon pepper. Cover and chill until ready to serve.
Toss together okra, olive oil, and remaining 1 teaspoon salt and 1 teaspoon pepper in a large bowl. Grill okra, covered with grill lid, for 2-3 minutes on each side or until tender. Cool 5 minutes. Transfer okra to a serving dish and serve with dipping sauce. Garnish, if desired.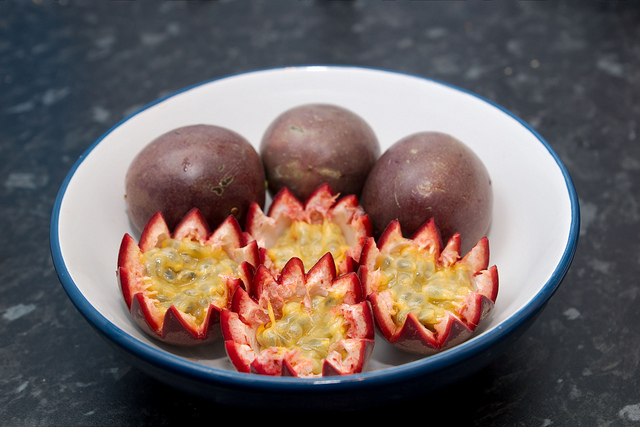 6. Passion Fruit Mousse
Get inspired by the World Cup in Brazil and fresh passion fruit, and make a traditional Brazilian dish called maracuja, or passion fruit mousse. You'll only need four ingredients for AllRecipes.com's dessert, which serves six. Fruits & Veggies More Matters says that to pick a ripe passion fruit, you'll want the skin of the fruit to be wrinkled; there could be some brown spots on the purple varieties.
Ingredients:
8 passion fruits
1 tablespoon white sugar
1 (14-ounce) can sweetened condensed milk
2 cups cream
Directions: Break passion fruits in half and empty contents into a bowl. Use a little water to help rinse the juice out of the skins. Mix with hands to soften pulp. Strain through a sieve or cheesecloth. Stir in sugar and sweetened condensed milk. In a chilled bowl, beat cream until stiff peaks form. Fold ⅓ of the cream into the passion fruit mixture, then quickly fold in remaining cream until no streaks remain. Refrigerate for 1 hour.
More From Wall St. Cheat Sheet: