6 Delicious Spring Pasta Dishes
Birds are beginning to chirp and grass is thinking about greening again. The wind holds promise of a warmer day at our doorstep, and even the cold rain feels like it's washing away the cold winter. Now that we're shaking off winter, we're turning to lighter pasta dishes that make good use of the fresh produce finally coming back to life. It's still not a salad made with the height of summer vegetables, but it's a comforting plate or bowl of springy herbs and a tangle of pasta. There's no better way to welcome the new season.
1. Watercress Pesto Pasta
Fresh basil is still a ways off for most, but there's nothing quite like diving into a mess of pesto pasta. Now that markets are starting to see micro greens and new shoots popping up out of the ground, it's the perfect time to capitalize on it. This pesto from Martha Stewart utilizes peppery watercress, which has been found to contain phytochemicals important in maintaining healthy vision, hair, skin, and bones, and even fighting cancer.
Ingredients:
1 bunch watercress, about 5½ cups, tough stems removed, divided
2 tablespoons toasted pine nuts
Zest of 1 lemon
1 clove garlic, chopped
3 tablespoons extra-virgin olive oil
Coarse salt
Pinch of red-pepper flakes, or to taste
10 ounces farro spaghetti or whole-wheat spaghetti
Directions: Pulse 5 cups watercress, pine nuts, lemon zest, and garlic in a food processor until coarsely chopped. Add oil and pulse to combine. Season with salt and red pepper flakes.
Meanwhile, bring a large pot of generously salted water to a boil. Add pasta and cook until al dente. Reserve 1 cup cooking water; drain pasta. Return pasta to pot and stir in pesto. Add enough reserved pasta water, a small amount at a time, to coat pasta and make a light sauce. Season with salt and top with remaining watercress.
2. Fusilli with Caramelized Spring Onions and White Wine
Spring onions are basically onions harvested well before maturity. They look a bit like scallions with bulbous white ends, which are the baby onions. They're much milder than mature onions, but have the same flavor. In this pasta from Cooking Light, they're lightly caramelized and cooked into a white wine sauce. For additional texture, panko breadcrumbs are tossed with the pasta. It's perfect for a cold and rainy spring day.
Ingredients:
½ cup panko bread crumbs
3 tablespoons olive oil, divided
2 teaspoons minced garlic, divided
½ teaspoon kosher salt, divided
2 cups thinly sliced spring onions, about 1 pound
½ cup dry white wine
¼ cup fat-free, lower-sodium chicken broth
8 ounces uncooked fusilli or rotini
1 tablespoon kosher salt
¼ teaspoon freshly ground black pepper
Directions: Preheat oven to 375 degrees Fahrenheit.
Combine panko, 1 tablespoon oil, 1 teaspoon garlic, and a dash of salt in a small bowl. Spread panko mixture in a single layer on a baking sheet. Bake for 6 minutes or until golden brown, stirring after 3 minutes. Cool.
Heat a large skillet over medium-low heat. Add remaining 2 tablespoons oil to pan, swirling to coat. Add onions to pan; cook 20 minutes or until golden brown, stirring occasionally. Add remaining 1 teaspoon garlic and wine. Increase heat to medium-high; cook 1 minute. Add broth; cook until liquid is reduced to ½ cup, about 4 minutes.
Cook pasta in boiling water with 1 tablespoon kosher salt according to package directions, omitting additional fat. Drain. Add pasta, remaining salt, and pepper to onion mixture; toss gently. Place about 1 cup pasta in each of 4 shallow bowls; sprinkle each serving with 2 tablespoons panko mixture.
3. Leftover Spring Pasta Recipe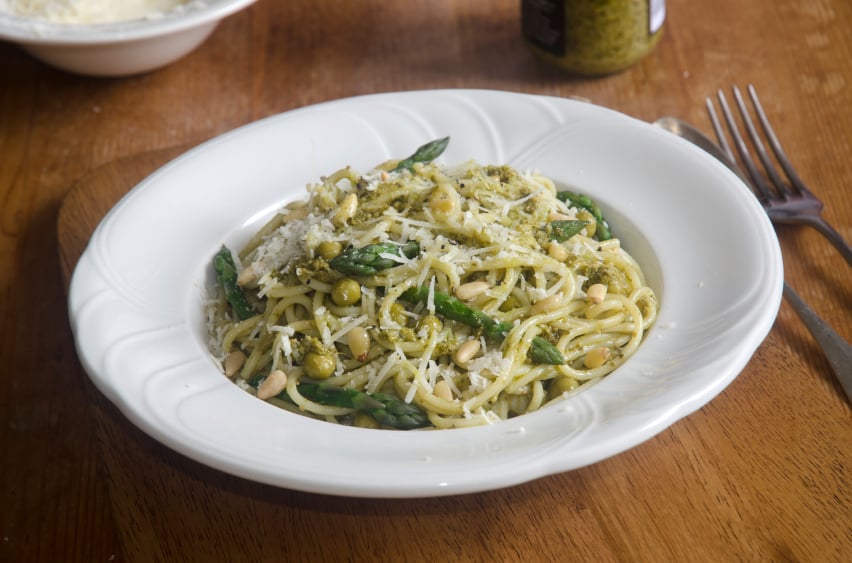 Spring is when things start to get busy again. Life is emerging from the dark hibernation of winter and beginning to buzz, and it's more important than ever to have a great stockpile of leftovers recipes to keep dinner interesting. This recipe from 101 Cookbooks uses leftover pasta dressed up with quick-cooking, fresh vegetables like asparagus, pea shoots, or greens for filler. Then, the meal is rounded out and made even more exciting with chopped avocado and fresh herbs.
Ingredients:
8 ounces cooked, leftover pasta
2 eggs
Fine grain sea salt
1 tablespoon olive oil
1 tablespoon unsalted butter
3 big handfuls of sliced asparagus, and/or pea shoots, or tiny broccoli trees, or shredded greens
Chopped avocado
Chopped herbs
Directions: Use your fingers to fluff up the leftover pasta so its not clumpy or stuck together. Set aside.
In a small bowl, crack the eggs and beat well with a pinch of salt.
In a big skillet melt the oil and butter over medium high heat. Add the vegetables and a couple pinches of salt, stir, cover, and cook for a couple minutes until the vegetables are bright and just cooked. Pull about ⅓ of the vegetables out of the pan and set them aside.
Add the pasta to the skillet and toss well. Once the pasta is hot, turn down the heat, wait a moment, then quickly stir in the eggs. Stir well, then cover the pan, remove from heat, and let everything sit for a minute. Uncover and give everything another toss; the egg should be cooked through. Taste, and adjust the seasoning before dividing between two plates. Top with the reserved vegetables and some chopped avocado.
4. Cavatelli Pasta with Lobster, Spring Peas, and Mascarpone
This elegant dish is from Neal Fraser, the Executive Chef and co-owner of Grace and BLD in Los Angeles, shared via Epicurious. Long, shell-like cavatelli works really well in this recipe, as it holds sauce and can stand up to the lobster without being overbearing. The dish is best made with fresh or thawed frozen pasta, but dried pasta is more than fine if that's what you have.
Ingredients:
Five 1¼- to 1½-pound live lobsters or 2 pounds cooked lobster meat
1 pound frozen cavatelli pasta
¼ cup extra-virgin olive oil
2 shallots, finely chopped
2 cloves garlic, finely chopped
½ cup chicken stock or low-sodium chicken broth
8 ounces fresh or frozen peas
¼ cup fresh flat-leaf parsley, chopped
1½ tablespoons fresh thyme, chopped
1½ tablespoons fresh chives, chopped
½ cup Mascarpone
1 tablespoon kosher salt
Directions: If using fresh peas, simmer, uncovered, in salted water until just tender, 1 to 2 minutes. Drain, then immediately plunge peas into ice water to stop cooking. Drain again and pat dry, set aside. If using frozen peas, do not thaw before using.
In 10- to 12-quart pot, bring salted water to boil. Plunge in 2 lobsters head first, then boil, covered, 10 to 11 minutes from time they enter water. Transfer with tongs to sink to drain. Return water to boil, and cook remaining lobsters in same manner.
When lobsters are cool enough to handle, remove meat from tails and claws. Discard or reserve for another use tomalley, any roe, and shells, and wipe off any coagulated white albumin from meat. Cut meat into ¾-inch pieces and chill, covered, at least 1 hour.
Bring large pot salted water to boil. Add cavatelli and boil until cavatelli float to surface, about 8 minutes. Drain, then immediately plunge cavatelli into ice water to stop cooking. Transfer to large bowl, add 2 tablespoons olive oil, and toss to coat.
In heavy large sauté pan over moderately high heat, heat remaining 2 tablespoons olive oil until hot but not smoking. Add shallots and garlic and sauté until translucent, about 1 minute. Add chicken stock, peas, parsley, thyme, chives, pasta, Mascarpone, and lobster. Stir to combine, then simmer until lobster is heated through, about 1 to 1½ minutes. Sprinkle with salt and serve immediately.
5. Morel and Asparagus Spaghetti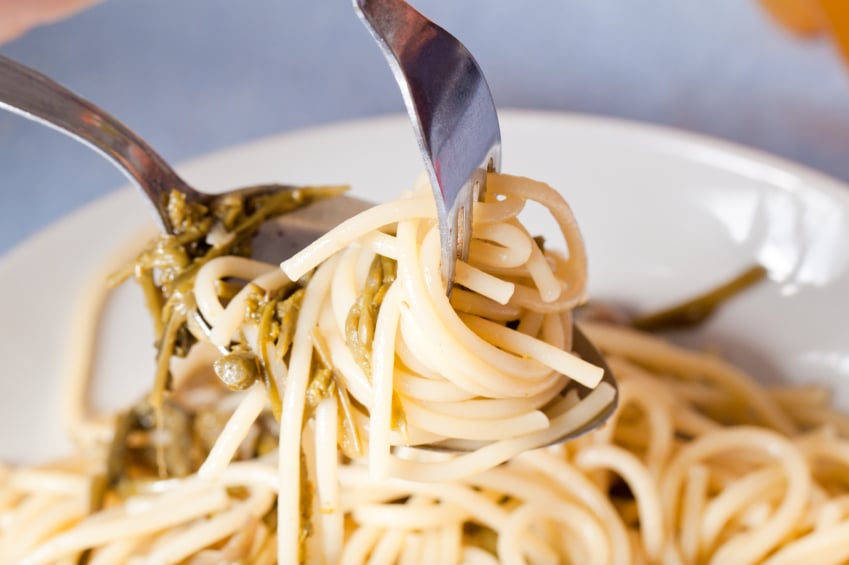 Morels, a sought-after spring mushroom, are paired with asparagus and cream here in this springy pasta dish from Saveur. Though it is possible to find and substitute fresh morels in this recipe, it's much easier (and cheaper) to find dried morels in almost every part of the country. The recipe takes full advantage of the dried morels, which are rehydrated in the water you'll boil the spaghetti in, giving the pasta an infusion of earthy flavor. The earthiness is tempered with the vegetal brightness of asparagus and the citrusy brightness of lemon, and balanced out by a bit of cream and Parmesan cheese.
Ingredients:
½ ounce dried morel mushrooms; about 5 mushrooms
1 pound spaghetti
¼ cup olive oil, plus more for drizzling
3 tablespoons unsalted butter
6 garlic cloves, thinly sliced
3 medium shallots, finely chopped
1 bunch asparagus, ends trimmed and cut into 1-inch pieces
¾ cup vegetable stock
½ cup heavy cream
Juice and zest of 1 lemon
Kosher salt and freshly ground black pepper, to taste
¼ cup grated Parmesan cheese, plus more for serving
Directions: Place morels and 8 cups boiling water in a bowl; set aside until morels are tender, about 30 minutes. Using a slotted spoon, transfer mushrooms to a cutting board and slice in half lengthwise.
Pour soaking liquid into a large stockpot, discarding any dirt or sediment at the bottom. Add additional water sufficient to cook pasta; bring to a boil. Season water with salt and add spaghetti; cook, stirring, until al dente, about 13 minutes.
Meanwhile, heat oil and butter in a 12-inch skillet over medium-high heat. Add garlic and shallots; cook, stirring occasionally, until golden, about 4 minutes. Add reserved morels, plus asparagus and stock; bring to a boil. Cook, covered, until asparagus is tender, about 3 minutes. Uncover, add cream, and cook until slightly reduced, about 3 minutes.
Remove from heat and add pasta, juice, zest, salt, pepper, and cheese. Toss until evenly combined. Drizzle with more olive oil and sprinkle with more cheese, if you'd like.
6. Penne with Asparagus, Sage, and Peas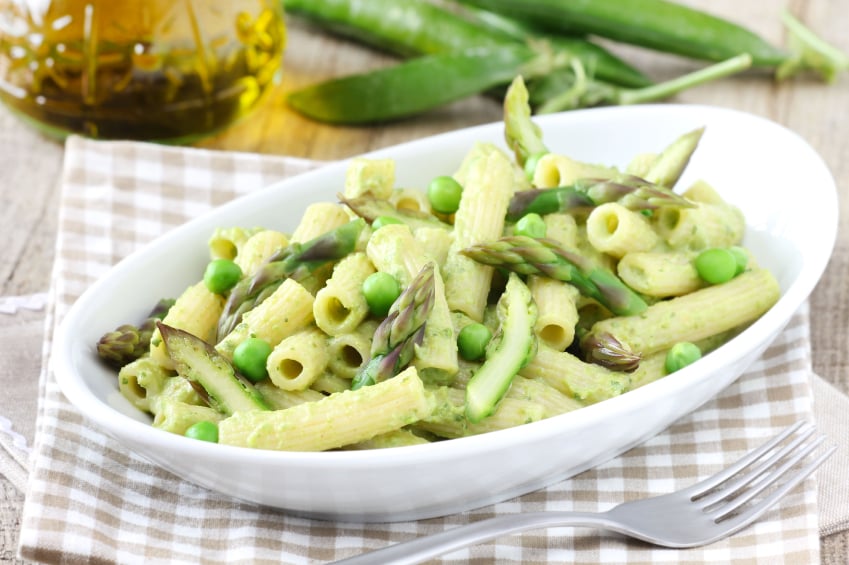 If you're digging the earthy note in your pasta but you're not down with mushrooms, skip the recipe on the previous page and try this one from Food & Wine instead. It uses peas for sweetness, asparagus for a vegetal characteristic, and fresh sage for a mild earthiness. There's a bit of cream for richness, and a good amount of freshly grated Parmesan to keep the whole thing balanced with a savory saltiness. It's a solid, reliable spring pasta dish worth a try!
Ingredients:
½ pound penne
2 tablespoons extra-virgin olive oil
3 garlic cloves, minced
1 pound thick asparagus, cut into 1-inch lengths
2 cups chicken stock
2 cups shelled English peas or frozen baby peas, thawed
¼ cup heavy cream
2 tablespoons unsalted butter
1 tablespoon chopped fresh sage
½ cup freshly grated Parmigiano-Reggiano cheese, plus more for serving
Salt and freshly ground pepper
Directions: Bring a large pot of salted water to a boil. Add the penne and cook, stirring occasionally, until al dente. Drain.
Meanwhile, in a large skillet, heat the olive oil. Add the garlic and asparagus and cook over moderately low heat, stirring occasionally, until the garlic is fragrant, about 3 minutes. Add the stock and boil over high heat until reduced by half and the asparagus are tender, about 5 minutes.
Add the peas and cream to the skillet and boil over high heat until the sauce has thickened, 3 minutes. Stir in the penne and cook until heated through. Remove from the heat and stir in the butter, sage and the ½ cup of cheese. Season with salt and pepper. Transfer the pasta to bowls and serve right away, passing additional cheese at the table.
More from Culture Cheat Sheet: