6 Superfood-Packed Desserts You Can Indulge in Guilt-Free
Superfoods have been given their prestigious title for a reason. WebMD explains that these exceptionally nutritious foods are powerful enough to reduce your risk of heart disease and cancer, lower your cholesterol, and even help to improve your mood. Furthermore, Food Matters defines superfoods as being sparse in calories yet dense in antioxidants, vitamins, and minerals. These distinguished foods have the power to turn any recipe into a wholesome and beneficial dish — and that includes dessert. We've compiled six dessert recipes that are packed with elite superfoods, proving that with the right ingredients, you can indulge in sensational sweets guilt-free.
1. Superfood Sweet Potato Dessert Fries
Sweet potatoes have certainly earned their reputation as a superfood. Men's Fitness reports that the root vegetables are rich in fiber, vitamin E, potassium, copper, and quercetin, which assist in everything from repairing cell damage to protecting against heart disease to keeping your muscles and skin healthy. This veggie is naturally sweet, making it the perfect ingredient to use in desserts.
Minimalist Baker uses sweet potatoes as this dessert's centerpiece and then proceeds to coat them in other good-for-you foods, such as nuts, coconut, pomegranate, and dark chocolate. The end result? A treat that is both heavenly and nutritious. The recipe yields 5 to 6 servings.
Ingredients:
5 to 6 sweet potatoes, washed and scrubbed
2 to 3 tablespoons olive oil
1 teaspoon sea salt
¼ cup natural salted peanut putter (creamy or crunchy, or almond butter)
¼ cup dairy-free bittersweet chocolate chips
¼ cup coconut whipped cream
¼ cup pomegranate arils
2 tablespoons roasted mixed nuts for topping
Optional: ground cinnamon for topping
Directions: Preheat oven to 450 degrees Fahrenheit. Slice sweet potatoes into even wedges by halving, halving again, then cutting off the pointy wedge into a small fry. Cut the remaining wedge in half if it appears too large. Continue until all fries are sliced. Arrange fries over 2 to 3 baking sheets and toss with olive oil and a healthy pinch of salt. Align in a single layer; you don't want them overlapping or touching too closely, or they won't brown. Bake for 20 minutes, then flip for even cooking.
Bake for another 10 to 15 minutes, until golden brown and at the desired doneness. Remove from oven, sprinkle with a bit more salt and a little ground cinnamon, and let cool for a few minutes. To make the peanut butter sauce, simply thin with hot water until pourable. Sweeten with agave or maple syrup if desired. If your peanut butter is already soft enough, there's no need to thin it. Just add it as is.
To make the chocolate sauce, simply microwave chocolate chips in 30-second increments until melted. Alternatively, use a double boiler to melt. Add a touch of coconut oil to thin, if desired, to make it more pourable. Arrange fries on a serving platter and drizzle with the peanut butter and chocolate. Top with coconut whipped cream and pomegranate arils and nuts. Dust with more cinnamon. Serve immediately.
2. Chocolate Pudding Tart With Coconut Cream and Goji Berries
Upon taking your first bite, you'll be greeted with a melt-in-your-mouth crust, rich and creamy chocolate pudding, and whipped coconut cream topped with goji berries. This Rawsome Vegan's Life's recipe is guaranteed to be a crowd pleaser — and a nutrient-rich one, at that. Walnuts, which help to form the crust, contain cancer-fighting properties, omega-3 fatty acids, antioxidants, vitamin E, and folate, according to Mercola.com.
Walnuts aren't the only star of this dessert, either. WebMD praises the goji berry for its superfood status, explaining that it contains vitamin A and antioxidants; it may also improve your mood and protect against age-related diseases. Dessert doesn't get any better than this!
Ingredients:
Crust
1 cup walnuts
1 cup dates
Chocolate pudding
1 avocado
2 tablespoons coconut oil
2 tablespoons coconut nectar (or date paste)
2 tablespoons cacao powder
1 teaspoon vanilla extract
Pinch of Himalayan salt
¼ cup nut milk, as needed
Directions: To make the crust, pulse the walnuts into powder then add the dates until it all begins to stick together. Press into a lined tart tin and put in the fridge. To make the chocolate pudding, blend all the ingredients together in your food processor until smooth and thick. Spread evenly into your crust. Make the coconut cream, spread it on top of the pudding layer, and put back in the fridge overnight. Serve with goji berries, coconut flakes, and cacao nibs.
3. Peach and Cherry Quinoa Crumble
Quinoa, fruit, and almond flour create a dessert that's packed with vitamins and nutrients. Forbes notes that quinoa is rich in protein, fiber, iron, magnesium, riboflavin, and manganese. You can reap its benefits while enjoying a toothsome treat by preparing Running to the Kitchen's Peach and Cherry Quinoa Crumble, which yields 6 to 8 servings.
Ingredients:
4 peaches, chopped
1¾ cups cherries, halved, and pitted
2 tablespoons honey
1 tablespoon plus 1 teaspoon coconut oil
1 teaspoon vanilla extract
½ teaspoon almond extract
½ cup red quinoa, rinsed
½ cup almond flour
½ teaspoon cinnamon
Directions: Preheat oven to 375 degrees Fahrenheit. Combine peaches and cherries in a large bowl. Whisk together honey, 1 tablespoon of the coconut oil, and the extracts in a small bowl and pour over the fruit mixture, tossing to coat it thoroughly. Pour the fruit into a baking dish. In another small bowl, combine the quinoa, almond flour, cinnamon, and the remaining teaspoon of coconut oil.
With your fingertips, combine the mixture so that it loosely forms crumbs. Sprinkle the mixture over the top of the fruit in the baking dish and bake for about 30 minutes, until the top is slightly browning/crisping and the fruit is bubbly. Remove from oven, let cool for 15 to 20 minutes before serving. Serve warm.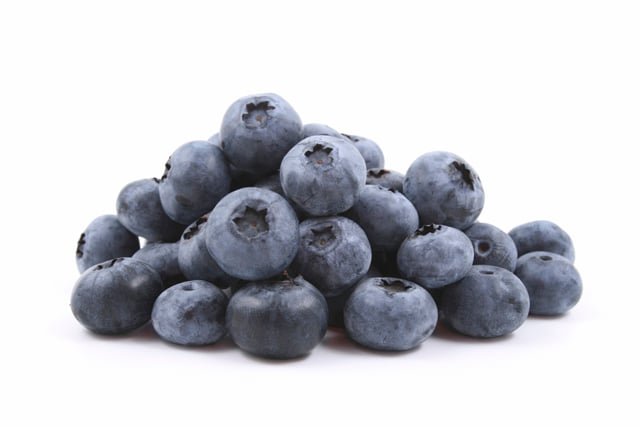 4. Rain Berry Cake
Bake My Meal uses walnuts to create the mini cakes' crusts, and creates a fabulous filling using Greek yogurt, agave, cardamom, strawberries, and blueberries. Women Fitness commends blueberries for their noteworthy nutrients — the fruit is extraordinarily high in antioxidants, can help your body fight disease and aging, and helps restore your central nervous system. The recipe yields 5 mini cakes.
Ingredients:
Crust
1 cup walnuts

6 pieces dates, chopped

1 tablespoon coconut oil

⅛ teaspoon salt
Filling
½ cup strawberries and blueberries

1 cup Greek yogurt

¼ teaspoon cardamon

3 tablespoon agave, honey, or maple syrup

Additional strawberries and blueberries for topping the dessert
Directions: Combine walnuts, dates, coconut oil, and salt in a food processor. Blend until it looks similar to couscous and they come together. Press it in each individual tin and place in the refrigerator while making the filling. Mash the berries. In a medium bowl, combine yogurt, cardamon, agave, and mashed berries until well incorporated. Pour the batter in the chilled crust and place in the freezer for 30 to 45 minutes. You want it to be firm enough to have the consistency of a mousse.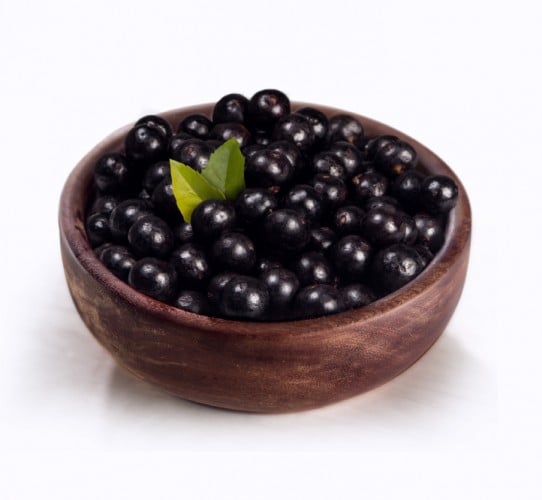 5. Acai Berry and Banana Mini Cheesecakes
The Healthy Family and Home's recipe is bursting with acai berries, which are high in antioxidants, rich in omega fats, and contain vitamins C, A, and B. This delightful dish also contains several other nutritional powerhouses, including walnuts, coconut oil, cashews, dates, and vanilla bean powder.
Ingredients:
Crust
1 cup organic walnuts
4 organic medjool dates (large, pitted)
1 tablespoon organic coconut oil (melted/liquid)
½ teaspoon organic vanilla bean powder
Filling
2 cups organic raw cashews
2 packets Sambazon Immunity Acai Berry Smoothie Packs (Note: You can also use pureed acai berries or freeze-dried acai powder)
1 organic banana
¼ cup organic coconut oil (melted/liquid)
¼ cup organic maple syrup
1 tablespoon organic maca powder
½ teaspoon organic vanilla bean powder
Directions: Add all the ingredients for the crust into a food processor and process until well combined and a crumbly texture. Set aside. Add all ingredients for the filling into a blender and blend until creamy and smooth. Divide the crust mixture between 8 mini-cheesecake sections and press the mixture down firmly. Divide the filling mixture between 8 mini-cheesecake sections, pouring it on top of the crust.
Put the cheesecake pan in the freezer for approximately 60 minutes, or until it hardens. Thaw at room temperature for just a few minutes prior to serving, and store in the freezer in an airtight container. You can garnish with shredded coconut, crushed walnuts, goji berries, cacao nibs, and hemp seeds.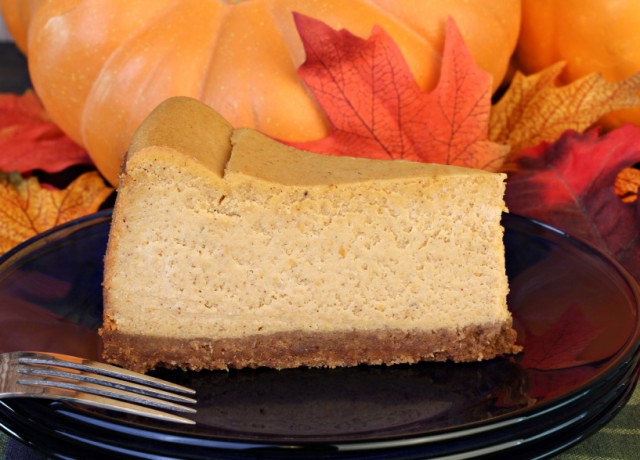 6. Pumpkin Cheesecake with Gingersnap-Walnut Crust
Eating Well doesn't disappoint with this Pumpkin Cheesecake with Gingersnap-Walnut Crust. For starters, one of our favorite superfoods — walnuts — ensures you get a crisp and toasty crust, while canned pumpkin and pureed nonfat cottage cheese replace cream cheese and its unwanted saturated fat. Joy Bauer labels pumpkin as a superfood due to its high levels of antoxidants and potassium, which contribute to a healthy heart, bones, eyes, and skin.
Ingredients:
4 ounces gingersnap cookies (18 to 20 1¾-inch cookies)
1 cup walnut halves, divided
4 teaspoons walnut oil or canola oil
12 ounces reduced-fat cream cheese
½ cup granulated sugar
½ cup packed dark brown sugar
2 teaspoons pumpkin pie spice
3 large eggs
1 tablespoon vanilla extract
1 (16-ounce) container nonfat cottage cheese
1 (15-ounce) can unseasoned pumpkin puree
Directions: Preheat oven to 325 degrees Fahrenheit. Coat a 9-inch springform pan with cooking spray. Tightly wrap the outside of the pan bottom and sides with heavy-duty foil to help keep the water bath from leaking into the cake. Put a kettle of water on to boil for the water bath. Grind cookies and ⅓ cup walnuts to a fine meal in a food processor. Drizzle in oil and process, scraping the sides as needed, until the crumbs are evenly moistened. Press the crumb mixture firmly into the bottom of the prepared pan. Place the pan in a roasting pan and set aside. Clean the food processor. Beat cream cheese, granulated sugar, brown sugar, and pumpkin pie spice in a large bowl with an electric mixer on medium-low speed until the spice is incorporated.
Increase speed to medium-high and beat until completely smooth, scraping down the sides occasionally. Beat in eggs one at a time, scraping down the sides occasionally. Beat in vanilla. Process cottage cheese in the food processor until completely smooth, about 2 minutes, scraping down the sides once. Gradually beat the cottage cheese and pumpkin puree into the cream cheese mixture on medium speed. Scrape down the sides and beat a final time to make sure no streaks remain. Pour the batter into the crust. Pour enough boiling water into the roasting pan to come 1 inch up the side of the springform pan to create a hot water bath for the cake. Carefully transfer the roasting pan to the oven.
Bake the cheesecake in the center of the oven until it's set around the edges but the center still jiggles slightly, 1½ to 1¾ hours. Remove the roasting pan from the oven. Let the cake cool in the water bath until the water is room temperature. Coarsely chop the remaining ⅔ cup walnuts. Toast them in a dry skillet over medium-low heat until fragrant, 3 to 5 minutes. Remove the pan from the water bath. Remove the foil. Place the nuts decoratively around the edge of the cheesecake. Refrigerate, uncovered, until very cold, at least 4 hours. Wrap tightly and refrigerate overnight if desired. To serve, remove the sides of the pan. Transfer the cheesecake to a cake stand, if desired.
More from Life Cheat Sheet: