6 Sweet Recipes Upgrading Traditional Hot Chocolate
It is the season for hot chocolate, because cold, dark nights spent under the covers watching holiday movies require a steaming, soul-warming treat. Though powder packets can make for a quick hot chocolate fix, a drink made out of fake sugar doesn't always suffice. If you're feeling ambitious this season and want to whip up your own chocolatey delicacies, check out of these 6 recipes that take your traditional hot chocolate up a notch. Not all these drinks are good for your waistline, but they're certainly good for your soul, and this month is all about treating yourself. Drink up!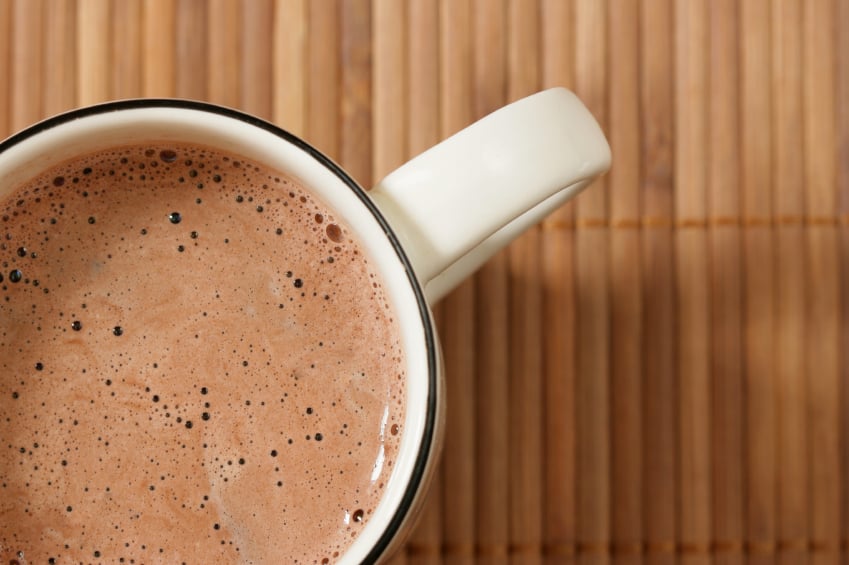 1. Milk Chocolate Peanut Butter Hot Chocolate
We're starting out strong with a decadent hot chocolate recipe from The Messy Baker Blog. Everyone knows that chocolate and peanut butter are a match made in heaven, and this treat proves that the killer combo works in beverage form, too. Get your cream, milk, chocolate chips, and nut butter ready. You're about to make a treat you'll want to sip on all night, and luckily because it's homemade, you can.
Ingredients:
1 cup milk
¼ cup half-and-half
¼ cup milk chocolate chips
1 tablespoon creamy peanut butter
¼ cup mini marshmallows
Directions: Bring milk and cream to a simmer in a small saucepan over medium-low heat (do not boil). When the milk begins to steam, add the chocolate. Stir until the chocolate melts. Add the peanut butter and stir until just melted. Pour into a large mug. Top with mini marshmallows.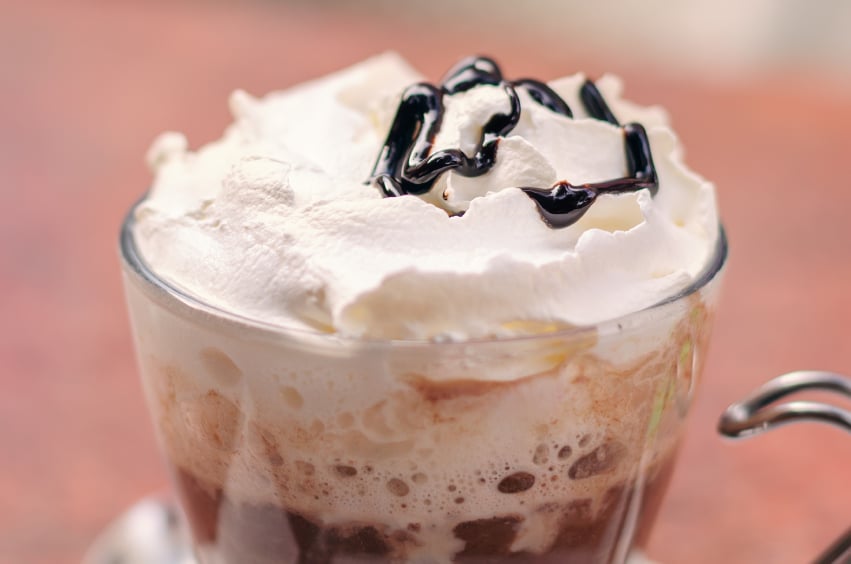 2. Frozen Hot Chocolate
Have you ever been to the famous dessert destination, Serendipity, in New York City? If so, the words "Frozen Hot Chocolate" probably ring a bell. Serendipity has been serving up its iconic beverage for years, and while we can't promise this recipe from Epicurious will perfectly replicate the (cold), sugary drink, we can tell you from personal experience it gets pretty close. So, if a trip to NYC isn't in the cards for you this holiday season, bring the bright lights to you with this drink that won't warm you up, but will surely give you a sugar high.
Ingredients:
6 (half-ounce) pieces of a variety of your favorite chocolates
2 teaspoons storebought hot chocolate mix
1 ½  tablespoons sugar
1 ½  cups milk
3 cups ice
Whipped cream
Chocolate shavings
Directions: Chop the chocolate into small pieces and place it in the top of a double boiler over simmering water, stirring occasionally until melted. Add the cocoa and sugar, stirring constantly until thoroughly blended. Remove from heat and slowly add ½ cup of the milk and stir until smooth. Cool to room temperature.
In a blender, place the remaining cup of milk, the room temperature chocolate mixture, and the ice. Blend on high speed until smooth and the consistency of a frozen daiquiri. Pour into a giant goblet and top with whipped cream and chocolate shavings.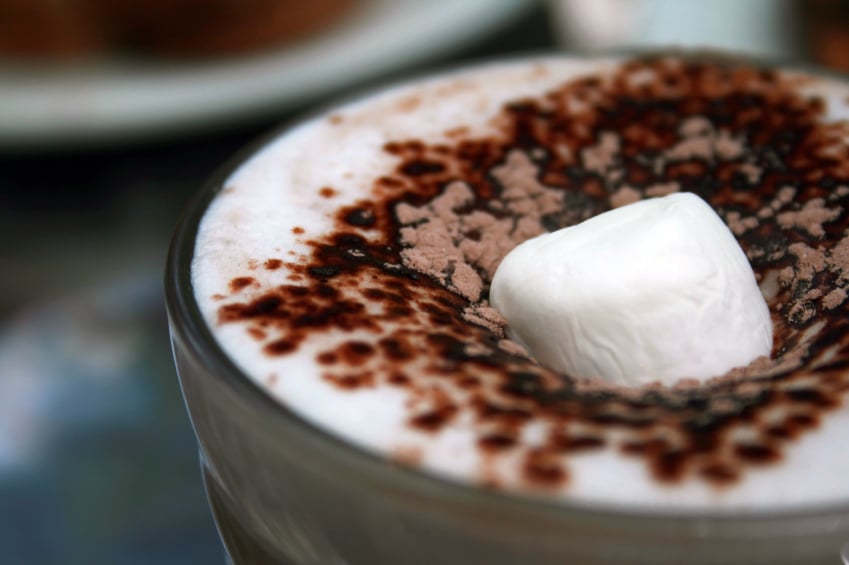 3. Pumpkin Hot Chocolate
Just because it's December doesn't mean the pumpkin fun has to end. Enter this Pumpkin Hot Chocolate recipe from Running with Spoons. This treat is sweet and vegan – it's practically a health food. Instead of enlisting cream, the recipe developer behind this chocolate formula calls for almond milk, and she also has pumpkin purée, cocoa powder, maple syrup, and a handful of spices on her ingredient list. This Pumpkin Hot Chocolate is the perfect drink to transition you from fall to the holiday season, and it'll warm you right up without weighing you down.
Ingredients:
2 cups unsweetened vanilla almond milk
⅓ cup canned pumpkin purée
2 tablespoons unsweetened cocoa powder
2 tablespoons maple syrup
½ teaspoon ground cinnamon
Dash of nutmeg
Dash of cloves
Coconut whipped cream
Directions: In a small saucepan over medium heat, whisk together almond milk, pumpkin purée, cocoa powder, maple syrup, and spices. Bring to a boil and continue stirring to ensure that everything is well-combined. Reduce heat to low and allow to simmer for about 5 minutes. Remove from heat and transfer to mugs.
4. Chai-Spiced Hot Chocolate
Speaking of spices, this Chai-Spiced Hot Chocolate is chock full of those warming spices, too, and the recipe from Oxmoor House couldn't be easier. We know you like your chai lattes, but have you ever tried chai hot chocolate? It's as good as it sounds. Cloves, cardamom pods, cinnamon sticks, and whole black peppercorns are what help yield the drink's iconic chai flavor, and cocoa, milk, and brown sugar are what facilitate its chocolate goodness. Take your hot chocolate to the next level with this sophisticated treat.
Ingredients:
6 whole cloves
4 whole cardamom pods
2 (3-inch) cinnamon sticks
½  teaspoon whole black peppercorns
3¾  cups 1% low-fat milk
½ cup packed light brown sugar
4 (¼-inch) slices fresh ginger
⅓ cup unsweetened cocoa
Additional cinnamon sticks (optional)
Directions: Place first 4 ingredients in a zip-top plastic bag. Seal bag, and crush spices into small pieces using a rolling pin or meat mallet. Combine crushed spices, milk, brown sugar, and ginger in a medium saucepan. Cook over medium heat 8 minutes, stirring until sugar dissolves and tiny bubbles form at edge of saucepan. Do not allow the mixture to reach a boil. Remove from heat; cover and let stand 15 minutes.
Add cocoa to milk mixture, and stir. Cook mixture over medium heat 2 minutes, stirring constantly until blended. Strain mixture through a sieve, and serve immediately. Garnish with cinnamon sticks, if desired.
5. Gingerbread Hot Chocolate
This Gingerbread Hot Chocolate from The Hopeless Housewife is the perfect holiday drink. Combining two flavors that reign supreme in December – chocolate and gingerbread – this beverage just about screams Christmas, and will appease any and all thirsty holiday revelers. This recipe enlists brown sugar, molasses, allspice, ginger, and milk, among other ingredients, to boast its seasonal flavor, and it goes great with a classic cookie. Slurp this drink up and feel the Christmas stress instantly vanish.
Ingredients:
3 cups milk
¼ cup brown sugar
1 teaspoon molasses
¼ cup cocoa powder
1½ teaspoons ground cinnamon
½ teaspoon allspice
1½ teaspoons ground ginger
1 teaspoon vanilla extract
½ teaspoon sea salt
Whipped cream for topping
Directions: In a medium saucepan over low heat, combine the brown sugar, molasses, cocoa powder, spices, vanilla, and salt. Stir in the milk.
Heat mixture over medium heat, whisking, until hot. Serve with whipped cream and sprinkle with cinnamon.
6. Nutella Hot Chocolate
Going out with a bang, we highlight this Nutella Hot Chocolate recipe from Café Delites. Grab your hazelnut spread, milk, cocoa powder, and sweetener of choice. Your soul is about to be warmed and your heart made happy – just be sure you make enough servings for two.
Ingredients:
4 cups low fat/skim milk
2 tablespoons Nutella, a chocolate hazelnut spread (or any hazelnut cacao spread)
2 tablespoons unsweetened cocoa powder
2 tablespoons natural sweetener of choice/raw sugar
Toppings
Marshmallows
Crushed hazelnuts
Chocolate chips
Extra Nutella
Directions: Heat milk in a medium-size saucepan on medium-high heat until beginning to warm and steam. Add the spread, cocoa powder and sugar, and whisk until dissolved and combined. Bring to a gentle simmer while stirring, and take off heat. Serve with your desired toppings.
More from Life Cheat Sheet:
Want more great content like this? Sign up here to receive the best of Cheat Sheet delivered daily. No spam; just tailored content straight to your inbox.