6 Vegetarian Dinner Recipes to Make for a Merry and Meatless Christmas
A vegetarian Christmas dinner should be as special and memorable as the holiday itself. Using aromatic spices, vibrant vegetables, and puff pastry, you can create a meatless feast that will showcase the season's finest flavors. Make a magnificent main course by preparing a Mushroom and Squash Vegetarian Wellington, and prepare stunning sides such as Roasted Cabbage with Warm Walnut-Rosemary Dressing and Crispy Portobello Cutlets with Caramelized Onions and Blue Cheese. These six vegetarian recipes will ensure your dinner guests have a very merry — and meatless — Christmas.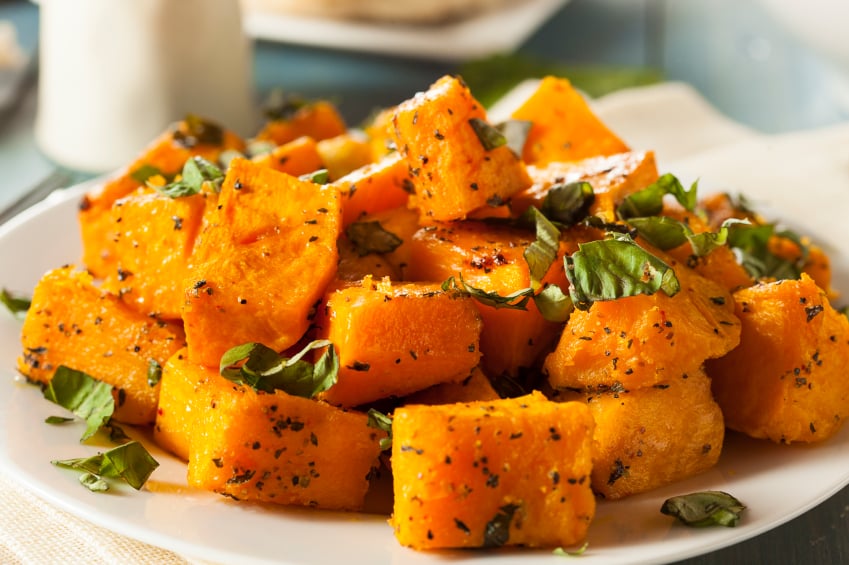 1. Squash, Sage and Taleggio Tart
Serve your family and friends a breathtaking main course by preparing Woman & Home's Squash, Sage and Taleggio Tart. In addition to tasting delicious, this dish is also easy to prepare — it can be whipped up in an hour, ensuring you spend more time chatting with your loved ones and less time slaving over the stove. The recipe yields 4 servings.
Ingredients:
13 ounces all-butter ready-rolled puff pastry, defrosted
1 pound plus 2 ounces butternut squash, peeled, deseeded and cubed
1 garlic clove, crushed
1 red onion, halved and sliced
1 red pepper, deseeded and cut into cubes
2 tablespoons olive oil
1 free-range egg, lightly beaten
8 ounces Taleggio cheese, sliced
12 sage leaves
Directions: Heat the oven to 425 degrees Fahrenheit. With a sharp knife, score a rectangle about ½ inch inside the edge of the pastry. Score this rim in a criss-cross pattern. Chill for 20 minutes. Put the squash into a roasting tin with the garlic, onion, and red pepper, drizzle over the olive oil and roast for 20 minutes until tender and beginning to char
Meanwhile, brush the pastry rim with egg and pierce the central pastry rectangle several times with a fork. Bake for 15 to 20 minutes until golden. Turn the oven down to 350 degrees Fahrenheit. Arrange the vegetables on top of the cooked pastry with the Taleggio and sage leaves. Season and bake for 15 minutes until the cheese is melted and everything warmed through.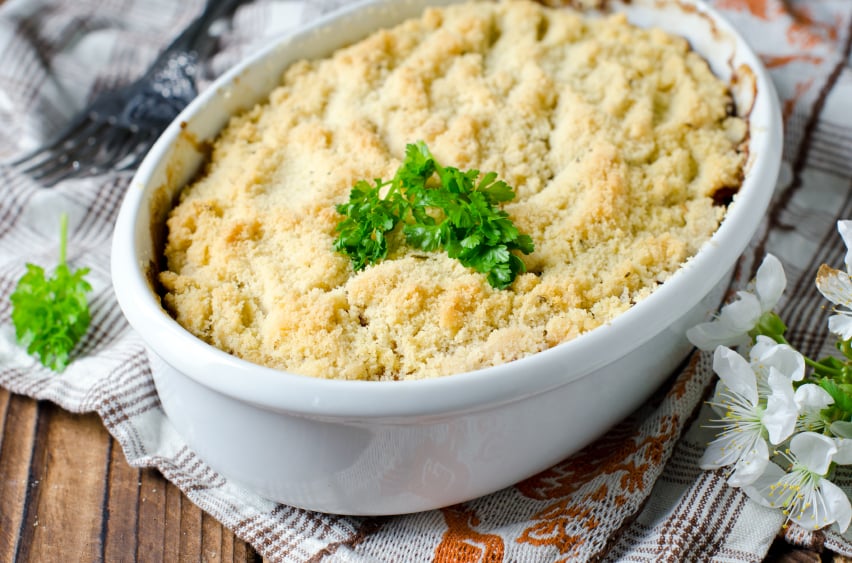 2. Roast Vegetable Crumble
Filled with rich and nutty favors, hearty root vegetables, and a crumble topping, The Natural Foodie's dish is a marvelous main course to serve your loved ones. The recipe yields 2 to 4 servings; consider doubling it if you've got a large crowd coming over!
Ingredients:
1 teaspoon coriander seeds
½ teaspoon cumin
Pinch murray river salt flakes
Pinch of whole black pepper
1 tablespoon organic virgin coconut oil
1 clove garlic (sliced)
1 spring onion (sliced)
1 carrot (cubed)
1 cup butternut pumpkin (cubed)
1 parsnip (cubed)
1 cup organic chickpeas (soaked overnight and boiled until tender)
⅞ cup organic tomato puree
1 slice of day old sourdough bread
½ cup organic rolled oats
¼ cup organic macadamias (roughly chopped)
¼ cup organic raw almonds (roughly chopped)
Extra virgin olive oil
Directions: Preheat the oven to 350 degrees Fahrenheit. Heat a non-stick fry pan over medium heat and add the whole spices. Dry fry the spices for about 30 seconds to release the flavors. Then add to a mortar and pestle and crush the spices until ground into a rough powder. Heat the coconut oil over medium heat and add the garlic, onion, crushed spices and cubed vegetables. Sauté the vegetables for about 5 minutes until softened.
Add the tomato puree and chickpeas and stir through. Pour the vegetables into an oven proof dish and bake in the oven for 15 minutes. Meanwhile, roughly chop or tear up the bread and add to a bowl with the oats and nuts. Drizzle with olive oil and mix well until evenly coated. Sprinkle the crumble topping over the vegetables and return to the oven for a 30 minutes or until the crumble is crispy and golden. Serve hot.
3. Mushroom and Squash Vegetarian Wellington
Puff pastry, zesty seasonings, veggies, and nuts create an elegant entree that will entice your dinner guests. JamieOliver.com's Mushroom and Squash Vegetarian Wellington yields 8-10 servings. For a perfect pairing, we recommend serving this dish with AllRecipes.com's Vegetarian Gravy.
Ingredients:
1 small butternut squash, halved lengthways and seeds scraped out
Olive oil
1 small dried red chili, crumbled
½ teaspoon ground cinnamon
1 tablespoon coriander seeds
1 sprig fresh rosemary, leaves picked and chopped
2 red onions, peeled and sliced
Sea salt
Freshly ground black pepper
1 small bunch fresh sage, leaves picked
3½ ounces vac-packed chestnuts, crumbled
2 slices sourdough bread
3 cloves garlic, peeled
1 lemon
1½ tablespoons butter
1 cup chestnut mushrooms, finely sliced
1 cup Swiss chard or spinach, washed
⅜ cup pine nuts
⅛ cup sultanas (or raisins)
1 pound all-butter puff pastry
1 free-range egg
1 splash milk
Directions: Preheat the oven to 400 degrees Fahrenheit. Slice the squash lengthways into wedges and add to a large roasting tray with a good splash of olive oil, the chili, and cinnamon. Bash the coriander seeds in a pestle and mortar until fine, then add the rosemary leaves and bash again for 1 to 2 minutes to release its flavor. Scatter over the squash and toss together so that each piece of squash is well coated with the seasoning. Make sure all the squash is skin-side down, then cover with tin foil and bake in the hot oven for around 45 minutes or until soft. Allow to cool, then tear into bite-sized chunks. Meanwhile, heat a saucepan over a medium heat, then add a splash of olive oil and the onions.
Season well with salt and pepper and cook gently, stirring occasionally, until softened and lightly browned. Add the sage and crumbled chestnuts to the pan for the last few minutes of cooking. While that's happening, toast the bread on a hot griddle pan or in a toaster and rub well with one of the cloves of garlic. Tear into small chunks, and once the onions are done, add the toast to the pan. Turn the heat off, stir everything together, taste, then season and grate in the zest of the lemon. Add the butter to a frying pan on a medium heat and when melted, add the mushrooms and a chopped clove of garlic. Fry until soft and quite dry. Squeeze in a little lemon juice, tip into a food processor and whiz until smooth.
Bring a large pan of salted water to the boil, add the spinach and cook until soft. Drain in a colander, pressing lightly to get rid of excess moisture, then place to one side. Slice the remaining garlic clove and add to a frying pan with a splash of olive oil. Fry until golden. Add the pine nuts, sultanas and spinach and fry everything together until warmed through. Season well with salt and pepper and turn off the heat. Now assemble your Wellington. Roll out the puff pastry, then spread the mushroom mixture all over it. In a large bowl, lightly toss together the spinach, squash and onion-bread mixture, then spoon it in a thick line down the middle of the pastry.
Leave a space free at either side so you can roll the pastry around the filling.  To do this, hold one side of the baking parchment and lift it, with the pastry, towards the center of the Wellington so it starts to cover the filling. Peel the baking parchment back, leaving the pastry in place, then do the same with the other side. The pastry should overlap in the middle. Beat the egg with the milk and brush it over the pastry join to seal the join. Fold up the ends so the filling doesn't leak out, then carefully roll the Wellington onto a baking sheet, with the seal underneath. Brush all over with the egg mix. Bake for 45 minutes until puffed up, golden brown and hot through. Serve carved into thick chunks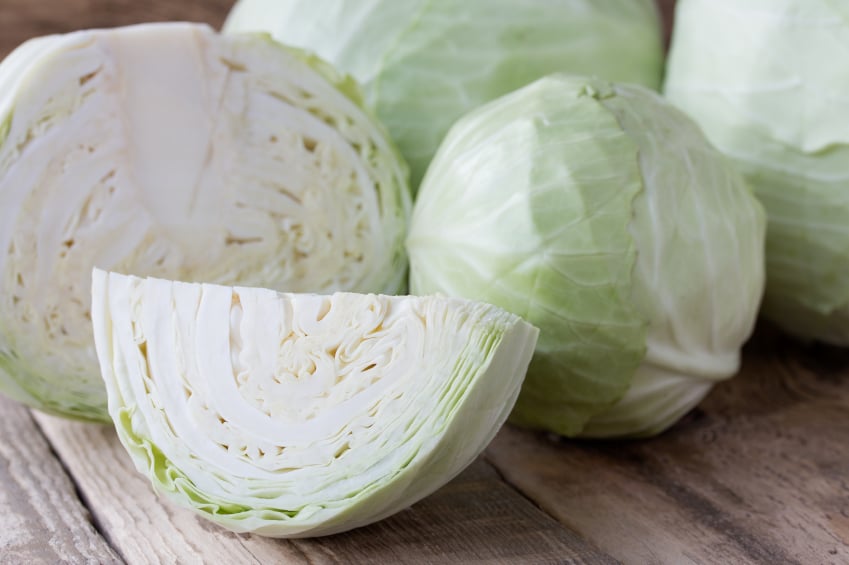 4. Roasted Cabbage with Warm Walnut-Rosemary Dressing
To prepare Food & Wine's scrumptious side dish, you'll roast cabbage wedges until they're a beautiful golden brown and then top them with a light and buttery dressing. This healthy, meatless recipe yields 18 servings.
Ingredients:
3 (1¾ pounds) heads of green cabbage, each cut into 6 wedges through the core
¾ cup extra-virgin olive oil
Salt
Freshly ground pepper
8 garlic cloves, peeled and halved
6 rosemary sprigs
1½ cups walnuts (4½ ounces)
1 stick unsalted butter
¼ cup apple cider vinegar
2 tablespoons Moscatel vinegar, or white balsamic vinegar
Directions: Preheat the oven to 400 degrees Fahrenheit. In a large roasting pan, toss the cabbage wedges with the olive oil and season with salt and pepper. Arrange the wedges cut side down in a single layer and scatter the garlic and rosemary sprigs around them. Cover tightly with foil. Bake for about 45 minutes, until the cabbage cores are tender.
Uncover and bake for about 20 minutes longer, turning once, until the cabbage is brown around the edges. Arrange the cabbage on a platter and tent with foil. Strip the rosemary leaves from the stems; discard the stems and garlic. In a medium skillet, toast the walnuts over moderate heat, tossing, until lightly browned, 5 minutes. Let cool, then coarsely chop. In the same skillet, melt the butter.
Add the chopped walnuts and cook over moderate heat, stirring, until the butter turns medium brown and smells nutty, about 5 minutes. Add the rosemary needles and cook, stirring, until crisp, about 1 minute. Reduce the heat to low, stir in both vinegars and cook until the dressing is slightly reduced, about 2 minutes. Season with salt and pepper. Spoon the dressing over the cabbage wedges and serve.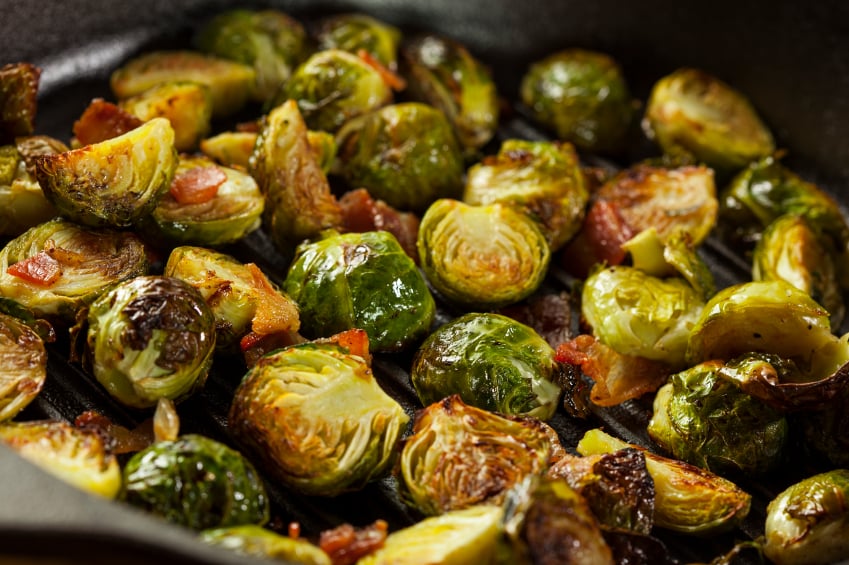 5. Seared Brussels Sprouts with a Smoked Gouda Sauce and Freshly Grated Horseradish
Kevin Schuder's recipe via TreeHugger creates roasted Brussels sprouts that are topped with a rich and creamy cheese sauce. Vegetarians and meat lovers alike won't be able to get enough of this savory side!
Ingredients:
Seared Brussels Sprouts:
1½ pounds brussels sprouts
Smoked gouda sauce
Fresh horseradish
Chopped parsley, chives, or other herbs
Smoked Gouda Sauce:
1 tablespoon butter
½ cup medium diced onion
1 teaspoon minced garlic
1 teaspoon champagne vinegar (any light vinegar could work)
1 cup milk
1 cup shredded smoked gouda
Directions: To prepare the Brussels sprouts, clean the Brussels by removing any shriveled or yellow leaves. Trim off any discolored stem and then cut them in half. Blanch the Brussels sprouts in boiling salted water for one minute then follow with an ice bath to stop the cooking process. Set the Brussels aside until they are dry. Sear the Brussels in a pan with a minimum of oil, cut side down. Once seared, toss the Brussels with the gouda sauce and grate fresh horseradish over the top. Top with the fresh herbs and serve.
To prepare the gouda sauce, using a large sauce pan, melt the butter over a medium heat. Add the onions and garlic with a pinch of salt and saute until the onions are soft and translucent. Deglaze the pan by adding the champagne vinegar. Once the onions have absorbed the vinegar, add the milk and bring it to a simmer. Add the smoked Gouda, a pinch at a time, while continuously stirring until it has melted and incorporated. Transfer to a blender, and blend until the onions and garlic are pureed. Salt and pepper to taste.
6. Crispy Portobello Cutlets with Caramelized Onions and Blue Cheese
Eating Well's mushroom steaks are topped with caramelized onions and blue cheese, creating a rich dish that your dinner guests will devour. The recipe yields 4 servings. We suggest serving this meatless main dish with Martha Stewart's Easy Creamed Spinach.
Ingredients:
⅓ cup balsamic vinegar
2 tablespoons reduced-sodium soy sauce or Worcestershire sauce
¾ teaspoon dried sage
8 portobello mushroom caps (3-4 inches in diameter)
5 tablespoons extra-virgin olive oil, divided
2 medium red onions, sliced (about 2 cups)
2 tablespoons water
¼ teaspoon salt
¼ teaspoon ground pepper
¾ cup panko breadcrumbs
¼ cup crumbled blue cheese
Directions: Preheat oven to 250 degrees Fahrenheit. Combine vinegar, soy sauce, and sage in a small bowl. Place mushroom caps, gill-side up, in a large shallow dish and pour the vinegar mixture into them. Let marinate for about 10 minutes. Meanwhile, heat 1 tablespoon oil in a medium skillet over medium heat. Cook onions, stirring often, until just starting to brown, about 10 minutes. Add water and cook until very soft, 10 to 15 minutes more.
Season with salt and pepper and set aside. Place breadcrumbs on a large plate. Make sure the mushrooms are coated on both sides with marinade; dredge them in the breadcrumbs. Heat 1 tablespoon oil in a large nonstick skillet over medium heat. Add 4 mushrooms, gill-side down. Place a heavy, heatproof plate on top and cook until the breadcrumbs are crispy, pressing on the plate periodically to flatten the mushrooms, about 4 minutes. Remove the plate; add 1 tablespoon oil to the pan and turn the mushrooms over.
Replace the plate and cook, pressing once or twice, until the breadcrumbs are golden brown and the mushrooms are tender, about 4 minutes more. Transfer to a baking sheet and keep warm in the oven. Wipe out the pan and repeat with the remaining 4 mushrooms and 2 tablespoons oil, reducing the heat if necessary. Serve with the onions and blue cheese.
More from Life Cheat Sheet:
Want more great content like this? Sign up here to receive the best of Cheat Sheet delivered daily. No spam; just tailored content straight to your inbox.