6 Ways to Bake Fruit for Breakfast
Transforming raw fruit into a beautifully baked, fruit-based breakfast is a great way to start your morning. These healthy fruit-filled recipes use multiple fruits such as prunes, apricots, raisins, oranges, blueberries, and cherries, providing you with a flavorful, nutritious, and colorful breakfast dish. Brighten up your morning by indulging in these 6 delicious fruit-focused recipes.
1. Hot Baked Fruit
This healthy and delicious recipe is perfect for breakfast or brunch. AllRecipes.com's dish, which yields 8 servings, calls for prunes, apricots, raisins, and pineapple chunks, ensuring you start your day with a healthy dose of fruit.
Ingredients:
8 ounces pitted prunes
8 ounces dried apricots
⅓ cup raisins
1 (15 ounce) can pineapple chunks, undrained
1 (16 ounce) can cherry pie filling
¼ cup dry sherry
1 cup water
⅓ cup blanched slivered almonds
Directions: Preheat oven to 350 degrees Fahrenheit. In a deep baking dish, mix together prunes, dried apricots, raisins, and pineapple chunks. In a separate bowl, combine cherry pie filling, sherry, and water. Pour over the fruit, and blend thoroughly. Stir in almonds. Cover and bake in preheated oven for 1 and ½ hours.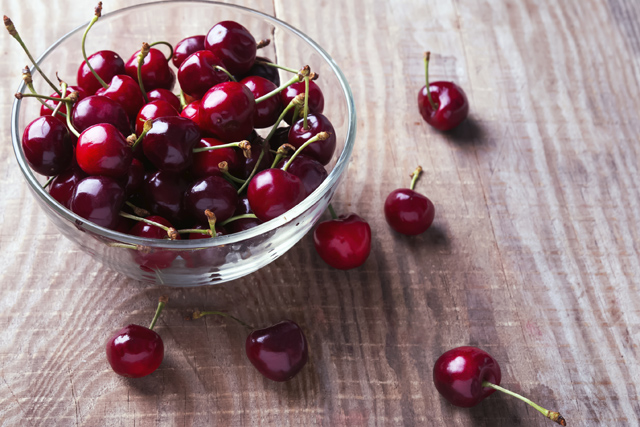 2. Baked Fruit for Breakfast  
Beauty That Moves has created a baked breakfast dish filled with apples, blueberries or cherries, cinnamon, and honey, which is topped off with a sweet and savory vanilla nut cream sauce. You won't be able to get enough of this fruit-filled breakfast delight.
Ingredients:
4 cups sliced apples
2 cups frozen blueberries or cherries
1 tablespoon honey or maple syrup
½ teaspoons cinnamon
Hemp seed for sprinkling on top
Vanilla Nut Cream Sauce
¼ teaspoon ground nutmeg
2 teaspoons vanilla
1 cup cashews, soaked overnight then drained
1 cup dates (soaked first if dry)
1 ½ cups water or almond milk
Directions: To make the sauce, combine all ingredients in a high-powered blender and blend until smooth and creamy. It may take a minute or so, scrape down sides if needed. The sauce will keep, refrigerated, for up to one week. To make the baked fruit, preheat the oven to 350 degrees Fahrenheit. In a glass pie plate arrange fruit, toss with cinnamon. Drizzle with honey. Bake for 35-40 minutes. Serve with the hemp seed and nut cream sauce.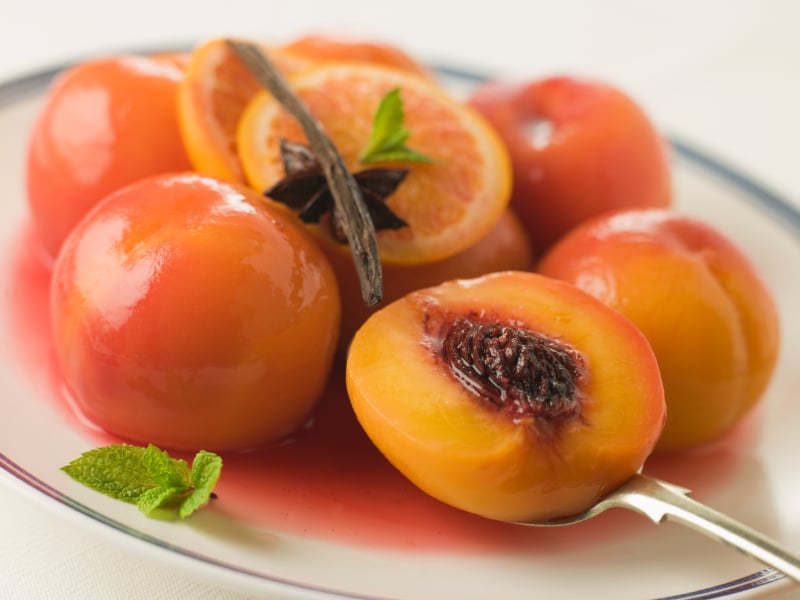 3. Mary's Baked Fruit Recipe
After digging into this Taste of Home recipe, eating cereal for breakfast will be a thing of the past. The recipe, which yields 12 to 16 servings, calls for apricots, pears, plums, peaches, and pineapples, and contains 145 calories per healthy serving.
Ingredients:
1 can (16 ounces) apricot halves, drained
1 can (16 ounces) pear halves, drained
2 cans (15 ounces each) plums, drained and halved
1 can (29 ounces) peach halves, drained
1 can (8 ounces) pineapple slices, drained
⅓ cup packed brown sugar
1 tablespoon butter
½ teaspoon ground cinnamon
¼ teaspoon ground cloves
Directions: In a greased 13 x 9-inch baking pan, starting at the 9-inch end, arrange rows of fruit in the following order: half of the apricots, pears and plums, all of the peaches, then remaining apricots, pears, and plums. Drain pineapple, reserving ½ cup of juice. Lay pineapple over fruit in pan. In a saucepan, combine the pineapple juice, brown sugar, butter, cinnamon, and cloves. Cook and stir until sugar is dissolved and butter is melted. Pour over fruit. Bake, uncovered, at 350 degrees Fahrenheit for 20-25 minutes or until heated through.
4. Baked Fruit Compote
Baked with apricots, peaches, plums, orange juice, brown sugar, and coconut, About.com's recipe is a breakfast dream come true. This recipe, which yields 8 servings, creates a warm and comforting morning meal. You can serve it by itself, or as a side to pancakes or waffles.
Ingredients:
1 can (15 to 16 ounces) apricot halves
1 can (15 to 16 ounces) peach halves
1 can (15 ounces) whole purple plums
Zest of 1 orange
½ cup orange juice
¼ cup brown sugar
2 tablespoons melted butter
½ cup flaked coconut
Directions: Drain canned fruits thoroughly; mix in orange zest. In a lightly buttered baking dish, arrange drained fruits. In a bowl, combine the orange juice and sugar; pour over fruit. Drizzle the melted butter over fruits then sprinkle coconut over all. Bake at 400 degrees Fahrenheit for 15 to 20 minutes, until hot and bubbly. Serve warm.
5. Baked Persimmons
Persimmons are an often forgotten about and underutilized fruit. But after trying The Kitchn's recipe, you're guaranteed to become a persimmon fan. This dish is sweet and spicy, with the cinnamon, allspice, and ginger enhancing the persimmons' fruity flavor. You can easily turn this into a dessert recipe, too. Simply serve with ice cream, whipped cream, or cake, and you've got a scrumptious evening treat.
Ingredients:
4 Fuyu persimmons
2 tablespoons honey
¼ teaspoon cinnamon
¼ teaspoon allspice
⅛ teaspoon ginger
1 cup hot water
Directions: Preheat oven to 350 degrees Fahrenheit. Cut tops off persimmons. Peel and slice fruits in half horizontally. Place cut side up in large baking dish. In a small bowl, combine honey and spices. Add hot water and stir until dissolved. Pour mixture over fruit. Cover dish with foil and bake until persimmons are soft, about 40-50 minutes.
 Remove foil and spoon syrup over fruit. Place dish under broiler until persimmons are browned, about 10 minutes. Serve.
6. 
You can feel good about Everyday Health's recipe, which combines oranges, pineapple, coconut, raspberries, and cinnamon to create a healthy and nutritious breakfast dish. The best part? It's an easy meal to pull together, and only takes about 10 minutes of prep time.
Ingredients:
½ teaspoon orange peel, finely shredded
2 medium oranges
1 ounce pineapple, canned, drained
¼ teaspoon cinnamon, ground
2 tablespoon coconut, shredded
Raspberries, optional
Directions: Preheat oven to 350 degrees Fahrenheit. Peel and section oranges. Cut orange sections into bite-size pieces. Divide orange pieces and pineapple among four 6-ounce custard cups. Sprinkle with orange peel and cinnamon. Top with coconut. Bake about 15 minutes or until fruit is heated through and coconut is golden. If desired, garnish each serving with fresh raspberries. Serve warm.
More From Life Cheat Sheet:
Want more great content like this? Sign up here to receive the best of Cheat Sheet delivered daily. No spam; just tailored content straight to your inbox.