6 Ways to Remix Thanksgiving Leftovers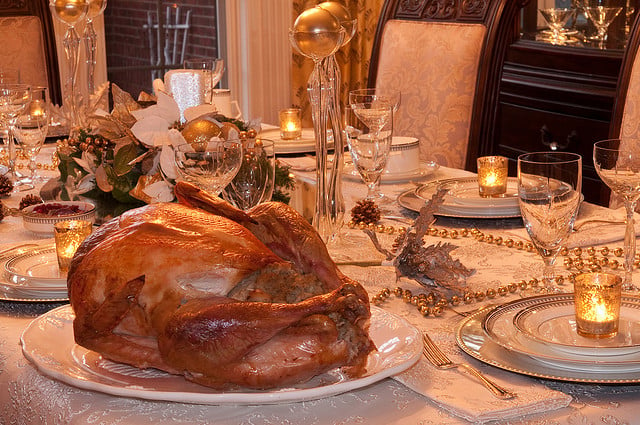 If there's anything Americans look forward to more than Thanksgiving dinner, it's Thanksgiving dinner leftovers. Sure, the mashed potatoes and gravy taste great the day of, but at that point, some revelers are already stuffed turkeys from the appetizer gluttony that proceeds the big meal — and they can't enjoy the meal as much as they should.
Sounds like a great excuse for Thanksgiving part two the next day, right? If you're planning on avoiding the Black Friday madness and watching the mania unfold from the comfort of your own homes, check out these creative ways to transform some of your leftovers into completely different dishes. It's easy to reheat and eat leftovers, but sometimes turkey meat on bread with mayonnaise and cranberry sauce can get old.
Here are alternatives to your traditional turkey sandwiches and soups that feature the stars from all of your favoring Thanksgiving dishes.
For your turkey: Thanksgiving Pizza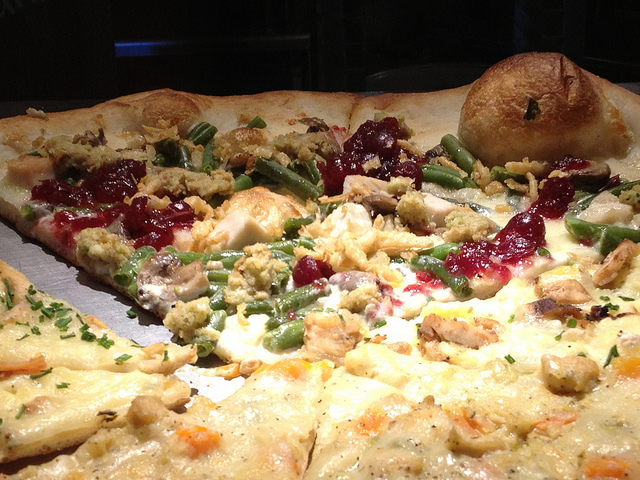 First up, the star of the meal: turkey. This meat is known to find itself between two slices of gravy-sodded bread on Black Friday, but this year you should try featuring it on a different kind of bread: pizza dough. Food Network provides a recipe for Thanksgiving Pizza, a new take on turkey leftovers.
Ingredients:
1 pound pizza dough
All-purpose flour, for dusting
1 teaspoon cornmeal
1 teaspoon extra-virgin olive oil
1/2 teaspoon sugar
3/4 cup mashed potatoes
1/2 cup shredded cheddar cheese
2 teaspoons whole milk
1 cup prepared stuffing
1 roasted turkey or chicken thigh, with skin
1/4 cup chunky cranberry sauce
1/4 cup gravy
Directions: Put a pizza stone or upside-down baking sheet in the oven; preheat to 500 degrees Fahrenheit. Stretch the pizza dough into a 12-inch round on a floured surface. Dust a pizza peel or upside-down baking sheet with 1/2 teaspoon cornmeal and put the dough on top. Brush with the olive oil and sprinkle with the sugar and the remaining 1/2 teaspoon cornmeal. Slide onto the hot pizza stone or baking sheet and bake until golden on the bottom, 5 to 7 minutes.
Meanwhile, mix the mashed potatoes with 1/4 cup cheese and the milk in a bowl; set aside. Roll tablespoonfuls of the stuffing into 1-inch balls to look like meatballs. Shred the turkey meat and julienne the skin. Slide the crust back onto the peel. Spread the cheddar mashed potatoes over the crust, then top with the shredded turkey. Spoon the cranberry sauce over the pizza and drizzle with the gravy. Arrange the stuffing balls on top and sprinkle with the remaining 1/4 cup cheese and the turkey skin. Return the pizza to the oven and bake until golden brown, 8 to 10 more minutes.
For your mashed potatoes: English Cottage Pie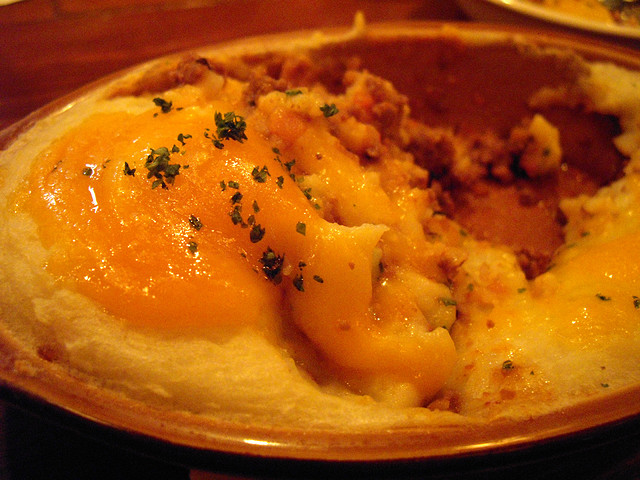 If you've never had cottage pie before, you're in for a treat thanks to All Recipes. The savory dish is usually served with ground beef, but in light of the holiday, you can easily insert lean ground turkey into the recipe, too. Grab your potatoes and your cheese and continue the carb-loading weekend.
Ingredients:
1 tablespoon all-purpose flour
1 tablespoon butter, softened
Cooking spray
1 1/2 cups chopped onion
1/2 cup chopped carrot
1 (8-ounce) package cremini or button mushrooms, thinly sliced
1 pound extra-lean ground beef
2 tablespoons no-salt-added tomato paste
1 cup fat-free, lower-sodium beef broth
1/4 teaspoon freshly ground black pepper
1/4 cup chopped fresh parsley
1 tablespoon fresh thyme leaves
1/2 teaspoon salt
3 cups leftover mashed potatoes
3/4 cup (3 ounces) shredded reduced-fat sharp white cheddar cheese, divided
Paprika (optional)
Directions: Preheat oven to 350 degrees Fahrenheit. Combine flour and butter; stir well. Heat a large nonstick skillet over medium-high heat. Coat pan with cooking spray. Add onion and carrot; sauté 5 minutes. Add mushrooms; sauté for 5 minutes or until lightly browned. Remove vegetables from skillet. Add beef to pan; cook 5 minutes or until browned, stirring to crumble. Stir in tomato paste, and cook 3 minutes. Stir in broth and pepper. Return vegetables to pan, and bring to a simmer. Stir in parsley, thyme, and salt. Add flour mixture and cook for 1 minute or until thick, stirring constantly. Spoon meat mixture into an 8-inch square glass or ceramic baking dish coated with cooking spray, spreading evenly. Combine the potatoes and half of cheese; spread the potato mixture evenly over meat mixture. Top with remaining cheese. Sprinkle with paprika, if desired. Bake at 350 degrees Fahrenheit for 20 minutes or until bubbly.
For your green bean casserole: Mini Green Bean Frittatas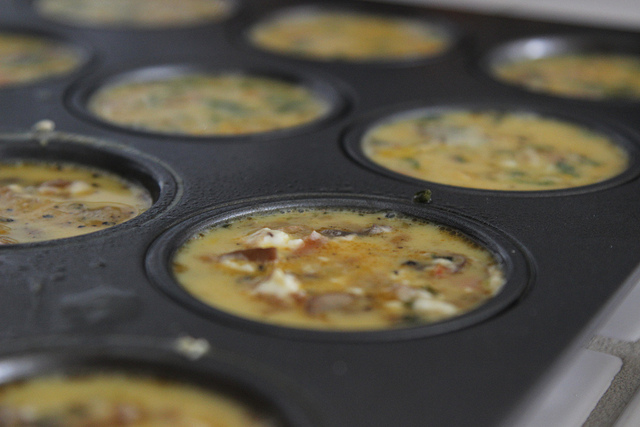 What about those greens? Green bean casserole is undoubtedly a family favorite on the day of Thanksgiving, but there's only so many times you can eat the butter-laden beans and not get tired of them. If your relatives didn't eat as much as the casserole as you had hoped on Turkey Day, you're in luck. She Knows has a great recipe for mini green bean casserole frittatas that can make the perfect light breakfast, lunch, or snack after Thursday's heavy meal. What's better — the ingredients list is short and the recipe requires only two simple steps.
Ingredients:
1 cup leftover green bean casserole
6 whole eggs and 6 egg whites, lightly beaten
1/2 cup feta cheese, shredded mozzarella cheese or grated Parmesan cheese
1 teaspoon garlic powder
Salt and pepper to taste
Directions: Preheat oven to 350 degrees Fahrenheit. Spray a muffin tin with cooking spray and set aside. In a large mixing bowl combine the green bean casserole, eggs, garlic powder, and season with salt and pepper. Spoon the mixture into each muffin tin, top each frittata with cheese, and bake for 20 minutes — or until the tops of the frittatas are golden brown.
For your stuffing: Stuffing Stuffed Mushrooms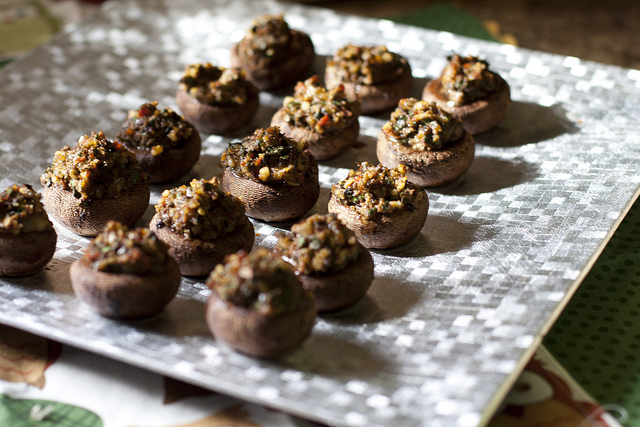 This next recipe turns an indulgent side dish into a healthy main one — almost. Rachael Ray challenges Thanksgiving revelers to take their leftover stuffing and stuff it into mushrooms, with a baking time of only 20 minutes. Scared of mushrooms? You should still try this dish. Baking mushrooms with cheese and stuffing can convert any rigid mushroom hater, and plus, studies show that the plants are packed with ingredients and are low on calories. Chances are you could use a lower-cal snack this weekend.
Ingredients: 
1/4 cup EVOO – Extra Virgin Olive Oil
2 garlic cloves, smashed
1 pound cremini mushroom, steam removed
Salt and black pepper
3 cups leftover stuffing
1 egg, beaten
1/4 cup grated Parmigiano-Reggiano
1/4 cup shredded cheddar cheese
3 leaves sage, chopped
Directions: Preheat oven to 425 degrees Fahrenheit. Combine EVOO and garlic in a small saucepot. Cook garlic until soft and fragrant, about 5 minutes. Meanwhile, par-roast mushroom caps brushed with garlic oil and seasoned with salt and pepper, cap side down, until just tender, 10 minutes. Cool.
Place the leftover stuffing in a mixing bowl and mix with beaten egg. Stuff the mushroom caps and topped each mushroom with a mix of white sharp cheddar, Parm, and finely chopped fresh sage. Bake 20 minutes.
For your sweet potato casserole: Sweet Potato Pancakes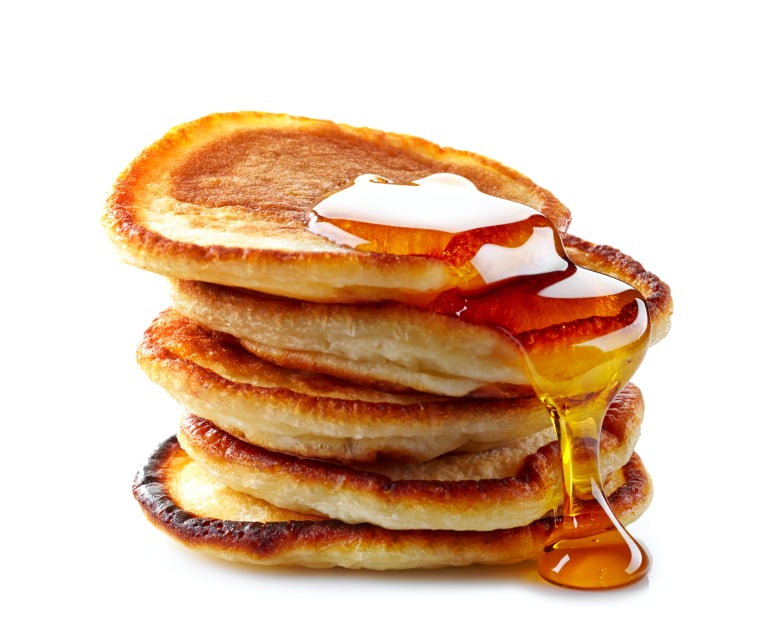 Next up are your other potatoes of the sweet variety. Sweet potato casserole is another dish that is hard to eat more than once or twice, but the nutrient-packed yams are still worthy of a recipe makeover, and luckily, Betty Crocker has just the recipe to transform your day-old casserole. Try these sweet potato pancakes and prepare to be surprised over just how good these healthy, seasonal flapjacks really are.
Ingredients: 
3/4 cup whole wheat flour
3/4 cup all-purpose flour
1 tablespoon baking powder
1 teaspoon salt
1 1/2 tablespoons light brown sugar, packed
1/2 teaspoon nutmeg
1 1/2 cups milk
1/2 stick unsalted butter, softened
2 eggs
1 1/2 cups leftover mashed sweet potato at room temperature
1 tablespoon vegetable oil
chopped pecans, to serve
maple syrup, to serve
Directions: In a large bowl, whisk together flours, baking powder, salt, sugar, and nutmeg and set aside. In another bowl, whisk together milk, butter, and eggs. Add contents of wet mixture to dry mixture and mix until thoroughly combined. Fold in the mashed sweet potato. Heat a large, nonstick griddle or pan over medium heat and spread vegetable oil over the surface to coat. Add batter in small batches, leaving room between them for spreading. When small bubbles form on the top, flip over, and cook on the other side until golden brown — about 3 minutes. Serve warm with chopped pecans and maple syrup.
For your bread: Bread Pudding
Last but not least, your bread. There's only so much you can fit in your stomach on Thanksgiving, but there's no reason to let that good bread go to waste. Continue the Thanksgiving gluttony one more night and turn your day-old savory bread into a classic bread pudding. This dessert is one that too many have forgotten about, but pull it out of the even this Thanksgiving weekend and you're sure to reignite everyone's memory. Thanks, Betty Crocker.
Ingredients:
2 cups milk
1/4 cup butter or margarine
2 eggs, slightly beaten
1/2 cup sugar
1 teaspoon ground cinnamon or nutmeg
1/4 teaspoon salt
6 cups soft bread cubes (about 6 slices bread)
1/2 cup raisins, if desired
Whipping (heavy) cream, if desired
Directions: Heat oven to 350 degrees Fahrenheit. In 2-quart saucepan, heat milk and butter over medium heat until butter is melted and milk is hot. In large bowl, mix eggs, sugar, cinnamon, and salt. Stir in bread cubes and raisins. Stir in milk mixture. Pour into ungreased deep round pan. Bake uncovered 40 to 45 minutes or until knife inserted 1-inch from edge comes out clean. Serve warm with whipping cream.