Tasty Breakfast Recipes That Use Your Leftovers
Looking for a creative way to use your dinner leftovers? Consider using your supper scraps to make mouthwatering morning meals. You'll be pleasantly surprised by the fabulous five-star breakfast dishes you can prepare utilizing last night's pork and your leftover linguine. Thanks to these six recipes, you'll never have to throw out uneaten dinner remnants again.
1. Linguine and Prosciutto Frittatas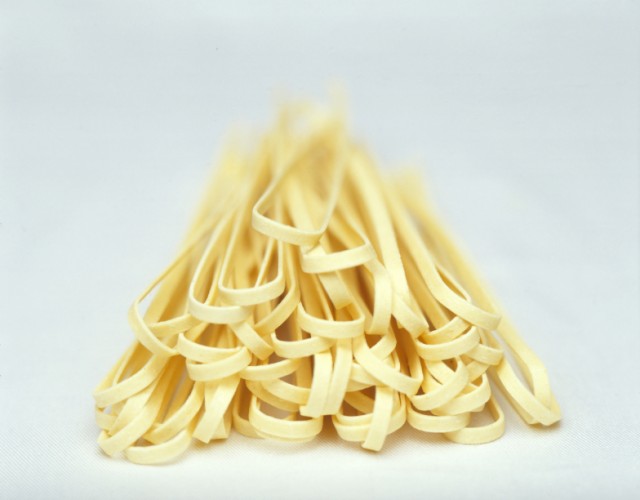 If you've got leftover linguine, there's no need to let it go to waste. Instead, put your pasta to good use by creating GiadaWeekly.com's breakfast frittata. The recipe yields 12 servings. Note: If your linguine is already cooked, simply reheat and proceed with the rest of the instructions.
Ingredients:
½ pound linguine
7 large eggs
½ cup milk
¼ heavy cream
½ cup Mascarpone cheese
6 ounces diced prosciutto
5 ounces smoked mozzarella cheese, diced (1 cup diced)
½ cup freshly grated Asiago cheese
¼ cup finely chopped fresh flat-leaf parsley
2 garlic cloves, minced
1 teaspoon salt
¾ teaspoon freshly ground black pepper
⅛ teaspoon freshly grated nutmeg
Directions: Preheat the oven to 375 degrees Fahrenheit. Bring a large pot of salted water to a boil over high heat. Add the pasta and cook until tender but still firm to the bite, stirring occasionally, 8 to 10 minutes. Drain the pasta in a colander. While the pasta is still in the colander, use kitchen shears to cut the linguine into smaller pieces. The pasta should measure about 3 cups. Grease a 12-cup muffin tin. In a blender, combine the eggs, milk, cream, and Mascarpone.
Blend until well-combined. Transfer the mixture to a large bowl and add the cut pasta, the prosciutto, mozzarella, Asiago, parsley, garlic, salt, pepper, and nutmeg. Stir until the ingredients are combined. Fill each of the muffin cups with about ⅓ cup of the mixture; both the pasta and the liquid should fill the cup almost to the top. Bake until firm and cooked through, 30 to 35 minutes. Let the frittatas cool for 3 minutes before removing from the tin. Arrange on a serving platter or place 2 on each of 6 individual plates and serve.
2. Eggs With Pork "Debris"
Wondering what to do with the meat slivers that fall to the bottom of the pan when you're cooking a pork roast? You can put those leftovers to good use by creating The Kitchn's Eggs With Pork Debris. You'll love sitting down to this satisfying and savory morning meal. The recipe yields 3 to 4 servings.
Ingredients:
1½ tablespoons olive oil
½ pound small new potatoes (about 5 or 6), diced
½ of a green bell pepper, diced
½ of a medium yellow onion, diced
⅓ of a jalapeño pepper, minced
1½ cups shredded pork shoulder, roughly chopped
¼ cup chicken broth
½ cup pork braising liquid with stewed tomatoes (or ½ cup of canned, diced tomatoes in their juice)
6 to 8 eggs
Salt and pepper
Hot sauce
Directions: Heat the olive oil over medium-high heat in a large frying pan. Add the potatoes, season with salt and pepper, and cook until almost translucent, about 5 to 6 minutes. Add the bell pepper, onion, and jalapeño, and season again with salt and pepper. Reduce the heat to medium and cook until the vegetables are soft and the potatoes begin to brown, about 15 minutes. You'll need to stir the vegetables frequently so that they don't stick and burn. You want some brown bits to stick to the bottom of the pan, but if the mixture is too dry, you can add another splash of oil.
Add the pork and stir to combine. Increase the heat slightly and add the chicken broth. Scrape the brown bits from the bottom of the pan and stir until the liquid is almost evaporated, which should only take a minute or two. Add the tomatoes, reduce the heat, and cook until everything is heated through. Fry the eggs, two at a time, in a non-stick pan with a splash of olive oil or a tablespoon of butter. Serve two eggs topped with a scoop of debris. Season with hot sauce, if desired.
3. Leftover Pizza Breakfast Casserole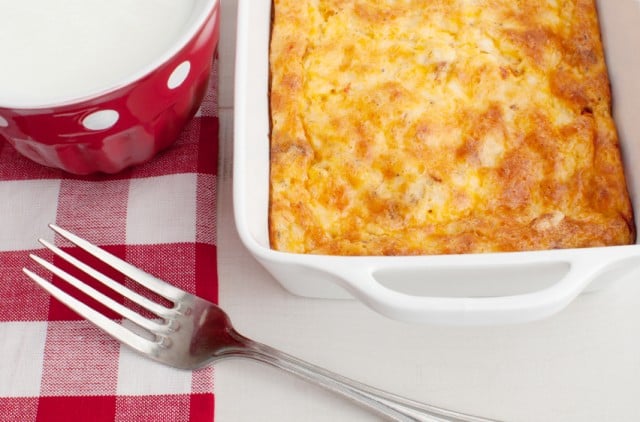 If you're tired of eating cold, leftover pizza, this recipe is for you! AllRecipes.com's Leftover Pizza Breakfast Casserole, which yields 6 servings, combines pizza, eggs, cheese, and seasonings to create a baked breakfast dish. Add a healthy element to your morning meal by washing it down with Eating Well's Carrot-Orange Juice.
Ingredients:
Cooking spray
3 slices leftover pizza, cut into ¾-inch squares
4 eggs, beaten
1 cup milk
1 (8 ounce) package shredded mozzarella cheese
⅓ cup chopped onion
3 tablespoons butter, melted
1 clove garlic, minced
1 teaspoon dried oregano
½ teaspoon salt
¼ cup grated Parmesan cheese, or to taste
¼ teaspoon red pepper flakes, or to taste
Directions: Preheat oven to 350 degrees Fahrenheit. Spray a 9 by 9-inch baking dish with cooking spray. Arrange pizza squares in the prepared baking dish. Mix eggs, milk, mozzarella cheese, onion, butter, garlic, oregano, and salt together in a large bowl; pour over pizza pieces. Top with Parmesan cheese and red pepper flakes. Cover dish with aluminum foil. Bake in the preheated oven for 45 minutes. Remove foil and continue baking until eggs are set and Parmesan cheese is melted, about 20 more minutes.
4. Steak and Eggs Benedict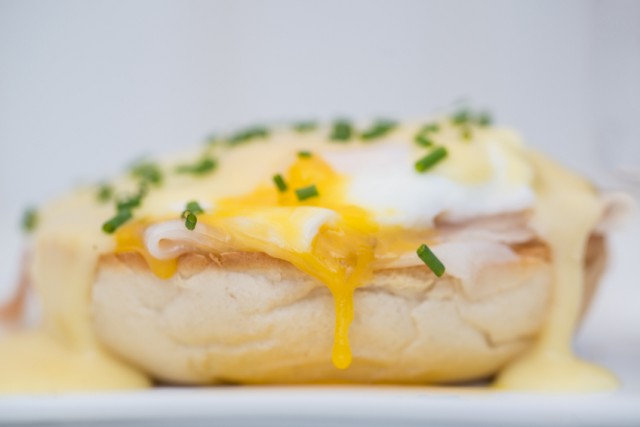 Steak is simply too tasty to throw out. The Steak and Eggs Benedict recipe from Fleming's Prime Steakhouse & Wine Bar creates a magnificent breakfast that's filled with hearty ingredients and zesty seasonings. It yields 1 to 2 servings.
Ingredients:
5 tablespoons butter
2 egg yolks
2 teaspoons red wine
1½ teaspoons lemon juice
1 to 2 dashes Tabasco sauce
Pinch salt
Pinch white pepper
1 English muffin
2 teaspoons olive oil
3 to 4 ounces leftover steak
2 cups water
1 teaspoon white vinegar
2 eggs
Directions: Place the butter in a ceramic container and microwave for 45 seconds until melted, allowing the butter to separate into an oil. Separate 2 eggs and place the yolks in a small metal bowl with the red wine, lemon juice, Tabasco, salt, and pepper, and mix well. Set the bowl over a pot of simmering water and vigorously whip the mixture until it starts to get thick. Pull the bowl from the heat and set on a table. Slowly pour the separated butter oil into the eggs, mixing well with a wire whip. Keep in a warm place.
Split the English muffin, then toast and place on a plate. Heat the oil in a sauté pan on medium-high heat. Cut the leftover steak into ¼- to ½-inch slices, season with the salt and pepper, then quickly sear the meat for 1 to 2 minutes on each side. Place the cooked meat on top of the two muffins. Bring the water and vinegar to a medium boil in a small sauce pot. Crack 2 eggs, then drop into the boiling water and cook for 4 to 5 minutes. Remove the eggs with a slotted spoon and drain well. Set one egg on top of each muffin. Serve immediately.
5. Leftover Stuffing Waffles
It can be tricky trying to figure out what to do with extra stuffing. But thanks to The Rachael Ray Show's recipe, you can now easily transform your extras into wonderful tasting waffles. You can feel free to use other leftovers, including cranberry sauce and turkey, or you can follow Food Network's instructions for the Perfect Cranberry Sauce.
Ingredients:
1 tablespoon butter, melted
3 to 4 cups leftover stuffing
½ cup cranberry sauce
1 cup maple syrup
A few slices of turkey
Directions: Preheat a waffle maker to medium-high heat. Once hot, brush with melted butter. Press a few cups of stuffing into the waffle iron, filling from corner to corner. Put as much stuffing into it as possible. Close the waffle iron to press it into the mold. Cook for 7 to 8 minutes, until the waffle is golden and crispy on top.
Open waffle maker and let cool in waffle iron for 2 minutes and then remove. While your waffle is cooking, combine cranberry sauce and maple syrup in a small saucepot over medium heat. Stir to combine. Once hot, remove from heat. To serve, place a few slices of leftover turkey on top of the stuffing waffle and drizzle with cranberry maple syrup.
6. Breakfast Fried Rice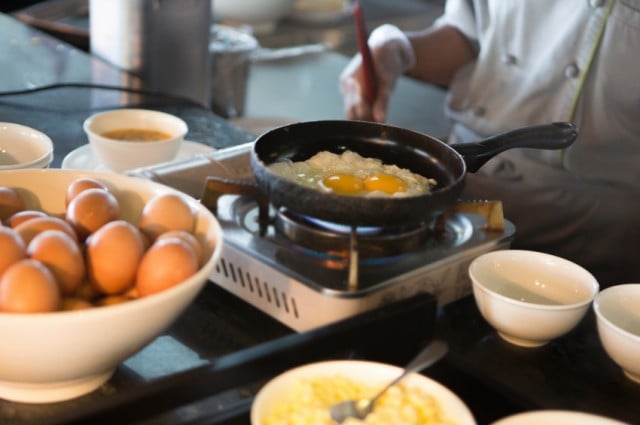 Do you have rice leftovers that are just begging to be to used? The Oregonian offers an easy fix with this recipe for Breakfast Fried Rice. Garlic, tomato, cilantro, eggs, and hot sauce breathe new life into an old dinner dish.
Ingredients:
1 tablespoon olive oil
½ teaspoon achiote seeds (optional)
1 large, or 2 small, cloves garlic, chopped
1 small tomato, chopped (optional)
2 cups leftover rice
2 handfuls chopped fresh cilantro
Salt and freshly ground black pepper
2 eggs
Hot sauce, for serving
Lime wedges, for serving
Directions: Place the oil and achiote seeds in a heavy skillet, and heat over medium-high. As the oil warms, it will take on color from the seeds. When the oil is very hot and reddish from the achiote, quickly strain the seeds out and discard them. Add the garlic to the hot red oil in the skillet, and stir quickly as it sizzles. When garlic is lightly browned, add the tomato and sauté until the heat comes back up and the tomato softens a bit but doesn't break down, about a minute or so.
Add the rice and cilantro. Stir frequently with a spatula or spoon, breaking up the rice clumps and coating grains with the garlicky red oil. Season to taste with salt and pepper. When the rice is well-oiled and heated through, remove to two plates. Quickly crack the eggs in the pan, fry them as you like them, and slide one on top of each plate of rice. Season with a few shakes of hot sauce, a squirt of lime, and additional salt and pepper.
More from Culture Cheat Sheet: