7 Amazing Appetizers to Prepare During Football Season
Football season has arrived. That means it's time to start preparing for football parties and determining which delicious appetizers you'll want to serve your friends and family. These finger foods, creamy dips, and stuffed snacks are just what you need to get excited for game day. Even if you aren't a football fan, you'll look forward to chowing down on these seven amazing appetizers.
1. Bacon-Wrapped Potato Bites with Spicy Sour Cream Dipping Sauce
What's not to like about a wedge of potato wrapped in bacon and dipped in a rich sour cream dip? The Kitchn's recipe, which yields 3 dozen bites, is guaranteed to be the life of the party.
Ingredients:
1 pound small or medium red potatoes
2 ½ teaspoons salt, divided
1 ½ teaspoons minced fresh rosemary
1 tablespoon olive oil
Freshly ground pepper
12 ounces to 1 pound thick-cut bacon
1 cup (8 ounces) sour cream
1-3 teaspoons hot sauce
Salt and pepper
Directions: Preheat the oven to 400 degrees Fahrenheit. Wash and dry the potatoes. Chop them into 1-inch pieces, keeping the chunks roughly the same size even if they aren't the exact same shape. Put the potatoes in a medium pot, cover with cold water, and bring to a boil. Season the water with 2 teaspoons of salt. Once the water begins to boil, cook the potatoes for 3 to 4 minutes, until you can stick a fork into them without too much resistance.
You want the potatoes to be almost, but not fully, cooked through so they won't fall apart during the next steps. Drain the potatoes and put them in a large bowl. Add the rosemary, olive oil, ½ teaspoon salt, and a few grinds of pepper, and toss until the potatoes are evenly coated. Cut the strips of bacon into thirds. Wrap each potato bite in a piece of bacon, securing it with a toothpick. Put the potatoes on a baking sheet lined with parchment paper or aluminum foil spaced an inch or two apart.
You may need to cook the potatoes in two batches. Cook the potatoes for 15 minutes, then flip each piece. Cook for another 15 to 20 minutes, until the bacon is cooked through and as crisp as you like it. Mix the sour cream and hot sauce in a small bowl. Season with salt and pepper. Pile the potato bites on a plate and serve alongside the dip.
2. Ricotta and Sage Fried Meatballs
Bon Appétit's fried meatball recipe includes pork, ricotta, breadcrumbs, and tons of tasty seasonings. The recipe yields 24 meatballs and pairs perfectly with warm marinara.
Ingredients:
⅓ cup whole-milk ricotta
2 tablespoons vegetable oil, plus more for frying
3 garlic cloves, minced
2 teaspoons fennel seeds, toasted, lightly crushed
1 ¼ teaspoons dried sage
1 teaspoon crushed red pepper flakes
1 teaspoon kosher salt
½ teaspoon freshly ground black pepper
8 ounces ground pork
24 fresh sage leaves
¾ cup all-purpose flour
1 large egg, beaten to blend
2 cups panko
Marinara sauce, warmed (optional)
Directions: Line a baking sheet with parchment. Stir ricotta and 2 tablespoons oil in a medium bowl until smooth. Mix in garlic and next 5 ingredients. Add pork; gently fold until just combined. Scoop out scant tablespoonfuls of pork mixture. With dampened hands, roll portions between your palms into 1-inch balls; place on sheet. Wrap 1 sage leaf around each ball; press gently to adhere. Place flour, egg, and panko in 3 separate medium bowls.
Working with one meatball at a time, dredge in flour, rolling between your hands to remove excess flour. Dip in egg; allow excess to drip back into bowl. Roll meatball in panko, pressing gently to coat. Return to sheet. Attach deep-fry thermometer to side of a large heavy pot. Pour in oil to a depth of 2-inch. Heat over medium heat until thermometer registers 350 degrees Fahrenheit. Line another baking sheet with parchment; set a wire rack inside.
Working in batches, fry meatballs, turning often, until light golden and crisp, about 1 minute. Transfer to wire rack; let cool. Preheat oven to 275 degrees Fahrenheit. Bake meatballs in batches on wire rack in baking sheet until cooked through, about 15 minutes. Serve, or keep warm in oven for up to 45 minutes. Pour some warm marinara, if using, into a small bowl. Serve alongside for dipping.
3. Bean and Avocado Salsa Tortilla Cups
These handheld bean- and avocado-stuffed tortilla cups make for delicious party appetizers. Tidy Mom's recipe, which yields eight servings, is also really easy to throw together and only requires 10 minutes of prep time.
Ingredients:
8 fajita size (6 inch) flour tortillas
16 ounce can pinto beans, drained
½ cup sweet crisp canned corn
1 cup diced tomatoes
½ small red onion, chopped
1 small jalapeño pepper, deveined and minced
1 tablespoons chopped fresh cilantro
½ lime, juice
Salt and pepper to taste
2 tablespoons extra virgin olive oil
1 small California avocado, cubed
Directions: Place tortillas in cupcake pans. Bake for 20-25 minutes at 350 degrees Fahrenheit until crispy. Set aside to cool completely. In a large bowl, mix beans, corn, tomatoes, onion, pepper, cilantro, and lime juice in a large bowl and season to taste. Drizzle olive oil over top. Gently fold in avocados. Spoon the bean salsa into the tortilla cups when ready to serve.
4. Jet Swirl Pizza Appetizers
AllRecipes.com's cheesy swirls are comparable to meat-filled calzones. The recipe yields five servings and is filled with salami, pepperoni sausage, and tons of cheese.
Ingredients:
1 (10 ounce) can refrigerated pizza crust dough
¼ pound Genoa salami, thinly sliced
¼ pound pepperoni sausage, sliced
¼ pound provolone cheese, sliced
½ cup shredded mozzarella cheese
Directions: Preheat oven to 350 degrees Fahrenheit. Lightly grease a large baking sheet. Roll pizza crust dough into an approximately 10 by 14-inch rectangle on the baking sheet. Layer with Genoa salami, pepperoni, and provolone cheese. Sprinkle with mozzarella cheese to within ½ inch from edges of the dough. Roll jelly roll style. Seal the edge with a fork. Bake in the preheated oven 25 minutes, or until golden brown. Slice into 1-inch pieces to serve.
5. Artichoke Wonton Bites
Hot, cheesy dip that's surrounded by a crunchy wonton wrapper is guaranteed to get football fans in the cheering spirit. Recipe4Living's wonton bites are packed with cheese, mayo, artichoke hearts, and tasty seasonings for the ultimate appetizer.
Ingredients:
1 cup freshly grated 

Parmesan

 

cheese

1 cup mayonnaise
½ teaspoon onion powder
½ teaspoon garlic powder
2 cups shredded mozzarella cheese
1 (14 ounce) can water-packed artichoke hearts, drained and chopped
1 (12 ounce) package wonton wrappers
Directions: In a small mixing bowl, combine the Parmesan cheese, mayonnaise, onion powder, and garlic powder, mix well. Stir in the mozzarella cheese and the chopped artichokes; set aside. Coat one side of each wonton wrapper with non-stick cooking spray; press greased side down into miniature muffin cups. Bake at 350 degrees for 5 minutes or until edges are lightly browned. Watch carefully to prevent over-browning. Fill each cup with 1 tablespoon artichoke mixture. Bake 5-6 minutes or until golden brown. Serve warm.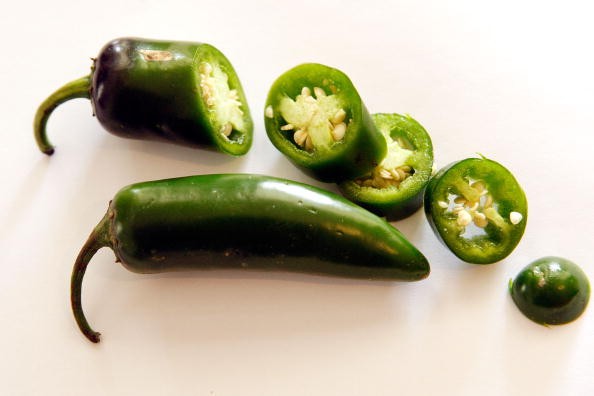 6. Jalapeño Cheddar Hummus
This puts a spicy spin on a hummus dip. After preparing Eat, Live, Run's amped up hummus, you'll never be able to go back to using a basic recipe again. This hummus recipe yields 12 servings.
Ingredients:
2 (14 ½ ounce) cans chickpeas, drained and rinsed
1 jalapeño pepper, chopped and seeds removed
¼ cup extra virgin olive oil
2 tablespoons warm water
1 teaspoon salt
1 teaspoon ground cumin
1 cup freshly grated sharp cheddar cheese
Directions: Combine the chickpeas, jalapeño pepper, olive oil, water, cumin, and salt in a vita-mix or food processor. Process until smooth, adding more water if you want to thin the hummus out a bit. Add the cheddar cheese and process again until everything is well combined.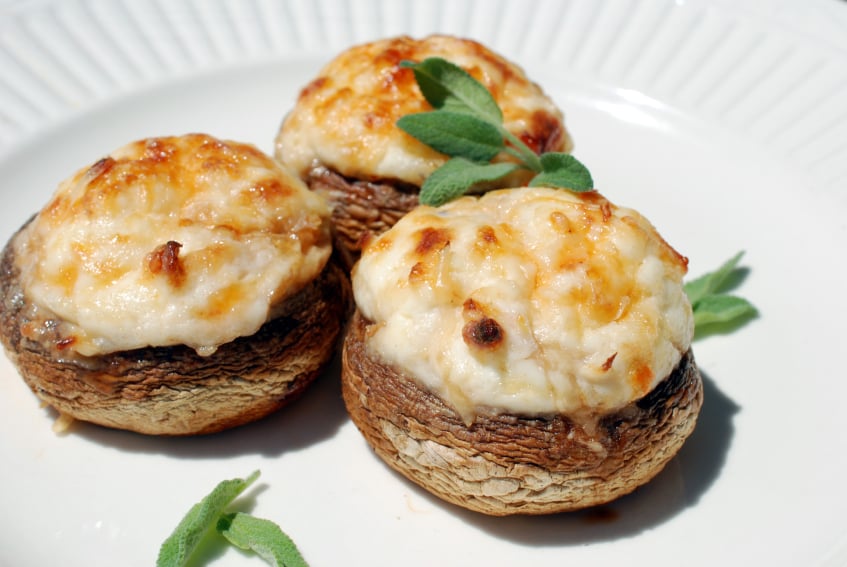 7. Easy and Delicious Stuffed Mushrooms
Chef in Training's recipe is an effortless and tasty appetizer to throw together. Cream cheese, onions, bacon, Parmesan, and mushrooms are all you need to complete this tasty recipe, which yields 40 to 50 mushrooms.
Ingredients:
1 (8 ounce) block cream cheese
¼ cup green onions, finely chopped
½ pound bacon, chopped, cooked, and drained
¾ cup fresh grated Parmesan cheese
40-50 mushrooms, washed with stems pulled out
Directions: Mix cream cheese, green onions, bacon, and Parmesan cheese together in a large bowl. Stuff mushrooms with filling, as much as desired. Bake stuffed mushrooms at 350 degrees Fahrenheit for 15 minutes.
More from Life Cheat Sheet:
Want more great content like this? Sign up here to receive the best of Cheat Sheet delivered daily. No spam; just tailored content straight to your inbox.