7 Bountiful Breakfast Casseroles to Enjoy in the Morning
Breakfast is the best way to get your day started on the right foot. Creating a morning casserole lets you use several tasty breakfast ingredients at once, ensuring you get your fix of eggs, bacon, sausage, pancakes, and French toast all in one sitting. You'll wake up excited and ready to start the day knowing these 7 breakfast casserole recipes await you.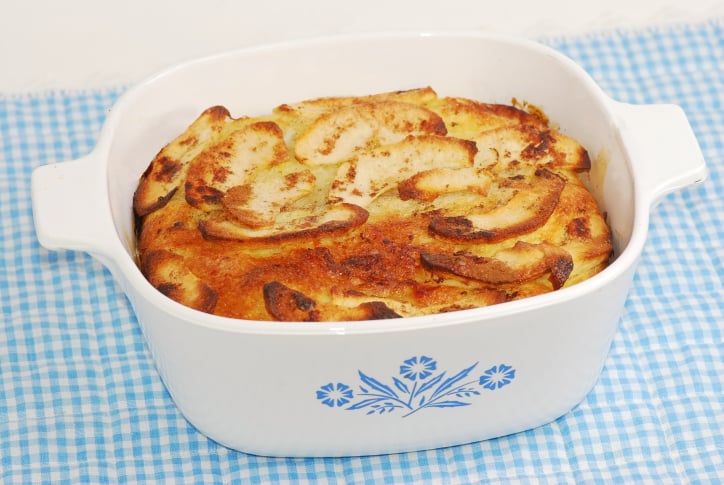 1. One-Dish Blackberry French Toast
Your day is guaranteed to get sweeter after indulging in Southern Living's French toast casserole. Whether you're looking for a dish for your next weekend brunch or want to put a smile on your family's face on a Monday morning, this recipe won't disappoint. It yields 8 to 10 servings.
Ingredients:
1 cup blackberry jam
1 (12 ounce) French bread loaf, cut into 1 ½-inch cubes
1 (8 ounce) package ⅓-less-fat cream cheese, cut into 1-inch cubes
4 large eggs
2 cups Half-and-Half
1 teaspoon ground cinnamon
1 teaspoon vanilla extract
½ cup firmly packed brown sugar
Toppings: maple syrup, whipped cream
Directions: Cook jam in a small saucepan over medium heat 1 to 2 minutes or until melted and smooth, stirring once. Place half of bread cubes in bottom of a lightly greased 13 x 9-inch baking dish. Top with cream cheese cubes and drizzle with melted jam. Top with remaining bread cubes. Whisk together eggs and the next 3 ingredients. Pour over bread mixture. Sprinkle with brown sugar. Cover tightly, and chill 8 to 24 hours. Preheat oven to 325 degrees Fahrenheit. Bake, covered, 20 minutes. Uncover and bake 10 to 15 minutes or until bread is golden brown and mixture is set. Serve with desired toppings.
2. Slow Cooker Overnight Breakfast Casserole
There's no need to make your mornings more stressful. This Food Network recipe has you prepare the breakfast ingredients the night before. Just let them simmer in a slow cooker overnight, and you'll wake up to a delicious meal.
Ingredients:
2 packages (12 ounces, each) spicy breakfast sausage
1 cup chopped green onions
1 sweet red bell pepper, chopped
1 can (4 ounces) diced mild green chilies
¼ cup chopped fresh cilantro
1 package (30 ounces) frozen shredded hash brown potatoes
1 ½ cups shredded Cheddar cheese
12 eggs
1 cup milk
½ teaspoon salt
⅛ teaspoon pepper
Directions: Cook sausage according to package directions; cut into ¼-inch slices; set aside. In a bowl, combine green onions, red pepper, chilies, and cilantro; set aside. Spray the interior of a 5- to 6-quart slow cooker with vegetable cooking spray. Layer ⅓ of the hash browns, sausage, green onion mixture, and cheese into crock. Repeat layers twice. In a bowl, beat the eggs, milk, salt, and pepper; pour over layered ingredients. Cover and cook on low for 7 to 8 hours or until thermometer inserted into the center reads 160 degrees Fahrenheit. Wake up, and enjoy!
3. Cheese Grits Casserole
Craving a little Southern food for breakfast? No problem. Prevention's recipe is spicy, cheesy, and has less fat and sodium than your average Southern grits. This dish yields 8 servings, and contains 231 calories and 13 grams of fat in each.
Ingredients:
½ teaspoon salt
1 cup hominy grits
¼ cup butter
1 cup shredded sharp cheddar or monterey jack cheese (4 ounces)
2 large eggs, lightly beaten
4 tablespoons canned, roasted, chopped Mexican chiles
⅛ teaspoon ground black pepper
Directions: Preheat the oven to 350 degrees Fahrenheit. Grease a shallow 1½-quart baking dish. Combine the water, 1 cup of the milk, and the salt in a large saucepan. Bring to a boil over high heat. Reduce the heat to medium-low, and gradually stir in the grits. Cook, stirring, until very thick, 8 to 10 minutes. Remove from the heat and stir in the butter, cheese, and the remaining 1 cup milk. Gradually stir in the eggs. Stir in the chiles and pepper. Spoon into the prepared baking dish and bake until the top is browned and a toothpick inserted in the center comes out clean, about 1 hour.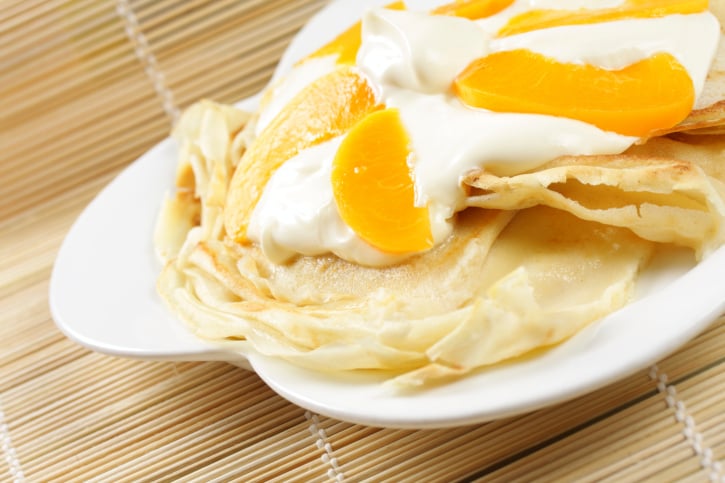 4. Breakfast Lasagna
Prepare to enjoy delicious layers of pancakes, eggs, sausage, and maple béchamel. A Dash of Sanity has created a must-try breakfast dish that will send your tastebuds straight to flavor heaven. This recipe yields 12 servings, and takes about 30 minutes to prepare.
Ingredients:
Maple Béchamel
3 tablespoons butter
2 tablespoons all-purpose flour
2 cups milk
½ cup maple syrup
¼ teaspoons salt
¼ teaspoon freshly grated nutmeg
Pancakes
3 cups all-purpose flour
2 tablespoons + 1 teaspoon baking powder
2 teaspoons salt
2 tablespoons white sugar
2 ½ cups milk
2 eggs
6 tablespoons butter, melted
12 eggs, scrambled
¾ pound breakfast sausage, cooked and drained
1 cup cheddar cheese, finely shredded
Directions: Cook sausage and set aside. Prepare the béchamel sauce by melting the butter over medium heat in small sauce pan. Once melted, add in flour and cook until it is a light gold color, about 5 minutes. While you are doing this, heat the milk and maple syrup until the mixture is hot. Once flour and butter are ready, whisk in the milk mixture and whisk until smooth. Bring to a soft boil, then reduce heat to low and cook for 10 minutes, stirring until thickened then remove from heat. Season with salt and nutmeg and set aside until ready to use.
Make pancakes by sifting together the flour, baking powder, salt, and sugar in a large bowl. Add in the milk, eggs, and melted butter; mix until smooth. Heat a lightly oiled griddle or frying pan over medium high heat and pour or scoop the batter onto the pan, using approximately ¼ cup for each pancake. Brown on both sides and set aside until ready to assemble the lasagna. Prepare and scramble eggs.
In a 9 x 13-inch pan, add ¾ cup of the béchamel to the bottom of the pan. Layer pancakes, it might make it easier to fit the pan if you cut them into squares. Add scrambled eggs, sausage, and then pour 1 cup of the béchamel over the sausage. Add another layer of pancakes on top of the sausage, pour 1 cups of béchamel over the pancakes, top with 1 cup finely shredded cheddar cheese, and add remaining béchamel sauce, about ¼ cup. Cover with foil and bake about 15 to 20 minutes until cheese is melted. Serve immediately.
5. Baked Peach Almond Oatmeal
This healthy dish calls for almond milk, peaches, almonds, and sweet seasonings. Two Peas & Their Pod has created a tasty morning treat that is guaranteed to put a smile on your face. This almond oatmeal casserole is great reheated in the microwave, so be sure to save your leftovers for later in the week. It yields 6 servings, and takes about 10 minutes of prep time.
Ingredients:
2 cups rolled oats
¼ cup light brown sugar
½ teaspoon salt
1 teaspoon baking powder
1 teaspoon ground cinnamon
½ cup chopped almonds
2 cups unsweetened vanilla almond milk
1 large egg
3 tablespoons coconut oil, melted and cooled slightly (or melted and cooled butter)
1 teaspoon vanilla extract
¼ teaspoon almond extract
1 ½ cups chopped peaches
Peach slices for the top, optional
Directions: Preheat the oven to 350 degrees Fahrenheit. Grease an 8 x 8-inch square baking dish and set aside. In a medium bowl, mix together the oats, brown sugar, baking powder, salt, cinnamon, and almonds. In another medium bowl, whisk together the almond milk, egg, coconut oil, vanilla, and almond extract. Arrange the chopped peaches on the bottom of the prepared baking dish.
Pour the oat mixture evenly over the peaches. Pour the almond milk mixture over the oats. Gently shake the baking dish to make sure the milk covers the oats evenly. If desired, add a few sliced peaches to the top of the oatmeal. Bake for 40 minutes, until the top is golden and oatmeal is set. Let cool for 5 minutes and serve warm.
6. Individual Potato-Bacon Frittatas
Casserole tastes just as great when cooked as a single serving. My Recipes' mini frittatas can be made in individual ramekins or muffin cups, and include potatoes, onion, bell pepper, garlic, Swiss cheese, bacon, and an egg substitute. Hoping to make your morning preparation a little easier? Feel free to get a head start and sauté the onion, bell pepper, and garlic the night before. This recipe yields 6 servings.
Ingredients:
¾ pound small red potatoes (about 6)
Cooking spray
½ cup chopped onion
½ cup chopped red bell pepper
2 garlic cloves, minced
¾ cup (3 ounces) shredded reduced-fat Swiss cheese
4 bacon slices, cooked and crumbled (drained)
1 ¾ cups egg substitute
¼ teaspoon salt
¼ teaspoon freshly ground black pepper
Directions: Place potatoes in a large saucepan, and cover with water. Bring to a boil, and cook 25 minutes or until tender. Drain; cool slightly. Cut potatoes into ½-inch cubes. Preheat the oven to 375 degrees Fahrenheit. Heat a medium nonstick skillet over medium heat. Coat pan with cooking spray. Add onion, bell pepper, and garlic; sauté 5 minutes or until tender. Remove from heat. Stir in potato, cheese, and bacon. Combine egg substitute, salt, and black pepper. Spoon vegetable mixture evenly into 12 muffin cups or 6-ounce ramekins coated with cooking spray. Pour egg mixture evenly over vegetable mixture. Bake at 375 degrees Fahrenheit for 18 minutes or until set. Remove from muffin cups, and cool slightly.
7. Broccoli-Turkey Brunch Casserole 
A healthy start to any day, Taste of Home's casserole is stuffed with turkey, broccoli, and tasty seasonings. This low-calorie recipe yields 6 servings, with each piece containing 303 calories, 7 grams of fat, and a whopping 33 grams of protein.
Ingredients: 
1 ½ cups fat-free milk
1 can (10 ¾ ounces) reduced-fat reduced-sodium condensed cream of chicken soup, undiluted
1 carton (8 ounces) egg substitute
¼ cup reduced-fat sour cream
½ teaspoon pepper
¼ teaspoon poultry seasoning
⅛ teaspoon salt
2 ½ cups cubed cooked turkey breast
1 package (16 ounces) frozen chopped broccoli, thawed and drained
2 cups seasoned stuffing cubes
1 cup (4 ounces) shredded reduced-fat cheddar cheese, divided
Directions: In a large bowl, combine the milk, soup, egg substitute, sour cream, pepper, poultry seasoning, and salt. Stir in the turkey, broccoli, stuffing cubes, and ¾ cup cheese. Transfer to a 13 x 9-inch baking dish coated with cooking spray. Bake, uncovered, at 350 degrees Fahrenheit for 40 minutes. Sprinkle with remaining cheese. Bake 5 to 10 minutes longer or until a knife inserted near the center comes out clean. Let stand for 5 minutes before serving.
More From Life Cheat Sheet:
Want more great content like this? Sign up here to receive the best of Cheat Sheet delivered daily. No spam; just tailored content straight to your inbox.