7 Caribbean Recipes Creating Island-Inspired Cuisine
Take your kitchen on a Caribbean Island hopping adventure. If you've every visited the various islands, you'll know that although some ingredients and dishes transfer from one tropical location to the next, each place puts its own vibrant stamp on the cuisine. Since you aren't actually in the Caribbean, take to your kitchen with these seven recipes to put a bit of your own flair on island dining.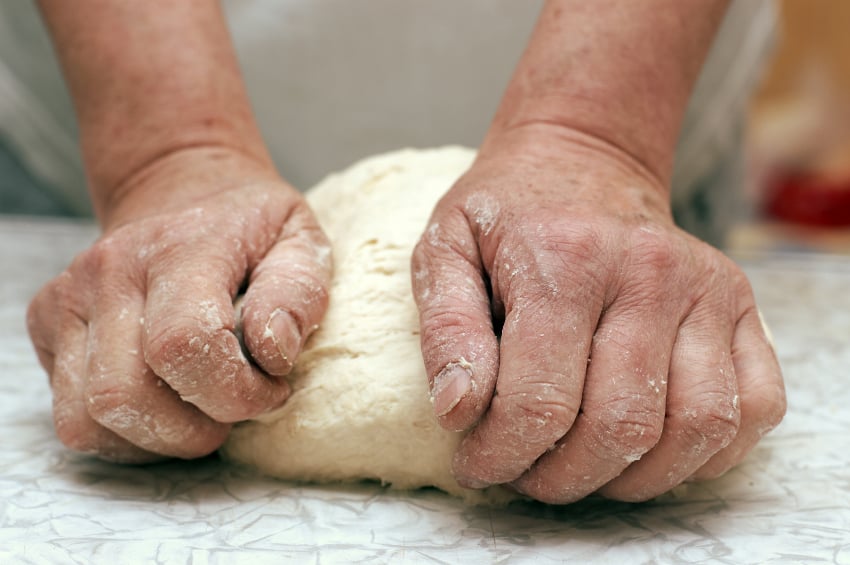 1. Johnnycakes
These are not the johnnycakes you are thinking of. In the U.S., if you order johnnycakes you'll be served a plate of cornmeal pancakes. In the Bahamas, Fodors explains that a johnnycake is a sweetened bread, often served with stews and soups. This slightly lighter version from the SunSentinel will also make a pleasant afternoon snack.
Ingredients:
3 cups all-purpose flour
½ cup sugar
¼ teaspoons baking powder
½ teaspoon salt
½ cup solid vegetable shortening
1 egg
½ cup milk
1 tablespoon butter or margarine, melted
Directions: Preheat oven to 350 degrees Fahrenheit, and grease a baking sheet. In a large bowl, mix together the flour, sugar, baking powder, and salt until well-blended. Cut in shortening with a pastry blender or fork until mixture resembles coarse crumbs. (Or process in container of food processor.) In a small bowl, beat together egg and milk until well-blended. Pour into center of flour mixture and stir with fork until soft dough is formed. Turn onto a lightly floured board and knead about 30 seconds or until smooth. Roll into a circle 9 to 9½ inches in diameter and ½ inch thick. Place on greased baking sheet and brush top with melted butter. Bake in preheated oven about 45 minutes or until crust is golden brown and toothpick inserted in center comes out clean. To serve, cut into wedges. Makes 6 to 8 servings.
2. Puerto Rican Fish Stew
You could pair those johnnycakes with Eating Well's Puerto Rican-inspired fish stew. It falls short of authenticity because instead of using the traditional bacalao — salted dried codfish — fresh fish is used because it is easier and quicker. It yields four, 1-cup servings.
Ingredients:
2 tablespoons extra-virgin olive oil
1 medium onion, chopped
4 cloves garlic, minced
1 pound flaky white fish, (such as haddock, tilapia, or cod) cut into 1 1/2-inch pieces
1 14-ounce can diced tomatoes
1 Anaheim or poblano chile pepper, chopped
¼ cup packed chopped fresh cilantro
2 tablespoons sliced pimento-stuffed green olives
1 tablespoon capers, rinsed
1 teaspoon dried oregano
½ teaspoon salt
½ cup water, as needed
1 avocado, chopped (optional)
Directions: Heat oil in a large high-sided skillet or Dutch oven over medium heat. Add onion and cook, stirring occasionally, until softened, about 2 minutes. Add garlic and cook, stirring, for 1 minute. Add fish, tomatoes and their juices, chile pepper, cilantro, olives, capers, oregano, and salt; stir to combine. Add up to ½ cup water if the mixture seems dry. Cover and simmer for 20 minutes. Remove from the heat. Serve warm or at room temperature, garnished with avocado (if using.)
3. Jerk Chicken
Whether you pan sear it or grill, you'll have a spicy chicken dinner when you follow Saveur's recipe for Jamaican jerk chicken. You'll want to jot down the spice rub to have on hand though, because after putting it on chicken, you'll certainly want to test it out on other meats and vegetables too.
Ingredients:
¾ cup packed light brown sugar
¾ cup ground allspice
¾ cup minced scallions
½ cup peanut or canola oil
⅓ cup ground black pepper
¼ cup kosher salt
¼ cup minced ginger
¼ cup fresh lime juice
2 tablespoons soy sauce
1 tablespoon dried thyme
1 teaspoon ground cinnamon
1 teaspoon freshly grated nutmeg
½ teaspoon ground cloves
8 cloves garlic, minced
3 Scotch bonnet or habanero chiles, stemmed and minced
2 (3-4-pound) chickens, each quartered
Directions: Combine sugar, allspice, scallions, oil, pepper, salt, ginger, juice, soy sauce, thyme, cinnamon, nutmeg, cloves, garlic, and chiles in a bowl. Add chicken; toss to coat in jerk marinade. Cover with plastic wrap; chill at least 6 hours, or overnight.
Build a medium-hot fire in a charcoal grill or heat a gas grill to medium. (Alternatively, heat a cast-iron grill pan over medium-high heat.) Add chicken, skin side down; cook, turning once, until marinade forms a crust on the outside, about 8 minutes. Cover grill; continue cooking until cooked through, about 40 minutes. Or, you can transfer chicken to a foil-lined baking sheet and bake it in a 350 degree Fahrenheit oven until done.
4. Plantain Chips
Plantains play a large part in various Caribbean dishes, and to get turn this fruit into a cravable, crunchy snack make Gourmet's plantain chips, found on Epicurious. Store you chips at room temperature in an airtight container once cooled.
Ingredients:
1½ teaspoons finely grated fresh lime zest, chopped
1½ teaspoons salt
1/4 teaspoon cayenne
6 cups vegetable oil
4 green plantains (about 1½ pounds)
Directions: Stir together zest, salt, and cayenne. Heat oil in a 5-quart heavy pot over moderate heat until a deep-fat thermometer registers 375 degrees Fahrenheit. While oil is heating, cut ends from plantains and score skin of each plantain 5 times lengthwise, avoiding ridges. Soak in hot tap water 5 minutes and peel. Cut plantains lengthwise with a U-shaped peeler or manual slicer into very thin strips (about 116-inch thick.) Fry strips, 6 at a time, turning frequently, until golden, 30 to 45 seconds. Transfer with tongs to paper towels and sprinkle crisps immediately with salt mixture.
5. Rice With Pigeon Peas and Coconut
The Los Angeles Times described pigeon peas as a mainstay of Indian, African, and of course, Caribbean dishes. In GOYA's Dominican rice dish, they take center stage, pairing with coconut and seasonings to create a flavorful side.
Ingredients:
1 tablespoon vegetable oil
¼ onion, finely chopped (about 1/3 cup)
1 tablespoon minced garlic
2 teaspoons chopped fresh cilantro
¼ teaspoon dried oregano
1 tablespoon tomato paste
2 cans (15 ounces each) green pigeon peas, undrained
2 cups water mixed with 1 packet chicken bouillon
1 can (13.5 ounces) coconut milk
1 teaspoon salt
2½ cups extra long grain rice
Directions: Heat oil in medium, heavy pot over medium-high heat. Add onion, garlic, cilantro, and oregano. Cook, stirring occasionally, until onions soften, about 5 minutes. Add tomato paste; cook, stirring, until paste begins to caramelize, about 2 minutes more.
Add pigeon peas, chicken bouillon mixture, coconut milk and salt to pot; bring to boil. Stir in rice; return water to boil. Boil 1 minute. Reduce heat to medium. Simmer, without stirring, until water completely evaporates. Stir rice from bottom up. Reduce heat to lowest setting; cover pot. Cook, covered, until rice is completely tender, about 20 minutes. Fluff rice with fork; serve.
6. Almost Tortuga Rum Cake
The next time you want a weekend baking project, make Food.com's "Almost Tortuga Rum Cake." The "almost" comes into play because it is a copy cat recipe. King Arthur Flour delves into the issue, stating that the recipe for the real deal is kept under lock and key, causing people to search for the next best thing.
Ingredients:
Basic Cake Mix
2 cups cake flour
1½ cups granulated sugar
4 teaspoons baking powder
1 teaspoon salt
1/2 cup butter, cut into bits
3 tablespoons vegetable oil
Cake
½ cup finely chopped walnuts
1 (3½ ounce) package vanilla instant pudding mix
½ cup milk
4 eggs
½ cup whaler vanille rum
½ cup vegetable oil
1 teaspoon vanilla extract
Rum Glaze
½ cup butter (do not substitute)
¼ cup water
1 cup granulated sugar
½ cup whaler vanille rum
Directions: Start with the basic cake mix. In a large mixing bowl, combine basic cake mix ingredients. On low speed combine ingredients until the mix is the consistency of fine gravel, and all particles are about the same size.
For the cake, preheat oven to 325 degrees Fahrenheit. Spray a large, 12-cup Bundt pan with nonstick cooking spray. Sprinkle the chopped walnuts on the bottom. Place the basic cake mix, pudding mix, milk, eggs, rum, oil, and vanilla extract in a large bowl and combine on medium speed with electric mixer for 2 to 3 minutes, scrape down the bowl halfway through. The batter should be very smooth. Pour into Bundt pan.
Bake for about 55 minutes until fully golden and tester comes out clean and cake springs back. Remove from oven and place on a cooling rack while making the soaking glaze.
To make the glaze, combine butter, water, and sugar in a small saucepan. Bring to a boil carefully as mixture boils over very easily. Reduce to a simmer and cook until sugar is dissolved and syrup is well combined and a little thicker. Remove from the heat and add the rum, mix to combine. While cake is still cooling, pour some of the hot syrup on top of the cake, allowing it time to soak in (this may take a few minutes as there will be a lot of syrup) continue to add syrup until all of the syrup is added.
Allow cake to cool completely in pan before turning out onto serving platter. The cake is delicate, so once it is turned out, it can not be moved around easily. Can be eaten when fully cool, but even better the next day!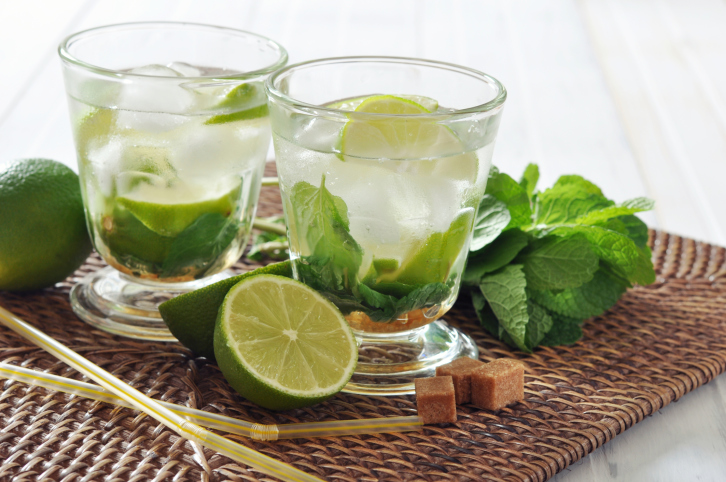 7. Mojito
For anyone who prefers drinking their rum to baking with it, a classic mojito is the perfectly refreshing way to cap off a long day. AllRecipes.com's measurements make enough for two drinks, so sit back, sip, and share.
Ingredients:
2 teaspoons white sugar
1 lime, cut into 4 wedges
4 sprigs fresh mint
½ cup white rum
2 cups club soda
2 cups crushed ice
2 wedges lime, as garnish
Directions: Place 1 teaspoon of sugar into each of two 12 ounce glasses. Squeeze the juice from a lime wedge into each glass, drop in the wedge, and add 2 sprigs of mint. Use a spoon or muddler to mash the sugar, lime juice, and mint together in the bottom of the glasses. Fill each glass about half full with crushed ice. Pour ¼ cup rum into each glass. Fill the glasses with club soda, stir, and garnish with additional lime wedges.
More From Wall St. Cheat Sheet:
Want more great content like this? Sign up here to receive the best of Cheat Sheet delivered daily. No spam; just tailored content straight to your inbox.