7 Cauliflower-Based Recipes Offering Easy Ways to Eat More Vegetables
Cauliflower is a mild and versatile veggie, able to transform even the unhealthiest of dishes into fantastically vegetarian-friendly fare. This vegetable contains just 27 calories, 2 grams of protein, and 2 grams of fiber per cup of chopped pieces, reports the United States Department of Agriculture (USDA), making it a healthy and hearty substitute for a wide variety of our favorite foods.
Transform all kinds of foodie favorites into hearty, healthy, and delicious choices with these 7 recipes using cauliflower.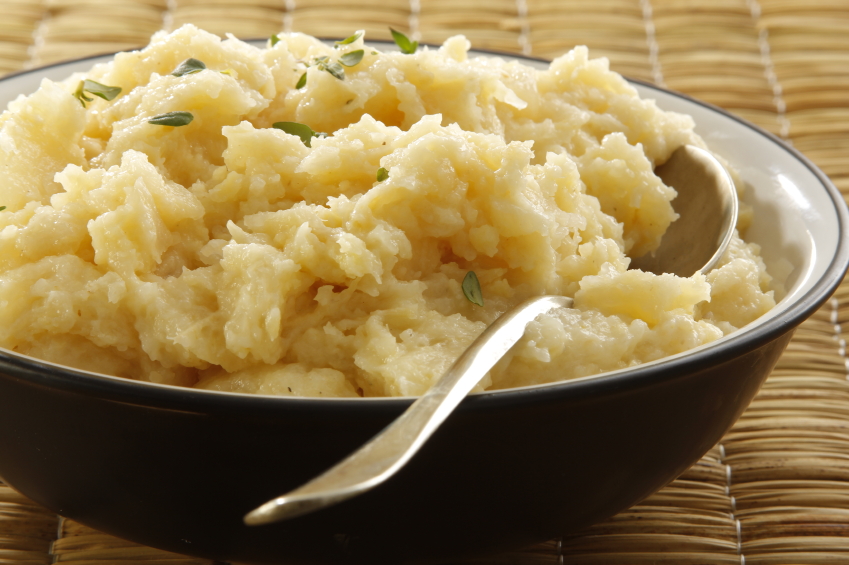 1. Cauliflower Mash
Cooked cauliflower takes center stage in this Cauliflower Mash, which combines the veggie along with eggplant and cashew cream for a creamy side dish that everyone will love. This comfort food reaches an especially silky texture when blended with an immersion blender; a hand mixer or potato masher will yield slightly chunkier results. Season the dish with salt, pepper, white wine vinegar, and chives for a taste like no other on the dinner table. Blissful Basil's recipe yields 6-8 servings and takes an hour and 5 minutes to make.
Ingredients:
⅓ cup raw cashews
⅔ cup water
2 medium to large eggplants
2 pounds russet potatoes (about 4 medium), peeled and cut into chunks
1 head of cauliflower, cut into florets
1½ – 1¾ teaspoons sea salt or to taste
black pepper, to taste
Optional: ½ tablespoon white wine vinegar
½ cup finely chopped chives
Directions: Add the cashews and water to a bowl and set aside to soak.
Heat a large grill pan or grill. Prick the eggplants all over with a fork and place on the grill or grill pan. Char on all sides, turning every few minutes, until blackened. This process takes 15-20 minutes. Place the eggplants in a colander and let cool.
Once the eggplants have cooled, cut them in half lengthwise and, using a spoon, scoop out the flesh. Place the flesh in a bowl and set aside.
Add the potatoes and cauliflower florets to a large stock pan that has been filled with cold water. Cover and heat on high for 25 to 30 minutes or until the potatoes are fork-tender. Drain and return the cauliflower and potatoes to the pot.
Add the raw cashews and soaking water to a high-powered blender. Blend on high for 1 to 2 minutes or until completely smooth. Add the cashew cream and the eggplant flesh to the pot with the potatoes and cauliflower. If you want a super smooth mash, use an immersion blender to puree the mash. If you want a thicker mash, beat the mashed potatoes with a hand mixer until smooth. Add in the sea salt, black pepper, and white wine vinegar (if desired) and continue to blend or mash.
Stir in the chopped chives; serve warm.
2. Buffalo Cauliflower Bites
These Buffalo Cauliflower Bites are as easy to make as they are delicious, offering a perfect vegetarian-friendly appetizer in place of traditional Buffalo-style chicken. Olive & Ivy advises that you wait for all of the excess batter to drip off your bites, as this will prevent burnt puddles of batter on your pan as your bites bake in the oven. This recipe takes 50 minutes to make and yields 2 servings.
Ingredients:
1 head of cauliflower, chopped into bite size pieces
½ cup of milk
½ cup of water
¾ cup of flour
½ teaspoon of onion powder
½ teaspoon of garlic powder
½ cup of buffalo sauce
Hot sauce, as desired
1½ tablespoons melted coconut oil (or butter)
Directions: Heat oven to 425 degrees Fahrenheit.
Whisk together milk, water, flour, onion powder, and garlic powder to create batter. Dip cauliflower pieces into batter, let the excess batter drip off and place on lightly greased baking sheet. Bake battered cauliflower for 20 to 25 minutes, until the batter has gelled around the pieces.
While the cauliflower is baking, mix together buffalo sauce and melted coconut oil, and add hot sauce as desired to add more spice to the sauce.
Take out cauliflower and carefully dip in buffalo sauce mixture. Place fully coated buffalo cauliflower pieces on a clean, lightly greased pan. Bake for another 10 minutes, until cauliflower is just starting to brown. Remove from oven, let cool just a little and serve.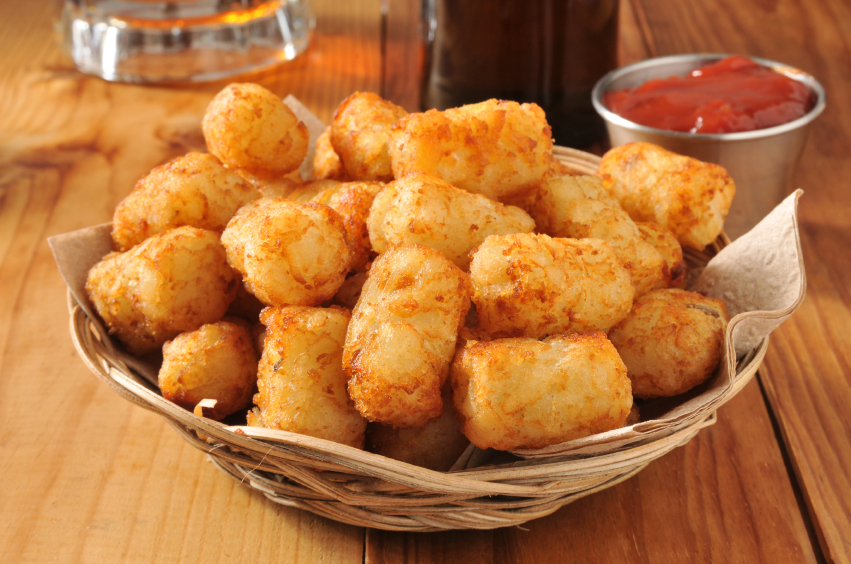 3. Cauliflower Tots
As delicious as they may be, tater tots are old news. Try a new spin on the bite-sized favorites with these Cauliflower Tots from Kirbie Cravings. The cauliflower texture is tender and unbelievable, while Italian seasoned bread crumbs lend the exterior a mouthwatering crisp. Incorporating cheddar cheese into the filling results in a tantalizingly savory dish that kids and adults alike will love. Trust us, you won't miss the potato!
Ingredients:
3 cups finely chopped cooked cauliflower (approximately 1 head of cauliflower)
1 cup Italian seasoned panko bread crumbs (make sure you use seasoned, otherwise you'll need to add other flavoring to these)
1 cup shredded cheddar cheese
2 eggs
Directions: To prepare the cauliflower, first boil florets until soft. Then either finely chop with a knife, or pulse a few times in a food processor until it resembles large coarse crumbs.
Add the 3 cups of chopped cauliflower, breadcrumbs, cheese, and eggs into a large mixing bowl. Mix with a large spoon until everything is combined.
Preheat oven to 400 degrees Fahrenheit. While oven is preheating, shape cauliflower mixture to form small cylinders, the size of tater tots (about 1 inch long). Make sure to first press the mixture together firmly between your palms before shaping, so that the ingredients hold together. Place on a baking sheet lined with parchment paper.
Bake for about 15 minutes. Bottom of tots should be brown. Flip tots over and bake for another 10 minutes. If your tots are larger, you may need to bake longer so that they are crispy. Serve with ketchup or other dipping sauce.
4. Cranberry Balsamic Glazed Cauliflower Wings
This sweet-and-savory appetizer from Cupcakes & Kale Chips is sure to be a beloved snack among vegans, carnivores, and gluten-free eaters alike. Glaze these roasted cauliflower bits in this sticky, tangy cranberry-balsamic sauce, then throw in a dash of thyme, salt, and pepper to end up with the perfect Cranberry Balsamic Glazed Cauliflower Wings to serve friends and family — no chicken necessary!
For the sauce:
½ cup balsamic vinegar
¼ cup cranberry sauce
¼ teaspoon dried thyme
½ teaspoon salt
a few grinds black pepper
For the cauliflower:
One large head cauliflower
½ cup flour
½ cup milk of choice
Directions: For the sauce: Combine all of the sauce ingredients in a bowl and whisk together. Set aside.
For the cauliflower: Preheat your oven to 450 degrees Fahrenheit, and spray a baking sheet with oil or cooking spray. Cut the cauliflower into florets. The smaller they are, the faster they will cook and softer they will get. Whisk together the flour and milk in a bowl. Toss the cauliflower in the batter until thoroughly coated.
Arrange the cauliflower on the baking sheet in a single layer. Bake for 15 to 20 minutes. Remove from the oven and pour the sauce over the cauliflower. Toss gently. Return to oven for another 5 minutes.
Remove from the oven and gently flip and toss the cauliflower in the sauce on the sheet to coat. Return to the oven for another 5 to 10 minutes, flipping again after 5 minutes.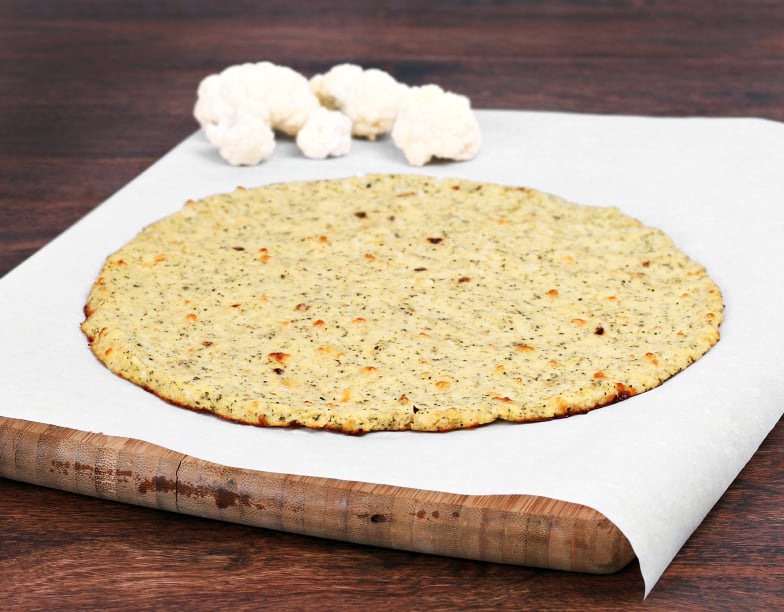 5. Thai Pizza with Cauliflower Crust
Whip up some pizza with a cauliflower twist using this recipe from The Table. Not only does cauliflower crust taste wonderful, but it is a healthier alternative to standard pizza crust that will leave you feeling less bloated after you chow down on a slice. In this dish, The Table tops that crispy crust with peanut sauce, chicken, cilantro, carrots, cheese, scallions, and crushed peanuts for a taste of Thai culture. If you like your food with a little heat, drizzle some Sriracha on top. The recipe takes 45 minutes to make and yields 1 medium pizza or 2 personal pizzas.
Ingredients:
For the crust:
1 head Cauliflower (2 cups shredded)
⅓ cup Parmesan cheese, grated
⅓ cup mozzarella cheese, grated
1 tablespoon almond flour
¼ teaspoon salt
½ teaspoon basil
½ teaspoon oregano
½ teaspoon garlic, grated
½ teaspoon red pepper flakes
1 egg, lightly beaten
For the Thai Toppings:
⅓ cup peanut sauce
⅔ cup mozzarella, shredded
½ to ⅔ cup cooked chicken, torn into pieces
1 large carrot, julienned
2 tablespoons cilantro, chopped
3 tablespoons peanuts, lightly crushed
1 tablespoon scallions, chopped
⅓ cup bean sprouts (optional)
Sriracha, for drizzling (optional)
Directions: Preheat the oven to 450 degrees Fahrenheit.
Place the florets from a head of cauliflower into a food processor. Pulse until the cauliflower resembles wet sand. Pour the cauliflower into a microwave-safe bowl and microwave for 4 minutes. Remove from microwave and pour onto a clean kitchen towel to cool.
Once the cauliflower is cool enough to handle, twist the kitchen towel around the cauliflower and wring out as much water as possible. Place the cauliflower into a mixing bowl. Stir in the Parmesan, mozzarella, almond flour, salt, basil, oregano, garlic, and red pepper flakes. Add the egg and stir until just incorporated.
Shape the crust into 2 balls for personal pizzas or 1 ball for a medium-sized pizza. Place the dough onto a sheet of parchment paper and press it out into a circle. The dough should be about ¼-inch thick. Place dough and parchment paper onto a hot pizza stone or a baking sheet, then bake for about 10 to 14 minutes, until it starts to turn a golden brown. Remove from oven.
Add the peanut sauce to the crust. Then, add the cheese, chicken, carrot, and cilantro. Bake for an additional 6 to 8 minutes, until the cheese is bubbly. Remove from oven and top with crushed peanuts, scallions, and bean sprouts. Drizzle with Sriracha, if desired. Allow to cool slightly before serving.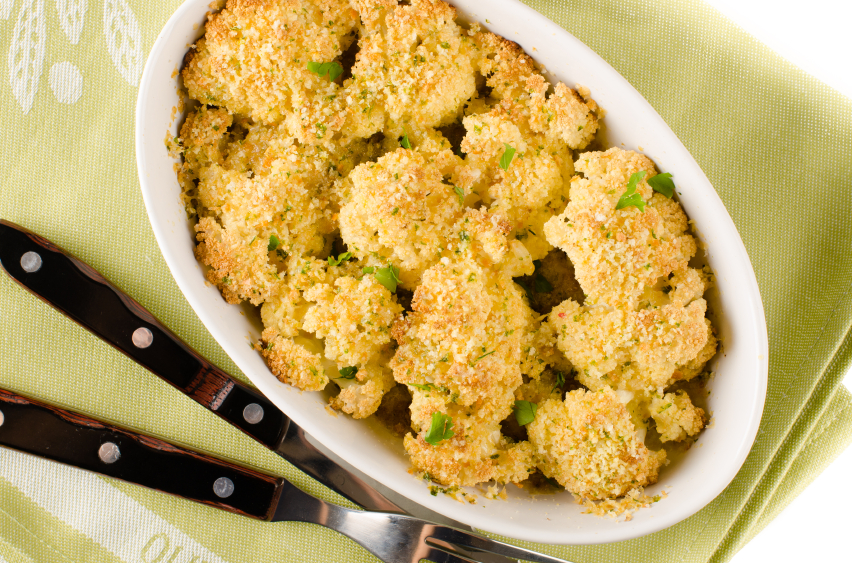 6. Crispy Cauliflower Nuggets
Quell your chicken nugget cravings with these Crispy Cauliflower Nuggets, a guiltless vegetarian version of the fast food favorite. These lightly-breaded florets of cauliflower are baked to a pleasant crisp, flavored with garlic and other light seasonings for a subtle and delicious flavor. You can dip them in anything from hot sauce to ranch dressing. LaaLoosh's recipe takes 45 minutes to make and yields 4 servings, each of which contains about 117 calories and 7.5 grams of protein.
Ingredients:
1 large head of cauliflower, cut into florets
½ cup liquid egg whites
1 cup panko bread crumbs
2 teaspoons garlic powder
2 teaspoons onion powder
2 teaspoons dried parsley
1 teaspoon salt
½ teaspoons black pepper
Directions: Preheat oven to 400 degrees Fahrenheit and line a rimmed baking sheet with foil or parchment paper. Mist with an oil mister or non-fat cooking spray.
Combine panko, garlic powder, onion powder, parsley, salt, and pepper in a small, bowl. Place egg whites in a separate small bowl.
Dip each piece of cauliflower into the egg whites, shake off excess, and then dip into panko mixture coating evenly. Place onto baking sheet and mist lightly with an olive oil mister.
Place in oven and bake until cauliflower is tender and breading begins to turn golden brown, about 25 to 30 minutes. Serve with dipping sauce of choice.
7. Cauliflower and Cheese
Indulge in all the best flavors of macaroni and cheese, but without all that carb-loaded pasta! Spicy Southern Kitchen's Crockpot Cauliflower and Cheese is incredibly easy — your crockpot will do most of the work for you. Simply drop your cauliflower florets into the slow cooker along with some condensed cheddar soup, evaporated milk, onion, light seasonings, and cheddar cheese. Three or so hours later, you'll come back to a simmer pot of unbelievably cheesy "macaroni" and cheese. The recipe takes about 3 hours and 5 minutes to make and yields 6 servings.
Ingredients:
1 head cauliflower, cut into florets
1 can condensed cheddar soup
1 (5-ounce) can evaporated milk
½ teaspoon salt
½ teaspoon pepper
½ teaspoon paprika
¼ cup finely diced onion
2 cups shredded cheddar
Directions: Grease the inside of a 3- to 4-quart crock pot. Place cauliflower florets in crock pot.
In a medium saucepan, combine remaining ingredients. Heat over medium heat, stirring constantly, until cheese is melted. Pour sauce over cauliflower. Cover crock pot and cook on low for 3 to 3½ hours, depending on how tender you want the cauliflower.
Check out Life Cheat Sheet on Facebook!
More from Life Cheat Sheet:
Want more great content like this? Sign up here to receive the best of Cheat Sheet delivered daily. No spam; just tailored content straight to your inbox.