7 Convenient and Meatless Lunches to Enjoy On the Go
Packing a lightweight and nutritional lunch to enjoy during a long day of work or classes can require some creativity. Next time you're running low on inspiration, try taking a page from the vegetarian lunchtime playbook by making a filling and meat-free meal. With recipes like these, there are plenty of innovative and packable options that can be prepared ahead of time to enjoy convenient, healthy dishes at work or school.
These 7 meatless recipes will transform your lunchbox from mundane to magnificent.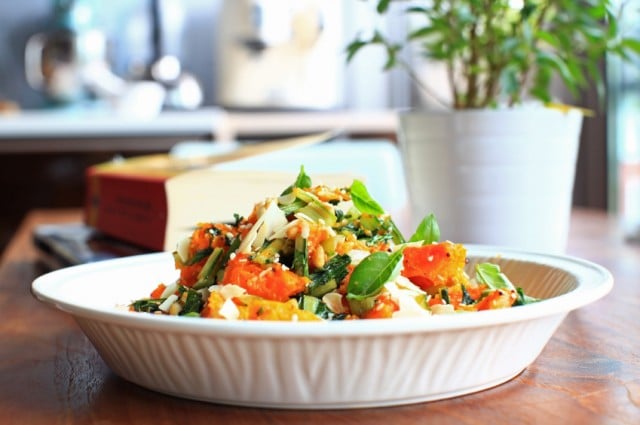 Roasted Onion, Squash, and Fig Salad With Maple-Mustard Balsamic Dressing
Not only is this lunch hearty and packable, but it's seasonable, too! It consists of ingredients that you'll easily find at your local grocery store or farmers market: squash, onions, greens, goat cheese, and more.  A maple-mustard dressing tops it all off with irresistibly tart and naturally sweet flavors that will blend nicely with your roasted vegetable assortment. Yummy Beet's recipe serves 4 people and takes 45 minutes to complete. To save time, the salad and dressing can be prepared ahead of time and stored separately in the refrigerator for up to 3 days.
Ingredients:
Salad
1 butternut squash, peeled, seeded, and cut into ½-inch cubes
1 large sweet onion, halved and sliced into ½-inch ribbons
1 tablespoon olive oil or avocado oil
½ teaspoon sea salt
¼ teaspoon ground black pepper
8 cups mixed greens
1 cup crumbled fresh goat cheese
½ cup walnuts, chopped
4 dried figs, slices
Maple-Mustard Balsamic Dressing
¼ cup extra-virgin olive oil
2 tablespoons balsamic vinegar
1 tablespoon lemon juice
1 tablespoon whole-grain mustard
1 clove garlic, minced
2 teaspoons maple syrup
¼ teaspoon sea salt
Ground pepper, to taste
Directions: To make the Roasted Onions and Squash – Preheat oven to 400 degrees Fahrenheit. Toss squash and onion with olive oil or avocado oil, salt, and pepper. Roast for 35 minutes. Meanwhile, prepare remaining components.
To make the dressing – Whisk together all ingredients in a small bowl or shake together in a glass jar. Set aside until ready to use.
To assemble the salad – In a large bowl, toss the greens with ¾ of the dressing. Divide evenly between 4 bowls or present this in one large salad bowl. Top with roasted squash, onions, walnuts, goat cheese, and figs. Drizzle each bowl with remaining dressing. Serve immediately.
Hummus Vegetable Sandwich
Here's a quick, tasty sandwich from Martha Stewart that will keep you fueled and brightened up before that pesky 2 p.m. slump rolls around. Smooth hummus and piquant tapenade complement the mildly flavored crunches of carrot and cucumber. To best preserve this sandwich for lunchtime, wrap it in wax paper to prevent the absorption of moisture. Recipe takes 10 minutes to complete and yields 1 sandwich.
Ingredients:
2 slices whole-wheat bread
¼ cup hummus
1 tablespoon tapenade (olive spread)
¼ cucumber, thinly sliced
1 coarsely grated carrot
Directions: Spread 1 slice bread with hummus; spread remaining slice of bread with tapenade. Top hummus with cucumber slices and carrot. Place bread with tapenade on top to form a sandwich.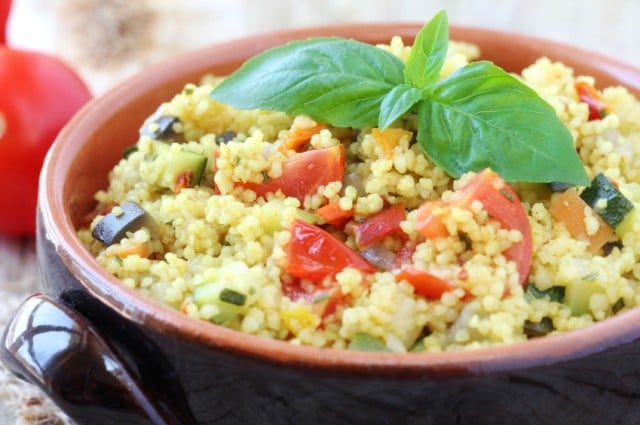 Israeli Couscous and Roasted Vegetable Salad
Tart apple vinegar and a bit of honey bring out the best in each other in this dish from the Wanderlust Kitchen. Israeli couscous (ptitim) makes a protein- and fiber-rich base for the flavorful ingredients. The dish keeps very well if prepared ahead of time and chilled, making it a great dish to pop in your lunchbox at a moment's notice. or even to bring to a party or potluck celebration. The recipe takes 70 minutes to complete and yields 4 servings.
Ingredients:
1 cup Israeli couscous (pearl couscous)
2 teaspoons honey
1 tablespoon extra-virgin olive oil
1 tablespoon apple vinegar
⅛ teaspoon freshly ground black pepper
1 teaspoon sea salt
3 cups Fennel-Roasted Fall Vegetables (recipe follows)
Fennel-Roasted Fall Vegetables
2 parsnips
3 carrots
1 bulb fennel
1 small red onion
8 ounces Brussels sprouts
4 cloves garlic, peeled
¼ cup extra virgin olive oil
1 teaspoon white pepper
Directions: To make Fennel-Roasted Fall Vegetables — Preheat your oven to 300 degrees Fahrenheit. Cut the parsnips, carrots, fennel, and red onion into bite-sized pieces. Trim the Brussels sprouts stems. If your sprouts are very large, cut them in half so they are closer to the size of the other vegetables.
Transfer all of the vegetables to a large bowl, along with the whole garlic cloves. Toss with the olive oil and white pepper. Arrange the vegetables on a large rimmed baking sheet and cover with foil.
Bake for 30 minutes. Remove foil, stir the vegetables, then return to the oven. Turn up the heat to 450 degrees Fahrenheit and let the vegetables cook for another 10 minutes, or until tender and browned.
To make Couscous and Roasted Vegetable Salad – Bring 1¼ cups of water to a boil in a small saucepan. Add the couscous and stir well. Cover, turn the heat to low and let simmer for 8 minutes. Drain and place in a large bowl.
Meanwhile, whisk together the honey, oil, vinegar, pepper, and salt to form a smooth dressing. Add the roasted vegetables to the couscous bowl. Drizzle the dressing over the top and toss well to coat. Serve warm or chilled.
Vegetable Quinoa Salad
The Hot Plate offers this make-ahead veggie quinoa salad for a satisfying and meatless meal. Quinoa and farro are both rich in protein and fiber, making them a wonderfully healthful foundation for this hearty dish. Although the Hot Plate offers many wonderful veggie additions to the dish, you can also feel free to experiment and customize with your own favorite ingredients, such as kale, cucumbers, peas, and baby spinach. The dish takes 15 minutes to complete and serves 4.
Ingredients:
⅓ cup extra-virgin olive oil
¼ cup white wine vinegar
1 tablespoon honey
2 cloves garlic, minced
1 teaspoon salt
¼ teaspoon freshly ground pepper
2 cups cooked quinoa
2 cups cooked farro
1½ cups small broccoli florets, cooked
1 pint grape tomatoes, halved
½ cup canned lentils, drained and rinsed
¼ cup chopped fresh basil
¼ cup chopped fresh parsley
2 green onions, finely chopped
¼ cup crumbled feta cheese
Directions: Whisk olive oil with vinegar, honey, garlic, salt, and pepper. Add quinoa, farro, broccoli, tomatoes, lentils, basil, parsley, and green onions to a large bowl. Toss with vinaigrette. Sprinkle with feta cheese. The salad can be prepared and stored refrigerated in airtight container for up to 2 days.
Mexican Torta With Refried Beans and Guacamole
For those vegetarians who want a lunch with a kick, Amuse Your Bouche shares this sandwich with all the flavors of your favorite Mexican foods — beans, cheese, salsa, guacamole — and a bit of chopped lettuce for crunch. If you don't have a sandwich roll on hand, these ingredients will also lend themselves perfectly to a tortilla wrap. Recipe takes 10 minutes to complete and yields 1 sandwich.
Ingredients:
1 individual submarine roll, small baguette, or ciabatta roll
2 tablespoons refried beans
1 ounce cheddar cheese, sliced
2 tablespoons hot salsa
2 tablespoons guacamole
Small handful lettuce, roughly chopped
Directions: Halve the roll lengthwise and remove a little of the bread inside to make more room for fillings. Toast lightly, and leave to cool for a couple of minutes.
Spread the refried beans on the bottom half of the cooled roll and top with the slices of cheese. Add the salsa. On the top half of the roll, spread the guacamole and pile on the lettuce. Carefully press the two halves of the roll together, and serve.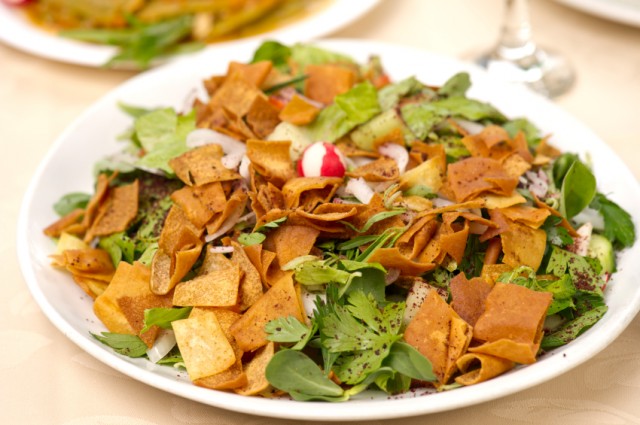 Fattoush
Fattoush, a salad originating from the Mediterranean region, consists of crisp vegetables and toasted pieces of pita bread. You'll be amazed at the freshness of the dish, a quality emphasized by the addition of mint. RecipeRighter's dish requires about 25 minutes to complete and yields 2 servings.
Ingredients:
1 cup diced tomato
1 cup peeled and diced cucumber
½ small red onion, diced
2 cups thinly chopped romaine lettuce
1 lemon
3 tablespoons olive oil
5 tablespoons chopped fresh mint
3 6-inch whole-wheat flatbreads or 2 pitas, divided
Directions: Preheat oven to 350 degrees Fahrenheit. Cut flatbread into small pieces (any shape). Line a baking sheet with aluminum foil and spray with olive oil cooking spray. Place the bread on the cooking sheet and spray with cooking spray as well. Toast bread in the oven 5 to 10 minutes, depending on level of dryness.
Dice tomatoes and cucumbers into similar ¼-inch-sized pieces. If you are using a larger-variety tomato, de-pulp it first by cutting the top off and sticking your index finger in the holes where the pulp is. Dice ½ of a small red onion. Chop romaine into thin strips.
Juice 1 lemon; add the olive oil, pepper, and fresh mint. Combine all the ingredients except for the bread. Add bread immediately before serving.
White Bean and Avocado Club
Protein-rich white beans are dressed up with some simple seasoning in this sandwich, then given a pleasant texture with the addition of sprouts and crunchy cucumbers. Top it all off with some onion, avocado, and multigrain bread, and you'll have a quick, nutritious addition to your lunchbox. Real Simple's recipe takes 20 minutes to make and yields 4 sandwiches.
Ingredients:
2 (15-ounce) cans white beans, rinsed and drained
2 tablespoons extra-virgin olive oil
½ teaspoon kosher salt
¼ teaspoon black pepper
12 slices multigrain bread
1 small red onion, thinly sliced
1 seedless cucumber, thinly sliced
1 (4- to 5-ounce) container sprouts (alfalfa, radish, broccoli, or a combination)
2 avocados, pitted and thinly sliced
Directions: In a medium bowl, combine the beans, oil, salt, and pepper. Roughly mash the mixture with the back of a fork.
Place 8 of the bread slices on a work surface. Divide the mashed beans among them. Top with the onion, cucumber, sprouts, and avocado.
Stack the open-faced sandwiches on top of one another, avocado-side up, to make 4 double-decker sandwiches. Top with the remaining 4 slices of bread. Slice each sandwich in half, if desired, and serve.
More from Life Cheat Sheet:
Want more great content like this? Sign up here to receive the best of Cheat Sheet delivered daily. No spam; just tailored content straight to your inbox.