7 Creamy Comfort Food Recipes to Cook for Tonight's Dinner
There's nothing quite like snuggling up with a warm dish of comfort food to soothe the soul, particularly in brisk weather. Temperatures are dropping by the day at this time of year, and there's no better time than now to cook up these fantastically creamy dishes at home.
Cozy up by the fireplace and delight in one of these seven creamy comfort dishes this season.
1. Creamy Chicken Gnocchi Soup
Classic comfort dishes are even more delightful out of the crockpot, where they're cooked to perfection over several hours. The smells alone will have you, friends, and family craving a taste long before dinner. Starting with a bone-in chicken thigh will result in the most flavorful broth, notes the Kitchen McCabe. This Creamy Chicken Gnocchi Soup is made entirely from scratch — no out-of-the-can shortcuts to be found! Recipe yields 10 to 12 servings.
Ingredients:
6 chicken thighs, bone in, skin removed
10 cups chicken broth
1 teaspoon pepper
1 tablespoon coarse salt
1 large onion, chopped
4 carrots, grated
5 stalks celery, chopped
2 tablespoons fresh thyme
1 tablespoon garlic, minced
1 stick butter
¾ cup flour
1 pound gnocchi, dried or fresh
6 ounces fresh spinach
Directions: Place the chicken, chicken broth, pepper, and salt in a slow cooker. Cook on high for 4 hours. Remove the chicken from the broth and set aside to cool.
Run the broth through a fine mesh sieve and pour back into the slow cooker set to high. Add the onion, carrots, celery, thyme, and garlic. Let cook for 1 hour.
After 1 hour, make a roux by melting the butter in a small sauté pan. When the butter is melted, add the flour and stir to make a thick paste. Cook the roux for 30 seconds, stirring constantly as to not let it brown.
Add the roux to the slow cooker. Whisk it into the liquid until there are no lumps left. Soup will thicken slightly and continue to thicken as it cooks.
Shred the cooled chicken meat and add it to the soup.
Add the gnocchi to the soup and let cook for another 45 minutes to 1 hour. Add salt and pepper to taste, if desired. Just before serving, add the spinach (it will wilt upon addition).
2. Cauliflower Gratin
This Cauliflower Gratin from Fashionable Foods is hearty enough to serve as an entrée on its own, but can also make a wonderful side dish this time of year. Blanching the cauliflower will result in a perfectly textured veggie base, which blends wonderfully with the rich tastes of onion, thyme, and gruyere cheese. The recipe takes an 65 minutes to make and yields 4 to 6 servings.
Ingredients:
4 cups cauliflower, from 1 large head, cut into florets
Salt
1 tablespoon olive oil
1 tablespoon butter
1 large onion, thinly sliced
Pepper
2 teaspoons fresh thyme, finely chopped
2 tablespoons all purpose flour
2 cups milk
¼ cup gruyere cheese, grated
¼ cup breadcrumbs
Directions: Preheat the oven to 425 degrees Fahrenheit.
In a large pot of salted boiling water, blanch the cauliflower until crisp-tender, about 3 minutes. Drain and run under cold water to stop the cooking process. Set aside.
Meanwhile, melt the butter and olive oil in a large skillet over medium heat. Sauté the onion for about 3 to 4 minutes or until the onions are soft; season with salt, pepper, and thyme. Sprinkle the flour over the onions and mix well; cook for about 1 minute and then add the milk. Allow the milk to come to a simmer and slightly thicken, and then add the cauliflower and toss to coat.
In a small bowl, mix together the Gruyere and breadcrumbs; set aside. Pour the mixture into a 9-by-9-inch baking dish and top with the cheese and breadcrumb mixture. Bake the gratin at 425 degrees Fahrenheit for 40 to 45 minutes or until bubbly and golden brown.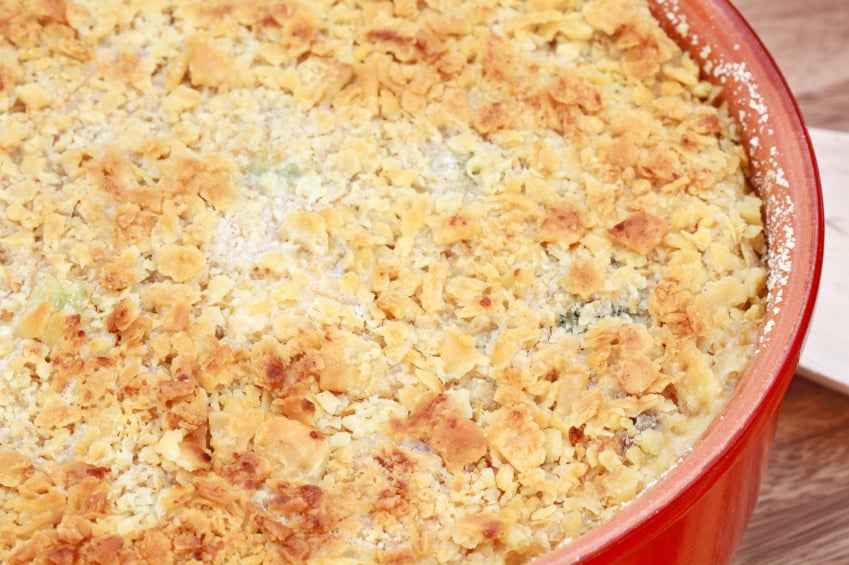 3. Poppy Seed Chicken Bake
Tender shredded chicken is the base for this indulgent Poppy Seed Chicken Bake, which incorporates sour cream, cream cheese, butter, and milk for its extraordinarily creamy consistency. Le Creme de la Crumb recommends topping it all off with crumbled butter crackers for an delightful crunch on top. It makes 4 servings and takes about 30 minutes to complete.
Ingredients:
3 boneless skinless chicken breasts, cooked and shredded (about 3 to 4 cups of shredded chicken)
3 tablespoons butter
1 teaspoon minced garlic
3 tablespoons flour
1 cup milk
1 cup chicken broth
8 ounces plain Greek yogurt or sour cream
4 ounces cream cheese
1½ teaspoons salt, or to taste
½ teaspoon black pepper
1 tablespoon poppy seeds
Topping
½ cup shredded Parmesan cheese
1 sleeve buttery crackers, crushed (about ⅔ cup)
4 tablespoons butter, melted
Optional: chopped parsley
Directions: Preheat oven to 375 degrees Fahrenheit. Grease a casserole dish. Melt butter in a large sauce pan over medium heat. Add garlic and saute for 1 minute, until fragrant. Add flour and stir until mixture clumps together.
Gradually whisk milk into sauce pan. Add chicken broth, Greek yogurt (or sour cream), cream cheese, salt, and pepper. Simmer 5 to 10 minutes, until cream cheese is melted. Stir to combine.
Add shredded chicken and poppy seeds to sauce mixture and stir. Transfer to casserole dish. Sprinkle with Parmesan cheese. Top with cracker crumbs. Drizzle melted butter over crumbs. Bake for 15 minutes. Garnish with chopped parsley if desired and serve.
4. Garlic Macaroni and Cheese
No list of comfort foods would be complete without a variation on good old-fashioned Macaroni and Cheese. Smothering these pasta shells with mozzarella, Gruyere, and Parmesan cheeses will result in a flavorful pasta dish that everyone will love. The Sassy Life accents her macaroni with garlic and a light salt and pepper seasoning to make it a true taste of perfection. Recipe yields 2 servings.
Ingredients:
For the macaroni sauce
2 cups milk
5 tablespoons unsalted butter
⅓ cup all-purpose flour
1 teaspoon sea salt
For the macaroni and cheese
2 cloves garlic, minced
2 tablespoons unsalted butter, room temperature
¼ pound pasta shells
2 cups macaroni sauce
¾ cup shredded mozzarella cheese
¼ cup grated Gruyere cheese
¼ cup grated Parmesan cheese
Optional: black pepper
Directions: For the sauce: Heat the milk in a pot over medium heat until little bubbles form. Remove from the heat.
In another pot, melt the butter over medium heat. Right when the butter has just melted, add in the flour and whisk until the mixture turns light brown and thickens. Remove from heat.
Continue to whisk the flour off the heat and slowly add in the heated milk. Keep whisking until you have used all the milk.
Return the mixture to the stove and whisk constantly on medium heat for a couple of minutes until the sauce thickens.
For the macaroni and cheese – Form a compound butter with the minced garlic and butter. Mash the butter and garlic together until the garlic has evenly spread through the butter.
Cook the pasta shells according to the directions on the package, until it is almost al dente. Do not overcook.
Drain the pasta and rinse with cold water. Drain again. Add the sauce, cheese, and garlic butter to a medium-sized pot and set over medium heat. Stir the mixture together until the cheese has barely melted. Add the cooked pasta and stir continuously until the pasta is fully incorporated. Serve hot, topped with black pepper if desired.
5. Braised Beef Stroganoff
Beef Stroganoff is a long-beloved supper dish known for its warm and inviting qualities. Pappardelle are draped in a lusciously creamy mushroom and sour cream sauce, along with mushrooms and tender braised beef. This recipe from the Kitchn draws upon traditional Russian preparations of the dish, yielding 4 to 6 servings.
Ingredients:
Vegetable oil or clarified butter
2 pounds boneless beef shoulder
3 tablespoons flour
1 cup red wine
2 cups unsalted beef broth
4 tablespoons butter
1 onion, diced
1 pound mushrooms, cleaned and sliced
1 (8-ounce) carton sour cream
Kosher salt
Freshly ground black pepper
Cooked pappardelle
Optional: flat-leaf parsley, to garnish
Directions: Preheat oven to 300 degrees Fahrenheit.
Freeze the beef for about 20 minutes, which will make it easier to dice. Cut the meat into 1-inch cubes. Pat dry and season generously with salt and pepper.
Heat a few tablespoons of vegetable oil or clarified butter in a large Dutch oven over high heat. Sauté the beef cubes on all sides until well browned but not cooked through, about 3 to 5 minutes, working in batches if necessary. Add back all of the beef and its juices to the Dutch oven.
With heat still on high, add the flour and cook for 1 minute until there is no visible white left. Pour in the wine to deglaze the pan and then reduce by half, about 10 to 15 minutes. Add the beef broth and bring to a boil. Cover the pot and move it to the oven. Cook for approximately 2½ hours, until the meat is ultra-tender. Allow the mixture to cool for about 15 minutes. Season to taste with salt and pepper.
While the beef mixture is cooling, heat the butter over medium heat in a large skillet and sauté the onions until they start to soften. Add the mushrooms and continue cooking until golden brown and tender, about 12 minutes. Add the cooked mushrooms into the beef sauce. Stir a cup of the beef sauce into the sour cream, then fold the sour cream mixture back into the rest of the beef sauce. Taste and adjust final seasonings. Gently reheat over low to medium-low heat if necessary. Serve over cooked pappardelle or egg noodles. Garnish with freshly chopped parsley, if desired.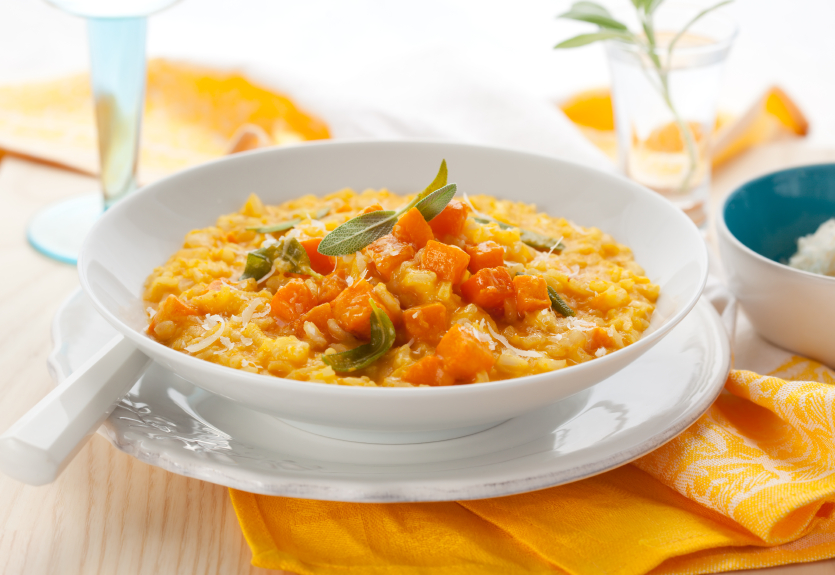 6. Butternut Squash Risotto With Roasted Kale
J.J. Begonia's Butternut Squash Risotto With Roasted Kale incorporates fall flavors for a remarkably tempting dinnertime dish. The addition of roasted kale atop the creamy risotto offers a light and crunchy finish. Meat eaters may wish to add crumbled bacon on top — or, for a sweet change of pace, J.J. Begonia even recommends some crumbled ginger snaps as garnish. The recipe takes 50 minutes to make and yields 4 servings.
Ingredients:
1 butternut squash (weighing about 2 pounds), peeled and cut into small cubes
2 tablespoons olive oil
1 teaspoon brown sugar or coconut sugar
Salt and pepper
8 cups vegetable or chicken stock
3 tablespoons butter
1 shallot, diced
1 cup Arborio rice
½ cup dry white wine
½ cup grated Parmesan cheese
2 leaves kale
Directions: Preheat oven to 400 degrees Fahrenheit. Place the butternut squash, olive oil, sugar, salt, and pepper on a baking sheet. Bake the squash for 25 to 30 minutes, until very tender. Remove from oven. Take half of the cooked squash, and pulse it in a food processor with the Parmesan cheese. Set aside.
Meanwhile, heat the stock and allow it to simmer. In a separate pan, melt the butter over medium-low heat. Add the shallots and cook for 2 to 3 minutes, until softened. Add the rice to the pan, and cook for an additional minute to coat the grains.
Pour the wine into the pan, stirring. Once the wine has reduced halfway (about 2 minutes), add two ladles of stock to the pan. Allow to simmer, stirring occasionally until the stock is absorbed and the rice is nearly dry (about 5 to 10 minutes). Continue adding the stock two ladles at a time (and stirring) until the rice is cooked through. Once the rice is cooked, add one more ladle of stock, along with the squash and cheese mixture to the pan. Remove from heat and stir in the remaining squash. Serve immediately.
For crispy kale – Remove the stems from two leaves of kale, and chop. Place on a sheet pan with 1 tablespoon of olive oil, salt, and pepper. Massage the kale lightly to make sure that it's fully coated. Place in a 400 degree Fahrenheit oven and bake for approximately 5 minutes, just until the kale is crunchy and beginning to brown.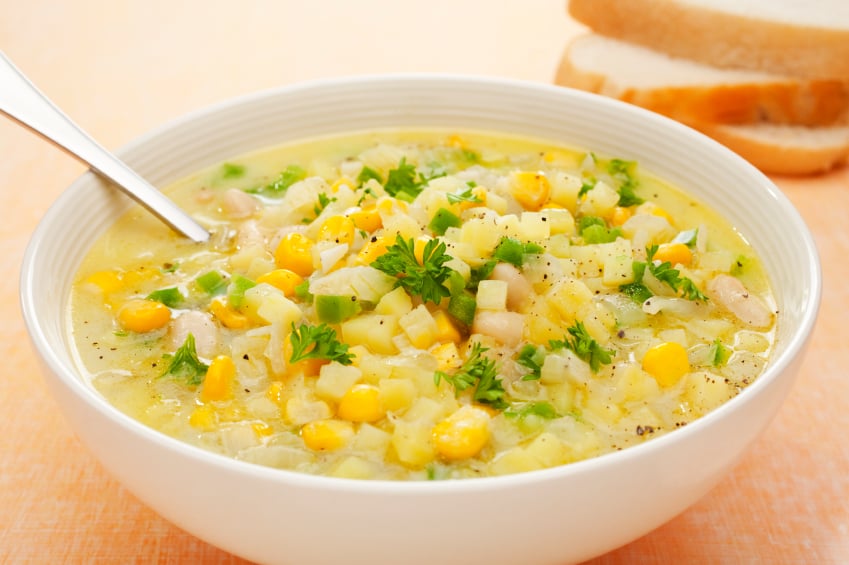 7. Slow Cooker Potato Corn Chowder
Chowder is yet another must-have in the comfort food category. This Potato Corn Chowder recipe from Damn Delicious requires a simple crockpot preparation, meaning it's as easy as it is tasty! Thyme, oregano, and garlic provide key flavors to highlight the dish's potato and corn base. Recipe takes 8 hours and 10 minutes to complete, including cook time, and yields 8 servings.The dish freezes very well — just don't add in the cream and butter until after defrosting.
Ingredients:
24 ounces red potato, chopped
1 (16-ounce) package frozen corn
3 tablespoons all-purpose flour
6 cups chicken stock
1 teaspoon dried thyme
1 teaspoon dried oregano
½ teaspoon garlic powder
½ teaspoon onion powder
Kosher salt and freshly ground black pepper, to taste
2 tablespoons unsalted butter
¼ cup heavy cream
Directions: Place potatoes and corn into a slow cooker. Stir in flour and gently toss to combine. Stir in chicken stock, thyme, oregano, garlic powder, onion powder, salt and pepper, to taste.
Cover and cook on low heat for 7 to 8 hours, or high heat for 3 to 4 hours. Stir in butter and heavy cream. Serve immediately.
More from Life Cheat Sheet:
Want more great content like this? Sign up here to receive the best of Cheat Sheet delivered daily. No spam; just tailored content straight to your inbox.