7 Creative Ways to Eat Eggs For Dinner Tonight
Eggs are a delicious and protein-packed addition to your diet, making them a breakfast favorite for many. At 75 calories and only 7 grams of protein a pop, their role as a dietary mainstay is well deserved — so why confine them to just your morning meal? The ingredient's versatility, nutritional value, and tastiness call for use in the kitchen at dinnertime, too.
Try any of these seven delicious recipes to get the most out of eggs in your diet, no matter the time of day!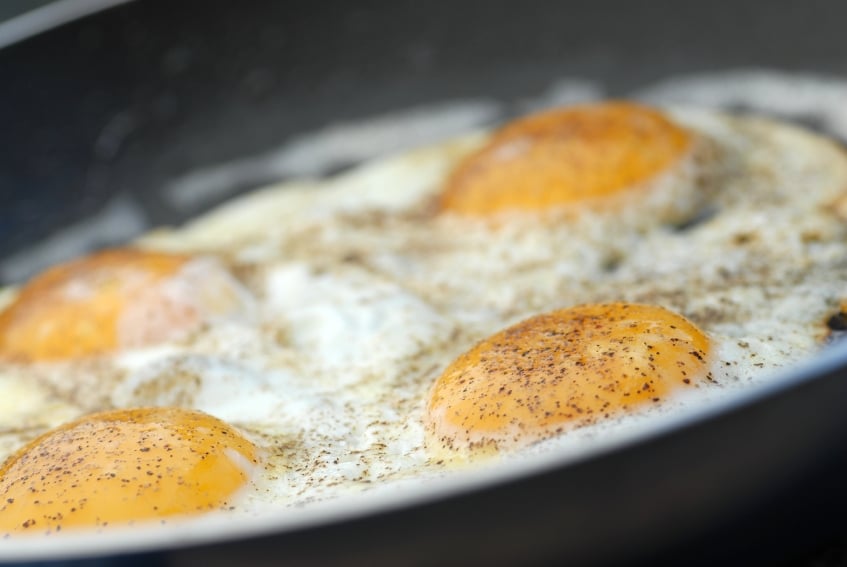 1. Open-Faced Ravioli with Poached Egg, Wilted Greens, and Brown Butter-Lemon Sauce
Don't get scared off by the fancy name: "Open-faced ravioli" is just another term for lasagna noodles trimmed into squares. But your diners don't need to know that, of course. Impress the guests with this rich combination of poached egg, browned butter, and wilted greens. Balance out the exciting medley of flavors with a couple squeezes of lemon juice. This dish from the Kitchn takes about an hour to complete and yields two servings.
Ingredients:
2 lasagna noodles
2-4 eggs, depending on how hungry you feel and what else is being served
1 bunch (about 10 ounces) swiss chard, washed, stems removed, and sliced into ribbons
2 garlic cloves, minced
1 pinch red pepper flakes (optional)
¼ cup (2 ounces) unsalted butter
2 tablespoons lemon juice
salt and pepper
Directions: Fill a mixing bowl with hot tap water and set it next to the stove.
Bring a large pot of water to a boil. Add a tablespoon or two of salt and the lasagna noodles. Cook about 8 minutes, until the noodles are al dente. Remove the noodles with a strainer or slotted spoon and transfer them to the bowl of water.
Drain half the water from the pot, leaving about four inches in the bottom. Let it come back to a simmer. Crack the eggs into individual measuring cups and slip them into the simmering water. Poach the eggs for 4 minutes for runny yolks or 5 minutes for yolks that are barely set. Transfer them to the bowl of warm water with the lasagna noodles until ready to plate your dishes.
While the noodles and eggs are cooking, you can begin wilting the greens. Warm a teaspoon of olive oil in a large skillet over medium heat. Add the greens and a three-fingered pinch of salt, and sauté until the chard wilts, turns bright green, and becomes tender to taste, about three minutes. Stir in the garlic and red pepper flakes and stir until fragrant, about 30 seconds. Transfer the chard to a separate plate.
With the skillet back over medium-high heat, melt the butter. Continue to cook it, swirling the butter occasionally in the pan, until the butter darkens and begins to smell nutty. Remove from heat and whisk in the lemon juice and ¼ teaspoon of salt. The lemon juice will make the butter sizzle up and sputter before cooling down.
To plate the ravioli: Remove the lasagna noodles from the water and pat them dry. Slice them into squares and layer half of them in the bottom of two pasta bowls. Remove the poached eggs from the water with a slotted spoon and lay them on the noodles. Top with the remaining ravioli squares. Arrange the wilted chard around and over the plates, and drizzle everything with butter-lemon sauce. Serve immediately.
2. Eggs in Spicy Tomato Sauce
The savory flavors of bacon and garlic play well off of the tomato in this bold and zesty sauce. The addition of eggs will both thicken and add flavor to the stew. This recipe from Martha Stewart takes about 35 minutes to complete and yields four servings.
Ingredients:
4 slices bacon, cut ½ inch thick crosswise
4 cloves garlic, chopped
1 to 2 tablespoons chopped chipotle chiles in adobo
2 cans (28 ounces each) whole peeled tomatoes in juice
Coarse salt and ground pepper
8 large eggs
½ cup crumbled feta cheese
Tortilla chips, for serving (optional)
Directions: Cook bacon in a large skillet over medium heat, turning occasionally, until browned, 4 to 5 minutes; transfer to a paper towel-lined plate.
Add garlic and chiles to rendered fat in skillet; cook, stirring, until garlic is just golden, 30 to 60 seconds. Add tomatoes and juice; simmer over medium heat, breaking up tomatoes with a spoon and stirring occasionally, until thickened, 15 to 20 minutes. Season with salt and pepper.
Reduce heat to low. One at a time, crack eggs into a small bowl or cup, and slide onto sauce in skillet, spacing so that all eggs will fit. Cover; cook very gently until egg whites are just opaque, 6 to 9 minutes.
Spoon into four serving bowls; sprinkle with feta and bacon. Serve with tortilla chips, if desired.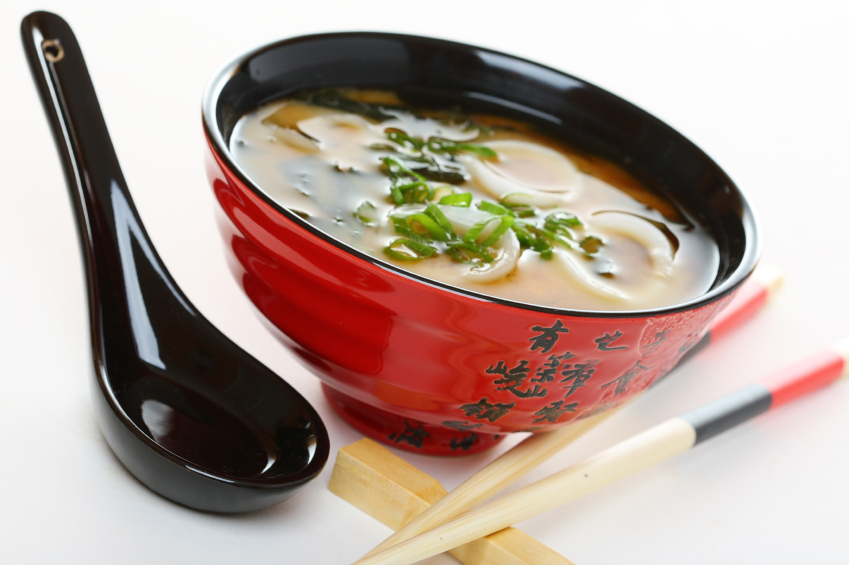 3. Miso Soup with Poached Egg
Miso soup is a Japanese classic. This simple variation from Yummy Mummy Kitchen consists of rice noodles, vegetables, and a poached egg. Recipe takes about a half hour to complete and yields four to six servings.
Ingredients:
4 cups water
2½ tablespoons yellow miso paste
1 cup sliced carrots
1 small handful width rice noodles
1 cup cubed firm tofu
2 to 4 large eggs
sliced green onions
micro greens
Directions: Bring water to a simmer in a medium or large pot over medium-high heat. Whisk in the miso paste and add the carrots, rice noodles, and tofu.
With the soup simmering, carefully crack the eggs and gently place them in to poach. Once eggs are cooked to you liking, remove the soup from heat and serve in individual bowls. Top with green onions and micro greens.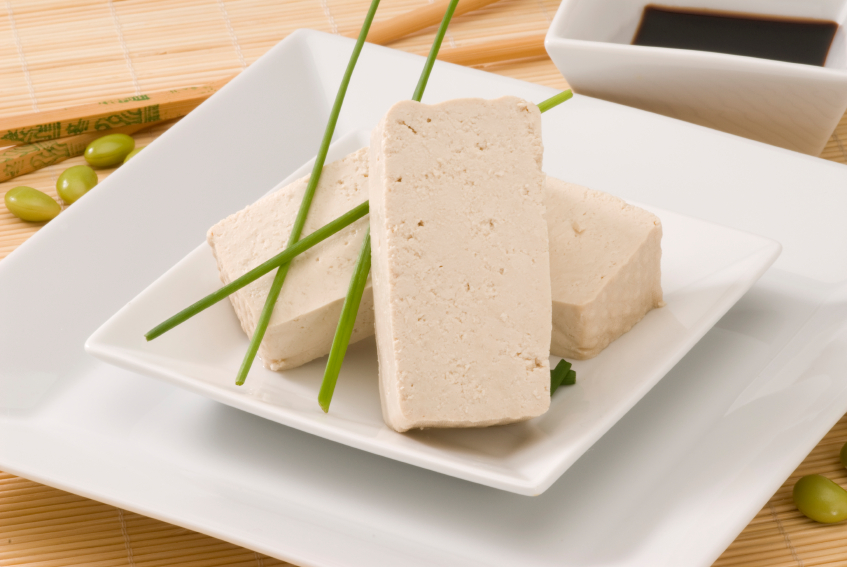 4. Smoked Tofu and Egg Fried Rice
Fried rice is a simple and delicious dish, and can easily be made with leftover rice in a dinnertime pinch. This recipe from Fuss Free Cooking calls for smoked tofu, sesame oil, and egg, giving it an earthy flavor that diners won't soon forget. Recipe yields one to two servings and takes about 50 minutes to make.
Ingredients:
2 cups cooked rice
100 grams smoked tofu
2 to 3 cloves of garlic, finely chopped
2 eggs, lightly beaten
1 cup frozen peas
A handful of chives
Soy sauce to taste
White pepper
2 drops of sesame oil
Directions: Dice tofu, chop garlic finely and chives. If using leftover rice, make sure rice is at room temperature.
Beat 2 eggs. Season with white pepper to taste, if desired.
Heat some oil in a wok or medium-sized pan. When the oil is hot, add beaten egg and cook over medium heat. When the egg is ¾ cooked, fold the egg in half and push it aside. Over low heat, add garlic and smoked tofu. Add more oil if the mixture feels dry and sauté until garlic is aromatic.
Add rice to the egg and tofu mixture. Break the egg using a wooden spoon and stir to combine the ingredients. Do this over low-medium heat. Then add frozen peas. Mix to combine with the rice mixture. Stir fry the rice until the peas are fully heated through over low- medium heat.
Turn the heat to low. Add soy sauce to taste, 2 dashes of ground white pepper and sesame oil. Stir to combine the seasonings with the rice mixture. When it is well mixed, add chives. Turn the heat to high, and stir fry the rice for half a minute. Serve immediately.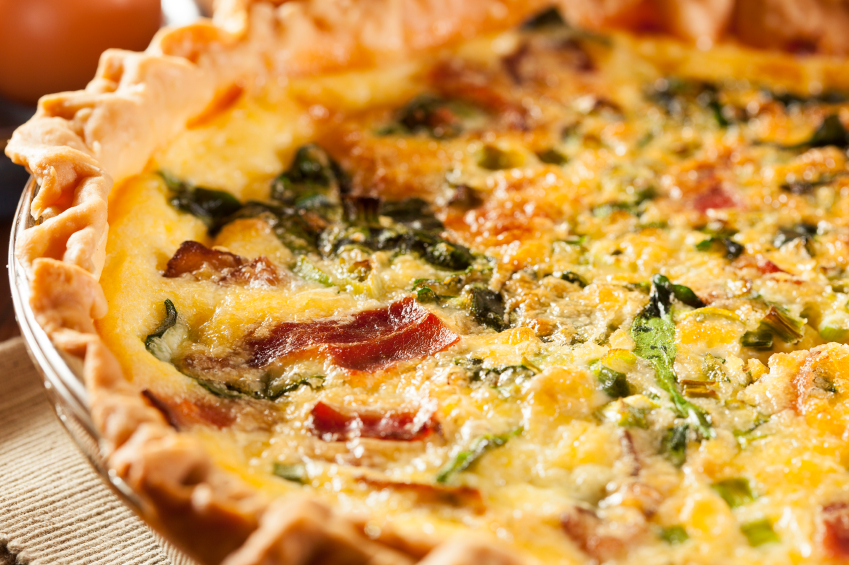 5. Spinach and Bacon Quiche
Quiche typically consists of a pastry crust with a filling made up of baked egg and cream. The addition of other savory elements — meats, cheeses, and vegetables, especially — makes it a rich and savory favorite. This recipe from Paula Deen of Food Network takes about an hour to complete and yields six to eight servings.
Ingredients:
6 large eggs, beaten
1 ½ cups heavy cream
Salt and pepper
2 cups chopped fresh baby spinach, packed
1 pound bacon, cooked and crumbled
1 ½ cups shredded Swiss cheese
1 (9-inch) refrigerated pie crust, fitted to a 9-inch glass pie plate
Directions: Preheat the oven to 375 degrees Fahrenheit.

Combine the eggs, cream, salt, and pepper in a food processor or blender. Layer the spinach, bacon, and cheese in the bottom of the pie crust, then pour the egg mixture on top. Bake for 35 to 45 minutes until the egg mixture is set. Cut into 8 wedges.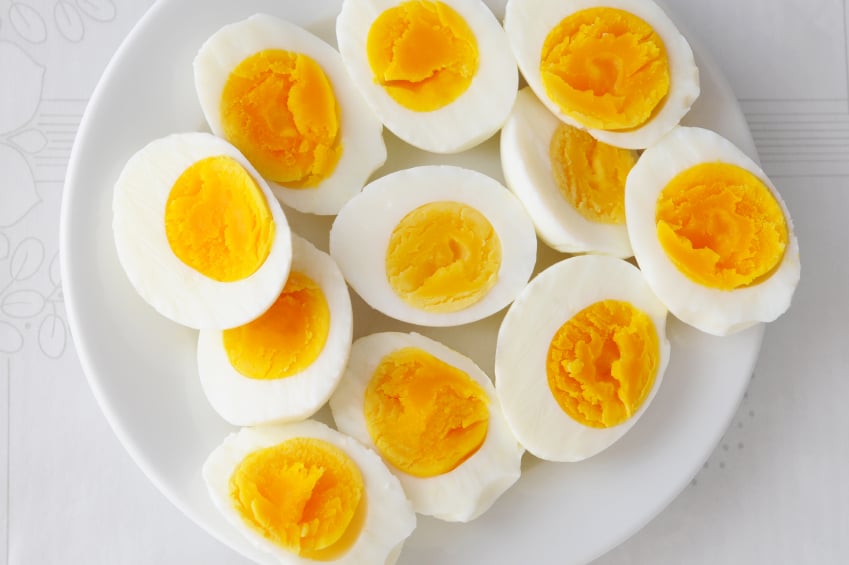 6. Egg Korma
We all know curry can be flavorful, tangy, and fragrant. But have you ever tried it with eggs? This recipe from Journey Kitchen is uniquely tasty, as it offers the nutty richness of added almonds along with eggs for thickness and taste. Recipe serves two to three and takes about 45 minutes to make.
Ingredients:
5 hard boiled eggs (sliced into halves)
5 to 8 curry leaves
½ teaspoon mustard seeds
1 red onion ( grind to paste)
1 tomato (cubed)
1 teaspoon ginger paste
½ teaspoon garlic paste
2 tablespoon ground almonds
1 cup chicken stock/warm water
3 tablespoons thick cream dissolved in 2 tablespoons water or heavy cream (optional)
1-2 tablespoons ghee/vegetable oil/olive oil
For spice blend (lightly toast the spices before grinding for more flavor):
1 teaspoon fennel seeds
1 teaspoon cumin seeds
8-10 whole black pepper
2 cardamom pods
1 tablespoon coriander powder
1 teaspoon red chilly powder
½ teaspoon turmeric powder
Directions: Grind all the ingredients for spice blend and keep aside. Sprinkle some of it on the halved hard boiled eggs. In a wok, heat the ghee. Add curry leaves and mustard seeds.
Once the onion turns pink, add ginger and garlic paste. Then add almond powder.
Sauté the almonds for about a minute on medium heat; be careful of burning. Add spices and tomatoes. Cook until the tomatoes have formed a paste.
Add the stock and let it come to a vigorous boil. Reduce the heat and arrange the hard-boiled eggs in the stock. Shake the wok to coat the eggs. Simmer for 5-8 minutes.
Garnish with almonds and cream; serve with naan or chapati.
7. Pappardelle with Chanterelles in a Light Chardonnay Cream Sauce
This dish from Tartine and Apron Strings is French- and Italian-inspired. It has some tricky ingredients, but is worth venturing to try for special occasions — you won't regret it after the first bite! The dish incorporates guanciale, which is a naturally smoky meat used throughout Rome; it derives from cured pig's jowl. Recipe takes 1 hour and 10 minutes to complete and yields six servings.
Ingredients:
500 grams (a little less than 1 pound) egg pappardelle pasta
300 grams guanciale, sliced thinly
250 grams fresh chanterelle mushrooms
¼ cup unsalted butter, European-style preferably
3 cloves garlic, finely minced
1 cup Chardonnay wine
1 cup vegetable or mushroom broth
½ cup heavy cream
3 tablespoons flat-leaf parsley, finely minced
quail eggs
salt and pepper
Directions: In a large pot, bring water to a boil over high heat and salt generously. Cook pasta to al dente, according to package instructions.
In a large pan, cook guanciale over medium heat, until bacon turns opaque but not burnt. Set aside to drain over paper towels. Dispose of bacon grease and wipe clean the pan.
In the pot you used for cooking pasta, melt the butter over medium-low heat. Sautée garlic until golden, about 1 to 2 minutes. Increase the heat to medium, add the chanterelle mushrooms and sautée until juicy, about 2 to 3 minutes. Season with salt to taste. Add half the Chardonnay wine (½ cup), and cook for another 1 to 2 minutes or until the wine reduces. When mushrooms are done, turn heat off but leave mushrooms in the pot, but away from heat.
Returning to the pan used for bacon: Heat the remaining half of the wine (½ cup) over medium heat until it reaches a boil and is reduced to half, then add the vegetable broth first, followed by the cream. Stir thoroughly. If you want a thicker sauce, add more cream. If you want a thinner sauce, add more broth.
Bring the cooked pasta back in the pot with mushrooms and stir thoroughly. Pour the cream mixture into the pasta and stir until combined.
Add the cooked guanciale and mix well. Season to taste. Sprinkle with chopped parsley.
Over medium heat, pan fry some quail eggs in an oiled skillet until the edges start to curl and turn golden but the yolks still runny.
Remove from pan with a spatula and lay on top of pasta. Serve immediately.
More from Life Cheat Sheet:
Want more great content like this? Sign up here to receive the best of Cheat Sheet delivered daily. No spam; just tailored content straight to your inbox.