7 Delicious Recipes Showing the Healthy Side of Cheese
Whether enjoying a gooey pasta or a creamy, topped toast, Americans can't get enough cheese. The Atlantic reported that, as of 2013, the average American eats about 23 pounds of this dairy favorite every year. That's nearly triple the number from 1970. Though it's filled with nutrients like calcium, protein, and vitamin D, it can pack a hefty wallop of fat and calories. There's no need to give up all of your favorites, though, as long as you make some smart choices. These seven recipes use some fantastic cheeses to get tons of flavor without adding a bunch of extra cream or butter. When eating healthy tastes this good, you might wonder why you ever bothered with a greasy slice of delivery pizza.
1. Banana Ricotta Toasts with Pecans, Dates, and Honey
We don't often think of cheese as breakfast fare, but dreamy ricotta makes a terrific spread for some hearty bread. This delicious version from Whole Living tastes phenomenal, and is just about as nutritious as a morning meal can get. You'll get plenty of filling fiber from the whole-wheat bread, a bit of calcium and protein from the cheese, plus potassium and vitamin C from the banana. A drizzle of honey adds just a hint of sweetness and the nuts give the whole thing a great crunch.
Although this recipe is delicious exactly as written, you can use it as a guideline for tons of different variations. Try berries and almonds or apricots and pine nuts. You can change up the sweetener as well. Try a drizzle of maple syrup, agave, or even a bit of molasses.
Ingredients:
2 tablespoons part-skim ricotta cheese
1 (½-inch-thick) slice whole wheat bread, toasted
½ small ripe banana, sliced
1 medium Medjool date, pitted, and thinly sliced
1 tablespoon coarsely chopped, toasted, pecans
1 teaspoon honey
Coarse salt and freshly ground pepper
Directions: Spread ricotta on toast. Top with banana, date, and pecans. Drizzle honey over top, then sprinkle with salt and pepper, to taste. Serve.
2. Chicken, Green Bean, Corn, and Farro Salad with Goat Cheese
When it comes to cooking healthier with cheese, you might be better off skipping the low- or no-fat varieties for certain dishes. The trick is to go with something that's packed with flavor, like goat cheese. A little goes a long way, so there's no need to go crazy. This summery entree salad from Epicurious does it perfectly with loads of fresh veggies, plenty of whole grains, and a bit of the tangy cheese. While this dish makes a great simple lunch or supper, it's also perfect potluck food.
Ingredients:
½ cup semi-pearled farro
3 tablespoons extra-virgin olive oil, divided
8 ounces boneless, skinless chicken breast halves
12 ounces green beans, trimmed, and cut into 1½-inch pieces
2 cups fresh corn kernels
3 green onions, thinly sliced
1 tablespoon minced fresh marjoram
½ teaspoon kosher salt
2 tablespoons white wine vinegar
2 tablespoons minced shallot
1 teaspoon Dijon Mustard
4 ounces goat cheese, crumbled
Directions: Cook farro in a medium pot of boiling salted water until tender, but still a bit firm, 20 to 25 minutes. Drain; let cool.
Heat 1 tablespoon oil in a heavy medium skillet set over medium-high heat. Season chicken with salt and pepper, then add to skillet. Cook chicken until golden brown and cooked throuh, about 8 minutes per side. Cool, then cut into ½- to ¾-inch cubes. Cook green beans in a large suacepain of boiling salted water until just tender, about 4 minutes. Drain; rinse under cool water, and drain again. Transfer beans to a kitchen towel, or layer of paper towels, and pat dry.
Mix farro, chicken, and green beans in a large bowl. Add corn and green onions.
Whisk remaining oil, marjoram, and ½ teaspoon salt in a small bowl, crushing marjoram leaves lightly. Whisk in vinegar, shallot, and mustard. Pour dressing over salad, and toss to coat. Season with salt and pepper, to taste. Sprinkle with goat cheese. Serve.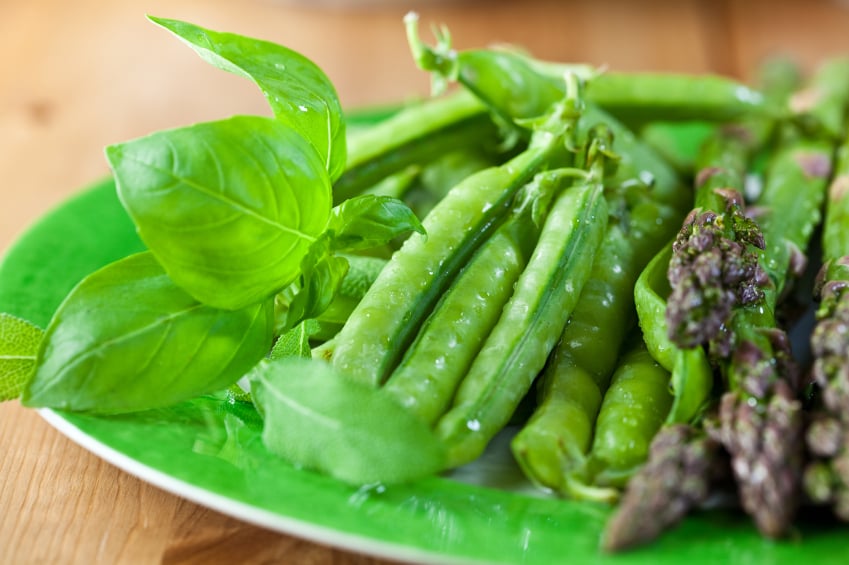 3. Mostly Veggie Mac and Cheese
If you usually think more cheese makes the best baked pasta dish, then you've never tried Love and Lemons' veggie-filled version. It's more asparagus and peas than pasta, and uses just a bit of mozzarella and Comté. The real secret here is the sauce. Rather than the standard roux-thickened milk, this recipe uses a cashew puree. It's a decidedly fresher take on the childhood favorite that you might like even more.
Ingredients:
Cashew Cream
1½ cups raw cashews, soaked overnight, and drained
2 garlic cloves
3 tablespoons lemon juice
2 teaspoons Dijon mustard
¼ cup water
Salt and Pepper
Casserole
½ cup short-cut pasta
½ cup chopped asparagus
½ cup peas
½ cup mini mozzarella balls, halved
1 handful each of chopped basil and sage
¼ cup grated Comté cheese
¼ cup panko breadcrumbs
Olive oil
Pinch of red pepper flakes
Salt and pepper
Directions: Preheat oven to 350 degrees Fahrenheit. Combine all ingredients for cashew cream in a blender, and blend until completely smooth. Taste, and adjust seasoning.
Coat bottom of a 9-by-13-inch baking dish with olive oil. Meanwhile, cook pasta in boiling salted water until al dente. Drain.
Toss ¾ cup cashew cream with cooked pasta. You will have extra cream. Reserve for another use. Add asparagus, peas, mozzarella, and herbs. Stir to coat. Season with salt and pepper, to taste. Pour into prepared baking dish, and press into an even layer. Top with grated Comté, panko, and a drizzle of olive oil. Sprinkle with salt, pepper, and red pepper flakes. Bake until crust is golden and casserole is heated through, about 20 minutes.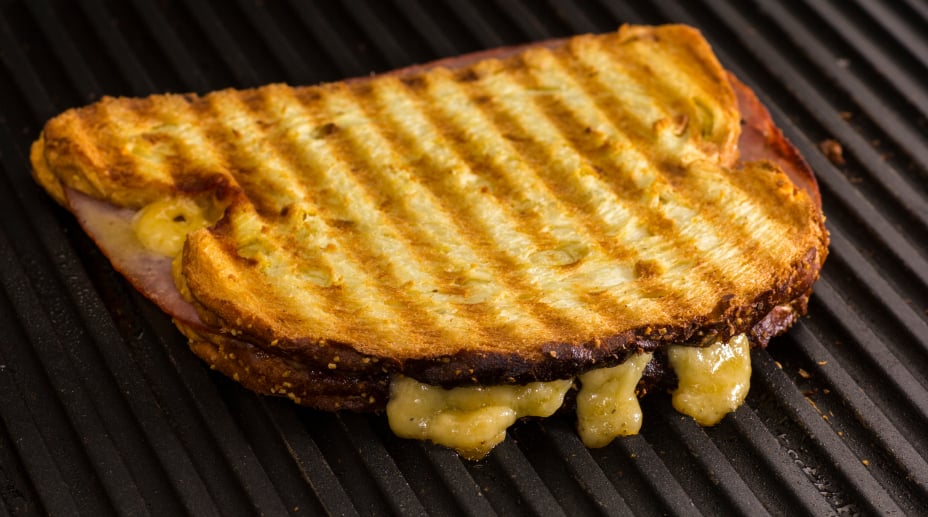 4. Sautéed Chard and Gruyere Grilled Cheese
While kale is the leafy veggie most people pick, chard is packed with tons of nutrients and is completely delicious. You can skip a side salad or cooked greens entirely when you tuck the veggie into Sprouted Kitchen's cozy sandwich filled with nutty Gruyère and a little bit of crisp apple. This toasted meal is so full of flavor and texture that you won't even realize you're doing something good for yourself.
Most people make their sandwiches with cheese slices, but shredded is actually a better bet. It'll melt more quickly and evenly, so you'll have a crispy exterior and perfectly molten filling. This one uses Gruyère and mozzarella, but you can use any of your favorite melting cheeses.
Ingredients:
1 tablespoon extra-virgin olive oil, divided, plus more
4 Swiss chard leaves, stems removed, thinly sliced
⅓ cup grated Gruyère cheese
¼ cup grated mozzarella cheese
1 heaping tablespoon finely minced shallot
4 (½-inch-thick) slices whole grain bread
¼ cup thinly sliced apple
1½ tablespoons whole grain mustard
Sea salt
Directions: In a medium skillet, heat a small amount of olive oil over medium-high heat. Sauté chard until just barely wilted, and some of moisture has released. Remove from heat. Preheat cast iron pan or a grill pan over medium heat. Meanwhile, combine grated cheeses with shallot.
Spread mustard evenly on two of the four bread slices. Lay a few slices of apple on top of each. Divide cheese mixture between bread slices. Top with cooked chard, then remaining bread slices.
Drizzle sandwiches with olive oil, sprinkle with salt, and put in preheated pan. Cook sandwiches, pressing, for 2 minutes. Drizzle second side with olive oil, then flip, press, and cook another two minutes, until cheese is melted and both sides are golden. Slice, and serve.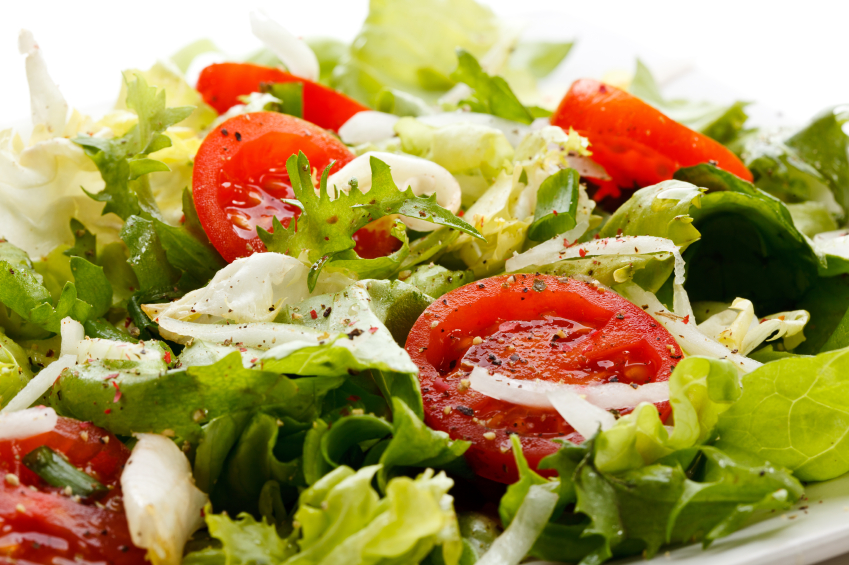 5. Cobb Salad Pizza
It's now commonplace to see a pile of arugula crowning a freshly baked pizza. The crispy crust, melted cheese, and fresh pop of greens are a textural delight. For a new spin on the standard, try this salad-inspired pizza from Cooking Light. It takes the ingredients of a classic composed salad and reworks them into a pizza that's both fresh and satisfying. You'll get a bit of avocado, bacon, chicken, greens, tomato, and blue cheese in just about every bite. It's a tasty, and way more fun, way to have salad for supper.
Ingredients:
1 (11-ounce) can refrigerated pizza dough
Cooking spray
¼ cup blue cheese crumbles, divided
1 tablespoon extra-virgin olive oil
1 tablespoon white wine vinegar
½ teaspoon Dijon mustard
¼ teaspoon black pepper, divided
2 slices bacon
8 ounces boneless, skinless chicken breast cutlets
½ cup quartered cherry tomatoes
2 tablespoons chopped red onion
2 cups lightly packed mixed baby greens
½ cup diced avocado
Directions: Preheat oven to 425 degrees Fahrenheit. Roll out dough onto a baking sheet coated with cooking spray. Pat into a 14-by-12-inch rectangle. Lightly coat dough with cooking spray. Bake 8 minutes, until golden. Remove from oven; sprinkle with 2 tablespoons of blue cheese. Set aside.
Whisk oil, vinegar, mustard, and ⅛ teaspoon black pepper in a large bowl.
In a large nonstick skillet over medium heat, cook bacon until crisp on both sides. Remove from heat, drain, then crumble into dressing. Wipe pan clean, then heat over medium-high heat. Coat with cooking spray. Season chicken with remaining pepper. Cook chicken about 4 minutes on each side, until cooked through. Remove from heat, let cook, and chop into ½-inch pieces.
Add chicken, tomatoes, and onion to oil mixture. Add greens; gently toss to combine. Spread evenly onto prepared crust. Top with avocado and remaining blue cheese. Slice, and serve.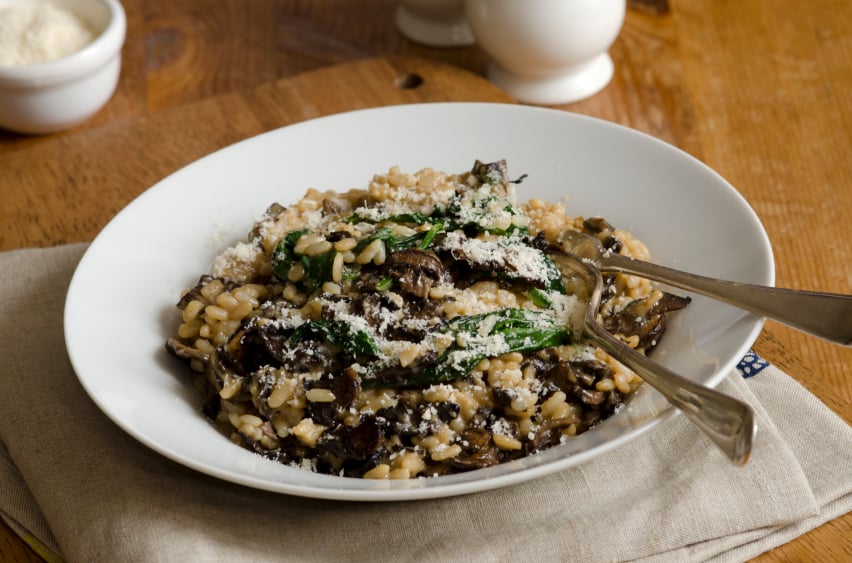 6. Easy Brown Rice Risotto with Mushrooms and Fresh Oregano
Comfort food doesn't have to be a nutritional wasteland. Cookie and Kate's mushroom risotto, adapted from recipes by America's Test Kitchen and Food Network's Ina Garten, satisfies your cravings for something rich and creamy without derailing your diet. It's made with brown rice instead of the traditional arborio, which offers up more fiber and minerals. Plus, using the whole grain in place of the more processed white stuff could help reduce your risk of getting diabetes.
If the health factor alone doesn't get you running to the kitchen, the taste definitely will. Packed with meaty mushrooms, fresh herbs, and a sprinkle of savory Parmesan, this dish will leave your tastebuds completely happy. You can also forget about tired arms from the constant stirring that risotto usually requires, because this version bakes in the oven.
Ingredients:
3 tablespoons olive oil, divided
1 small yellow onion, chopped
2 garlic cloves, minced
5 cups vegetable broth, divided
1½ cups brown rice
12 to 14 ounces sliced cremini mushrooms, cleaned, and stemmed
1 cup grated Parmesan cheese
½ cup dry white wine
3 tablespoons unsalted butter, diced
2 teaspoons tamari
1 teaspoon salt, plus more
Freshly ground black pepper
4 sprigs fresh oregano, leaves removed, and roughly chopped
Directions: Preheat oven to 375 degrees Fahrenheit and position rack in middle. Heat 1 tablespoon olive oil in a Dutch oven over medium heat until shimmering. Add onion, and season with salt. Cook, stirring occasionally until softened and brown, about 10 minutes. Add garlic and cook another 2 to 4 minutes, stirring often.
Add 4 cups brother, cover, and bring to a boil. Remove from heat, and add rice. Stir, then cover pot, and bake until rice is tender, about 1 hour.
During last 20 minutes of baking time, heat 2 tablespoons olive oil in a large skillet until shimmering. Add mushrooms. Cook, stirring occasionally, until mushrooms have darkened, and juices have evaporated, about 13 minutes. Season with salt, to taste.
Remove rice from oven. Add remaining broth, Parmesan, wine, butter, tamari, salt, and pepper, to taste. Stir vigorously 2 to 3 minutes, until rice is creamy. Add mushrooms. Season with salt and pepper, to taste. Divide into bowls, and sprinkle with oregano leaves. Serve at once.
7. Healthy Strawberry Cheesecake Bites
Even the smallest sliver of cheesecake can pack an astonishing number of calories and leave you feeling completely stuffed. Instead of having loads of dairy topped with a few slices of strawberry, try reversing the proportions. This cute dessert from Apple of My Eye fills the red fruits with just a touch of creamy filling, then finishes the treats off with a sprinkle of graham cracker crumbs to mimic the crust. At just over 30 calories per berry, you can have a couple. And best of all, there's no baking required.
Ingredients:
4 ounces reduced-fat cream cheese
1 teaspoon lemon juice
½ teaspoon vanilla extract
4 tablespoons powdered sugar
15 strawberries, cored
Crumbled graham crackers
Directions: In a small bowl, mix cream cheese, lemon juice, vanilla, and powdered sugar to combine. Stuff mixture into center cavities of each strawberry. Top with cracker crumbs. Serve.
More from Life Cheat Sheet:
Want more great content like this? Sign up here to receive the best of Cheat Sheet delivered daily. No spam; just tailored content straight to your inbox.