7 Deliriously Good Doughnut Sandwich Recipes
Make your doughnuts even more desirable by turning them into a sandwiches. All you need to do is take a serrated knife, and slice your pastries so you can sandwich your doughnut halves around ice cream, fruit, or jam. You can combine homemade doughnuts with store-bought ingredients, or vice versa, depending on how much time you have on your hands. Here are seven recipes so you can start sandwiching your doughnuts today.
1. Ice Cream Doughnut Sandwiches
If the idea of a dessert that combines your favorite doughnut and ice cream flavors dipped in chocolate doesn't tempt you to put your apron on and head to the kitchen, we don't know what will. This easy idea from Tastespotting is the perfect way to pair your breakfast and dessert foods in a sweet treat.
Ingredients:
1 doughnut, any kind you like
1 large scoop of ice cream
1 bag chocolate chips or morsels, melted
Directions: Remove ice cream from freezer and let sit on countertop to soften ever so slightly while you prepare the doughnuts. Slice each doughnut in half around the middle.
Place a heaping scoop of ice cream on a small plate. Using a spatula, flatten the scoop of ice cream to the same diameter as your doughnuts. Place the flattened scoop of ice cream on half the doughnut. "Close" the sandwich with the other half of the doughnut.
Place prepared doughnut sandwiches in freezer temporarily.
Melt your chocolate using a double boiler or in the microwave. Remove sandwiches from freezer. Dip each sandwich into melted chocolate. Serve immediately (with lots of napkins), and enjoy!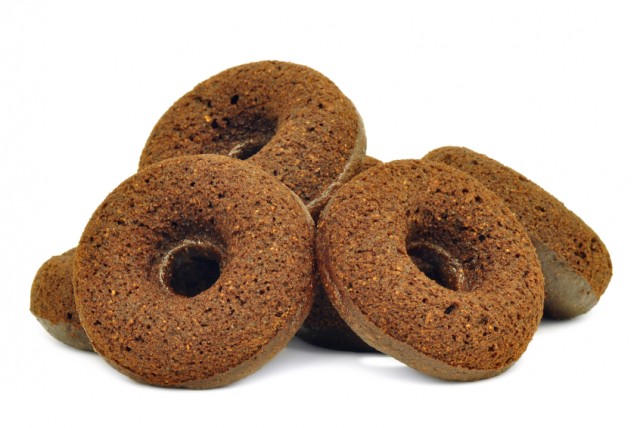 2. Pumpkin Cream Paleo
Even if you don't follow the Paleo diet, you'll want to make the pumpkin cream doughnut sandwiches from PaleOMG. The pumpkin doughnut recipe yields eight servings and is perfect to have on hand for fall mornings, whether you plan on making cream sandwiches or not.
Ingredients:
Doughnuts
6 dried medjool dates, pitted
½ cup pumpkin puree
¼ cup coconut oil, melted
4 eggs
3 tablespoons coconut flour
½ tablespoon cinnamon
¼ teaspoon nutmeg
⅛ teaspoon ground cloves
⅛ teaspoon ground ginger
½ teaspoon baking powder
pinch of salt
Cream
1 (14 ounce) can of coconut cream OR coconut milk refrigerated over night*
1 tablespoon maple syrup
¼ teaspoon cinnamon
Chocolate
1 cup Enjoy Life Chocolate Chips, melted
3 tablespoons coconut milk/water
Directions: If using a doughnut pan, preheat oven to 350 degrees Fahrenheit, alternatively, heat a mini doughnut maker. Place dried dates in a food processor and pulse to break down. Add pumpkin puree, melted coconut oil, and eggs to the food processor and puree until smooth. Add coconut flour, cinnamon, nutmeg, ground cloves, ginger, baking powder, and a pinch of salt and puree once more.
Place the batter in a pastry bag, or a plastic bag with the tip cut off. Pipe the mixture in a circle in the doughnut maker or pan, about 2 tablespoons of the mixture per doughnut round. In a minidoughnut maker, cook for 5-7 minutes. Times will vary with the different doughnut maker. If you are using a doughnut pan, cook for 20-25 minutes. Remove doughnuts once cooked through and let rest and cool on a wire rack.
Once cooled, place in refrigerator for about 10 minutes. While the doughnuts cool, in a bowl, remove the coconut cream that sits on top of the coconut water (keep the coconut water for later) and whip together the coconut cream with a fork or whisk. Then add maple syrup and cinnamon and mix well. Place cream in a piping bag or plastic bag and then cut off the end.
In a bowl, melt chocolate chips and coconut milk/water that was left behind from the coconut cream via a double boiler or in a microwave. Cut the doughnuts in half, carefully. On the bottom doughnut, pipe on the cream around the doughnut then place the top doughnut half on top of the cream. Then finish the doughnuts off by dipping them halfway into the melted chocolate.
Place doughnuts on a parchment lined baking sheet and into the freezer to harden the chocolate. Once chocolate has hardened, eat up! Yields eight mini doughnuts.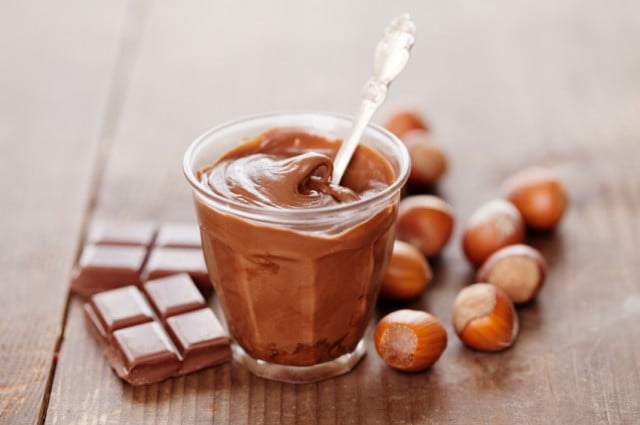 3. Chocolate Doughnut, Nutella, and Coffee Ice Cream Sandwiches
Coffee and doughnuts are made even more desirable in How To: Simplify's sandwiches which add a generous dab of warmed Nutella. Vanilla or strawberry ice cream would pair just as deliciously as coffee for the sandwich.
Ingredients:
chocolate doughnuts
Nutella
coffee ice cream
Directions: Cut the chocolate doughnuts in half. Warm the Nutella in a microwave. Spread the slightly warmed Nutella on the cut side of one half of the doughnut.
Scoop two tablespoons of ice cream and place on the Nutella side of the doughnut. Sandwich the ice cream with the other side of the doughnut cut side down.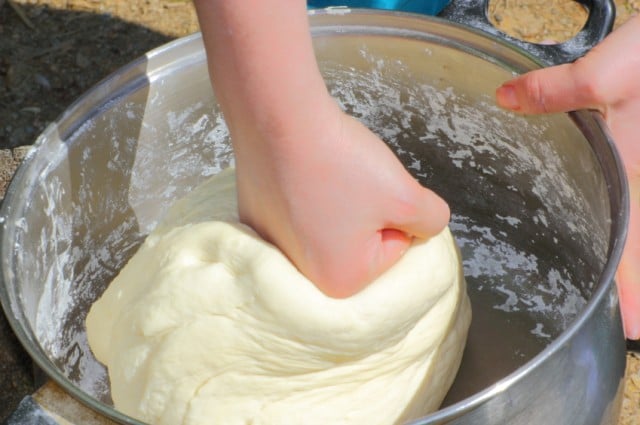 4. Doughnut Ice Cream Sandwiches with Salted Maple Ice Cream and Caramel
Impress everyone by making your own doughnuts and ice cream with this recipe from Bakeaholic Momma. If you don't have time for making yeasted doughnuts and doughnut holes, try the biscuit-doughnut method, or pick up a dozen from your favorite bakery.
Ingredients:
½ cup buttermilk, warmed to room temperature
¼ cup maple syrup, warmed to room temperature
¼ cup melted butter
2 eggs
½ teaspoon salt
2 tablespoons warm water
2 packages active dry yeast
3 cups bread flour (more or less if needed)
1 teaspoon cinnamon
Ice Cream
½ cup maple syrup
1½ cups heavy cream
½ cup whole milk
¼ teaspoon sea salt
¼ teaspoon cinnamon
Caramel sauce for serving (optional)
Coarse sea salt for sprinkling (optional)
Directions: Start by preparing your ice cream. Whisk all of the ingredients together and then follow the directions to your specific ice cream maker. To firm the ice cream up, place in freezer as needed.
To prepare your doughnuts, heat oil to 360 degrees Fahrenheit. In a small bowl, mix yeast and 2 tablespoons warm water together until it forms a paste. Set aside until it starts to bubble and foam.
In the bowl of your electric mixer, place buttermilk, maple syrup, melted butter, eggs and salt. Mix until incorporated. Mix in 1 cup of flour and your yeast. Once combined, turn mixer to low and slowly add in remaining flour ¼ cup at a time. When the dough is only slightly sticky but can be handled. Turn mixer to medium speed and allow it to knead the dough for about 5-6 minutes. Or until the dough is elastic.
Place dough in a buttered bowl, cover with plastic wrap or a kitchen towel and allow to rise until it has doubled in size. Punch dough down and press or roll out until it is a ½-inch thick.  Using a doughnut cutter, cut your doughnuts out. Allow to rise until they have doubled in size again.
Place doughnuts in fryer two or three at a time. Fry for about three minutes per side or until they have evenly browned. Also be sure to fry the little doughnut holes, their fry time will be a tad shorter. Remove doughnuts and place them on a paper towel to drain.
Once doughnuts have cooled, slice in half and fill with frozen ice cream. Drizzle with caramel sauce and sea salt. Roll the doughnut holes in cinnamon and sugar if desired.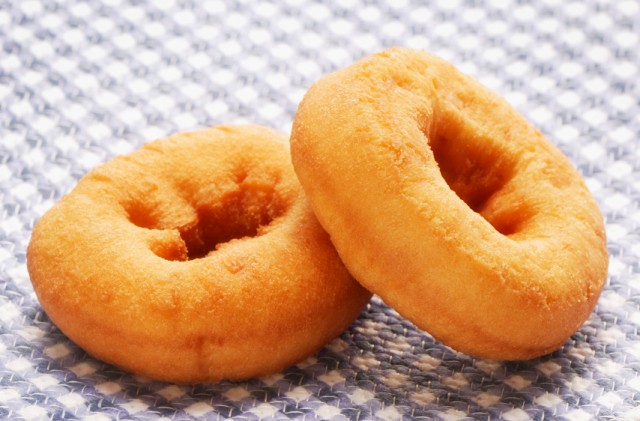 5. Jam and Granola Doughnut Sandwiches
This recipe from Katie Brown Home Workshop is sized for a party, but the basic ingredients are easy to scale down to fewer servings. Use it as a template to create your own jam and granola filled cake doughnut sandwiches.
Ingredients:
20 plain doughnuts
1 jar of raspberry jam
2 cups granola
⅓ cup dried cherries
Directions: Using a serrated knife, slice the doughnuts in half horizontally. Spread each side of the doughnut with jam and then sprinkle on granola and cherries to make tasty little sandwiches.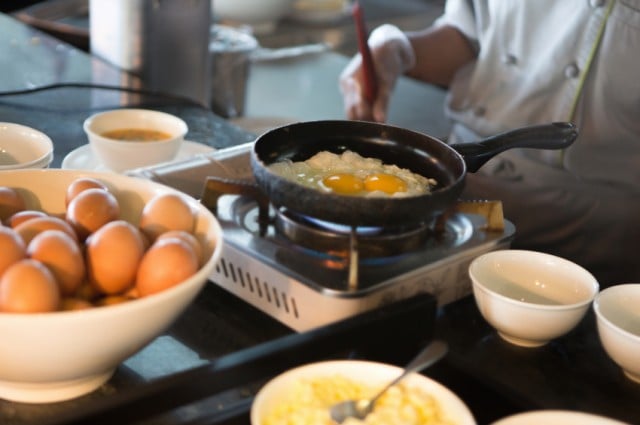 6. Loaded Glazed Doughnut Breakfast Sandwich
For a non-dessert, but still decadent, take on the doughnut sandwich, make this recipe from She Knows for breakfast. You can add a slice of cheese to the sandwich, if you desire; it yields four sweet and salty servings.
Ingredients:
4 glazed doughnuts
4 thick slices bacon
4 large eggs
Salt and pepper, to taste
Directions: Slice open the doughnuts, and set them aside. In a large skillet over medium heat, add the bacon, and cook until it is crisp. Remove the bacon to a paper towel-lined plate, and drain all but 2 teaspoons of bacon grease from the pan.
Add the doughnuts cut side down to the pan, and cook until browned. This helps warm the doughnut and gives them just a slight crispness. Remove the doughnuts from the pan, and set them aside. Add a little more bacon grease (or vegetable oil) to the pan to fry your eggs. After you crack the eggs into the pan, break the yolks, and season them with salt and pepper.
Once the bottoms of the eggs are cooked, flip them, and continuing frying until the other sides are browned and fully cooked. Add one egg and one slice of bacon (broken in half) to a doughnut bottom, and top it with the top half of the doughnut. Enjoy warm.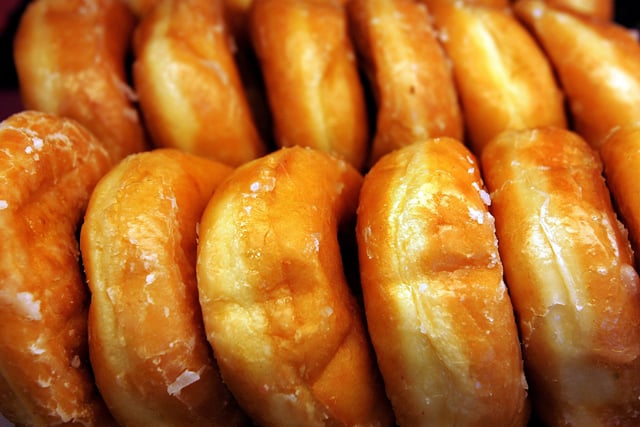 7. Glazed Doughnut Strawberry Shortcake 
Forget biscuits and Angel food cake, when you want a sugary "shortcake" make the dessert with glazed doughnuts like Culinary Concoctions by Peabody did. If the idea of sugared strawberries with glazed doughnuts is too much, skip that step and just use fresh strawberries and whipped cream as the filling.
Ingredients:
½ dozen glazed doughnuts
1 pound of strawberries, sliced
⅓ cup granulated sugar
1 tablespoon lime juice
1 cup heavy whipping cream
¼ cup powdered sugar
¼ cup strawberry jam
Directions: Place strawberries, lime juice, and granulated sugar in a bowl and mix to coat. Let sit in fridge for 2 hours to macerate.
Using a stand mixer with the whisk attachment whip cream until soft peaks start to form. Add the powdered sugar and jam. Whip until stiff peaks start to form. Slice the doughnut in half, like a bagel. Place the bottom down and add a dollop of the whipped cream. Then add some strawberries and top with the top part of the doughnut.
More from Life Cheat Sheet: