7 Dishes to Devour Any Time Your Bacon Craving Hits
The need for a bacon fix can hit at about any time of day. Since we can't all carry around a pocket full of the greasy stuff (think of the dry cleaning bills), why not try a recipe or two next time the craving strikes? Indulge yourself from dawn 'til dusk using these creative ideas for bacon dishes, incorporating everything from air-popped popcorn to mozzarella-stuffed meatloaf. We guarantee these 7 recipes using bacon will hit the spot just when you need it most!
1. Shrimp Scampi With Bacon
If you don't come from a family of seafood lovers, you may be able to convert them with this Shrimp Scampi with Bacon from Jo Cooks. Buttery sautéed garlic and onion give the dish a rich, savory base. Hot sauce and bacon deliver a robust flavor to the sauce, while shrimp and white wine offer a pleasing sense of sophistication to the dish. The recipe takes 45 minutes to make and yields 6 servings.
Ingredients:
1 medium onion chopped

5 cloves garlic finely minced

5 strips bacon fried

5 green onions

¾-pound shrimp

1 stick butter

½ cup white wine

juice of ½ lemon

hot sauce to taste

salt and pepper to taste

5 cherry tomatoes, quartered


pasta noodles of your preference
Directions: Fry the bacon. Place the fried bacon on paper towels to soak up the fat. In the same skillet, add the butter, and melt. Add the chopped onion and garlic, and sauté.
Chop up the bacon and add it to the skillet. Add hot sauce. Sauté for a couple minutes, then add the white wine and juice of half a lemon. At this point you may add salt and pepper to taste. Add the tomatoes and shrimp to the skillet and cook for a couple minutes. Add the green onions and cook for another minute.
Pour over your favorite pasta, or use rice if you prefer it. Serve hot with fresh Parmesan cheese.
2. Maple-Bacon Popcorn
Sweet and salty snacking just got better than ever with On Sugar Mountain's recipe for Maple-Bacon Popcorn. The dish is a cinch to make, and a penny-saver as well. Simply pick up a bag of unpopped kernels from your local supermarket (just ⅓ cup of unpopped kernels yields a whopping 4 cups of popped popcorn). You only need a few strips of bacon to achieve the salty, smoked flavor in this dish. Throw in the melted butter and maple syrup, and voilà — a sensationally sweet and salty snack! The recipe yields 2 quarts of popped popcorn, enough to share among 2 to 4 people.
Ingredients:
8 slices bacon

1 teaspoon salt

⅓ cup corn kernels

1 tablespoon maple syrup


1 tablespoon butter
Directions: Fry bacon in a large saucepan over medium heat until crispy. Reserve 3 tablespoons of the bacon drippings and pour these drippings into a large (3 quart) pot. Roughly chop the cooked bacon and set aside until ready to use.
In a small saucepan, combine maple syrup and butter. Heat over medium heat until butter melts and the mixture simmers for a full minute. Set aside.
Add salt to the drippings in the large pot, then add three corn kernels to the bottom of the pot. Cover and heat the pot over medium heat until the kernels pop.
Remove the pot from the heat, but do not turn the burner off. Add the remaining ⅓ cup corn kernels to the pot, re-cover, and gently shake the pot back and forth for 30 seconds to bring the rest of the kernels to the right temperature.
Return the covered pot to the stove-top. The kernels will begin to pop in about 30 seconds, and will do so rather quickly. Gently move the pot back and forth over the heat to help the kernels pop, and remove it from heat once the popping slows (about 2 seconds between each pop).
Immediately remove popcorn from heat and empty into a large bowl. Add bacon to the bowl, and then pour the butter/maple syrup mixture over everything. Gently toss so that everything is evenly coated in the mixture. Wait a few minutes for the mixture to settle, then dig in.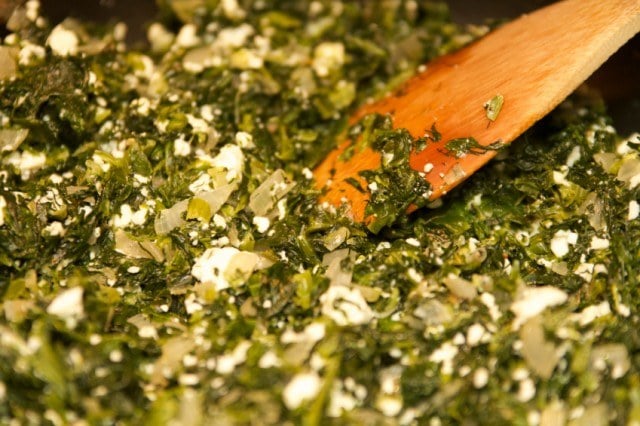 3. Spinach, Bacon, and Goat Cheese Portobello Mushroom Sandwich
For a lip-smacking lunch or low-key weeknight dinner, try BS In The Kitchen's Spinach, Bacon, and Goat Cheese Portobello Mushroom Sandwich. Creamy, boldly-flavored goat cheese combines with thick portobello mushroom, sautéed spinach, and crispy smoked bacon for a taste of savory sandwich heaven. Season to your liking and enjoy with your favorite crusty bread. The recipe yields one hearty sandwich.
Ingredients:
1 portobello mushroom


Goat cheese

1 to 2 handfuls of spinach

Several slices bacon


1 garlic clove

Olive oil

Butter

Mayonnaise

Salt and pepper


2 slices bread
Directions: Start off by brushing your mushroom with olive oil, sprinkling with salt and pepper, and cooking for 15 to 20 minutes on 425 degrees Fahrenheit. While the mushroom is cooking, get a pan on medium-low heat and cook a couple slices of bacon until desired crispiness.
Either in a separate pan with a knob of butter, or the same one as the bacon (using the grease), throw in a clove of garlic chopped in half, along with one or two handfuls of spinach, cooking until almost wilted. Chop up your bacon, crumble up some goat cheese and toss it in the pan, mixing it around until your spinach is wilted and the goat cheese has melted into it. Once the spinach is done, remove the cloves of garlic.
Once everything is cooked, toast your bread, spread mayonnaise on each slice and slice up your mushroom. Start topping the bottom slice of bread with slices of goat cheese, the sliced mushrooms, and the spinach mixture, and put the sandwich together. Slice in half and eat.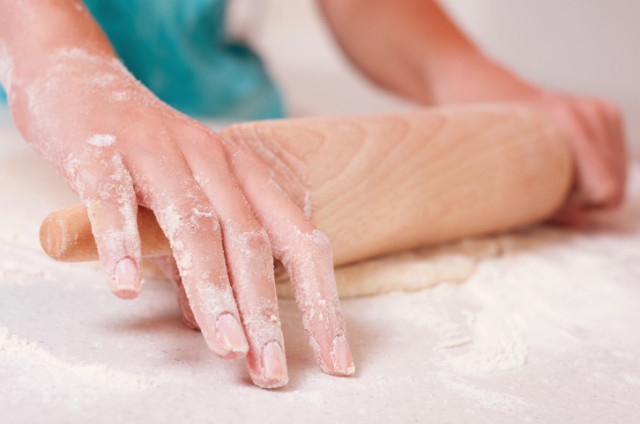 4. Bacon Jam and Grits Crackers
Enjoy a true taste of the South with these Bacon Jam and Grits Crackers from Cherry On Top. The crackers incorporate grits, bacon fat, cheddar jack cheese, plus a bit of barbecue rub and buttermilk for a richly rewarding flavor. Of course, they're even better after a dollop of homemade bacon jam is spread on top! The bourbon-infused bacon spread has notes of maple and coffee, delicately balancing sweet, bitter, and salty flavors for an altogether unrivaled taste.
Ingredients:
Grits crackers:
1 cup instant grits

1 cup all-purpose flour

¾ teaspoon kosher salt

½ teaspoon baking soda

¼ teaspoon bbq pork rub

2½ tablespoons chilled bacon grease (or chilled butter)

½ cup freshly shredded cheddar jack cheese


⅔ cup low-fat buttermilk
Bacon jam:
1½ pounds bacon, sliced

1 large onion, diced (about 2 cups)

3 medium cloves roasted garlic

½ cup cider vinegar

½ cup packed dark brown sugar

¼ cup maple syrup

6 tablespoons brewed coffee


6 tablespoons bourbon
Directions: For the grits crackers: Preheat the oven to 350 degrees Fahrenheit. In a bowl, mix together all the dry ingredients. Rub in the bacon grease until the mixture resembles coarse meal. Stir in the cheddar jack and buttermilk. Knead on a lightly floured surface until smooth. Wrap in plastic and let stand for 15 minutes.
Roll out half the dough 1 inch thick. Using a 2-inch round cutter, cut out rounds of dough and arrange them on a nonstick baking sheet. Bake for 10 to 12 minutes, or until golden and crisp. Repeat with the remaining dough.
For the bacon jam: Line a baking sheet with foil. Arrange bacon slices on the foil and place the baking sheet on the center rack of a cold oven. Turn oven on to 400 degrees Fahrenheit and allow to cook for 15 to 20 minutes, until bacon is golden brown.
Transfer bacon to paper towels to drain. Reserve one tablespoon of fat, pouring into a skillet, and adding onions, sugar, and garlic. Cook, stirring frequently, until onions are softened and translucent, about five minutes. Add vinegar, maple syrup, coffee, and bourbon. Bring to a boil and cook for two minutes.
Transfer mixture and cooked bacon to a six-quart slow-cooker and cook on high, uncovered, until liquid has reduced and thickened slightly and bacon is a deep burnished brown, 3½ to 4 hours.
Transfer mixture to food processor and pulse until coarsely chopped. Let cool, then transfer to airtight jars. Store in refrigerator for up to one month.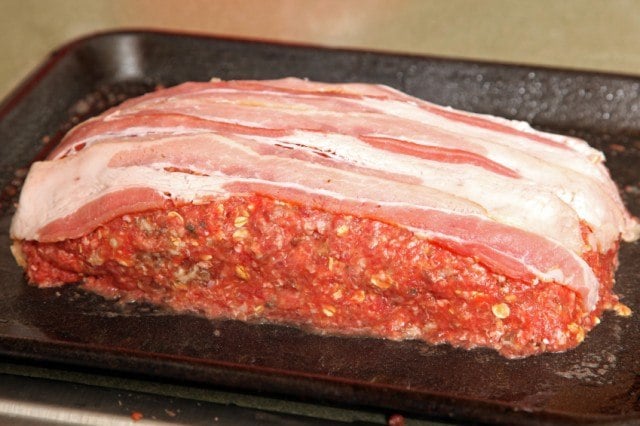 5. Mozzarella-Stuffed Meatloaf Wrapped in Bacon
Somehow other meats seem to bring out the best in bacon's salty, smoky flavors. To that end, Savory Nothings offers a flavor-packed beef meatloaf stuffed with gooey mozzarella cheese. Crispy bacon strips are then wrapped around the outside of the dish, lending each bite a taste of cheesy, meaty, spiced flavor that every meat eater will love. This recipe for Mozzarella-Stuffed Meatloaf Wrapped in Bacon takes an hour and 15 minutes to make and yields 8 servings.
Ingredients:
2 pounds ground beef

2 eggs

⅔ cup breadcrumbs

Salt, pepper and smoked paprika, to taste

9 ounces bacon slices

4 ounces mozzarella cheese, chopped


½ cup barbecue sauce
Directions: Preheat the oven to 320 degrees Fahrenheit. Mix ground beef, eggs, breadcrumbs, and spices in a large bowl.
Line a 9-by-5 loaf pan first with parchment paper and then with ⅔ of the bacon, leaving an overhang. Shape a long log with ⅔ of the meat mixture and fit it inside the loaf pan. Make a groove in the middle and add the mozzarella cheese to it. Cover with the remaining bacon. Spread with ⅓ of the barbecue sauce.
Bake in the middle of the preheated for 40 minutes. Spread with another ⅓ of the barbecue sauce. Continue baking for another 20 minutes, spread with the remaining sauce and serve hot.
6. Caramel Bacon Sticky Buns
Breakfast or dessert? These Caramel Bacon Sticky Buns from I Am A Food Blog could fall into either category, but will be equally delicious no matter what time of day they're served. These warm buns are pillowy-soft, their insides studded with toasty pecans and crisped chunks of bacon. Overall, they're a buttery, nutty taste of bacon bliss and a must-try for breakfast, dessert, or both! The recipe yields 8 miniature buns.
Ingredients:
Dough:
4 teaspoons milk
1 tablespoon sugar, ¼ teaspoon sugar
½ teaspoon active dry yeast
½ an egg (1½ tablespoons)
½ cup plus 3 tablespoons flour
¼ teaspoon salt
2 tablespoons butter
Topping:
½ cup chopped pecans
2 tablespoons butter
3 tablespoons brown sugar
3 tablespoons heavy cream
¼ tablespoon honey
pinch of salt
Insides:
2 tablespoons butter
2 tablespoons brown sugar
¼ teaspoon cinnamon
⅓ cup bacon, lightly crisped
Directions: To prepare the dough: Heat milk in a small saucepan over medium heat until an instant-read thermometer registers 110 to 115 degrees Fahrenheit. Transfer milk to a bowl; stir in ¼ teaspoon sugar. Sprinkle yeast over milk and whisk to blend. Let sit until yeast is foamy, about 5 minutes. Add ½ egg; whisk until smooth. Combine remaining sugar, flour, and salt in the bowl of a stand mixer fitted with a dough hook. Add milk mixture. With mixer running, add room-temperature butter, a bit at a time, blending well between additions. Mix on medium speed for 1 minute. Knead on medium-high speed until dough is soft and silky, about 5 minutes.
Brush a medium bowl with some melted butter; place dough in bowl. Brush top of dough with remaining melted butter; cover with plastic wrap. Let dough rise in a warm, draft-free area until doubled in size, 1 to 1½ hours. Chill dough for 2 hours.
For the topping: Preheat oven to 350 degrees Fahrenheit. Spread out nuts on a rimmed baking sheet. Toast until fragrant and slightly darkened, 10 to 12 minutes. Let cool completely.
Melt butter in a small heavy saucepan over medium heat. Stir in brown sugar, cream, honey, and salt. Bring to a boil, reduce heat to medium, and simmer until glaze is golden brown and glossy, 3 to 4 minutes. Set aside.
For the buns: Cream together the butter, brown sugar and cinnamon. Set aside. Punch down dough; transfer to a floured work surface. Lightly dust top with flour. Roll out dough to a rectangle, about 8-by-6 inches. Evenly spread the cinnamon sugar mixture on top and sprinkle with ⅓ cup pecans and ¼ cup bacon. Reserve remaining pecans and bacon for tops. Roll tightly and slice into 8 equal sized buns.
Loosely cover pan with plastic wrap. Let buns rise in a warm, draft-free area until doubled in size, 45 minutes to 1 hour.
Arrange a rack in middle of oven; preheat to 350 degrees Fahrenheit. Whisk egg with ½ teaspoon water in a small bowl. Brush tops of buns with egg wash and top with remaining pecans and bacon. Bake, rotating pan halfway through until buns are golden brown, filling is bubbling, and an instant-read thermometer inserted into center of buns registers 185 degrees Fahrenheit, about 30 minutes. Let cool for 5 minutes. Spoon remaining glaze over. Sprinkle remaining pecans over. Let cool in pan on a wire rack. Enjoy buns warm or at room temperature.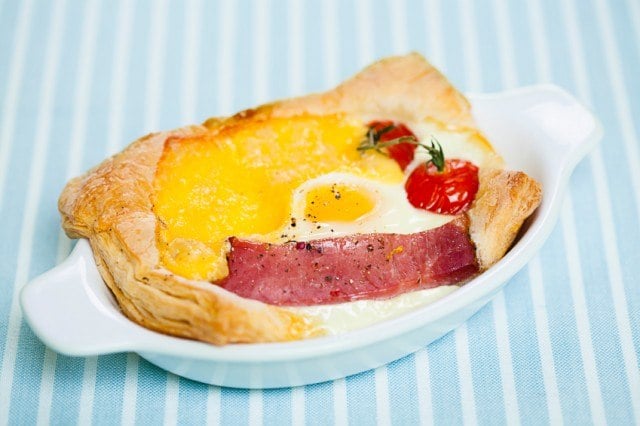 7. Bacon, Egg, and Cheese Tart
Need an easy and filling farmer-style breakfast? Full Fork Ahead's Bacon, Egg, and Cheese Tarts are a great choice for for a morning meal — whether it's breakfast in bed or a fueling pre-work nibble, you'll be satisfied beyond your wildest dreams! If you're especially bacon-crazy, you may wish to use up to 6 slices for fuller flavor. And if you're short on havarti cheese, fontina, Parmesan, or Asiago all make delicious substitutes to these piquant puff pastry tarts. The recipe yields 4 servings and takes 25 minutes to make.
Ingredients:
All-purpose flour, for dusting
1 sheet frozen puff pastry (half of a 17- to 18-ounce package), thawed
2 strips bacon
1½ cups shredded havarti cheese
3 tablespoons shredded parmesan cheese
4 large eggs
Kosher salt and freshly ground pepper
Chopped fresh chives, for topping
Directions: Preheat the oven to 425 degrees Fahrenheit. Line 2 baking sheets with parchment paper. On a lightly floured surface, roll out the puff pastry into a 12-inch square, then cut into 4 equal squares. Slightly fold and pinch the edges of each square to form 4 round tart shells. Transfer to the prepared baking sheets and prick all over with a fork. Bake until golden, 8 to 10 minutes.
Meanwhile, cook the bacon in a medium skillet over medium heat, turning, until crisp, 8 to 10 minutes. Transfer to paper towels to drain, then crumble.
Let the tart shells cool slightly on the baking sheets. If the centers are very puffy, prick with a fork to deflate. Sprinkle evenly with the havarti and parmesan. Make a shallow well in the cheese in the center of each tart and crack an egg into each; season with salt and pepper. Top with the bacon, then return to the oven and bake until the egg whites are set, 10 to 15 minutes. Top with chives or herb of your choice.
More from Life Cheat Sheet:
Want more great content like this? Sign up here to receive the best of Cheat Sheet delivered daily. No spam; just tailored content straight to your inbox.