7 Easy, Freezable School Lunch Recipes
Weekday mornings can be crazy. Between getting ready for work and getting your kids up and ready to go to school, there usually isn't a lot of extra time. By preparing lunches ahead of time and then freezing them, your morning routine will feel a little less hectic. Simply make these seven recipes in advance, freeze them, and pop them in your kids' lunch boxes before they head to school. They'll look forward to munching on these tasty meals all morning!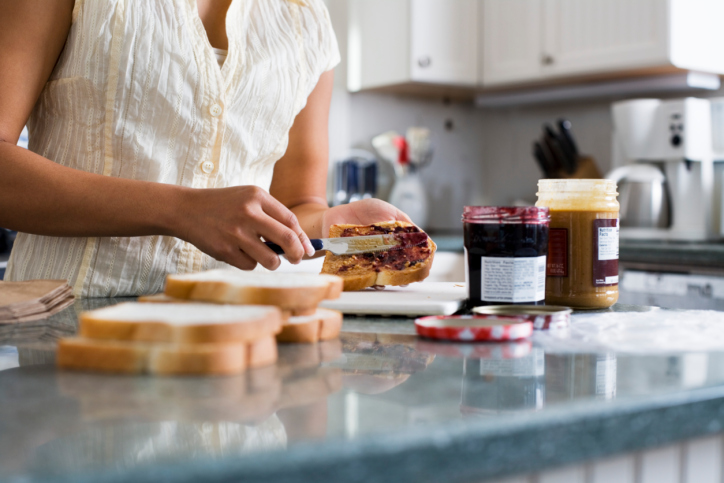 1. Homemade Crustless Peanut Butter and Jelly Sandwich
The Frugal Find's recipe for uncrustable peanut butter and jelly sandwiches is an easy way to send your children to school with a tasty lunch. Prepare as many sandwiches as you'd like, freeze them, and pop one in your child's lunch box in the morning. By lunch time, the uncrustable will be thawed and ready to eat!
Ingredients:
Bread
Peanut Butter
Jelly (or honey)
Bread Cutter (to remove the crusts and create a circular sandwich)
Directions: Spread two slices of bread with peanut butter, putting peanut butter on both sides will keep the jelly from making the bread soggy. Spread jelly on top of peanut butter on one side; put two halves together. Press outer edges of your bread cutter into sandwich to cut off excess.  Press down crimper to seal edges. Remove crustless sandwich from middle of bread. Wrap the sandwiches in plastic wrap, place in gallon zip-top bag, and store in freezer.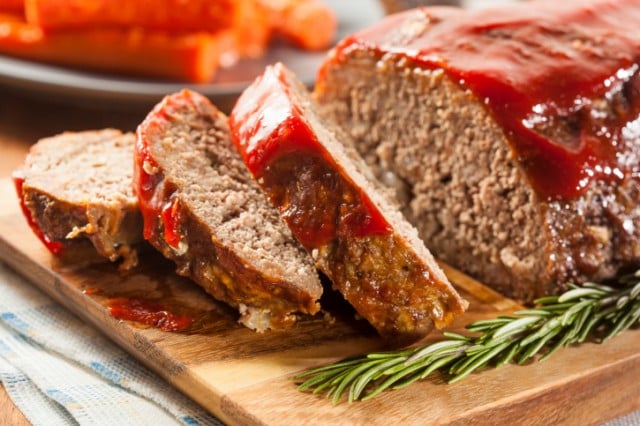 2. Mini Martha Stewart Meatloaves
Are your kids tired of eating sandwiches for lunch every day? This Dashing Dish recipe could be the perfect way to help switch up their lunches. Prepare the meatloaf ahead of time, and use a muffin tin to create kid-sized, perfectly portioned lunches. This recipe yields twelve mini meatloaves.
Ingredients:
2 slices light whole grain bread, torn into pieces (you can also use gluten-free or ezekiel bread)
1.25 pounds lean ground turkey or lean ground beef
½ cup carrots, peeled
¾ cup red bell pepper
¼ cup white onion
1 egg
½ cup ketchup
1 teaspoon mustard
¼ teaspoon salt
⅛ teaspoon black pepper
2 tablespoons barbecue sauce
½ teaspoon garlic powder
Topping:
¼ cup ketchup
1 tablespoon barbecue sauce
½ teaspoon mustard
Directions: Heat oven to 375 degrees Fahrenheit. Spray a 12-cup muffin tin with non-stick spray or line with silicone muffin cups. Place bread in food processor and pulse until the bread is the texture of fine crumbs. Transfer bread crumbs to a medium bowl, and mix with ground meat. Place carrots, onion, and red pepper in the food processor and pulse until the veggies are finely chopped. Add veggies to meat and bread mixture, using your hands to mix well.
Add egg, ketchup, mustard, salt, pepper, barbecue sauce, and garlic powder. Use hands to combine mixture thoroughly. Divide mixture among 12 muffin tins, or place in a loaf pan for traditional meatloaf. For the topping, combine ketchup, barbecue sauce, and mustard  in a small bowl, and stir until combined. Brush mixture over each individual meatloaf, and place muffin tin in the oven. Cook until a meat thermometer inserted in the center reads 160 degrees, or until the meat is no longer pink in the center of the muffins, which takes about 35 to 45 minutes. If the tops get too dark, cover with foil, and continue baking.
3. Portion-Sized Freezer-Friendly Baked Oatmeal
This is a healthy and tasty treat to send to school with your kids. It's a nice break from a standard sandwich and is filled with vitamins and nutrients to keep your kids energetic and learning throughout the afternoon. This Money Saving Mom recipe yields eighteen servings.
Ingredients:
3 eggs
1 tablespoons vanilla extract
1 cup unsweetened applesauce
6 ½ droppers full stevia
½ cup Sucanat or brown sugar (Note: if not using any Stevia increase your choice of sugar to 1 cup.)
1 banana, sliced
1 cup fruit of your choice (frozen or fresh blueberries, fresh or dried cranberries, frozen or fresh mango, or chocolate chips)
5 cup old fashioned oats
1 teaspoon salt
3 teaspoon baking powder
½ cup flax seed, ground
1 tablespoon cinnamon
2 ½ cup 1% milk
Directions: Preheat oven to 350 degrees Fahrenheit. In a large bowl, mix eggs, vanilla, applesauce, and Stevia until combined. Add Sucanat, banana, and other fruit of your choice. (If using chocolate chips add them last). In another bowl, mix oats, salt, baking powder, flax seed, and cinnamon. Dump dry ingredients into wet ingredients; mix well. Pour in milk and stir until combined. Spray one 12- and one 6-cup muffin tin with cooking spray or use cupcake liners. Scoop mixture evenly into muffin cups. Bake 35 to 40 minutes or until the center of each muffin is set. Cool and enjoy, or freeze them in gallon freezer bags.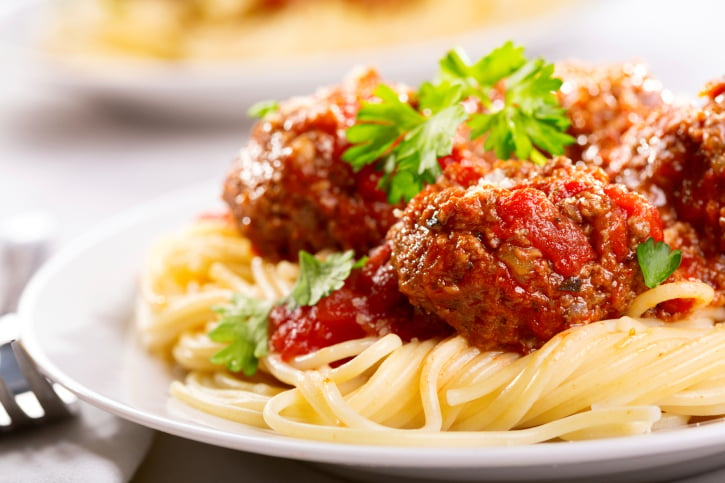 4. Spaghetti and Meatballs
This is a perfect recipe for the pasta lovers in your family. Imagine how happy your kids will be when they open their lunch boxes to find a perfectly portioned serving of spaghetti and meatballs. After you are done preparing this 100 Days of Real Food recipe, freeze it in individual portions using small jelly jars, small Tupperware containers, or freezer-safe Ziploc bags.
The day or night before school, take the frozen item out of the freezer and let it defrost in its container overnight. In the morning, quickly heat up the item and then transfer it to a thermos container to keep it warm at school.
Ingredients:
1 pound whole-wheat noodles
Red pasta sauce
1 pound ground beef, grass-fed
1 egg, beaten
⅓ cup whole-wheat bread crumbs
⅓ cup freshly grated Parmesan cheese
½ cup carrot bits (you can grind them in a food processor, grate then dice them, or mince them)
3 cloves garlic, minced
1 ½ teaspoons red wine vinegar
1 ½ teaspoons soy sauce
1 teaspoon dried Italian seasoning
¼ teaspoon salt
Crushed red pepper, to taste
Directions: Boil pasta noodles according to package directions. Preheat oven to 425 degrees Fahrenheit. Mix together ground beef and next 10 ingredients. Generously grease a baking sheet with olive oil. Roll the beef mixture into meatballs the size of golf balls. Place them in rows onto the greased baking sheet. Bake for 9 to 11 minutes or until brown all the way through. Serve meatballs on top of cooked noodles and warm pasta sauce. Garnish with extra Parmesan cheese if desired.
5. Pizza Muffins
Pizza in muffin form? Such a thing does exist! These Daily Braces pizza muffins will quickly become a lunch staple at your house. Simply prepare the easy-to-make muffin recipe, which yields twenty servings, freeze them, and place a few in your kids' lunch boxes. They'll be thawed and ready to go by the time lunch rolls around.
Ingredients:
2 ½ cups all-purpose flour
2 teaspoons baking powder
½ teaspoon baking soda
½ teaspoon salt
1 teaspoon garlic powder
1 teaspoon dried basil leaves
½ teaspoon dried oregano
1 tablespoon sugar
1 cup diced pepperoni
2 cups shredded sharp cheddar cheese, divided
4 green onions, chopped
1 egg, beaten
1 ½ cups buttermilk
Directions: Preheat oven to 375 degrees Fahrenheit. Line 2 cupcake pans with paper muffin liners. In a large bowl, mix together flour, baking powder, baking soda, salt, basil, oregano, and sugar. Mix in green onions and 1 cup cheese. In a smaller bowl beat the egg, then whisk in buttermilk. Add the buttermilk mixture to the flour mixture and stir to combine thoroughly. Spoon batter into paper-lined muffin cups until half full. Sprinkle remaining 1 cup cheese on top of muffins. Bake at 375 degrees Fahrenheit for 15 minutes, or until a toothpick inserted into center of the muffin comes out clean.
To make jumbo pizza muffins, use a jumbo muffin tin (sprayed with cooking spray) and increase the cooking time by a few minutes. Watch closely to make sure muffins don't overcook and dry out. Insert a toothpick to check how done it is. Cool muffins, individually wrap in plastic, and freeze in a large zip-top bag. Place one or two muffins in a lunchbox, and they will defrost and be ready to eat by lunchtime.
6. Peanut Butter and Jelly Muffins
This Little Chef Big Appetite recipe is a great way to spice up a peanut butter and jelly sandwich. It's also a great way to send your children to school with a healthy lunch. This recipe, which yields twelve muffins, can be made ahead of time, sent to school, and will be the perfect temperature by the time lunch arrives.
Ingredients:
1 ¾ cups whole wheat flour
1 tablespoon baking powder
¼ cup sugar
¼ cup packed brown sugar
1 teaspoon salt
1 ¼ cup skim milk
½ cup creamy peanut butter (natural won't work very well for these)
2 eggs, whisked
3 tablespoons butter, melted and cooled
1 teaspoon vanilla
Grape jelly (or another jelly of your preference)
Directions: Preheat your oven to 400 degrees Fahrenheit. Grease a muffin tin (for 12 muffins) very well. Mix all dry ingredients (whole wheat flour through salt) in a large bowl. In a separate bowl, whisk together the wet ingredients (milk through vanilla). Make a well in the center of the dry ingredients. Slowly pour the wet mixture into the center well and mix well. Pour the batter into the muffin cups so that they are half full. Spoon a teaspoon of jelly on top of the batter and then cover the top with the rest of the batter. The muffin cups should be almost full. Bake for 16 minutes, until the tops of the muffins spring back when you touch them. Cool for 5 minutes and then remove and let them cool completely on a wire rack.
7. French Toast
French toast freezes surprisingly well and makes for a delicious lunchtime meal. Prepare a big batch of this East Coast Mommy recipe ahead of time, and freeze it in a freezer bag. In the morning, pop the frozen toast into the toaster to reheat it, cut it up, and put it in a thermos.
Ingredients:
Whole grain bread
1 percent milk
Eggs (use approximately 1 egg and 1 tablespoon of milk per 2 slices of bread)
Cinnamon
Directions: Combine the milk, eggs, and cinnamon. Dip the bread in the egg mixture and cook over medium-high heat. Freeze the cooked French toast in a freezer bag.
More from Life Cheat Sheet:
Want more great content like this? Sign up here to receive the best of Cheat Sheet delivered daily. No spam; just tailored content straight to your inbox.