7 Easy Recipes That Will Get Your Co-Workers in the Holiday Spirit
'Tis the season for parties — and it's also the most hectic time of the year, which can leave you with little time to whip up festive foods to bring to your office holiday party. The solution? Prepare a delicious dish that takes minimal time to make. From Cranberry-Almond Rum Balls to Pastry-Wrapped Cranberry Brie, these seven recipes can be prepared in an hour or less. We guarantee these dishes will get your co-workers in the holiday spirit!
1. Raw Chocolate Walnut Fudge
Oh She Glows' Raw Chocolate Fudge is an indulgent treat that will taste as though you spent hours making it. Fortunately, it will only take you about 10 minutes to prepare this recipe, which was adapted slightly from Jean Paré's Superfoods Cookbook. The fudge must sit in the freezer for about an hour, so be sure to plan accordingly!
Ingredients:
½ cup virgin coconut oil
¼ cup raw almond butter (or nut butter of choice)
½ cup cocoa powder (or raw cacao powder)
½ cup pure maple syrup (or agave nectar)
1 tablespoon pure vanilla extract
Pinch fine grain sea salt, to taste
¾ cup raw walnuts, roughly chopped
Directions: With electric beaters, beat together the coconut oil and almond butter. Sift in the cocoa powder and beat again until combined. Pour in the maple syrup, vanilla, and salt and beat until smooth. Stir in the walnuts. Line a loaf pan with a piece of parchment paper. Scoop the chocolate mixture into the pan and spread out until even. Freeze uncovered for about 1 hour, or until solid. Slice into small squares.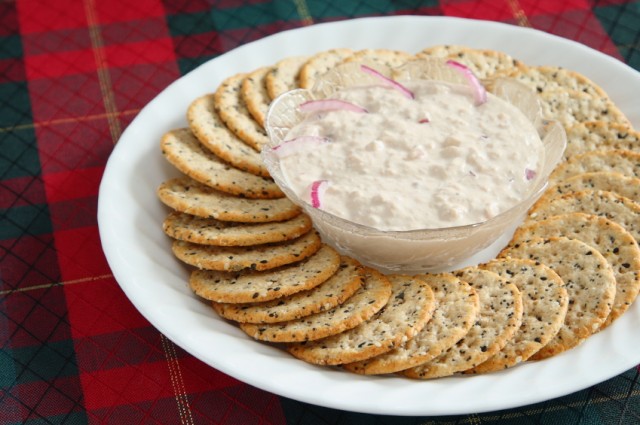 2. Smoked Salmon Dip
Filled with rich and smoky flavors, Food Network's Salmon Dip will be a hit with your colleagues. The recipe yields 1½ pints and only takes 10 minutes to make. We recommend serving veggies and crackers alongside your dip — if you'd like to make your own crackers, consider preparing Passionate About Baking's recipe for Seedy Crisps.
Ingredients:
8 ounces cream cheese, at room temperature
½ cup sour cream
1 tablespoon freshly squeezed lemon juice
1 tablespoon minced fresh dill
1 teaspoon prepared horseradish, drained
½ teaspoon kosher salt
¼ teaspoon freshly ground black pepper
¼ pound (4 ounces) smoked salmon, minced
Directions: Cream the cheese in an electric mixer fitted with a paddle attachment until just smooth. Add the sour cream, lemon juice, dill, horseradish, salt, and pepper, and mix. Add the smoked salmon and mix well. Chill and serve with crudites and crackers.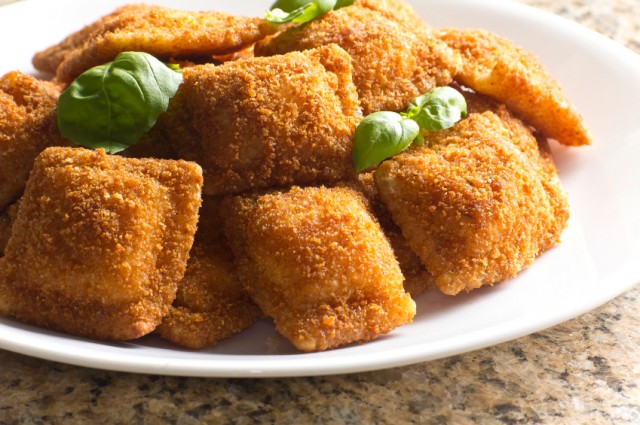 3. Golden Ravioli
Finger foods are perfect for holiday parties, and Mr. Food Test Kitchen's Golden Ravioli is no exception. If you'd like to add another tasty element to this dish, we recommend making Cooks.com's Homemade Spaghetti Pasta Sauce to serve as a dip for your ravioli.
Ingredients:
1 package (about 20 ounces) frozen ravioli
¾ cup flavored

bread

 crumbs
¾ teaspoon garlic powder
¾ teaspoon salt
¼ teaspoon dried basil
¼ teaspoon dried oregano
¼ cup milk
1 egg, beaten
½ cup vegetable oil for frying
2 tablespoons grated Parmesan cheese
Spaghetti sauce, for dipping
Directions: Preheat the oven to 350 degrees Fahrenheit. In a large pot of boiling salted water, cook the ravioli to desired doneness; drain, pat dry, and cool slightly. Meanwhile, in a medium-sized bowl, combine the bread crumbs, garlic powder, salt, basil, and oregano; set aside. In another bowl, mix together the milk and egg. Dip the ravioli, a few at a time, into the milk-egg mixture to coat, then into the bread crumb mixture to coat.
In a large skillet, heat the oil. Fry the ravioli, a few at a time, until golden; drain on paper towels. Cover; chill. Arrange the ravioli on a baking sheet in a single layer; sprinkle the Parmesan cheese on top. Bake for 15 minutes, or until heated through. Serve hot with spaghetti sauce for dipping.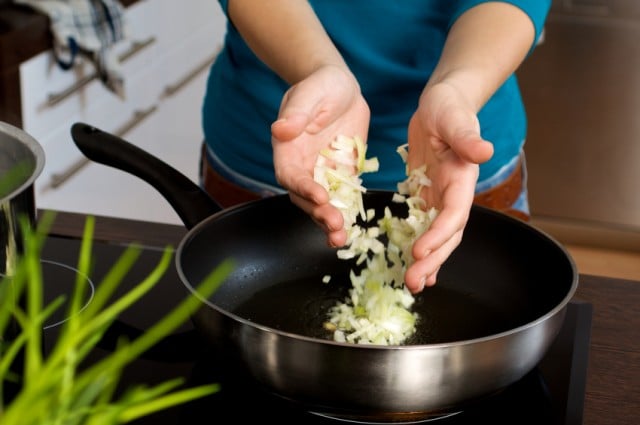 4. Mini Christmas Quiche
This elegant dish will quickly take center stage at your holiday gathering. Both vegetarians and meat-lovers will appreciate Back to Her Roots' recipe, which is filled with mushrooms, spinach, cheese, onions, and flavorful seasonings. The quiche can also be made ahead of time and frozen — prepare your quiche, put them in a ziplock bag in the freezer, and reheat them at 400 degrees prior to your party.
Ingredients:
Pie Crust:
3 cups whole wheat flour
2 teaspoons sugar
1 teaspoon kosher salt
2 sticks butter, cut into small cubes and frozen
8-10 tablespoons ice water
Filling:
½ stick of butter
Pinch of red pepper flakes
4 cloves garlic, minced
1 large onion, diced
1 tablespoon honey
16 ounces chopped frozen spinach, defrosted and squeezed dry
1 (16-ounce) can of sliced mushrooms
6 ounces herbed feta cheese, crumbled
3 cups shredded cheddar cheese, divided
4 eggs
1 cup milk
Salt and pepper, to taste
Directions: Preheat oven to 375 degrees Fahrenheit. Spray each of the cups of a mini muffin tin with cooking spray and set aside. To prepare pie crust, pulse together flour, sugar, and salt until well-mixed. Add in butter and pulse until butter is cut into pea-sized pieces. Pulse in water, 2-3 tablespoons at a time until mixture stays together when squeezed in your hand. Dump mixture onto a well-floured surface, form into two discs, wrap in plastic wrap and stash in the fridge while you prepare the filling. In a heavy-bottomed dutch oven or skillet, melt butter over medium high heat.
Add in red pepper flakes and garlic and cook until garlic is tender and fragrant, about 2 minutes. Add in onion and cook until garlic is translucent, about 4 minutes. Reduce heat to low, add in honey and simmer onions until they turn brown and very soft, about 15 minutes. Add the mushrooms, spinach, feta, and 1 cup of the cheddar cheese and stir until well-mixed. Remove from heat and set aside. In a mixing bowl, whisk together the eggs, milk, salt and pepper until pale and bubbly. Set aside. Remove one of the pie crust discs from the fridge and roll out on a well-floured surface until about ⅛-inch thick.
Using a biscuit cutter or drinking glass rim, cut out small pie crust circles. Place one circle in each of the cups of the prepared muffin tin, pressing in to form around cup. To fill each up, put about 1 teaspoon of the spinach mixture in each of the cups, then carefully spoon about 1 tablespoon of the egg mixture over top. Top each mini quiche with a little bit of the remaining cheddar cheese. Repeat until all cups are full. Bake in preheated oven for 15 to 20 minutes or until the pie crust is browned and the egg is set. Repeat process with remaining crust and filling.
5. Cranberry-Almond Rum Balls
If you're looking for a healthy treat that tastes absolutely sinful, you'll love Bakers Royale's Cranberry-Almond Rum Balls. Almonds, cranberries, ginger, coconut, honey, and cinnamon create a festive and nutritious dish that's worthy of any office party. These scrumptious sweets must be refrigerated for at least 45 minutes before you can serve them.
Ingredients:
4 ounces (1 cup) almonds
5 ounces (1 cup) dried cranberries
1 ounce candied ginger
1 ounce (5 tablespoons) sweetened shredded coconut
½ teaspoon saigon cinnamon
¼ cup honey
5 tablespoons dark rum
Glaze:
6 ounces chocolate, melted
1 tablespoon sea salt
Directions: Line a baking sheet with parchment paper. Place almonds, dried cranberries, candied ginger, coconut, and cinnamon in a food processor and pulse until finely crumbed. Add honey and rum and pulse to blend. Roll one heaping tablespoon into a ball and place on parchment lined baking sheet. Transfer to refrigerator and chill for about 45 minutes or overnight. Remove from refrigerator and dip in melted chocolate and sprinkle with sea salt.
6. Pastry-Wrapped Cranberry Brie
Rich and creamy cheese, fruit preserves, and cranberry sauce create an aromatic dish that your co-workers will devour. Anticipate spending about an hour preparing and cooking Betty Crocker's recipe, which yields 12 servings.
Ingredients:
1 can (8-ounce) refrigerated crescent dinner rolls
1 round (8-ounce) Brie cheese
3 tablespoons whole berry cranberry sauce
1 tablespoon apricot preserves
½ teaspoon dried rosemary leaves, crushed
2 medium pears, unpeeled, thinly sliced
Directions: Heat oven to 350 degrees Fahrenheit. Unroll dough and separate crosswise into two sections; press dough into two squares, firmly pressing perforations to seal. Cut cheese round horizontally to make two rounds. Place one cheese round, rind side down, on center of one dough square. In small bowl, mix cranberry sauce and preserves. Spread over top of cheese; sprinkle with rosemary. Top with remaining cheese round, rind side up.
With small cookie or canapé cutter, or sharp knife, make ½- to 1-inch cutouts to resemble poinsettia leaves from each corner of remaining dough square. Roll 3 small pieces of dough into 3 small balls; set cutouts and dough balls aside. Place remaining dough on top of cheese round. Press dough evenly around cheese, folding top edges over bottom edges; press to seal completely. Place on ungreased cookie sheet. On 7-by-7-inch foil square, arrange dough leaves with balls in center on top of dough.
Lift foil square with poinsettia and place on cookie sheet next to wrapped brie. Bake poinsettia 8 to 11 minutes or until light golden brown around edges. Lift from cookie sheet with foil; cool. Bake wrapped cheese 25 to 30 minutes or until golden brown. Remove from cookie sheet; place on serving plate. Place poinsettia on top of wrapped cheese. Let stand 15 minutes before serving. Serve warm with pears.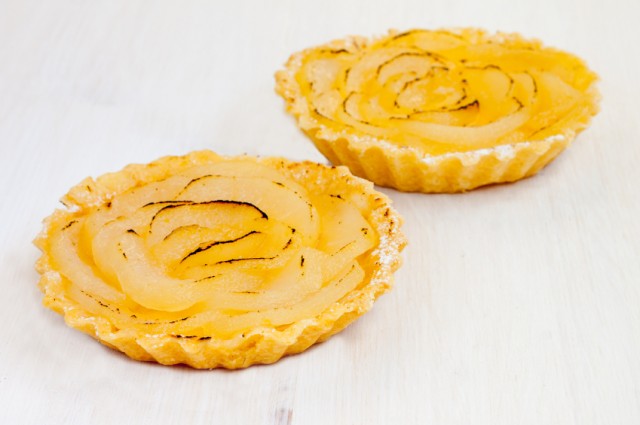 7. Blue Cheese and Pear Tartlets
Five ingredients and 10 minutes of prep time are all you need to make AllRecipes.com's Blue Cheese and Pear Tartlets. These palate-pleasing party appetizers might be bite-size, but we guarantee they're filled with big flavor! The recipe yields 15 servings.
Ingredients:
4 ounces blue cheese, crumbled
1 ripe pear, peeled, cored, and chopped
2 tablespoons light cream
Ground black pepper, to taste
1 (2.1-ounce) package mini phyllo tart shells
Directions: Pre-bake phyllo shells according to package directions. Set aside to cool. Mix together blue cheese, pear, and cream. Season to taste with pepper. Spoon mixture into cooled shells. Bake at 350 degrees Fahrenheit for 15 minutes. Serve warm.
More from Life Cheat Sheet: