7 Elegant Holiday Appetizers Ready in Under 30 Minutes
Holiday guests – and their appetites – will be arriving before you know it. Although few days remain to plan our party spreads, you can use the time you have left to your advantage by opting for quick and easy dishes to serve — without having to sacrifice the "wow" factor, of course. These 7 recipes all take under 30 minutes to complete, resulting in party-perfect appetizers that will amaze friends and family. Read on to see what delicious delicacies await!
1. Wild Mushroom, Spinach, and Onion Crostini
Purely Elizabeth's Wild Mushroom, Spinach, and Onion Crostini are a cinch to assemble for a sumptuous last-minute dish. Sautéed onion, spinach, and mushrooms mingle with the savory flavor of garlic, while white wine lends a complexity to the finish that your guests will love. You'll need just 30 minutes in the kitchen to complete these crostini, and the recipe yields around 8 servings.
Ingredients:
1 tablespoon coconut oil
2 cloves garlic, minced
1 yellow onion, diced
½ pound wild mushrooms
8 ounces spinach
¼ cup white wine
Himalayan sea salt
1 baguette, sliced
Directions: In a large skillet, heat coconut oil over medium heat. Add garlic and onions and sauté until fragrant, 3 to 5 minutes. Add mushrooms and sauté for another 5 to 7 minutes. Add spinach and cook until wilted. Stir in the wine and season with salt. Set aside. Meanwhile, heat a grill pan to medium heat. Brush bread with olive oil on both sides. Grill for 2 to 3 minutes a side, then top with mushroom mixture.
2. Feta, Mozzarella, and Parsley Cups
It couldn't get much simpler than these fast-yet-fancy Feta, Mozzarella, and Parsley Cups from Fashion Edible. The dish combines light, layered phyllo shells with creamy cheeses and parsley for a bite-size taste of luxury. Mild mozzarella melds perfectly with the sharp flavor of feta, while the phyllo dough's crispiness serves as a beautiful complement to both gooey, melted cheeses. The recipe takes 30 minutes to make and yields 15 miniature phyllo cups.
Ingredients:
¼ cup and 1 tablespoon parsley, chopped
½ cup and 1 tablespoon mozzarella cheese
3 tablespoons feta cheese, crumbled
1 (15-pack) mini phyllo shells, thawed
Directions: In a small bowl, mix together parsley and cheeses. Fill each shell with 1 to 2 teaspoons of parsley-cheese mix. Bake at 350 degrees Fahrenheit for 15 minutes or until cheese melts.
3. Salmon Rillettes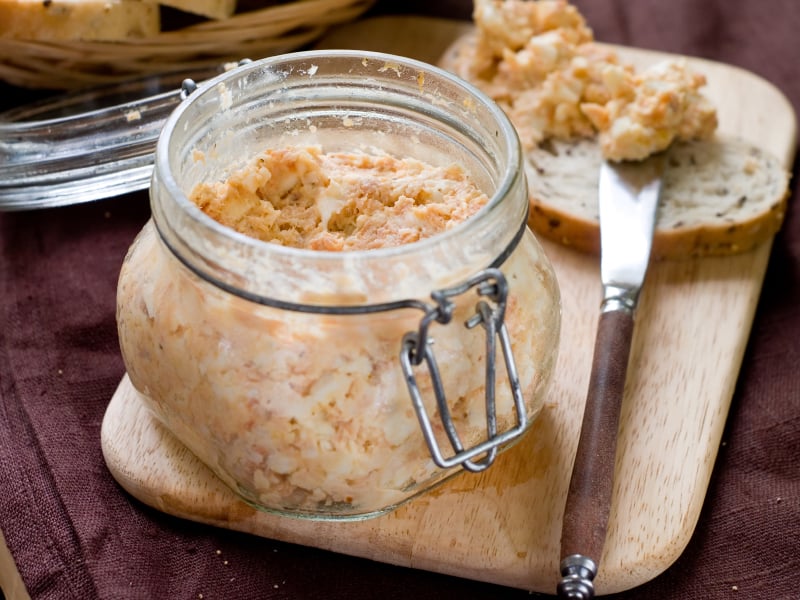 A French rillette is made from a meat that is poached in its own fat, then shredded and stored in some of that fat, writes Food & Wine. This recipe from Bon Appétit employs the method to prepare a soft, pate-like salmon dish. Shallot, chives, white wine, and lemon juice all add light bouquets of flavor to the sumptuous dish, which is best served cold over slices of baguette. You can make these Salmon Rillettes one day ahead of time, then cover and chill before serving. The recipe takes 30 minutes to make and yields 6 servings.
Ingredients:
2 cups dry white wine
1 tablespoon minced shallot
1 pound skinless salmon fillet, cut into 1-inch pieces
3 ounces smoked salmon, cut into ¼-inch pieces
½ cup mayonnaise
2 tablespoons thinly sliced fresh chives
1 tablespoon fresh lemon juice
Fine sea salt and freshly ground white pepper
1 baguette, thinly sliced, toasted
Directions: Bring wine and shallot to a boil in a small saucepan over high heat. Reduce heat to low; add salmon. Gently poach until salmon is barely opaque in center, about 5 minutes. Using a slotted spoon, transfer to a paper towel-lined plate to drain. Strain poaching liquid through a fine-mesh sieve; set aside shallot and discard liquid. Place salmon and shallot in a large bowl; cover and chill until completely cooled.
Add smoked salmon, ½ cup mayonnaise, chives, and 1 tablespoon lemon juice to salmon and shallot. Gently mix just to combine (salmon will break up a little; do not overmix or a paste will form). Season to taste with salt, pepper, and more mayonnaise and lemon juice, if desired.
Serve rillettes cold with toasted slices of baguette.

4. Baked Brie With Maple Syrup and Thyme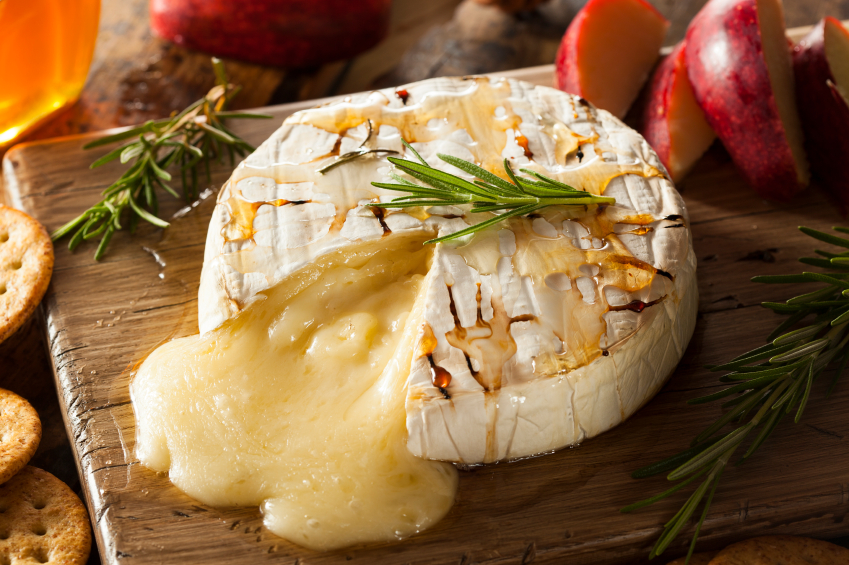 You'll be serving up comfort, convenience, and class all at once with this fantastic dish from Recipe Tin Eats. Melting your wheel of earthy brie will transform the cheese into a gooey, spectacular starter. Meanwhile, the simple flavor of maple syrup plays off of the complexity of aromatic thyme. All of these elements come together for a fondue-like dish that your guests will devour. This Baked Brie with Maple Syrup and Thyme takes 20 minutes to make and yields 6 to 8 servings.
Ingredients:
8 ounces brie
3 tablespoons maple syrup or honey
3 sprigs of thyme, leaves only
Pinch of salt
Garlic crostini
½ sourdough French stick, sliced
Extra-virgin olive oil
1 garlic clove, cut in half (not necessary to peel)
Directions: Preheat oven to 375 degrees Fahrenheit. Place brie in a small ovenproof dish. Drizzle over maple syrup and sprinkle with thyme leaves. Sprinkle with salt.
Bake for 15 to 20 minutes, or until melted through. Serve immediately with crostini.
For the garlic crostini – Place bread slices on a baking tray and drizzle with olive oil. Bake in the oven on the oven tray under the brie until lightly toasted (around 10 minutes). Remove from oven and rub each slice lightly with the cut side of the garlic.
5. Cherry-Pistachio Goat Cheese Balls
These Cherry-Pistachio Goat Cheese Balls are both simple and sophisticated, offering a splash of color to the appetizer spread. You can substitute in dried cranberries for dried cherries, should you prefer. Either dried fruit will serve as a light, tart complement to the rich taste of goat cheese, while salted pistachios add a satisfying crunch to the dish's exterior. This recipe from 6 Bittersweets takes 30 minutes and yields 6 to 10 servings. You can make the dish up to a day ahead of time; just be sure to refrigerate the snacks after finishing.
Ingredients:
6 ounces goat cheese, cool room temperature
¾ cup tart dried cherries or cranberries, finely chopped
½ cup shelled pistachios, lightly toasted and finely chopped
Large pinch of salt, optional
8 to 10 toothpicks, optional
Crackers, to serve
Directions: Add 3 tablespoons of chopped dried cherries to the goat cheese and mix in just until incorporated. Combine the remaining cherries and chopped pistachios in a medium-sized shallow bowl or deep plate. If pistachios aren't already salted, add a large pinch of salt to the mixture to taste.
Divide goat cheese cherry mixture into 8 to 10 evenly sized balls. Roll each ball in cherry pistachio mixture until well covered, and transfer to serving plate. Put a pick into the center of each ball, if desired. Serve immediately with your favorite crackers or refrigerate until ready to serve (up to one day).
6. Caramelized Apple and Goat Cheese Tartine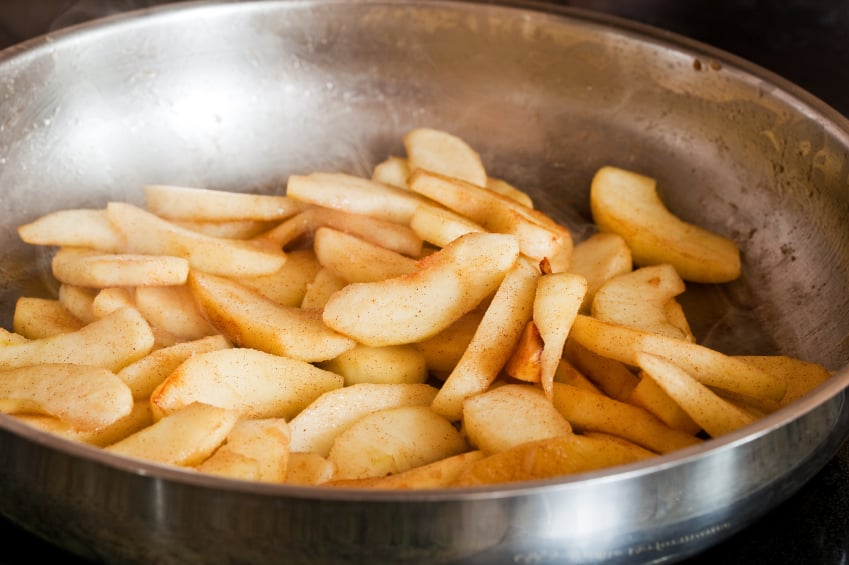 Fork Vs Spoon recommends using Honey Crisp or Granny Smith apples to achieve optimal flavor in this Caramelized Apple and Goat Cheese Tartine, in which the softened, brown sugar-infused apple is offset by the bold taste of goat cheese. Broiling the dish results in a crispy, decadent appetizer that is sure to stand out this season. Fork Vs Spoon's recipe takes 30 minutes to make.
Ingredients:
3 tablespoons butter
⅓ cup brown sugar
2 large apples, diced with skin on
1 tablespoon fresh thyme, roughly chopped
1 large French baguette
1 tablespoon olive oil
8 ounces goat cheese, room temperature
Juice of ½ lemon
Directions: In a nonstick skillet, melt butter over medium heat. Once butter is melted, stir in brown sugar. Add apples and toss to coat well. Let cook for about 10 to 15 minutes, until apples have softened and the liquid has turned a brownish golden color and has thickened. Stir in fresh thyme. Remove from heat and transfer to a medium-sized bowl.
Meanwhile, squeeze lemon juice into goat cheese and mix well.
Preheat broiler of oven. Slice French baguette on a bias into 1-inch pieces (about 12 to 15 slices). Place slices on a cookie sheet and drizzle lightly with olive oil. Place bread under broiler and toast until golden-brown.
Once toasted to perfection, remove from oven, and when cool enough to touch, slather each slice with goat cheese. Gently heap caramelized apples onto goat cheese. Serve and enjoy immediately.
7. Bruschetta With Gorgonzola Cheese and Honey
Sweet and salty notes play off each other in this impressive holiday dish from The Girl Who Ate Everything, as a drizzle of honey over each crusty serving prevents intensely flavorful gorgonzola from overwhelming the dish. This recipe for Bruschetta With Gorgonzola Cheese and Honey takes 30 minutes to make. The dish is refined and polished, but can be thrown together before any gathering for a starter that will blow your guests away.
Ingredients:
36 slices (½-inch-thick) baguette bread, about 1 loaf
¼ cup extra-virgin olive oil
8 ounces Gorgonzola, crumbled
4 tablespoons honey
Directions: Preheat oven to 400 degrees Fahrenheit.
Arrange the sliced baguette on a baking sheet. Brush with olive oil. Bake until the bread is pale golden and crisp, about 8 to 10 minutes. Arrange the cheese on the toasts and bake until the cheese is melted, about 3 minutes. Drizzle the toasts with honey. Place on a serving platter and serve immediately.