7 Farro Recipes: Dinners Bursting with Whole Grains
Farro was first cultivated in the Fertile Crescent, reports NPR, and has even been discovered in the tombs of Egyptian kings. More recently, there has been renewed interest in the whole grain thanks to Americans' love of Italian food. Cooking farro until it is soft — but still crunchy — results in a tasty dish that can be eaten on its own or can be used as an ingredient in many styles of soup and salad. Farro offers a great deal in the way of nutritional benefits, containing 14 grams of protein and 10 grams of fiber per cup, writes Livestrong.
Farro is available to purchase in whole/unpearled, semi-pearled, and pearled forms; the nomenclature depends on what amount of the grain's exterior bran is removed. Most stores sell farro in semi-pearled form, but as long as you follow the cooking directions on the package, your dishes will turn out perfectly. NPR offers this helpful guide on the history and availability of the grain.
Indulge in one of these 7 delectable farro-based recipes to see for yourself what makes this grain so popular.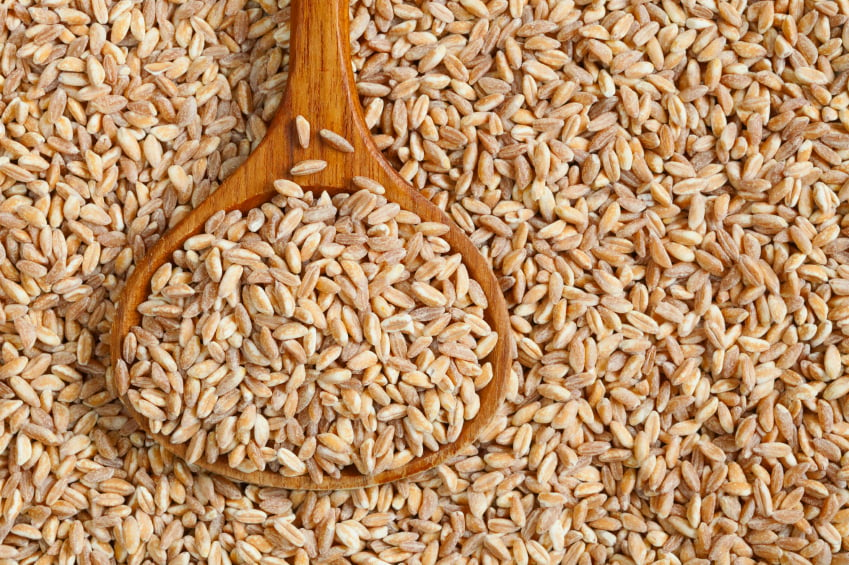 1. One-Pan Farro With Tomatoes
One element that makes farro a particularly popular whole grain is its meaty "chew," which can add a textural complexity to otherwise simple salad and soup dishes. Smitten Kitchen's wonderful farro and tomato dish requires just one pan to complete but tastes like it took all day. Cut down on preparation time and cleanup by serving up this dish, which takes about an hour to complete and yields 4 side servings (or 2 entrée-sized servings).
Ingredients:
2 cups water
1 cup semi-pearled farro
½ large white onion
2 cloves garlic
9 ounces grape or cherry tomatoes
1¼ teaspoons kosher or coarse sea salt
Up to ¼ teaspoon red pepper flakes, to taste
1 tablespoon olive oil, plus extra for drizzling
Few basil leaves, cut into thin ribbons
Grated Parmesan cheese, for serving (optional)
Directions: Place water and farro in a medium saucepan to pre-soak while you prepare the other ingredients. Adding each ingredient to the pot as you finish preparing it, cut onion in half again and very thinly slice it into quarter-moons. Thinly slice garlic cloves, as well. Halve or quarter tomatoes. Add salt, pepper flakes, and 1 tablespoon olive oil to pan, and set a timer for 30 minutes. Bring uncovered pan up to a boil, then reduce to a gentle simmer, stirring occasionally. When the timer rings, the farro should be perfectly cooked and seasoned, and the cooking water should be almost completely absorbed.
Transfer to a wide serving bowl. Drizzle farro lightly with additional olive oil and scatter with basil and Parmesan. Eat immediately.
2. Warm Steak and Farro Salad With Roasted Beets, Onions, and Chickpeas
Taste Food Blog's hearty salad dish is bursting with market-fresh flavors: beets, onions, garlic, and spices accompany farro in this savory dish. Simply top the dish off with a well-marbled rib-eye steak for a delightfully earthy and protein-fueled dinner. The recipe serves 4 people and takes about 80 minutes to complete. For an added kick, serve your salad with Sriracha or another chili sauce of your choosing.
Ingredients:
3 medium golden beets, peeled, cut in ½-inch batons or wedges
1 large sweet yellow onion, halved lengthwise, each half thickly sliced in wedges
Extra-virgin olive oil
Salt
Freshly ground black pepper
2¼ cups chicken stock
1½ cups farro
1 small garlic clove, minced
1 teaspoon paprika
1 teaspoon cumin
¼ teaspoon cayenne, or to taste
2 or 3 rib-eye steaks, about 1 inch thick
½ cup shelled fresh chick peas
¼ cup fresh tarragon leaves
Sriracha (optional)
Directions: Preheat oven to 375 degrees Fahrenheit. Toss the beets and onion with 1 tablespoon olive oil. Season with salt and pepper. Bake in oven until beets are tender and onions are beginning to brown, about 45 minutes.
While the vegetables are roasting, prepare the farro: Combine the stock, farro, and 1 teaspoon salt in a medium saucepan. Bring to a boil, then reduce heat to a simmer. Cover and cook until the farro is tender but still chewy, about 30 minutes. Remove from heat and fluff with a fork. Stir in 1 tablespoon olive oil,  garlic, paprika, cumin, and cayenne. Partially cover to keep warm.
Prepare the steaks: Season the steaks all over with salt and pepper. Heat 1 tablespoon olive oil and 1 tablespoon butter in a heavy skillet or cast iron skillet over medium high heat. Add steaks, without overcrowding, and cook until brown on both sides, turning once, 6 to 8 minutes for medium rare. Transfer to a cutting board and let rest 5 minutes. Cut steaks crosswise in ½-inch-thick slices.
While the steaks are resting, add the fresh chickpeas to the skillet and briefly sauté over medium heat until their color brightens, 1 to 2 minutes.
To serve, spoon the farro into the center of a serving platter or divide among serving plates. Arrange steak in the center of the farro and drizzle with any accumulated juices. Place the vegetables around the steak and drizzle with any accumulated baking juices. Scatter the chickpeas over. Garnish with fresh tarragon. If desired drizzle with more olive oil. Serve warm with Sriracha sauce on the side.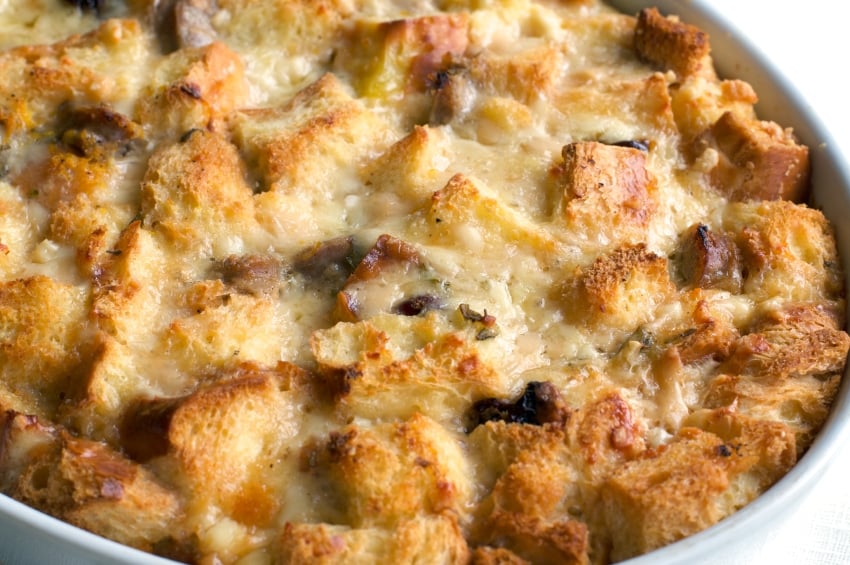 3. Farro with Cheese and Herbs
Farro grains serve as a base for rich, creamy cheeses and the distinctive flavors of herbes de Provence that characterize this dish. Topping your casserole with crusty bread will lend it an irresistibly crisp texture on top, beautifully complementing the luscious, gooey cheeses beneath it. Giada De Laurentiis's Food Network recipe for Farro with Cheese and Herbs takes 40 minutes to complete and yields 6-8 servings.
Ingredients:
Farro
1 pound farro
8 cups water
2 tablespoons kosher salt
Filling
2 cups (8 ounces) grated extra-sharp cheddar
2 cups (8 ounces) grated mozzarella
1 cup whole milk
3 tablespoons herbes de Provence
1 tablespoon kosher salt
½ teaspoon freshly ground black pepper
Topping
4 (about 5 ounces) ½-inch-thick slices multigrain or whole-grain bread, preferably 1 day old, torn into ½-inch pieces
Extra-virgin olive oil, for drizzling
Directions: Put an oven rack in the center of the oven. Preheat the oven to 400 degrees Fahrenheit. Butter a 9-by-13-by-2-inch glass baking dish. Set aside.
Farro: In a large stockpot, bring the farro, water, and salt to a boil over medium-high heat. Reduce the heat, cover the pot, and simmer until the farro is tender, about 25 to 30 minutes. Drain in a colander.
Filling: In a large bowl, mix together the cheeses, milk, herbes de Provence, salt, and pepper. Add the cooked farro and stir until coated. Pour the mixture into the prepared baking dish.
Topping: Arrange the bread pieces on top of the farro mixture and drizzle liberally with olive oil.
Bake for 15 minutes until the topping is golden. Cool for 5 minutes and serve.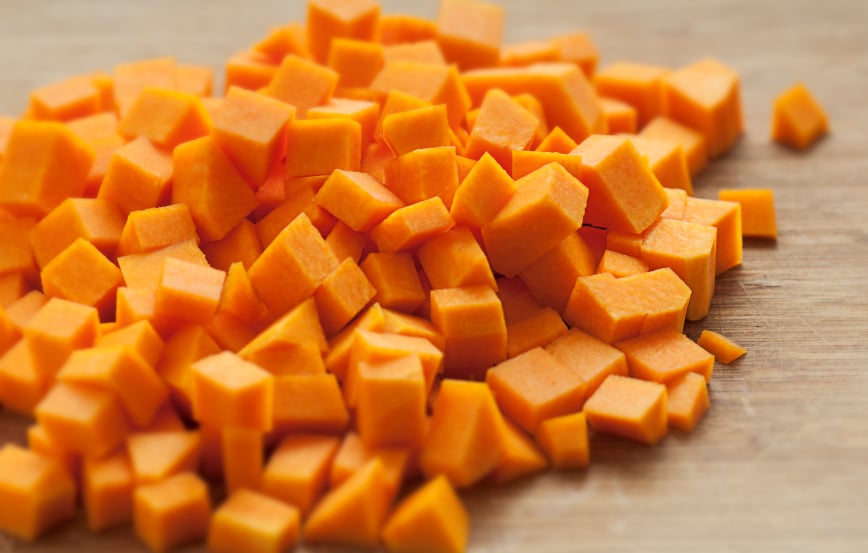 4. Heirloom Squash Farrotto
Try this dish from Bon Appétit for a fun farro-based twist on classic Italian risotto. The meal substitutes farro for rice, making for a luxurious — yet simple — dinnertime delight. The addition of yogurt gives farrotto a smooth and creamy texture, while the flavors of fresh squash and chickpeas blend for healthy, satisfying treat — and throwing in some chiles will add an elegant kick to the mix. Recipe takes an hour to complete and yields 4 entrée-sized servings.
Ingredients:
1 tablespoon cumin seeds
1 cup plain whole-milk yogurt
2½ tablespoons (or more) fresh lemon juice, divided
3 garlic cloves, 1 minced, 2 thinly sliced
Nonstick vegetable oil spray
4 cups ½-inch cubes peeled butternut squash
4 tablespoons olive oil, divided
2 cups semi-pearled farro
2 tablespoons chopped Fresno chile or red jalapeño chile with seeds, divided
¾ cup ½-inch cubes red onion plus ¼ cup thinly sliced
1 (15-ounce) can garbanzo beans (chickpeas), drained
½ cup fresh cilantro leaves
Extra-virgin olive oil
Directions: Toast cumin seeds in small skillet over medium heat until fragrant and beginning to smoke, 4 to 5 minutes. Cool; grind in spice grinder. Transfer 1½ teaspoons cumin to small bowl. Mix in yogurt, 1 tablespoon lemon juice, and minced garlic. Season with salt and pepper. Cover and chill.
Preheat oven to 400 degrees Fahrenheit. Coat large rimmed baking sheet with nonstick spray. Place squash in large bowl. Add 2 tablespoons oil; toss to coat. Spread squash out on sheet. Sprinkle with salt and pepper. Roast until tender, about 25 minutes.
Meanwhile, cook farro in large pot of boiling salted water until tender, 18 to 20 minutes. Drain farro and cool.
Heat remaining 2 tablespoons oil in heavy large skillet over medium-high heat. Add sliced garlic and 1 tablespoon chile; sauté 1 minute. Add onion cubes and garbanzo beans; sauté 1 minute. Add roasted squash and cooked farro and toss to blend. Sprinkle with 1½ teaspoons ground cumin and 1½ tablespoons lemon juice; toss to blend. Season to taste with salt, pepper, and more lemon juice, if desired.
Mound farro mixture on 4 plates. Spoon yogurt mixture over. Sprinkle with cilantro, sliced onion, and remaining chile. Drizzle with extra-virgin olive oil and serve.
5. Cabbage and Kale Soup With Farro
Try heating things up in your kitchen with a comforting soup made with cabbage, kale, farro, and spices. Adding pancetta and Parmesan cheese will infuse the soup broth with an invitingly savory and homestyle taste. This soup makes for a delicious day-after meal and can be refrigerated for up to two days after preparation. One serving contains 305 calories, 18 grams of protein, and 7 grams of fiber. This recipe from Food & Wine takes an hour and 30 minutes to complete and serves 6 people.
Ingredients:
1 tablespoon extra-virgin olive oil
1 (2-ounce) piece pancetta, finely diced
1 medium onion, finely diced
2 garlic cloves, minced
1 ounce anchovy paste (4 teaspoons) or 4 anchovy fillets
1¼ cups farro
½ head Savoy cabbage, tough stems discarded, leaves torn into large pieces
½ bunch red Russian kale, stems discarded
2 quarts chicken stock or low-sodium chicken broth
1 cup water
6 thyme sprigs
1 small rosemary sprig
1 ounce Parmigiano-Reggiano rind, plus 3 tablespoons grated cheese
Salt and freshly ground pepper
½ cup finely chopped flat-leaf parsley
Directions: Preheat oven to 350 degrees Fahrenheit. In an enameled cast-iron casserole, heat the oil. Add the pancetta and cook over moderate heat until the fat is rendered, 3 to 4 minutes. Add the onion and garlic and cook until softened, 5 minutes. Add the anchovy paste and cook for 30 seconds. Add the farro and cook, stirring, for 3 minutes. Add the cabbage and kale, and cook, stirring, until just wilted.
Add the chicken stock, water, thyme, and rosemary sprigs, and cheese rind, and bring to a simmer. Cover the soup, transfer to the oven and cook for about 1 hour, until the farro and greens are tender. Alternatively, simmer the soup over moderate heat for 1 hour. Season the soup with salt and pepper. Transfer the soup to bowls, garnish the soup with the parsley and grated cheese, and serve.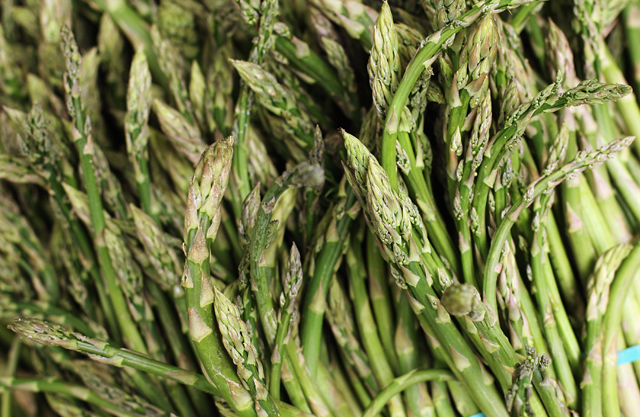 6. Farro Salad With Asparagus and Parmesan
Although the recipe itself takes just an hour and 15 minutes to complete, it is advised that you soak your farro for approximately 12 hours prior to preparing the dish (this process optimizes texture and makes the grains more digestible). Sweet and tart dried cranberries, crunchy walnuts, and an array of fresh vegetables provide this salad with a wonderful medley of flavors and textures. This dish from All Recipes yields 12 servings.
Ingredients:
2 cups farro
¾ pound fresh asparagus, trimmed
1 cup red and yellow cherry tomatoes, halved
¾ cup chopped walnuts
¾ cup dried cranberries
½ cup chopped fresh parsley
⅓ cup chopped fresh chives
¼ cup balsamic vinaigrette, or to taste
1 cup shaved Parmesan cheese, divided
Directions: Soak farro in a large bowl of water for at least 12 hours. Drain.
Fill a large pot with lightly salted water and bring to a rolling boil over high heat. Once the water is boiling, stir in the drained farro, and return to a boil. Reduce heat to medium, then cook the farro uncovered, stirring occasionally for 20 minutes. Reduce heat to low, cover, and continue simmering until tender, about 30 more minutes. Drain and allow to cool.
Bring a large pot of lightly salted water to a boil. Add the asparagus and cook, uncovered, until tender, about 3 minutes. Drain in a colander, then immediately immerse in ice water for several minutes until cold to stop the cooking process. Once the asparagus is cold, drain well, and chop. Set aside.
Place farro, asparagus, tomatoes, walnuts, cranberries, parsley, and chives in a large bowl. Drizzle the balsamic vinaigrette over and sprinkle about ¾ cups Parmesan cheese, then toss. Top with the remaining ¼ cup of Parmesan cheese. Serve at room temperature.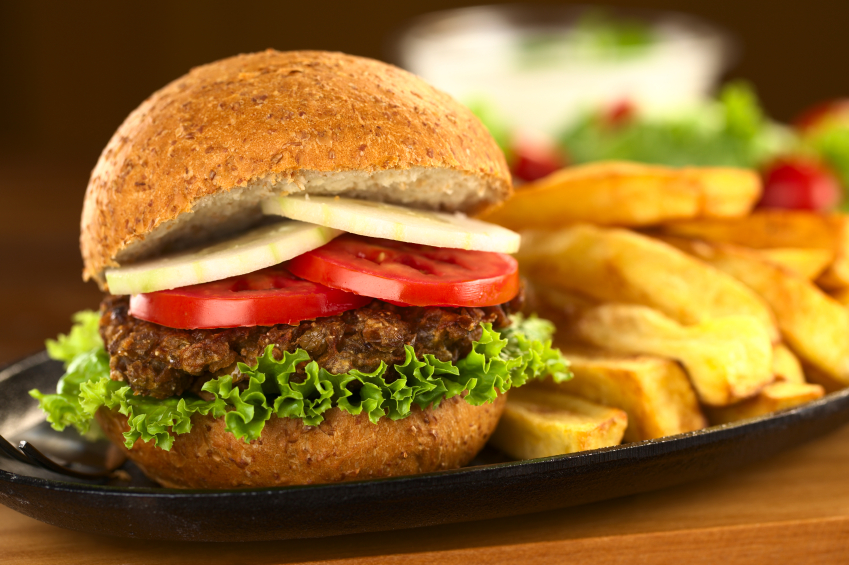 7. Mushroom and Farro Burger
Michelin Star-winning chef Suvir Saran of New York shared this vegetarian burger recipe with The New York Times. In it, he uses sweet potatoes to bind with farro grains, adding rosemary and thyme to give the dish a distinct and sophisticated flavor. The recipe takes about an hour and 10 minutes to complete, plus 1 hour of chilling time, and yields 10 burger patties. Each contains 272 calories, 4 grams of fiber, and 9 grams of protein. Patties will keep well in the refrigerator for 2 to 3 days.
Ingredients:
1 pound pale-fleshed sweet potatoes or regular potatoes (such as Yukon gold), baked
¾ cup farro
Salt, to taste
6 tablespoons extra-virgin olive oil
1 fresh rosemary sprig
1 fresh thyme sprig
1 teaspoon ground black pepper
¾ cup finely chopped peanuts
1 pound cremini mushroom caps, finely chopped
3 shallots, finely chopped
1 tablespoon dry white wine
½ cup finely grated Parmesan
1 cup panko or chickpea flour
Directions: Bake potatoes in a 425-degree-Fahrenheit oven. When tender, remove from the oven, allow to cool until you can handle them, peel, and place in a bowl. Mash with a fork.
While potatoes are baking, cook the farro. Combine with 3 cups water in a medium saucepan. Bring to a boil, add salt to taste, and cover. Reduce heat and simmer 50 to 60 minutes, until grains are tender and beginning to splay. Drain well and set aside.
Remove needles and leaves from rosemary and thyme sprigs, and place in a large frying pan with 1 tablespoon of the olive oil. Add pepper and heat over medium-high heat, stirring occasionally, until the herbs begin to crackle. Add chopped peanuts and cook for 2 minutes, or until golden and fragrant, and stir in chopped mushrooms and about ¾ teaspoon kosher salt (or to taste). Cook, stirring often, until mushrooms have released all of their liquid and there is no more liquid in the pan, about 8 minutes. Stir in wine and continue to cook, stirring, until there is again no liquid left in the pan. Remove from heat and transfer to the bowl with the potatoes.
Heat another tablespoon of olive oil over medium heat in the pan and add shallots. Cook until tender and beginning to brown, 2 to 3 minutes. Remove from heat and scrape shallots into bowl with mushrooms and potatoes. Add farro and Parmesan and mash everything together. Add salt and pepper, taste, and adjust seasonings.
Take up a heaped ⅓ cup of the mixture and form into a ball (you can wet your hands to reduce sticking). Roll ball in panko or chickpea flour, then gently flatten into a patty. Set on a plate and continue with remaining burger mixture. Refrigerate, uncovered, for 1 hour or longer (the longer the better).
When you're ready to cook, place a rack over a sheet pan. Heat 2 tablespoons of oil in a 12-inch, heavy nonstick frying pan over high heat. Swirl the pan to coat with the hot oil. Lower heat to medium. Place 4 to 5 patties in the pan and cook until well browned on one side, about 4 minutes. Turn and brown for about 4 more minutes. Remove to rack. Heat remaining oil in the pan and cook remaining patties. Keep patties warm in a low oven until ready to serve. Serve with a salad and your choice of toppings.
More from Life Cheat Sheet:
Want more great content like this? Sign up here to receive the best of Cheat Sheet delivered daily. No spam; just tailored content straight to your inbox.