7 Flavorful Vegetarian Dinners Ready to Serve in 30 Minutes
Every cook needs a few last-minute dinner ideas for those days when life just gets in the way. Rather than picking up the phone to call in a delivery order, save yourself some time and money by assembling a delicious meal in your kitchen. Meat eaters and vegetarians alike will love these 7 satisfying meatless options, each of which take under 30 minutes to complete.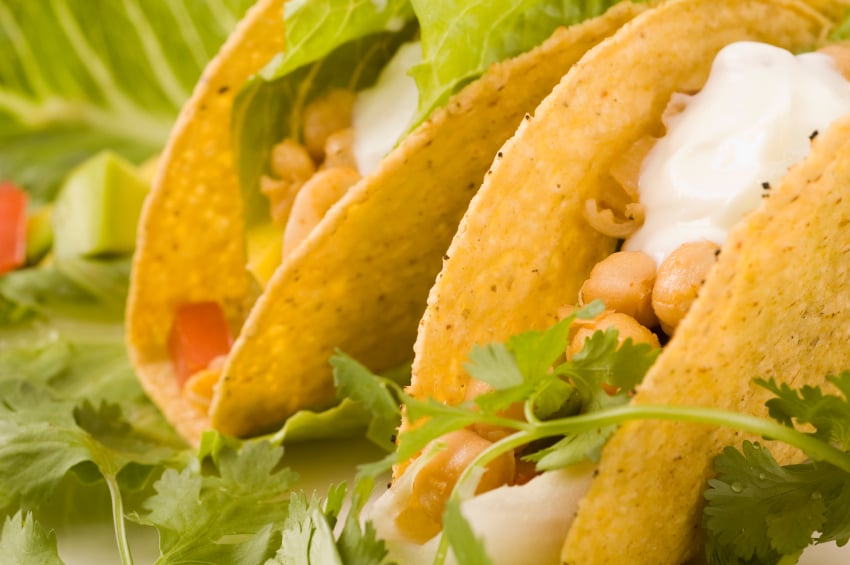 1. BBQ Cauliflower Tacos With Chickpeas And Quinoa
Bursting with extraordinary flavors and textures, these BBQ Cauliflower Tacos With Chickpeas And Quinoa will quickly rise to stardom in your dinnertime repertoire. The hearty chickpea-quinoa filling is spiced with a bold barbecue rub, all slightly offset by a mildly tangy lime slaw. You can heat up your corn tortillas in the oven or fry them lightly in avocado oil for a satisfying and crispy finish. This recipe from Good Inner Mom requires 30 minutes in the kitchen and makes 10 to 12 tacos.
Ingredients:
Creamy lime slaw:
1 (14-ounce) bag of cole slaw mix or 6 to 7 cups thinly chopped cabbage and carrots

½ cup mayonnaise or veganaise

½ teaspoon dijon mustard

½ teaspoon maple syrup

1½ teaspoon apple cider vinegar

½ teaspoon celery salt

1 pinch black pepper

1 teaspoon water


Juice of one lime
BBQ rub:
½ teaspoon oregano

½ teaspoon paprika

½ teaspoon black pepper

1 teaspoon garlic powder

1 teaspoon onion powder

1 teaspoon salt

1 teaspoon chili powder

1 teaspoon brown sugar or coconut sugar


1 teaspoon smoked paprika
For tacos:
1 medium to large head cauliflower

1¼ cup of cooked or canned chickpeas (drain and rinse if using canned)

1½ teaspoons olive oil or avocado oil

1 cup cooked quinoa

10 to 12 corn tortillas

Oil, if frying

Lime wedges

Sliced jalapeños, if desired

Chopped cilantro leaves, if desired


Salsa, hot sauce, Thai sweet chili oil (optional, for serving)
Directions: For the cole slaw: In a bowl large enough to hold all the cabbage mix, add all slaw dressing ingredients and whisk together until creamy. Now add the cabbage mixture and stir everything together until all cabbage is coated with dressing. Place in the refrigerator until ready to use.

Preheat oven to 375 degrees Fahrenheit. In a small bowl, add all the BBQ rub ingredients and mix together.

Separate the cauliflower florets and chop into bite size pieces. Place florets and chickpeas into a large bowl and drizzle will olive oil. Sprinkle all the BBQ rub over this mixture and toss to cover.

Spread cauliflower and chickpeas on a baking sheet and bake for 25 minutes, stirring once halfway through. Remove cauliflower and chickpeas from oven. Stir in the quinoa while mixture is still hot.

For corn tortillas: Either warm them on stove or in oven, or fry in healthy oil of choice until crisp on both sides.
Add ¼ to ½ cup cauliflower mixture to each taco and top with slaw, jalapeños, cilantro, or any sauces you desire.
Alternately, skip the corn tortillas and enjoy a nice taco slaw salad.
2. Skillet Vegetable Lasagna
Revitalize your favorite Italian flavors using Pretty Polymath's recipe for Skillet Veggie Lasagna, a convenient one-pot dish that makes vegetarian dinner prep easier than ever. No need to wait for preheating ovens and slow-baking lasagna casserole: Whip out the skillet and you'll have a steaming platter of cheesy, seasoned tomato and eggplant goodness in no time. The recipe requires 25 minutes in the kitchen and makes 2 servings.
Ingredients:
½ tablespoon vegetable oil

½ teaspoon crushed red pepper

1 teaspoon dried oregano

½ cup zucchini, diced

½ cup eggplant, diced

½ cup baby spinach (handful)

2 garlic cloves,minced

½ cup marinara sauce

3 to 4 no-boil lasagna noodles

¼ cup shredded mozzarella

¼ cup parmesan cheese

¼ cup ricotta cheese


1 tablespoons fresh basil, shredded
Directions: In a 8-inch skillet, heat oil over medium heat. Add eggplant, zucchini, salt and pepper to taste and stir. Cook until vegetables are tender and stir often. Add baby spinach, garlic, oregano, crushed red pepper. Stir. Cook for 1 minute or until the spinach wilts.
Break lasagna noodles and arrange on top of the veggies. In a separate bowl, mix together tomato sauce and ¼ cup of water. Pour over pasta. Make sure noodles are well-coated in the sauce. Bring to a boil, then simmer on low for 10 minutes while covered.
Once pasta is tender, sprinkle half the mozzarella and grated parmesan over the top and gently mix. Place spoonfuls of ricotta on top and sprinkle on the remaining mozzarella and parmesan. Cover and and cook for 4 minutes or until cheese is melted.
Garnish with basil and enjoy while hot!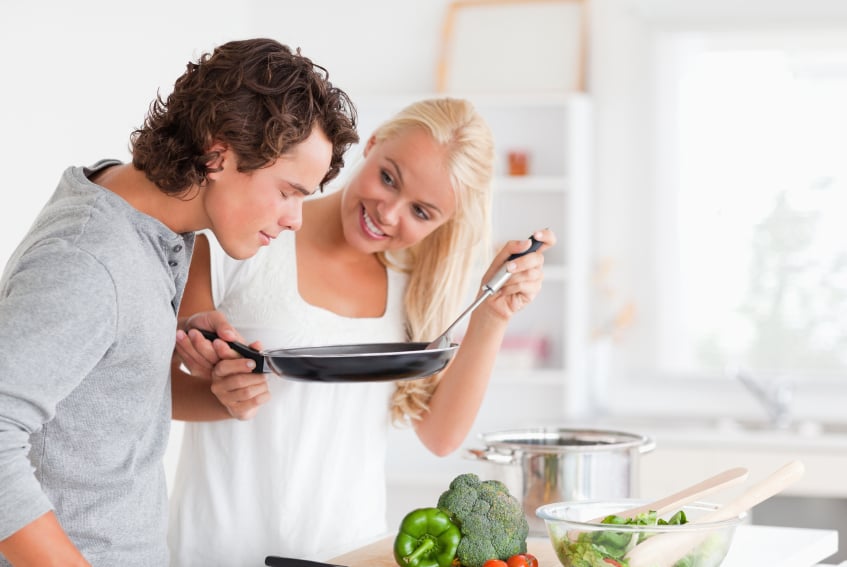 3. Black Bean Patties With Chipotle Sour Cream
Bites Of Bri's Black Bean Patties With Chipotle Sour Cream make an ideal last-minute dinner solution. Chili powder, cumin, and garlic flavor these distinctive bean cakes, while a creamy-yet-zesty chipotle sour cream provides a satisfying final touch. Garnish with avocado, tomatoes, and cilantro for a satiating Mexican-inspired dining experience. The recipe takes 20 minutes to complete.
Ingredients:
2 cups tortilla chips, pulsed until finely ground (pulsed, ½ cup to ⅔ cup of tortilla chips)

2 (14-ounce) cans black beans, drained and rinsed

1 lime, juiced

½ teaspoon chili powder

½ teaspoon cumin

½ teaspoon garlic powder

¼ to ½ teaspoon salt

½ cup green onion, diced

1 egg

1 cup sour cream

1 tablespoon chipotle in adobo

Avocado for topping

Tomatoes for topping


Cilantro for topping
Directions: Start by pulsing the tortilla chips in the food processor until they reach a breadcrumb consistency.
Drain and rinse the black beans. Add 1½ cans of the beans to the food processor. Purée until they reach a paste consistency.
Add the spices, lime juice, and green onion. Once pulsed, remove the black bean purée into a bowl. Add the remaining whole beans and stir to combine. Add the egg and ½ cup of the ground tortilla chips. Stir until combined.
To assemble the cakes: Add a spoonful of the mixture to your hands and form patties. If the cakes feel too wet, add the remaining tortilla crumbs to the mixture. Stir to combine, then form the cakes.
Once the cakes are formed, add the olive oil to a pan on medium to high heat. Add the cakes and cook for 3 minutes per side. Flip for another 3 minutes then remove them from the pan.
To make the chipotle sour cream, combine the sour cream and chipotle in adobo. Top with chipotle sour cream, green onions, avocado, cilantro, and chopped tomatoes.
4. Mushroom Alfredo
Recipes don't get much easier than this Mushroom Alfredo from Recipe Geek. The vegetarian dish requires just one pot for cooking, making the pasta an efficient, mess-free choice for feeding your family. Spaghetti noodles are smothered in a creamy Parmesan sauce while mushrooms, peas, and zucchini lend a healthy and hearty character to the dish. The recipe yields 4 to 6 servings.
Ingredients:
1 pound spaghetti

1 pound cremini or button mushrooms, sliced thin

2 medium zuchinni, sliced thin and quartered

⅔ cup peas

2 sprigs fresh thyme

⅓ cup grated Parmesan cheese

¼ cup heavy cream

4½ cups water


Salt and pepper to taste
Directions: In a large pot combine spaghetti, mushrooms, zucchini, peas, thyme and water over medium heat. Season with salt and pepper to taste.
Bring to a boil and then reduce heat and simmer, uncovered, until pasta is cooked and liquid has reduced and almost been completely absorbed, about 8 to 12 minutes. Stir in cream and cheese. Serve immediately with lots of freshly grated Parmesan cheese.
5. Kale And Pesto Pizza With Mushrooms
Homemade pizza is a popular choice among cooks of all levels. The dish offers you the freedom to use all your favorite ingredients, inevitably resulting in a unique and mouthwatering pie. If you're in need of inspiration, try this Kale And Pesto Pizza With Mushrooms from This Gal Cooks. Savory pesto, mozzarella, Parmesan, olive oil, and veggies combine to create a spectacular and flavorful take on the Italian favorite. The recipe takes 30 minutes to make and yields 4 to 6 servings.
1 pizza dough

3 tablespoons basil pesto

4 ounces baby bella mushrooms, rinsed and sliced

2 to 3 lacinato kale stalks, de-stemmed and cut into 1-inch pieces

½ of a small sweet onion, sliced thin

½ cup white wine

1½ cup shredded mozzarella, divided into 1 cup and ½ cup

8 to 10 small basil leaves, torn

1 teaspoon Italian seasoning

1½ teaspoons extra virgin olive oil


1 to 2 tablespoons shredded Parmesan cheese
Directions: Preheat your oven to 400 degrees Fahrenheit.
Prep your pizza dough. If you're making your own, follow your instructions to prepare. If using store-bought, follow the instructions for allowing the dough to rise. Once the dough has risen, form into your desired shape. Spray your pizza pan with cooking spray. Distribute evenly and wipe away any excess with a paper towel. Place the dough on the pan and carefully stretch and form, if needed, taking care not to tear the dough. Poke holes in the dough with a fork, then spread the basil pesto evenly over the dough and set aside.
Cook the onions, mushrooms, and kale. Heat a medium-sized skillet over medium heat. Add the wine, mushrooms, and kale; cook until the wine has dissolved, about 3 to 5 minutes. Remove from heat and set aside.
Evenly sprinkle 1 cup of the mozzarella cheese over the basil pesto on the pizza crust. Evenly distribute the kale, mushroom, and onion mixture over the cheese. Evenly distribute the torn kale leaves. Top with the remaining ½ cup mozzarella cheese and Italian seasoning, then drizzle with olive oil. Evenly sprinkle the shredded Parmesan cheese over the top of the pizza.
Place the pizza in the oven and bake for 10 to 15 minutes or until the cheese is bubbly and slightly browned. Slice into desired size with a pizza slicer or a sharp knife.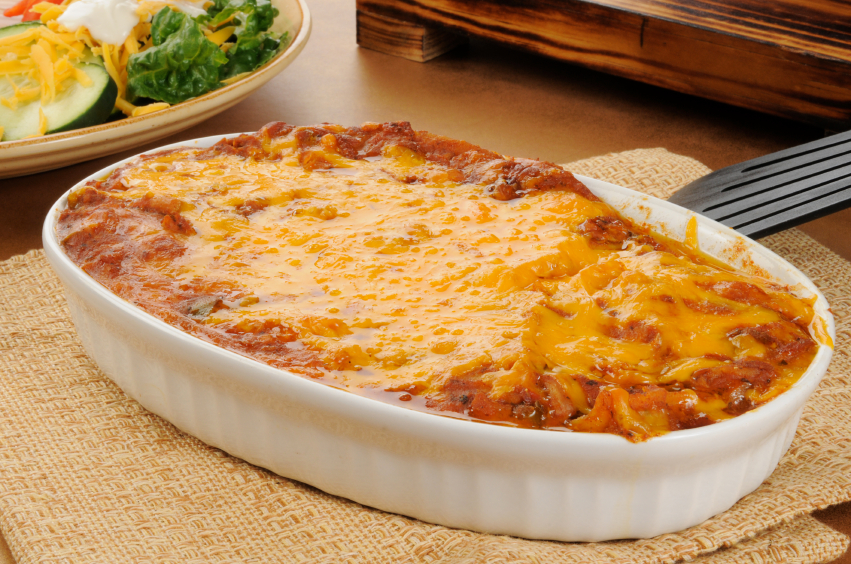 6. Tortilla Casserole
If you're on the hunt for a savory comfort food that the whole family will love, try whipping up this Mexican Tortilla Casserole from Savory Simple. Tortillas, cheese, beans, and veggies are wrapped in a zingy tomato-based sauce for a delectable take on traditional Mexican flavors. The recipe takes 30 minutes to make and yields 8 to 10 servings. This quick, flavorful casserole is especially handy for feeding a crowd on short notice.
Ingredients:
1 tablespoon extra virgin olive oil

1 large yellow onion, chopped

1 medium garlic clove, minced

1 teaspoon ground cumin

1½ teaspoons chili powder

1 can (14 ounces) fire-roasted diced tomatoes, drained, ⅓ cup juice reserved

¼ cup tomato paste

2 cans (15.5 ounces) black or pinto beans, drained

1½ cups frozen corn

3 cups coarsely chopped spinach

Salt and ground black pepper

8 corn tortillas

2 cups Monterey Jack or cheddar cheese


Optional toppings: chopped fresh cilantro, chopped fresh jalapeño, sour cream, salsa
Directions: Preheat the oven to 400 degrees Fahrenheit. Spray an 8-by-11-inch or 9-by-9-inch baking dish with cooking spray.
Heat the olive oil in a large skillet over medium-low heat and the onion, garlic, cumin, and chili powder. Stir for a few minutes until the onions are soft and the spices are fragrant. Add the tomatoes, reserved tomato juice, tomato paste, beans, corn, and spinach. Stir and cook for another minute or two until the spinach has wilted and the corn has thawed. Season with salt and pepper to taste.
Place two corn tortillas in the bottom of the prepared pan and top with ¼ of the bean mixture, spreading the mixture evenly. Sprinkle evenly with ½ cup of the cheese. Repeat until all of the ingredients have been used up, finishing with the cheese.
Bake until the tortilla casserole has cooked through, approximately 20 minutes. Allow to cool for 5 minutes before cutting. Serve with garnishes, if desired.
7. Gnocchi, Soy Sausage, And Tomato Skillet
Fast, flavorful, and filling, this veggie skillet from Bunsen Burner Bakery is sure to win over your friends and family after the first bite. The dish weds soft, melt-in-your-mouth gnocchi with a protein-rich soy sausage (feel free to use another meat substitute of your choice). The simple flavors of tomato and basil round out the dish. This Gnocchi, Soy Sausage, and Tomato Skillet takes 15 minutes to make.
Ingredients:
1 pound gnocchi

12 ounces soy sausage, sliced into ¼-inch rounds

2 to 3 large tomatoes, chopped, or 1 pint grape tomatoes, halved

½ cup fresh basil

Olive oil, salt, and pepper (to taste)


2 tablespoons freshly grated Parmesan cheese
Directions: Heat a large pot of water to boiling and cook the gnocchi according to package directions. Drain, and toss with a splash of olive oil.
Heat a large cast iron skillet over medium heat with a spray of olive oil. Add the sausage and cook for 3 to 4 minutes, until it starts to brown. Push the sausage over to one corner of the skillet.
Turn the heat up to high, and add the tomatoes to the unoccupied space in the skillet. Cook briefly, 1 to 2 minutes, until the skin is blistered, and then stir the tomatoes in with the sausage. Cook for a few additional minutes, until the tomatoes and sausage are browned.
Stir in the gnocchi and heat through. Remove from heat and stir in the basil. Season to taste with salt and pepper. Sprinkle the Parmesan cheese on top.
More from Life Cheat Sheet:
Want more great content like this? Sign up here to receive the best of Cheat Sheet delivered daily. No spam; just tailored content straight to your inbox.