7 Gluten-Free Recipes for Your Best Breakfast Yet
Having variety in your meals keeps food interesting, fun, and of course, delicious. Unfortunately, for people who cannot consume gluten because of Celiac disease or gluten intolerance, the wide world of food suddenly seems to constrict around them. But with a little digging, that doesn't have to be the case, as a number of gluten-free alternatives you bake, fry, prepare so that you don't miss out on the most important meal of the day–breakfast! We've done some of the work for you, so all you have to do is sit back and decide which of these 7 recipes you'll be trying in the morning.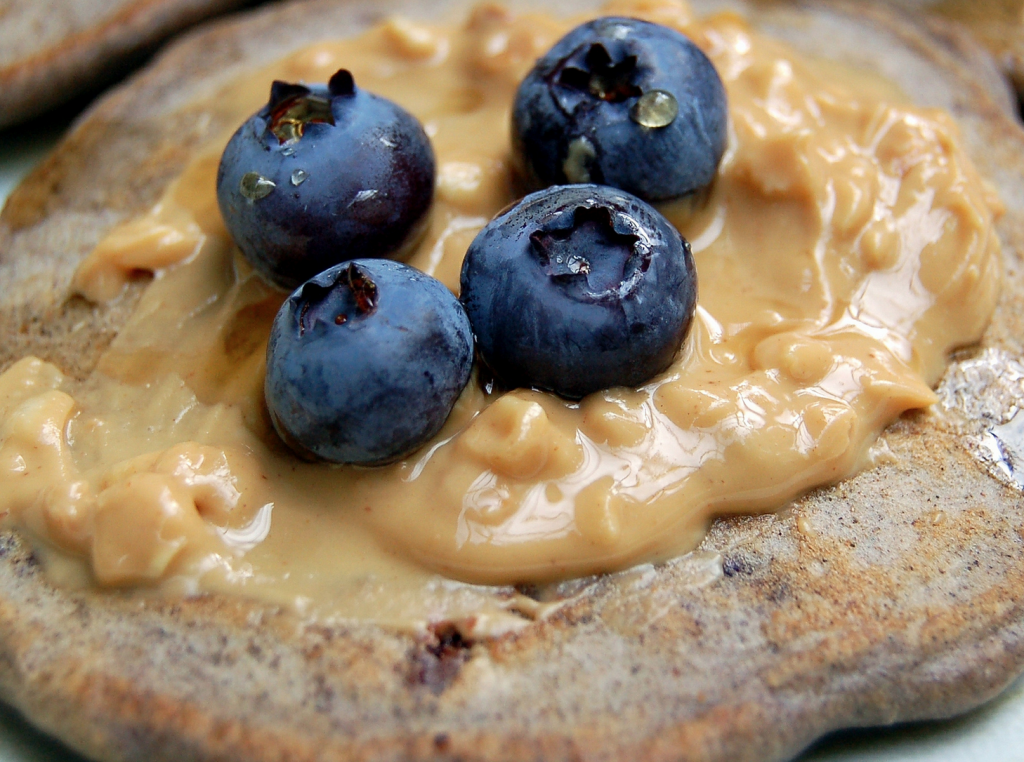 1. Cinnamon Applesauce Oatmeal Pancakes with Salted Peanut Butter Maple Syrup
The name is a mouthful, which will only become harder to say as you gobble up these pancakes from Ambitious Kitchen. Everything is thrown together in the blender, making for minimal mess and quick cleanup. The ratios below make two servings, between six and eight pancakes total.
Ingredients:
Pancakes
1 cup gluten-free oats
1 teaspoon baking powder
¼ teaspoon salt
¾ teaspoon cinnamon
1 cup unsweetened applesauce
½ cup unsweetened vanilla almond milk
1 teaspoon vanilla extract
1 teaspoon honey (or maple syrup or agave nectar)
2 large egg whites (or 1 egg)
Salted peanut butter maple syrup
1½ tablespoons all natural creamy or chunky peanut butter
¼ cup pure maple syrup
coarse sea salt, for sprinkling on top
Directions: Place all pancake ingredients (oats, baking powder, cinnamon, salt, applesauce, almond milk, vanilla, honey, and egg white) into blender. Blend until the pancake batter is smooth and creamy. Pour into a bowl and let sit for a few minutes to thicken the batter up.
Heat a large nonstick skillet or griddle over medium heat and lightly coat with nonstick cooking spray or coconut oil. Drop batter by ¼ cup onto skillet. Cook until bubbles appear on top, about 2 minutes. Flip cakes and cook until golden brown on underside, 2 minutes. Wipe skillet clean, use more cooking spray if needed, and repeat with remaining batter.
To make peanut butter maple syrup, combine peanut butter and maple syrup together in medium bowl. Heat in microwave for 15-20 seconds or until warm. Stir and drizzle over pancakes. Top with just a tiny bit of sea salt. Enjoy!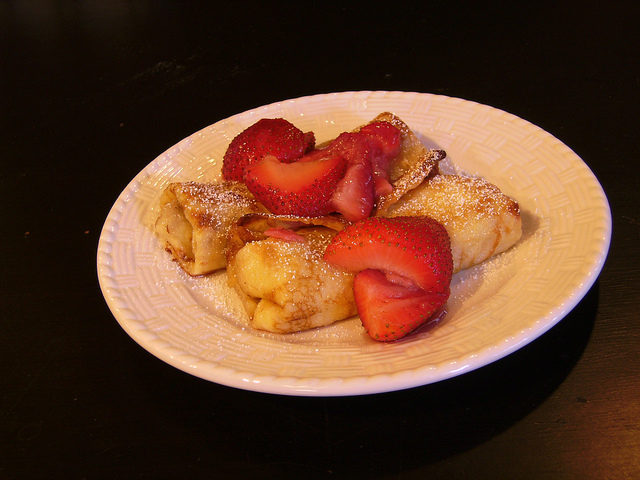 2. Gluten-Free Breakfast Blintzes
Blintzes are also a member of the pancake family. Like crepes, blintzes are thin and can be rolled up to secure a filling of your choice. Taste of Home's version is filled with cheese and then served with a fresh fruit topping and a sprinkling of sweet powdered sugar. The recipe makes nine servings.
Ingredients:
1½ cups fat-free milk
3 eggs
2 tablespoons butter, melted
⅔ cup gluten-free all-purpose baking flour
½ teaspoon salt
Filling
1 cup (8 ounces) 2 percent cottage cheese
3 ounces reduced-fat cream cheese
2 tablespoons sugar
¼ teaspoon almond extract
2¼ cups each fresh blueberries and raspberries
confectioners' sugar, optional
Directions: In a small bowl, combine the milk, eggs, and butter. Combine the flour and salt; add to milk mixture and mix well. Cover and refrigerate for 1 hour.
Coat an 8-inch nonstick skillet with cooking spray; heat over medium heat. Stir batter; pour 2 tablespoons into center of skillet. Lift and tilt pan to coat bottom evenly. Cook until top appears dry; turn and cook 15-20 seconds longer. Remove to a wire rack. Repeat with remaining batter, coating skillet with cooking spray as needed. When cool, stack blintzes with waxed paper or paper towels in between.
In a blender, cover and process cheeses until smooth. Add sugar and extract; pulse until combined. Spread a scant 1 tablespoonful onto each crepe. Fold opposite sides over filling, forming a little bundle.
Preheat an oven to 350 degrees Fahrenheit. Place seam side down in a 15-by-10-by-1-inch baking pan coated with cooking spray. Bake, uncovered, for 10-12 minutes or until heated through. Serve topped with berries and dust with confectioners' sugar if desired.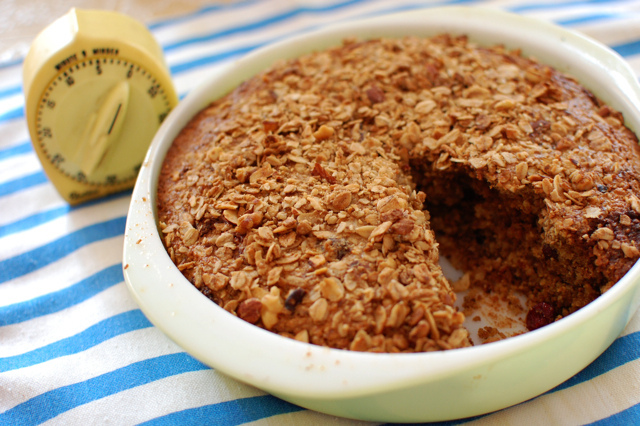 3. Date and Banana Quinoa Breakfast Bake
Food Faith Fitness threw this recipe together using ingredients that were on hand. The result was a gluten-free breakfast you can grab as you head out the door that is naturally sweetened and just the healthy start your day needs.
Ingredients:
Quinoa
1 cup uncooked quinoa
1 cup unsweetened vanilla almond milk
1 cup unsweetened regular almond milk
2-4 tablespoons honey, sweeten to taste
½ teaspoon cinnamon
¼ teaspoon salt
2 eggs, lightly beaten
½ cup water
Date filling
1 cup pitted dates, roughly chopped
1 cup water
1 tablespoon coconut sugar
Streusel
1 tablespoon and 1 teaspoon coconut oil, melted
2 tablespoons coconut sugar
¼ cup almond flour (you can grind ¼ cup of almonds in a food processor)
¼ cup slivered almonds
¼ teaspoon cinnamon
1 banana, sliced thick.
Directions: Preheat your oven to 350 degrees Fahrenheit and spray a pie plate with cooking spray. Set aside. To prepare the quinoa, combine the almond milk into a large pot over high heat and bring to a boil. Stir in the raw quinoa, honey, cinnamon, and salt. Cover and turn the heat down to low. Cook the quinoa until all the milk is absorbed and the quinoa is creamy, 25-30 minutes.
While the quinoa cooks, it's time to prepare the date filling. Heat a medium saucepan over high heat and add in the chopped dates, water, and 1 tablespoon coconut sugar. Bring the mixture to a boil and then turn down the heat to low and simmer until all the water is absorbed and the mixture is thick and broken down, about 15 minutes. Mash the date mixture with a fork until it is smooth. Set aside.
To make the topping, combine the coconut sugar, almond flour, slivered almonds, and cinnamon in a small bowl. Stir in the coconut oil and stir until it is evenly distributed and the mixture is crumble. Set aside. Once the quinoa is fully cooked, transfer it into a large bowl. Add in the 2 eggs and remaining ½ cup of water. Mix well. Your quinoa should be a little bit soupy.
Pour half the quinoa into the prepared pie plate. Drop the date filling over top of the quinoa in spoonfuls, gently swirling around with the back of the spoon until it is evenly distributed. Pour the remaining quinoa over top of the date mixture. Cover the top with the slices of the banana, gently pressing each slice down slightly into the quinoa. Sprinkle all the streusel topping over the bananas until they are all covered up. Bake until the eggs feel set and not jiggly, about 35 minutes. Let the mixture cool so that it can set completely before slicing. Devour!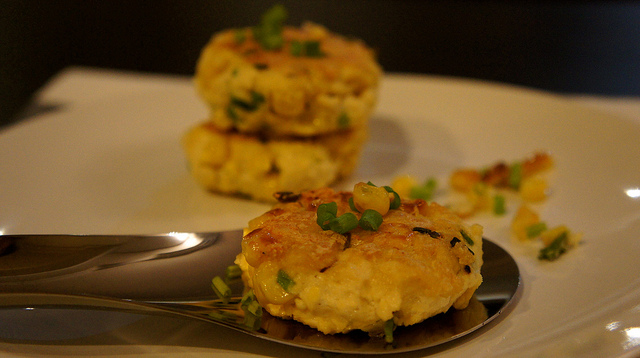 4. Corn and Avocado Fritters
Need to sneak in more vegetables at breakfast? Try the corn fitters from Give Recipe. The eggs will give you protein and plenty of energy for the day — you could also double up on the protein potential by eating them with Greek yogurt.
Ingredients:
2 eggs
4 tablespoons corn flour
½ teaspoon salt
1 avocado, diced
4 tablespoons boiled corn
3 tablespoons crumbled feta
½ cup sunflower oil
Directions: Beat eggs well. Add in corn flour and salt; mix them well. Fold in diced avocado, boiled corns, and feta. It will be like a thick cake batter.
Heat sunflower oil in a large skillet. Leave 1 tablespoon of the mixture in hot oil. Put as many as you can. Fry them until golden, about 30 seconds; flip them over and fry the other side. Serve warm or cold.
5. Polenta French Toast
If you've never tried cooking with polenta, this is the recipe you'll want to attempt. Gluten-Free on a Shoe String has created a French toast that has a crunchy exterior and a custard-like filling. Polenta firms as it cools, making it easy to cut into any shape you'd like. The recipe makes four to six servings and will keep well, and can be reheated and served the next day.
Ingredients:
1½ cups quick-cooking gluten-free polenta (e.g., de la Estancia brand)
4½ cups (36 fluid ounces) milk (any kind)
1 teaspoon ground cinnamon
1 teaspoon pure vanilla extract
2 tablespoons pure maple syrup
egg wash (1 egg beaten with 1 tablespoon water and 1 tablespoon milk)
crushed gluten-free corn flake cereal, for dredging
honey, for drizzling
Directions: Line a half-sheet (9 inches by 13 inches by 1 inch) pan with unbleached parchment paper and set aside. In a large, heavy-bottom pot, bring the milk, cinnamon, vanilla, and maple syrup to a boil over medium-high heat. Lower the heat to medium low. Add the polenta slowly, whisking constantly. Continue to whisk as the polenta cooks. Quick-cooking polenta generally takes about 1 minute to thicken. It is ready when the whisk leaves a very visible trail through the polenta.
Quickly pour the cooked polenta into the prepared half-sheet pan and smooth into an even layer with a wet spatula. Allow the polenta to cool to room temperature before covering with plastic wrap and placing in the refrigerator to chill until firm (about 30 minutes, or up to overnight).
Once the polenta has chilled, line another rimmed baking sheet with unbleached parchment paper and set it aside. Preheat your oven to 325 degrees Fahrenheit. Remove the chilled polenta from the refrigerator and invert it onto a cutting board. Remove the parchment paper and slice the polenta into 4-inch squares. Slice each square into two triangles. Dip each piece of polenta in the egg wash on both sides, then dredge through the crushed cereal, covering the polenta, both top and bottom and on the sides, with cereal. Place on the prepared baking sheet. Drizzle generously with honey.
Place in the center of the preheated oven and bake for about 15 minutes, or until crisp on the outside and lightly golden brown all over. Serve warm, with more honey to taste.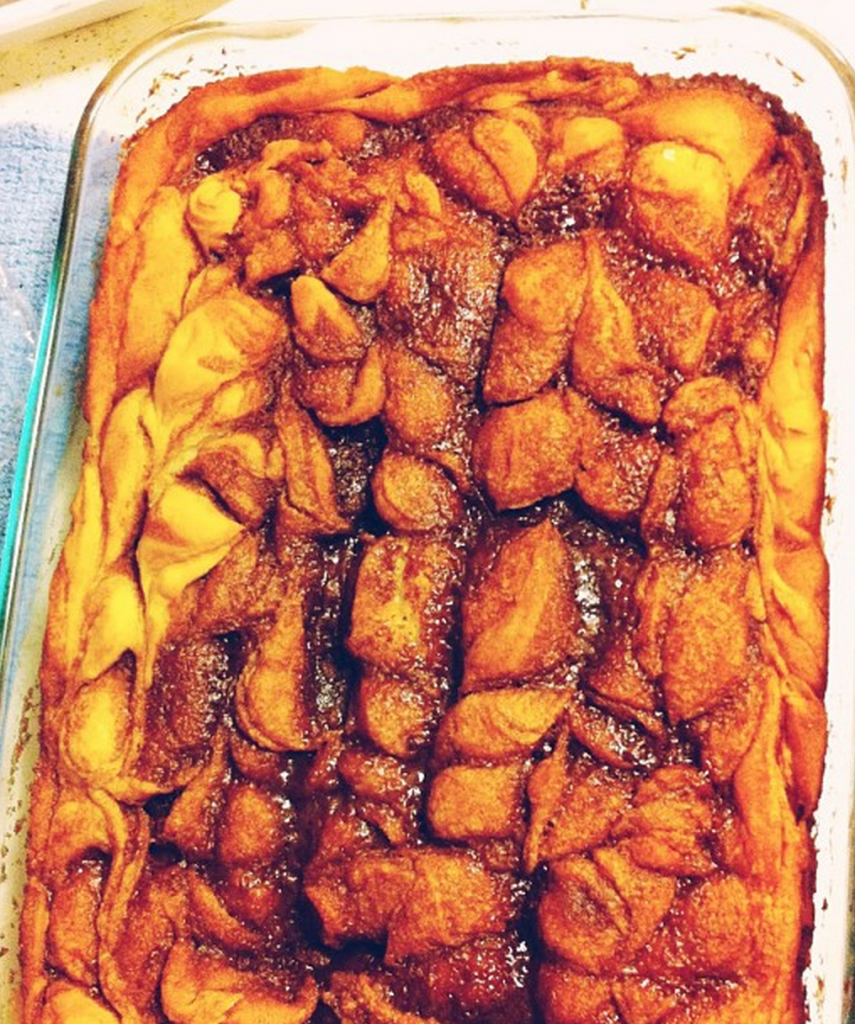 6. Cinnamon Roll Coffee Cake
Hello Gluten Free is responsible for creating any coffee cake obsessions this recipe might create. Delicious and as simple as you can imagine, this is what you need to make if you are craving cinnamon rolls but lack the time to make them.
Ingredients:
Batter
3 cups gluten-free flour blend
¼ teaspoon salt
1 cup sugar
4 teaspoons baking powder
1½ cup milk
2 eggs
2 teaspoons vanilla
½ cup butter, melted
Topping
1 cup butter (soft to the point that it's almost melted)
1 cup brown sugar
2 tablespoons gluten-free flour blend
2 tablespoons cinnamon
Glaze
2 cups powdered sugar
5 tablespoons milk
1 teaspoon vanilla
Directions: Preheat oven to 350 degrees Fahrenheit. Mix all the ingredients for batter in a large bowl, except for the melted butter. Once mixed, slowly add in butter. Pour into a 13-by-9-inch greased pan. (Batter will be thick and resemble cinnamon roll dough.)
For the topping, mix all "topping" ingredients until well combined. Drop onto batter evenly, then swirl with a knife. (The cake will now resemble monkey bread.) Bake for 35 minutes. Take the "glaze" ingredients and combine all ingredients until smooth. Drizzle over cake while still warm.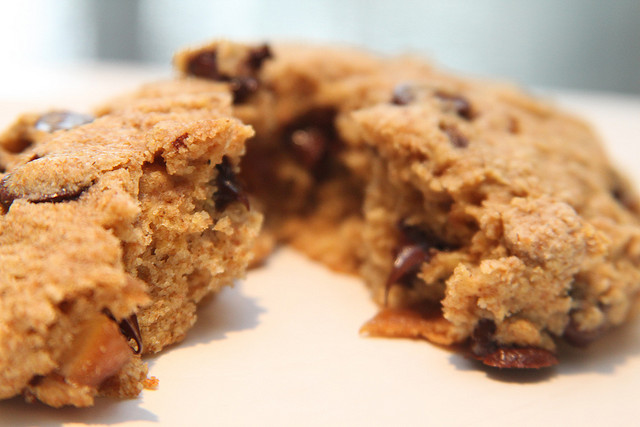 7. Orange Dark Chocolate Chip Scones
It's hard to imagine that scone making could be any easier than it is with this recipe from Elana's Pantry. Dark chocolate and oranges are lovely on their own, but baked into a scone makes them even better — especially for breakfast.
Ingredients:
2 cups blanched almond flour
¾ teaspoon baking soda
½ cup chocolate chunks
1 tablespoon orange zest
1 egg
3 tablespoons agave nectar or honey
Directions: Preheat oven to 350 degrees Fahrenheit. In a large bowl, combine almond flour, baking soda, chips, and orange zest. In a smaller bowl, combine egg and agave. Mix wet ingredients into dry.
Knead dough with hands if necessary to ensure proper distribution of ingredients. Form dough into a circle that is about ½ inch thick. Cut dough like a pizza, into eight slices. Using a metal baking spatula, transfer to a parchment paper-lined baking sheet. Bake for 10-15 minutes. Serve.
More From Wall St. Cheat Sheet: