7 Grilled Chicken Recipes That Will Make You a Grill Master
Summer is the season of sun, fun, and cracking open a few beers. It's also the season for firing up the grill as often as possible. In honor of our favorite way to cook during warm-weathered months, we're bringing you our Grill Master series where we'll highlight a different category of food to sizzle up over the grates each week. Follow along to learn everything you've ever wanted to know about cooking over open flames.
Chicken stars in all sorts of classic favorites from warming soup to a whole bird right out of the oven. It's particularly great for grilling, because the char delivers an impressive amount of flavor to the sometimes bland protein. It's also a great choice for those on a budget, because the bone-in pieces are some of the least expensive meat you'll find at the store. Buy a whole chicken and you'll save even more. Learn how to cut it yourself with this simple method from America's Test Kitchen. These seven recipes feature every part of the bird, so you'll be eating like a grilling king no matter what cut you're using.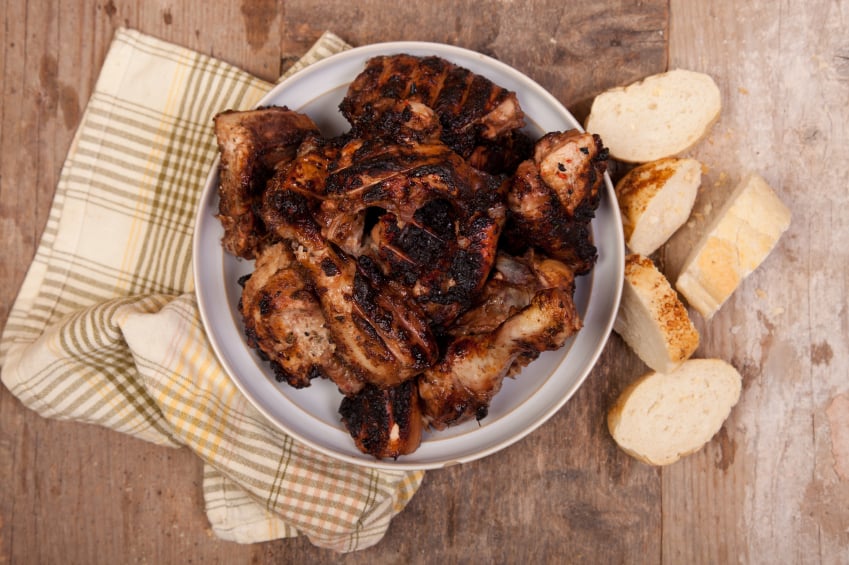 1. Caribbean Jerk Chicken
Heat seekers will be licking their fingers in delight after a bite of Food & Wine's jerk chicken. While the ingredient list is long, it's really just a matter of throwing all of the marinade ingredients in a food processor, then rubbing the purée all over some chicken pieces. Once coated, just pop the chicken in the refrigerator overnight.
This recipe uses Scotch bonnet chiles, so it's definitely for those who love heat. This handy chart gives you an idea of just how fiery these bright beauties really are. If you're not quite as adventurous, you can swap in a tamer chile to bring the heat level down.
Ingredients:
8 scallions, chopped
4 large garlic cloves, chopped
3 Scotch bonnet chiles, chopped
1 small onion, chopped
¼ cup dark brown sugar
2 tablespoons chopped fresh thyme
2 tablespoons ground allspice
Salt
1¼ teaspoons freshly grated nutmeg
1 teaspoon cinnamon
½ cup white vinegar
¼ cup soy sauce
¼ cup fresh lime juice
¼ cup fresh orange juice
¼ cup vegetable oil
3 (4-pound) chickens, each cut into 8 pieces
Freshly ground black pepper
Directions: In a food processor, combine all ingredients except for chicken. Blend until smooth. Put chicken in a large bowl and pour marinade on top. Toss to coat. Cover and refrigerate chicken overnight.
Heat a grill to medium-high heat. Remove chicken from marinade, leaving a coating on exterior. Grill, turning often, until skin is nicely charred and chicken is cooked through, about 30 minutes. Serve.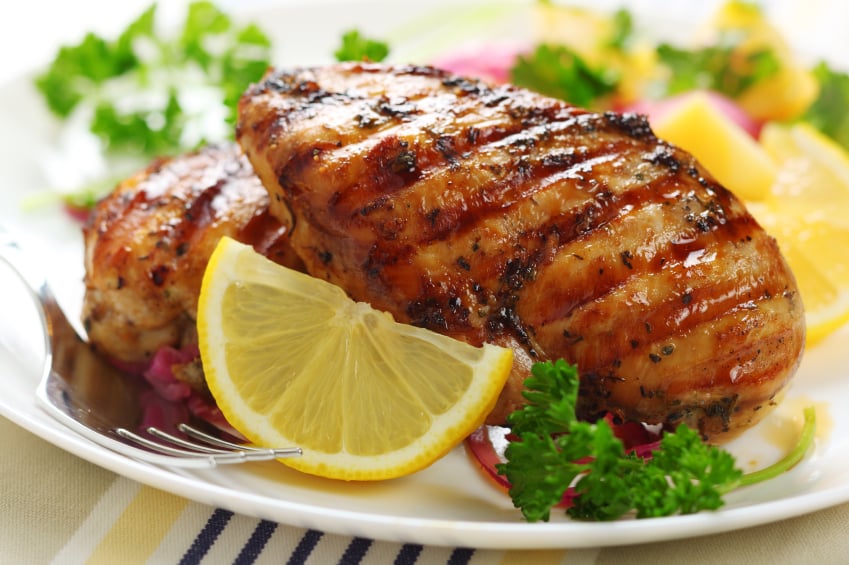 2. Grilled Chicken Piccata
Typically a sautéed dish, chicken piccata gets even better when it meets the hot grates outside. Clinton Kelly's rendition, featured on The Chew, packs all the flavor of the Italian classic into a fresh dish for summer. Instead of a buttery sauce spiked with lemon and capers, you'll use a citrus marinade and replace the sauce with a bright gremolata.
This recipe includes a side of quinoa with chickpeas and arugula, but you can skip it and cook up something else right on the grill. Try asparagus, green beans, or thick slices of zucchini. You can also char up some bread, rub with a cut clove of garlic, and drizzle with olive oil for a really fast garlic bread.
Ingredients:
Chicken
2 lemons, juiced, and zested, zest divided
4 chicken breasts, pounded thin
½ teaspoon salt
Freshly ground black pepper
2 tablespoons extra-virgin olive oil
¼ cup chopped flat leaf parsley
1 garlic clove, minced
1 tablespoon finely chopped capers
Salad
2 cups cooked quinoa
1 cup arugula
¼ cup canned chickpeas, drained
½ red onion, finely chopped
¼ cup extra-virgin olive oil
1 lemon, juiced
1 teaspoon Dijon mustard
1 teaspoon honey
Directions: Preheat grill to high. In a medium bowl combine juice of two lemons, zest of one lemon, salt, a bit of black pepper, and 2 tablespoons olive oil. Pour over chicken, and let marinate no more than 10 minutes.
Grill chicken until cooked through, 3 to 4 minutes per side. Chop remaining lemon zest, parsley, garlic, and capers to combine. Set gremolata aside.
In a large bowl, whisk juice of one lemon, honey, mustard, and ¼ cup olive oil. Season with salt and pepper, to taste. Toss quinoa, chickpeas, arugula, and onion with dressing. Serve with chicken and gremolata.
3. Beer-Can Chicken
What once seemed like a bizarre idea has become a cookout classic. Crack open a can of your favorite brew and use it as both a stand and flavoring agent for a whole chicken with Epicurious' easy recipe. All you have to do is season the bird with a 4-ingredient rub, prop it on a can, then throw it on a covered grill. In less than an hour, you'll have one of the juiciest chickens you've ever tasted. You might never go back to roasting your meat in the oven.
Ingredients:
1 (12-ounce) can light lager
1 (3½- to 4-pound) chicken
2 tablespoons 4-3-2-1 Spice Rub
Directions: Pour out, or drink, half of beer. Prepare grill for high heat and fit with a grill pan. If using a charcoal grill, arrange coals on one side and put empty drip pan on empty side. For a gas grill, leave one burner off, and place a drip tray over unlit portion. Add ½ inch of water to empty drip pan.
Season chicken with spice rub. Set chicken on top of the can, then place on grill over indirect heat above drip pan. Grill, covered, until cooked through, 45 minutes to 1 hour. An instant-read thermometer inserted into thickest portion of the thigh will register 165 degrees Fahrenheit when done. Let chicken rest 10 minutes. Carve, and serve with any accumulated drippings.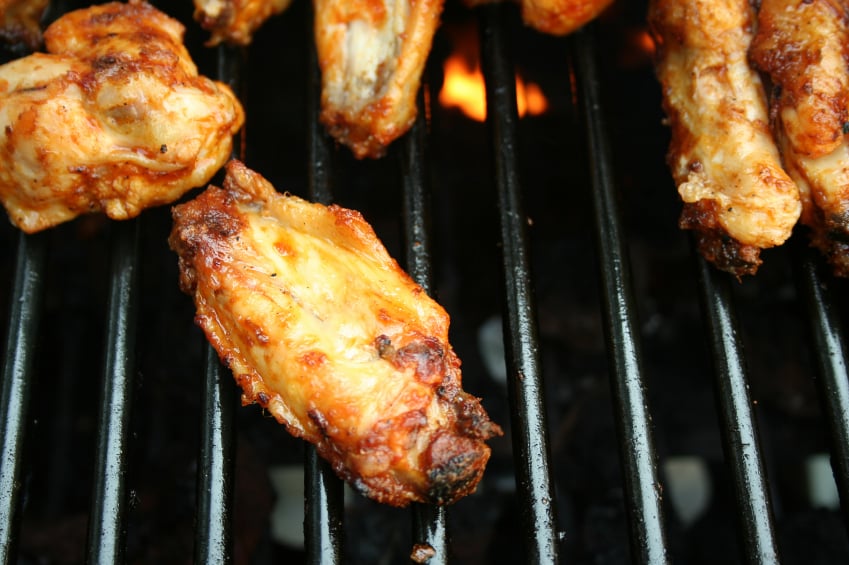 4. Grilled Maple-Mustard Chicken Wings
Chicken wings might seem more appropriate for football season, but not when you give them this summer makeover from Chow. The sweet and savory sauce is made from ingredients you likely have in your pantry that you might not have thought to combine before. Once cooked, the sauce turns into a sticky glaze that makes these wings positively addictive.
If you've never tried grilling wings before, you're in for a treat. The skin will still get nice and crispy, but you don't have to deal with tons of messy oil. And cleanup is as simple as giving the grates a good brushing once you're finished.
Ingredients:
1 tablespoon kosher salt
1 teaspoon freshly ground black pepper
⅛ teaspoon cayenne pepper
3 pounds chicken wings, drumettes separated from flats, wing tips discarded
⅓ cup maple syrup
¼ cup Dijon mustard
2 tablespoons whole-grain mustard
1 tablespoon cider vinegar
2 teaspoons soy sauce
Directions: Combine salt, pepper, and cayenne in a container with a tight-fitting lid. Add chicken, and toss until evenly coated. Close container, and refrigerate 30 minutes, up to 2 hours.
Whisk maple syrup, mustards, vinegar, and soy sauce in a small, non-reactive bowl to combine.
Heat an outdoor grill to medium-high heat. When ready, use tongs to rub grates with several layers of paper towels dipped into vegetable oil. Place wings on grate in one layer, separating from one another. Cover grill, and cook, flipping occasionally, until skin is no longer raw, about 10 minutes. Brush with sauce, and continue to cook, flipping, and basting, until wings are golden, and cooked through, 10 to 15 minutes longer. Serve.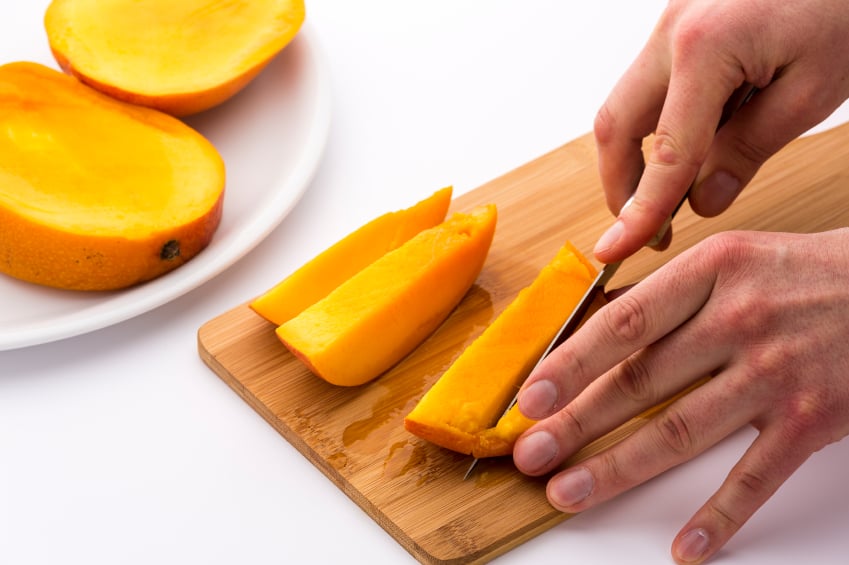 5. Chipotle Mango Barbecue Chicken
If you want to update standard barbecued chicken, you'll love the addition of some tropical fruit. Guy Fieri's mango-laced version, featured on Food Network, has the same sweet tang plus a kick of spicy chipotles. Just purée the fruit, chiles, cilantro, garlic, and a little bit of vinegar in the food processor to make a fast sauce. It does double duty as a marinade as well as a finishing sauce. Make a double batch and save extras for pork or fish.
Ingredients:
1½ cups mango, peeled, pitted, and chopped
¾ cup fresh cilantro leaves
2 tablespoons fresh lemon juice
2 tablespoons unseasoned rice wine vinegar
1 tablespoon canola oil, plus more
4 garlic cloves, peeled
2 chipotle peppers in adobo, plus 1 tablespoon adobo sauce
2 teaspoons kosher salt
1 teaspoon freshly cracked black pepper
2 pounds bone-in, skin-on chicken thighs and drumsticks
Directions: Purée mango, cilantro, lemon juice, vinegar, 1 tablespoon oil, garlic, chipotle, salt, and pepper in food processor. Season with salt, to taste.
Add chicken to a zip-top plastic storage bag with half of mango sauce, and massage to coat. Refrigerate at least 6 hours.
Place other half of sauce into a small saucepan, and simmer over low heat until thick, stirring frequently, about 15 minutes. Set some of sauce aside to serve, and use rest to baste chicken.
Preheat grill to medium-high heat, and brush with oil. Remove chicken from marinade, and grill, turning, and basting every 5 minutes. Continue cooking and basting until cooked through, 20 to 25 minutes. Serve with reserved sauce.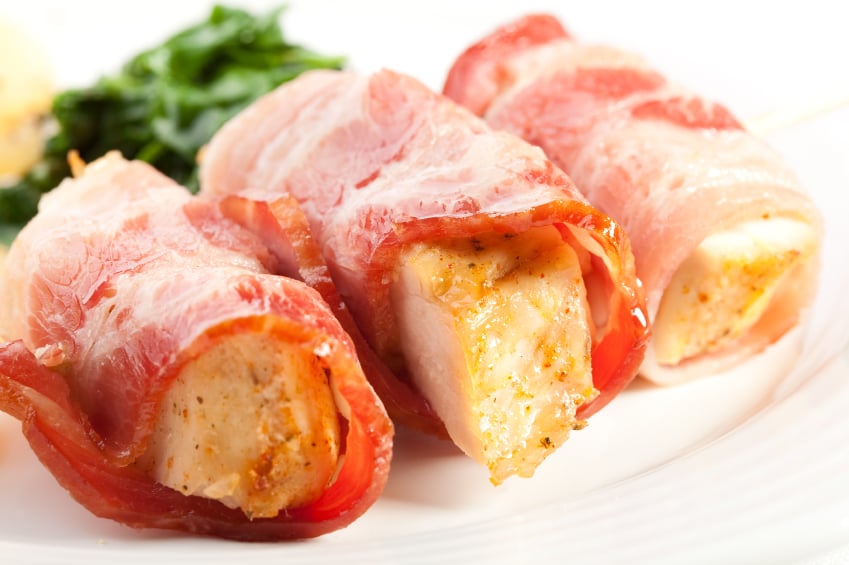 6. Bacon-Wrapped, Jalapeño Popper-Stuffed Grilled Chicken Breasts
Grilled chicken breasts are a favorite among health-food fanatics. The lean meat can dry out pretty fast when it's off the bone, though. Give your chicken loads more flavor and keep them really moist by stuffing them with a creamy and spicy filling, and wrapping them with a little bit of bacon. This recipe from Serious Eats shows you how to do it at home. It's definitely not diet food, but it makes a nice treat for entertaining.
Ingredients:
1 (8-ounce) package cream cheese
½ cup sour cream
1 garlic clove, minced
1 (4-ounce) can fire-roasted, chopped jalapeños
½ cup finely grated Parmesan cheese
Kosher salt and freshly ground black pepper
4 boneless, skinless chicken breast halves
4 slices thick-cut bacon
Directions: Mix cream cheese, sour cream, garlic, chiles, and Parmesan to combine in a small bowl. Season with salt and pepper, to taste.
Using a sharp knife, butterfly each chicken breast halve, slicing along length of breast, and working parallel to edge of cutting board. Slice until almost all the way through, and open chicken breast like a book. Cover with plastic wrap, and use a meat mallet to pound until ¼-inch thick. Repeat with all chicken. Fill each with 2 tablespoons of filling, leaving a ¼-inch border around edges. Roll breast lengthwise, then wrap with a strip of bacon. Tie in ¾-inch intervals with kitchen twine to secure. Season with salt and pepper.
Prepare grill from medium-high heat. Allow to heat at least 5 minutes. Clean and oil grilling grate.
Place chicken on grates over empty portion of grill. Turn chicken while cooking, to avoid flare-ups. When nearly finished, move chicken directly over coals for a final sear, until bacon is crisped. Chicken is cooked when an instant-read thermometer reaches 155 degrees Fahrenheit. Let chicken rest at least 5 minutes. Remove twine. Serve.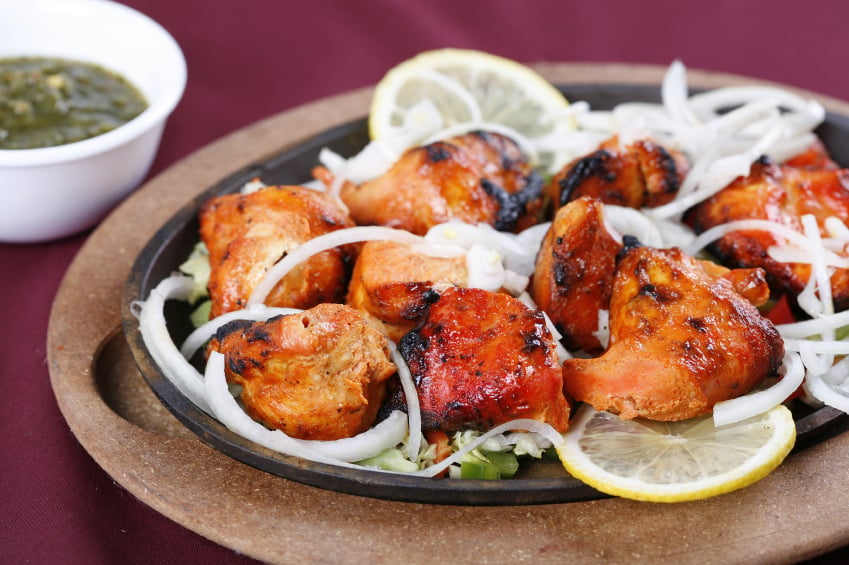 7. Grilled Chicken Thighs Tandoori
This favorite Indian dish is named for the cylindrical oven that's traditionally used to cook the meat. Fortunately, you can get the same taste without having to purchase one of those behemoths. This version from Allrecipes.com marinates the chicken thighs in a heavily spiced yogurt before tossing them on the grill. Though this recipe is full flavored, it's not the type of spice that will set your mouth on fire. That makes it a great option for entertaining people with a range of palates.
This dish is great served with some simple steamed rice and veggies, but we like going all out. Char some naan or pita on the grill while the chicken rests, make plenty of veggie skewers, and serve with condiments like chutney and raita.
Ingredients:
2 (6-ounce) containers plain yogurt
2 teaspoons kosher salt
1 teaspoon black pepper
½ teaspoon ground cloves
2 tablespoons grated fresh ginger
3 garlic cloves, minced
4 teaspoons paprika
2 teaspoons ground cumin
2 teaspoons ground cinnamon
2 teaspoons ground coriander
16 bone-in, skin-on chicken thighs
Olive oil spray
Directions: In a medium bowl, combine yogurt, salt, pepper, cloves, and ginger. Add garlic, paprika, cumin, cinnamon, and coriander, and mix to blend. Set aside. Rinse chicken, and pat dry with paper towels. Place in a large food storage bag, and pour in marinade. Press out air, and seal. Turn to coat, and refrigerate at least 8 hours, or overnight.
Preheat grill for indirect, medium heat. Remove chicken from bag, and wipe off excess marinade with paper towels. Spray lightly with cooking spray and set on grill. Cook over direct heat about 2 minutes, flip, and cook another 2 minutes. Then arrange chicken to cook over indirect heat, and cook 35 to 40 minutes, until cooked through. Serve.
More from Life Cheat Sheet:
Want more great content like this? Sign up here to receive the best of Cheat Sheet delivered daily. No spam; just tailored content straight to your inbox.