7 Healthy Crust Recipes Pleasing Pie Lovers' Palates
Pie crusts add light, crisp, and flaky flavors to your desserts. Unfortunately, they often come at an unhealthy price, especially if you purchase pre-made versions. Food Network's Healthy Eats explains that packaged pie crusts often contain hydrogenated oils and lard, in addition to butter, which is packed with saturated fat. Luckily, you don't have to settle for unhealthy store-bought versions. Instead, you can prepare a homemade pie crust that uses healthy grains, flours, and oils. Whether you're looking for a traditional crust, one that's made from graham crackers, or one that contains almonds or quinoa, these seven recipes prove that desserts can be diet-friendly and still taste good.
1. The Healthy Pie Crust
Whole-wheat pastry flour, unbleached flour, natural corn oil, salt, and water are all you need to make VeganMania.com's recipe for Healthy Pie Crust via Food.com. The recipe, which yields 8 pie slices, creates a crust that only contains 141 calories, 7.2 grams of fat, and 20.2 milligrams of sodium per serving.
Ingredients:
¾ cup whole-wheat pastry flour
¾ cup unbleached flour
¼ cup natural corn oil
1 pinch salt
½ cup ice water
Directions: Stir the flours together in a small bowl and freeze for one hour. Freeze the oil in a separate container for an hour also. Remove both from freezer and mix the oil into the flour until it makes a crumbly dough. Stir the salt into the ice water and mix the water into the dough, mixing only enough to bind the dough. If it's too dry, add more water, a little at at time. Press the ball of dough into the pie pan.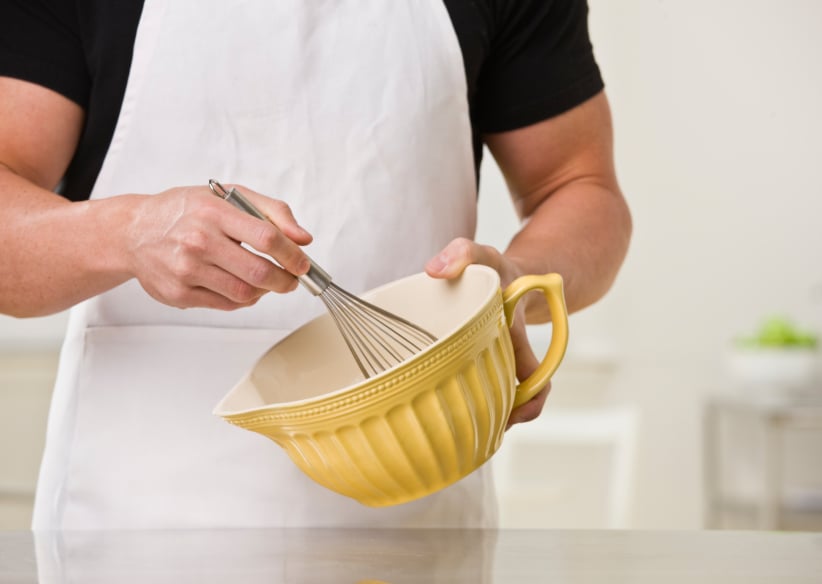 2. All-Purpose Pie Crust
Eating Well gives pie crust a nutritious makeover by using whole-wheat pastry flour, reduced-fat sour cream, and canola oil. The recipe yields two 9-inch pies, so feel free to store the other one in the freezer; it'll keep for up to six months.
Ingredients:
1¼ cups whole-wheat pastry flour
1¼ cups all-purpose flour
2 tablespoons sugar
½ teaspoon salt
4 tablespoons cold unsalted butter
¼ cup reduced-fat sour cream
3 tablespoons canola oil
4 tablespoons ice water
Directions: Whisk whole-wheat flour, all-purpose flour, sugar, and salt in a large bowl. Cut butter into small pieces and, with your fingers, quickly rub them into the dry ingredients until the pieces are smaller but still visible. Add sour cream and oil; toss with a fork to combine with the dry ingredients. Sprinkle water over the mixture.
Toss with a fork until evenly moist. Knead the dough with your hands in the bowl a few times;the mixture will still be a little crumbly. Turn out onto a clean surface and knead a few more times, until the dough just holds together. Divide the dough in half and shape into 5-inch-wide disks. Wrap each in plastic and refrigerate for at least 1 hour.
3. Healthier Pie Crust
Oats and shredded coconut create a pie crust that is subtly sweet and packed with health benefits. Eat More Oats explains that oats reduce high blood pressure, make you feel full for a longer period of time, and contain dietary fiber and phytochemicals. The best part? AllRecipes.com's crust can be made in less than 20 minutes and only requires five ingredients.
Ingredients:
¾ cup quick cooking oats
¾ cup all-purpose flour
¼ cup shredded coconut
¼ cup vegetable oil
2 tablespoons ice water
Directions: Preheat oven to 425 degrees Fahrenheit. In a medium bowl, mix together oats, flour, and coconut. Stir in oil and water. Press dough into a 9-inch pie pan. Bake in preheated oven for 12 minutes, until lightly browned.
4. Canola Oil Pie Dough
Food Network's Canola Oil Pie Dough is tender, slightly crunchy, and packed with heart-healthy benefits. Web MD notes that canola oil has less saturated fat than any other commonly used oils and is high in the omega 3 fatty acid alpha-linolenic acid. This fatty acid may help protect your heart by having positive effects on your blood pressure, cholesterol, and inflammation.
Ingredients:
2 cups unbleached white flour
½ teaspoon salt
½ cup canola oil
5 to 8 tablespoons cold water
Directions: Combine flour and salt in a medium bowl. Mix the oil and 5 to 6 tablespoons of the water in another bowl. Make a well in the center of the flour mixture and pour in the oil mixture. Mix with a fork until just combined, about 30 seconds. If it doesn't combine immediately, add 1 to 2 more tablespoons water. Divide into two balls. Chill or roll out between two sheets of waxed paper.
5. Graham Cracker Crust
Thanks to Cooking Light, you can prepare a sweet crust that calls for less butter and sugar than standard recipes. This crust takes a little more time to prepare, but it's worth it! Its sweet flavors and crumbly texture will create a pie that's unbelievably divine.
Ingredients:
40 graham crackers (10 cookie sheets)
2 tablespoons sugar
2 tablespoons butter, melted
1 large egg white
Cooking spray
Directions: Preheat oven to 350 degrees Fahrenheit. Place crackers in a food processor; process until crumbly. Add sugar, butter, and egg white; pulse 6 times or just until moist. Press crumb mixture into a 9-inch pie plate coated with cooking spray. Bake at 350 degrees for 8 minutes; cool on a wire rack 15 minutes.
6. Paleo Pie Crust
Looking for a healthy crust that doesn't contain added sweeteners or artificial ingredients? Elana's Pantry's Paleo Pie Crust, which consists of almond flour, sea salt, coconut oil, and eggs, is just what you need! A Demand Media article via SFGate notes that that blanched almond flour is gluten-free, low in carbohydrates, high in fiber, and a great source of protein. In addition, it contains iron, riboflavin, magnesium, potassium, calcium, and vitamin E.
Ingredients:
2 cups blanched almond flour
¼ teaspoon celtic sea salt
2 tablespoons coconut oil
1 egg
Directions: Preheat the oven to 350 degrees Fahrenheit. Place flour and salt in food processor
 and pulse briefly. Add coconut oil and egg and pulse until mixture forms a ball. Press dough into a 9-inch pie dish. Bake at 350 degrees for 8 to 12 minutes.
7. Quinoa Pie Crust
Thanks to Healthy Makes It Happen and quinoa, you can enjoy a dessert that's heavenly and healthy. This recipe, which was adapted from 84thand3rd, creates a tender crust that is grain-free, sugar-free, and high in protein.
Ingredients:
Dry:
¼ cup quinoa flour
⅛ teaspoon baking soda
Tiny pinch of salt
Sweetener, optional
Wet:
   1 tablespoon coconut oil
   2 teaspoons water
   ½ teaspoon vanilla extract
Directions: Preheat the oven to 350 degrees Farenheit. Mix dry ingredients. Add the coconut oil to the middle of the flour mixture and pour the water and vanilla over the coconut oil. Chop the coconut oil into the flour until it's combined. The dough should be crumbly. Pour the dough into a pan. Press into desired form. Bake until edges and center has turned slightly golden, about 10 minutes.
More from Life Cheat Sheet:
Want more great content like this? Sign up here to receive the best of Cheat Sheet delivered daily. No spam; just tailored content straight to your inbox.