7 Homemade Coffee Cake Recipes
Arguably one of the most enjoyable morning delights is a cup of coffee paired with a pastry. Breakfast breads, cinnamon buns, coffee cakes — you name it, people like to sip their coffee with it, and the craving for early sweets becomes particularly severe when the warm weather rolls in, and more and more people partake in outdoor breakfasts, brunches, and holiday gatherings.
Coffee cake is a simple treat that can't only be mastered by bakeries or pastry shops — it also can come right out of your own oven. With these highlighted recipes, you're guaranteed to enjoy some caffeine-fueled success. Start brewing your coffee to have alongside these treats and thank us later.
1. Lemon and Blueberry Coffee Cake With Lemon Drizzle
This recipe for a Lemon and Blueberry Coffee Cake via Greens & Chocolate practically screams spring, and we can almost taste the fresh seasonal flavors from here. This tasty and aesthetically pleasing cake is the perfect treat to impress guests or just your family members on a quiet Saturday morning, and because it's yeast-free, the breakfast delicacy comes together quickly. Lemons and blueberry flavors never fail to perfectly complement each other, and in this cake, they really can do no wrong.
Ingredients:
Cake
2 cups all-purpose flour
1 1/2 teaspoons baking powder
1/2 teaspoon salt
1/2 cup (1 stick) butter, at room temperature
3/4 cup sugar
2 large eggs
1 teaspoon pure vanilla extract
1 tablespoon lemon zest (zest from 1 lemon)
1/2 cup buttermilk
2 cups blueberries (I used frozen)
Drizzle
1- 1 1/2 cups powdered sugar
juice from 1 lemon
Directions: Preheat oven to 350 degrees Fahrenheit. Lightly spray a 9×9 baking dish with cooking spray. In medium bowl, combine flour, baking soda, and salt. Mix to combine and set aside.
In large bowl with electric mixer, beat together butter and sugar until light and fluffy, about 1 to 2 minutes. Add eggs, one at a time. Add vanilla, lemon zest, and buttermilk, beating until combined. Slowly add in flour, mixing until just combined. Fold in blueberries. Pour into prepared pan and bake in preheated oven for 40 to 45 minutes, until toothpick comes out of the middle clean. Let cool for 15 minutes.
To make the drizzle, whisk together 1 cup powdered sugar and lemon juice and add more powdered sugar until desired consistency is reached. Drizzle over warm coffee cake. Slice and enjoy!
2. Coconut Chai Coffee Cake
This Coconut Chai Coffee Cake from Eat Live Run is also the perfect way to ring in spring. Many people routinely sip chai tea or chai lattes in the morning, but what they don't realize is that their favorite flavor can also be infused in decadent pastries. Combine the right spices, and your coffee cake flavor will perfectly complement your hot beverage of choice. Go chai crazy!
Ingredients:
Streusel
1/2 cup butter, melted
1/2 cup flour
3/4 cup brown sugar, packed
1 cup unsweetened flaked coconut
1 teaspoon ground cardamom
1 teaspoon black pepper
1/2 teaspoon ground ginger
1/4 teaspoon ground cloves
1/2 tsp salt
Cake
2 cups flour
1 1/2 teaspoons baking powder
1/2 teaspoon baking soda
1/2 teaspoon salt
1 1/2 cups brown sugar, packed
1/2 cup butter, room temperature
1 cup sour cream
2 eggs
1 teaspoon vanilla
Directions: Preheat oven to 350 degrees Fahrenheit. Coat a 9-inch springform pan with butter and flour. Set aside.
Combine all streusel ingredients in a small bowl and mix until clumpy and well incorporated. Place in the fridge until you're ready to use. To make the cake, whisk together the flour, baking powder, baking soda and salt in a large bowl. Cream together the brown sugar and the butter in another bowl using an electric mixer. Add the sour cream and mix well, then add the eggs and vanilla and blend until combined.
Add the dry ingredients to the wet ingredients and mix until just combined, then transfer the batter into your prepared pan and spread evenly. Remove the streusel from the fridge and scatter it on top of the cake, pressing gently so it adheres to the batter. Bake the coffee cake for 50 to 55 minutes. Transfer to a rack and let cool for 20 minutes before slicing and serving.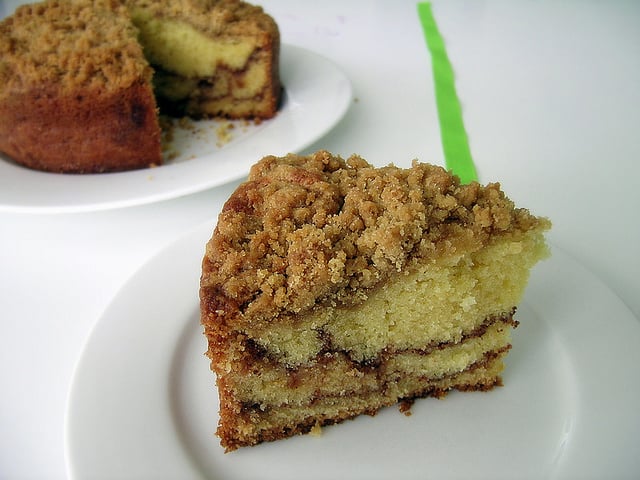 3. Super Crumb Coffee Cake
If you're a crumb lover, go with this option, because when it comes to this indulgence from Sally's Baking Addiction, it's more about the crumb than the cake. That's the best part anyways, right? This recipe gets the formula right and ensures you'll have a decadent streusel to top off your morning cake. A coffee cake without crumbs is a like a cake without icing.
Ingredients:
1 tablespoon flour, for coating the pan
2 cups all-purpose flour
1 cup + 2 tablespoons granulated sugar
1 teaspoon salt
10 Tablespoons (1 and 1/4 stick) unsalted butter, lightly softened (still cool to touch)
1 teaspoon baking powder
1/2 teaspoon baking soda
3/4 cup buttermilk, at room temperature
1 large egg, at room temperature
2 teaspoons vanilla extract
2/3 cup brown sugar
2 teaspoons ground cinnamon
Directions: Preheat oven to 350 degrees Fahrenheit. Generously spray a 9-inch springform pan with cooking spray or grease with butter. Sprinkle the bottom of the pan with 1 tablespoon of flour and tap out the excess.
Whisk the flour, sugar, and salt together in a large mixing bowl until combined. Cut in the butter in very small pieces. Whisk around with a whisk or mix with a fork until the mixture resembles coarse crumbs. Set aside 1 cup of the flour mixture.
Mix the baking powder and baking soda into the remaining flour mixture. Add the room temperature buttermilk, egg, and vanilla — you may want to do this with a mixer. The batter is very, very thick. Vigorously mix everything together until the batter is smooth, fluffy, and resembles frosting — about 2 full minutes. Spoon the batter into the prepared springform pan, smoothing the top.
Add the brown sugar and cinnamon to the reserved flour mixture. Toss with a fork until well blended. Sprinkle the crumbs over the batter, pressingly lightly so they stick. Bake the cake until the center is firm and a toothpick inserted in the center comes out clean, 50 to 58 minutes. Allow to cool for 10 minutes, then remove the sides of the springform pan and allow cake to cool completely before serving (about 2 hours).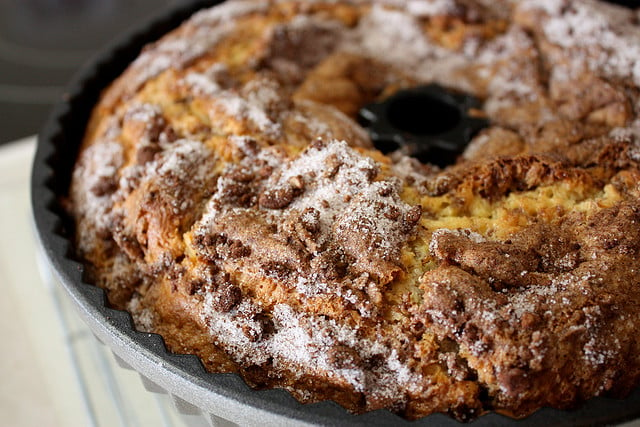 4. Apple Cinnamon Coffee Cake
Mmm, can you smell it from here? This Apple Cinnamon Coffee Cake from Broma Bakery simply screams quiet Saturday morning. The Apple Cinnamon flavor on its own is hard to turn down, and when made into a coffee cake, it's just about irresistible.
Ingredients:
Cake
3 cups flour
1 1/2 cups sugar
2 teaspoons vanilla
1 1/2 teaspoons baking powder
1 1/2 teaspoons baking soda
1 teaspoon salt
2 eggs
2 cups plain yogurt
1 stick butter
2 green apples, peeled, cored, and thinly sliced (about 1/4 centimeter thick)
Swirls
3/4 cup brown sugar
1 tablespoon cinnamon
Directions: Preheat oven to 375 degrees Fahrenheit. In a small bowl, mix together with a fork the brown sugar and cinnamon. Set aside.
In a large microwavable bowl, melt the butter until soft. Add sugar first, then eggs, vanilla, baking powder and soda, yogurt, and salt. Once mixed, add the flour in batches, making sure to stir between additions.
Butter and flour a large bundt pan. Pour in half of the batter and sprinkle half of the swirlies mixture over it. Using a fork, push in swirlies to integrate them into the batter. Place half of the apple slices over the batter. Repeat with the second half of the batter, sprinkling almost all of the swirlies (leave 2 tablespoons) over the top and then place the remaining apple slices on top. Sprinkle the remaining swirlies over the apple slices. Bake for about 40 minutes or until knife comes out clean when inserted into cake. Eat it right out of the oven, or let cool and refrigerate for days!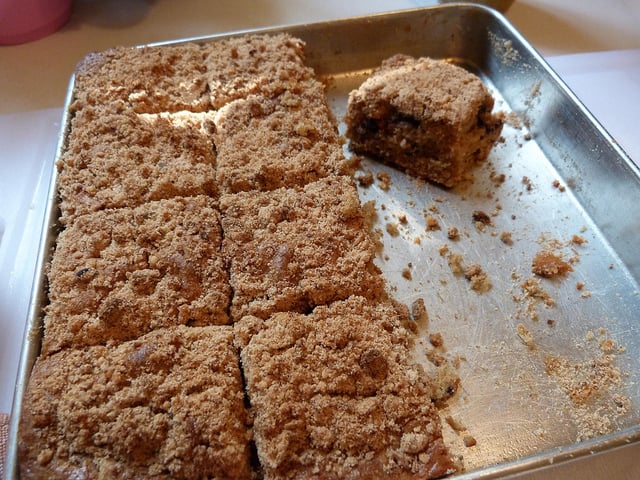 5. Sour Cream Coffee Cake
There's also the option of going the traditional route and putting this Sour Cream Coffee Cake in the oven the next time the opportunity presents itself. Gimme Some Oven provides the recipe for this tried-and-true cake that easily elicits memories of slow Saturday mornings and decadent breakfasts, and after you make it once, you'll find yourself making it again and again.
Ingredients:
Cake
1/2 cup (1 stick) butter, room temperature
1 cup sugar
2 eggs
2 cups flour
1 teaspoon baking soda
1 teaspoon baking powder
1/2 teaspoon salt
1 (12-ounce) container of sour cream (I use reduced-fat)
1 teaspoon vanilla extract
Topping
1 teaspoon cinnamon
1/4 cup sugar
1/4 cup brown sugar
1 cup chopped pecans or walnuts (optional)
Directions: In a mixer, cream together butter and sugar. Add eggs to the mixture, one at a time, beating well after each addition.
In a separate bowl, stir together the flour, baking soda, baking powder, and salt. Add the dry ingredients to the creamed mixture alternately with the sour cream and vanilla. Mix until combined.
Then pour half of the batter into a greased 9 by 13 baking pan, and sprinkle with half of the topping. Add the remainder of the batter on top, and sprinkle with the remaining topping. Bake at 350 degrees Fahrenheit for 30 to 35 minutes, until a toothpick inserted in the middle of the cake comes out clean.
6. Strawberry Coffee Cake
Taking a nod from the changing seasons, we come to this Strawberry Coffee Cake from Take a Megabite next. Yum. Get to the grocery store immediately and grab your strawberries. Sure, they are many berry recipes swirling around the Interwebs now that spring has been rung in, but we promise this A.M. cake will be a showstopper. Starbucks's stale baked goods will have nothing on you.
Ingredients:
Cake
1 3/4 cups bread flour
2 1/4 teaspoon active dry yeast
1/4 cup sugar
1/2 teaspoon ground nutmeg
1/4 teaspoon salt
1/3 cup milk
1/3 cup water
2 tablespoon shortening
1 egg
1/2 cup of strawberry, peach or apricot preserves
Topping
1/2 cup sugar
1/2 cup flour
1/4 cup flaked coconut
1/2 teaspoon cinnamon
2 tablespoon butter, melted
Directions: In large mixer bowl, combine 1 cup flour, yeast, sugar, nutmeg and salt; mix well. In saucepan, heat milk, water and shortening until warm (120-130 degrees Fahrenheit). Add to flour mixture. Add egg. Blend at low speed until moistened; beat 3 minutes at medium speed. By hand, gradually stir in remaining flour to make a stiff batter. Spread in greased 9-inch square cake pan.
Combine all topping ingredients. Set aside. Spread preserves over batter; sprinkle with topping. Cover; let rise in warm place until double, about 45 minutes. Bake in preheated 350 degrees Fahrenheit oven for 30 to 35 minutes until golden brown. Serve warm.
7. Pear Crumble Coffee Cake
Last but definitely not least: Pear Crumble Coffee Cake via Joy the Baker. This is one of those recipes that sounds just too good to be true. Could such a perfect cake really exist? Preheat your oven and find out. Saturday mornings just took a turn for the amazing.
Ingredients:
2 1/2 cups all-purpose flours
2 teaspoons baking powder
1 teaspoon baking soda
3/4 teaspoon salt
1 teaspoon ground cinnamon
1/2 teaspoon ground ginger
1/2 teaspoon freshly grated nutmeg
1/2 cup granulated sugar
1/2 cup packed light brown sugar
1/2 cup (4 ounces) unsalted butter, melted and cooled slightly
2 large eggs
1 cup buttermilk
2 teaspoon pure vanilla extract
2 small or 1 1/2 medium pears, ripe but still firm, unpeeled, cored, and cut into 1-inch chunks
Crumble Topping
 1/4 cup all-purpose flour
3 tablespoons granulated or brown sugar
1/2 teaspoon ground cinnamon
pinch of salt
2 tablespoons unsalted butter, cold and cut into 1/4-inch cubes
Directions: Place rack in the upper third of the oven and preheat oven to 350 degrees F. Grease an 8×8 pan. Line with parchment paper and grease the parchment paper. Set aside.
In a large bowl, whisk together flour, baking powder, baking soda, salt, and spice. Stir in the sugars until well combined. Set aside.
In a medium bowl, whisk together melted butter, eggs, buttermilk, and vanilla extract. Add the wet ingredients to the dry ingredients and gently stir to incorporate. Once the dry ingredients are almost fully incorporated, fold in the pears. Spoon the batter into the prepared pan.
To make the crumble, in a small bowl combine flour, sugar, cinnamon, salt, and butter. Use your fingers to break the butter down into the dry ingredients until crumbly. Generously sprinkle topping on top of cake batter. Bake for 25 to 35 minutes or until a skewer inserted in the cake comes out clean. Remove from the oven and allow to cool for at least 30 minutes before serving. The cake will last for 3 days, wrapped well and stored in the refrigerator.
More from Life Cheat Sheet: