7 Homemade Iced Teas and Lemonades You Haven't Had and Need to Make
Move over, Minute Maid, and cool your heels, Country Time, because we're going to be pouring our own homemade iced teas and lemonades out of tall pitchers into our glasses this summer. The mixes and pre-bottled drinks are useful, but nothing beats the heat quite like a glass of freshly squeezed lemonade or perfectly flavored tea. Plus, when you make your own version of these classic drinks, you can customize the flavors for unique variations. Keep reading for seven recipes to get you started sipping on the best iced teas and lemonades you haven't tried yet.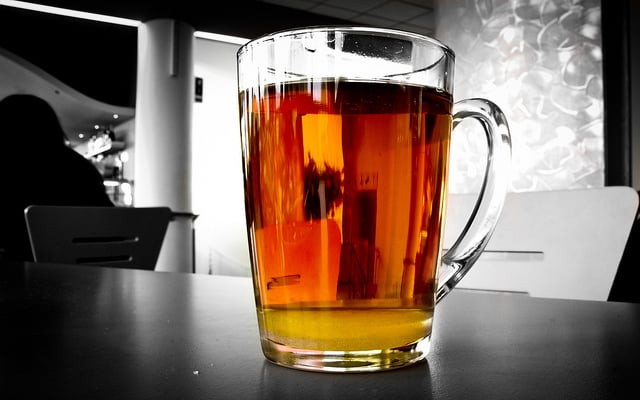 1. Orange-Earl Grey Iced Tea
You often think of making sure you get enough vitamin C during cold and flu season, but it is an important part of your diet year-round. Eating Well has the spring and summertime solution for your vitamin C needs with this iced tea recipe.
Ingredients:
¼ cup loose Earl Grey tea, or 12 Earl Grey tea bags
peel of 1 orange, plus orange wedges for garnish
4 cups boiling water
¾ cup orange juice
¼ cup sugar
4 cups cold water
Directions: Steep loose tea (or tea bags) and orange peel in boiling water for 3-5 minutes. Strain the tea (or remove tea bags and orange peel) and pour into a large pitcher. Stir in orange juice and sugar until the sugar is dissolved. Add cold water. Refrigerate until chilled, about 2 hours. Serve over ice with orange wedges, if desired.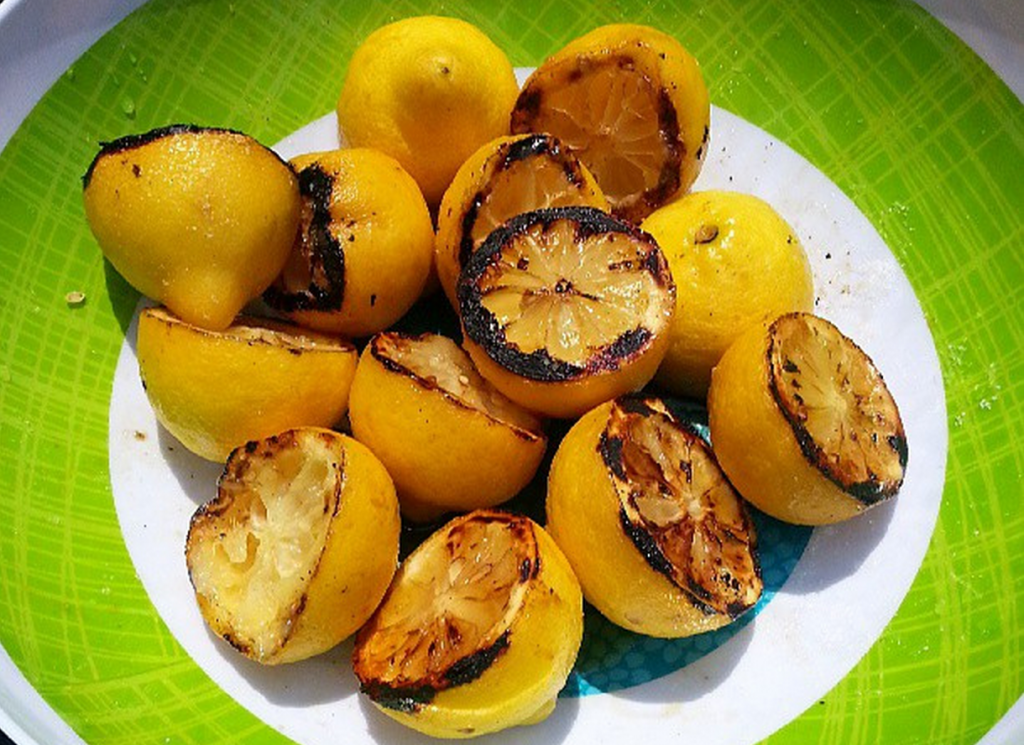 2. Grilled Lemonade
Really give guests something to talk about by setting out a pitcher of grilled lemonade. Observant friends and family will notice that the lemons have grill marks and that this isn't an average glass of lemonade. To get your new favorite summer drink, follow this recipe from Amazing Ribs.
Ingredients:
5 large lemons
¾ to 1 cup of granulated sugar, to taste
3 cups warm water
Directions: Wash the lemons thoroughly. Cut them in half at the equator and place them in a non-reactive pan. Preheat your grill to medium high, about 325 degrees Fahrenheit. When it is hot, make sure the grates are really clean, without traces of grease. Place half the lemons cut-side down on the grill and cook until the surface browns slightly, but don't let them blacken. Remove them and put them back in the pan.
Squeeze all the lemon halves into a 1-gallon pitcher, then add the squeezed lemon halves to the pitcher (you should get about ¼ cup of juice per lemon), add the warm water, dump in the sugar, and stir well with a wooden spoon. Taste for sweetness. Add a little more sugar if you think it's necessary. Refrigerate for at least an hour. When lemon juice has had a chance to age an hour or three, the flavors open up, similar to the way red wine flavors open when aired. When ready to serve, stir the lemonade, fill the glasses with ice cubes, and pour.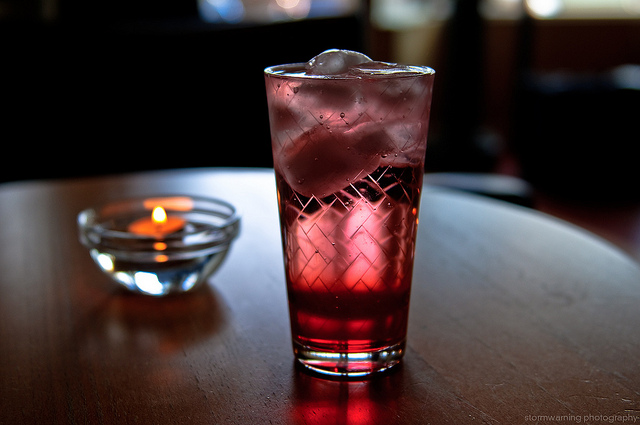 3. Strawberry-Basil Iced Tea
Iced tea and strawberries on their own are enough to herald the warm weather season, and combined, this Martha Stewart drink will have your tastebuds delighting in a cool beverage that capitalizes on the harmonious flavor pairing. The recipe makes enough to serve eight.
Ingredients:
8 black-tea bags
1 pound strawberries, hulled and halved (quartered if large)
1 cup water, plus more for steeping
¾ cup sugar
1 cup fresh basil, plus more for serving
ice, for serving
Directions: Bring 4 cups water to a boil in a medium saucepan. Add tea bags and let steep for 5 minutes. Place strawberries in a bowl. Bring water and sugar to a boil in a small saucepan, stirring until sugar dissolves. Remove from heat, add basil, and let steep for 10 minutes. Strain over strawberries; discard basil. Toss to coat. Let stand until cool, about 25 minutes. Combine strawberries (with syrup) and tea in a pitcher. Refrigerate until chilled. Serve over ice, and garnish with basil.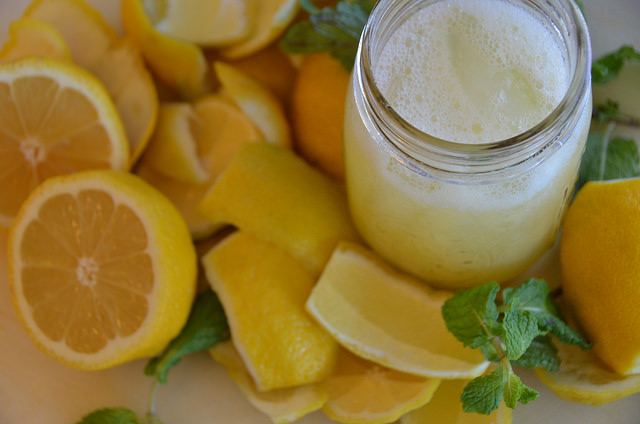 4. Vanilla Bean Lemonade
For anyone not into grilling their lemons but still looking for an unusual and delicious lemonade to make, Kelsey Nixon has provided this recipe for a vanilla bean lemonade to The Cooking Channel. The slightly fizzy, lemony drink serves eight.
Ingredients:
1 cup fresh lemon juice
¾ cup simple syrup
2 tablespoons vanilla bean paste
8 cups (2 quarts) cold sparkling water
crushed ice
fresh basil or mint leaves, for garnish
lemon slices, for garnish
Simple syrup
Directions: First, make the simple syrup. In a small saucepan, bring the sugar and water to a boil over medium heat, stirring until the sugar is dissolved. Remove from the heat and cool.
Once cooled, whisk together the lemon juice, simple syrup, and vanilla bean paste in a large pitcher. If not serving immediately, refrigerate the pitcher. To serve, add the sparkling water to the pitcher and stir to combine. Pour the lemonade into individual glasses of crushed ice. Garnish with a sprig of fresh basil or mint and a lemon slice.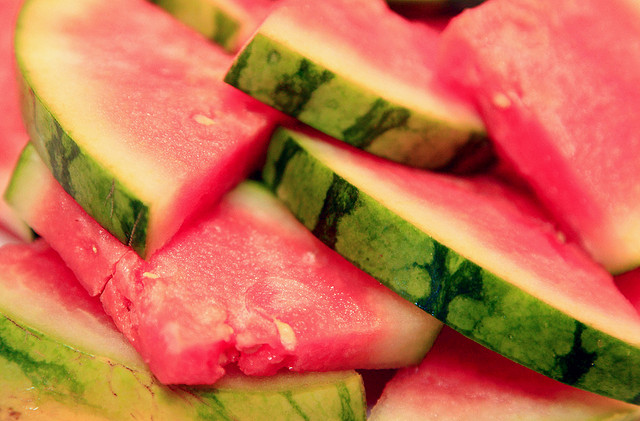 5. Watermelon Green Iced Tea
How much sugar to use in this recipe for eight from Self will be up to you. Since the watermelon will be sweet, you'll definitely want to taste the drink before pouring in sugar or sweeteners — you might even find that you don't need to add any extra sugar at all!
Ingredients:
4 cups seedless and cubed watermelon flesh
2 cups water
2 green tea bags
1 lime
sugar or other sweetener, to taste
Directions: Add tea bags to boiling water. While they steep, puree watermelon cubes. After 10 minutes, remove tea bags and add watermelon puree, juice of 1 lime, and sugar to taste. Chill before serving.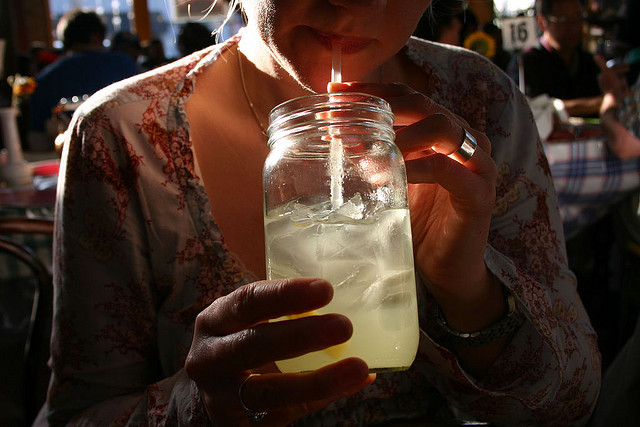 6. Lavender Lemonade
Dried lavender isn't something you see everyday, and Taste of Home says to try looking in spice shops if you're having trouble locating it in the grocery store ahead of making this drink.
Ingredients:
2½ cups water
1 cup sugar
1 tablespoon dried lavender flowers
2½ cups cold water
1 cup lemon juice
ice cubes
Directions: In a large saucepan, bring water and sugar to a boil. Remove from the heat; add lavender. Cover and let stand for 1 hour. Strain, discarding lavender. Stir in cold water and lemon juice. Serve over ice.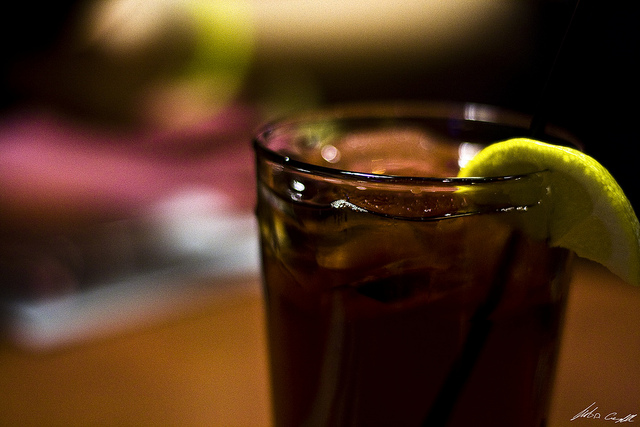 7. Spiced Iced Tea
Wake up your tastebuds by sipping on this spiced iced tea from All You. Cloves, The World's Healthiest Foods says, have a very intense flavor and are also an excellent source of manganese. Cinnamon and sugar will sweeten up your spicy tea, while the lemon will give it just a little bit of zing.
Ingredients:
10 whole cloves
4 cinnamon sticks, broken in half
1 2-inch-long thin strip lemon zest
8 herbal tea bags
½ cup sugar
Directions:  Wrap cloves, cinnamon, and zest in a piece of rinsed cheesecloth. Gather into a bundle; tie with kitchen string. Bring 8 cups water to a boil in a pan. Add spice bundle and tea bags. Remove from heat; cover and steep for 10 minutes. Remove and discard spice bundle and tea bags. Stir in sugar until dissolved; let cool. Cover and chill for 2 hours. Serve over ice, garnished with lemon slices, if desired.
More From Wall St. Cheat Sheet: