7 Homemade Salsa Recipes That Will Get Your Tastebuds Dancing
Salsa, Spanish for sauce, is precisely the added oomph your palate and plate need to have. The condiment shouldn't be relegated to dips for chips because it is bursting with flavors that bring any number of dishes to life. You could spread avocado salsa on toast, make a salsa topping for salmon, or use it to top off a taco. Sweet or spicy, chunky or smooth, there is a salsa that is just right for your taste. It is easy to make at home, customizable, and adds fresh fruits and vegetables to your diet. Salsa your way on over to the kitchen and make one of these seven homemade salsas.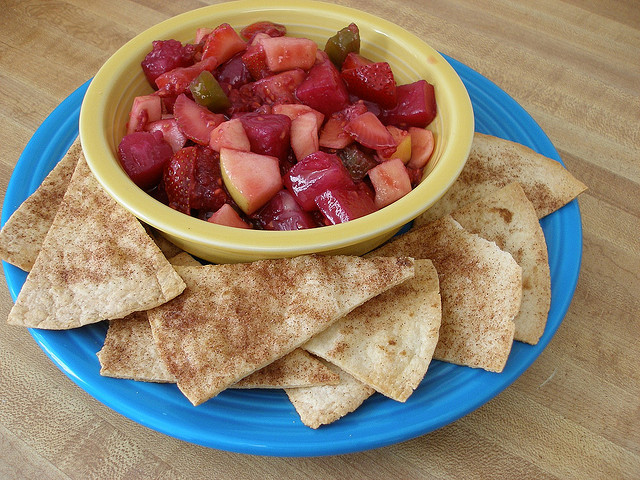 1. Strawberry Salsa
For anyone who favors sweet over spicy any day of the week, this salsa from She Wears Many Hats is the one you need to be making. Any kind of pita or tortilla chip will dip deliciously into this salsa, but cinnamon pita chips stick out as the ideal choice. It can also be a dessert topping — on a pound cake or angel food cake, for instance.
Ingredients:
½ ounce balsamic vinegar
½ ounce honey
¼ teaspoon kosher salt
⅛ teaspoon ground black pepper
1 pound strawberries (diced is about 2 cups)
1 tablespoon finely chopped fresh basil
zest of 1 lemon (about 1 teaspoon)
Directions: Whisk together vinegar, honey, salt, and pepper until combined well. Mix vinegar/honey mixture with remaining ingredients until incorporated. Refrigerate covered until ready to serve.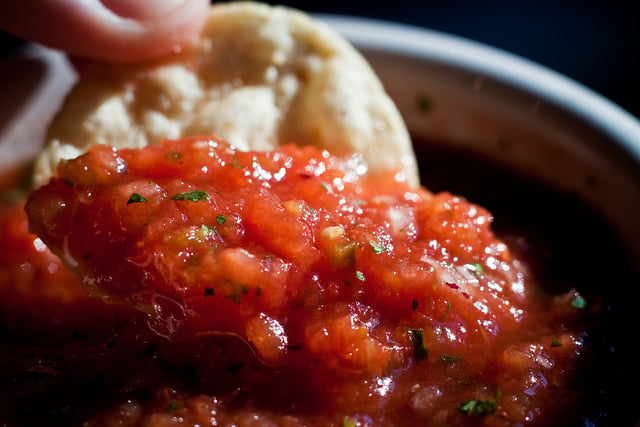 2. Fresh and Spicy Salsa
But the sweet side of life isn't for everyone, and some like it hot. In that case, turn up the heat with this recipe from AllRecipes.com. If the roma tomatoes, with fresh cilantro and garlic sound appealing, but the jalapeños and hot sauce are a little overwhelming, cut back to create a milder salsa to eat with pita chips.
Ingredients:
5 roma (plum) tomatoes, seeded and chopped
10 green onions
2 fresh jalapeño peppers, seeded
1/4 cup chopped fresh cilantro
2 tablespoons fresh lime juice
2 tablespoons hot pepper sauce
1 teaspoon ground black pepper
1 teaspoon garlic powder
1 teaspoon salt
Directions: In a blender or food processor, pulse the tomatoes, green onions, jalapeño peppers, and cilantro to desired consistency. Transfer to a bowl, and mix in the lime juice, hot pepper sauce, black pepper, garlic powder, and salt.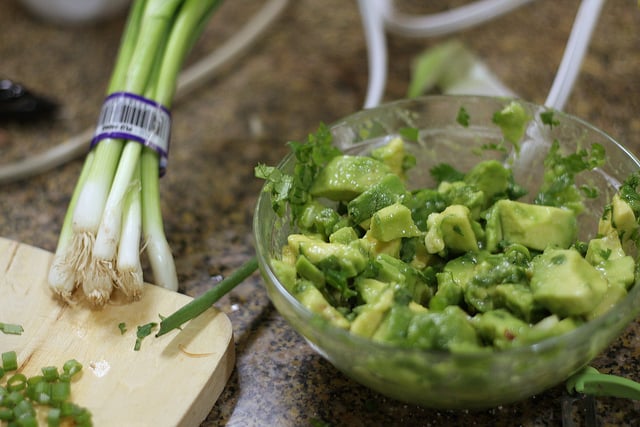 3. Grilled Salmon with Avocado Salsa
Salsa isn't only for chips — it is also a great condiment in general. In this recipe from The Cookie Rookie, an avocado salsa tops off freshly grilled salmon for a meal loaded with heart-healthy fats. Salsa introduces new flavors to your salmon, and adds a layer of texture as well.
Ingredients:
Salmon
2 pounds salmon, cut into 4 pieces
1 tablespoon olive oil (light extra virgin olive oil was used)
1 teaspoon salt
1 teaspoon ground cumin
1 teaspoon paprika powder
1 teaspoon onion powder
½ teaspoon ancho chili powder
1 teaspoon black pepper
Avocado salsa
1 avocado, sliced
½ small red onion, sliced
Juice from 2 limes
1-2 tablespoons finely chopped cilantro (depending on how big of a cilantro lover you are)
Salt to taste
Directions: Mix the salt, chili powder, cumin, paprika, onion and black pepper together. Rub the salmon fillets with olive oil and this seasoning mix. Refrigerate for at least 30 minutes.
Pre-heat the grill. Combine the avocado, onion, cilantro, lime juice, and salt in a bowl and mix well. Chill until ready to use. Grill the salmon to desired doneness. Top with avocado salsa and enjoy!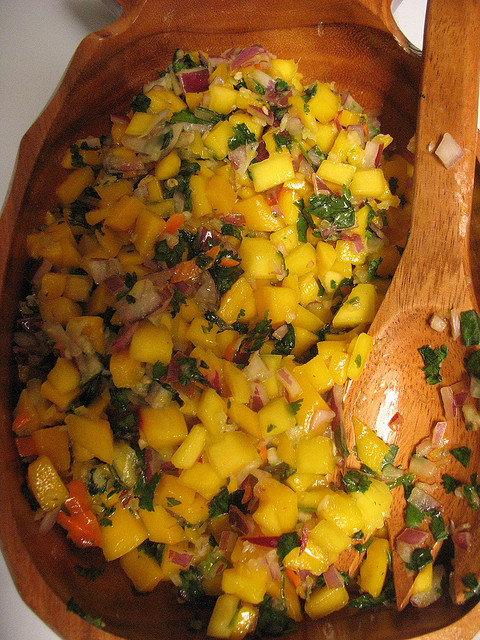 4. Mango Salsa
Another fresh and flavorful way to top off salmon, fish, or the protein of your choosing is with a mango salsa, like this one from Bon Appétit via Epicurious. Not only does it add depth to your dish, but it is a salad-alternative for adding more fruit and vegetables to your meal.
Ingredients:
2 cups chopped pitted peeled mango
1 cup chopped red bell pepper
⅔ cup chopped green onions
¼ cup chopped fresh cilantro
2 tablespoons fresh lime juice
4 teaspoons olive oil
Directions: Mix all ingredients in small bowl. Season with salt and pepper. (Can be made 6 hours ahead. Cover and chill.)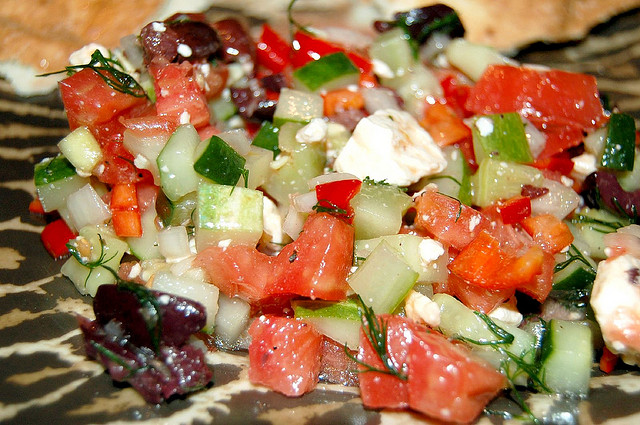 5. Greek Salsa
Salsa has Spanish origins, but the flavors of this Taste of Home recipe are decidedly Grecian. Even your homemade pita chips are hit with a dash of Greek-flavor, since they are dusted with the seasoning before baking in the oven. The recipe makes around 40 pita chips and 2¾ cups of salsa.
Ingredients:
1 tablespoon white balsamic vinegar
2 tablespoons olive oil, divided
2½ teaspoons Greek seasoning, divided
1 garlic clove, minced
1 cup grape tomatoes, quartered
¾ cup chopped cucumber
½ cup crumbled feta cheese
½ cup chopped red onion
1 can (2¼ ounces) sliced ripe olives, drained
1 package (12 ounces) whole wheat pita breads
Directions: In a small bowl, combine the vinegar, 1 tablespoon oil, 1½ teaspoons Greek seasoning and garlic; set aside. In a large bowl, combine the tomatoes, cucumber, feta cheese, onion and olives. Drizzle with vinegar mixture and toss to coat. Chill until serving.
For the chips, preheat the oven to 400 degrees Fahrenheit. Cut each pita bread into eight wedges. Place on an ungreased baking sheet. Brush with remaining oil; sprinkle with remaining Greek seasoning. Bake for 6 to 8 minutes or until crisp. Serve with salsa.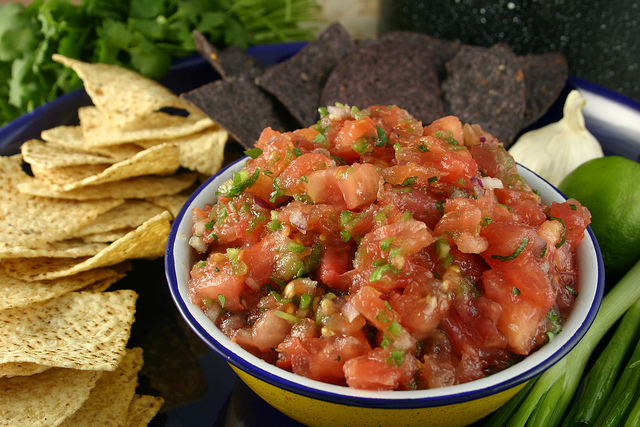 6. Thick and Chunky Salsa
We've talked sweet, spicy, and even Greek, but there has been a big component missing from the discussion of these salsa recipes so far: consistency. For a salsa that needs a sturdy chip to hold its weight — or could be spread in a wrap or the topping for a taco — make this salsa from Sweet Pea's Kitchen.
Ingredients:
2 pounds ripe tomatoes, cored, seeded, and chopped
2 teaspoons salt
1/2 small red onion, chopped fine
1 jalapeño chile, seeded and minced
1/4 cup chopped fresh cilantro leaves
3/4teaspoon chili powder
1 tablespoon lime juice
Directions: Place tomatoes in fine mesh strainer set over a large bowl and sprinkle with salt; let drain 30 minutes. Discard liquid. Meanwhile, combine remaining ingredients in medium bowl.
In the bowl of a food processor fitted with the metal blade, process one-third of drained tomatoes until smooth. Transfer puree to bowl with onion mixture and add remaining drained tomatoes to bowl. Toss to combine. Allow salsa to sit at room temperature for 1 hour to develop flavors before serving. (Salsa can be refrigerated in airtight container for two days.)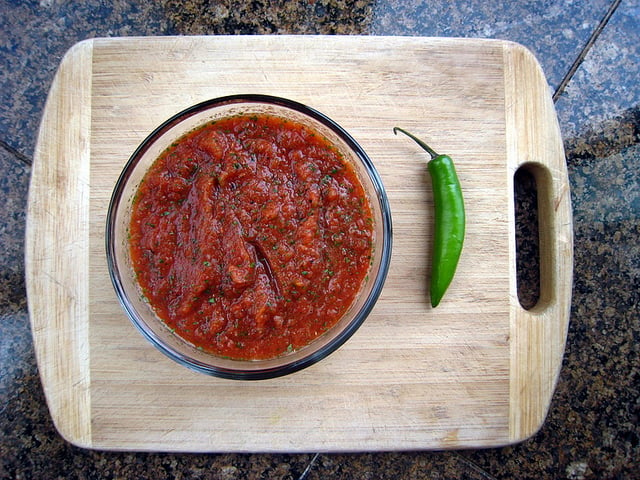 7. Roasted Tomato Salsa
This salsa has a creamier consistency than the last one, but you'll decide just how chunky the salsa is in the end depending on how many times you pulse the mixture in your blender or food processor. In My Red Kitchen's recipe is on the mild side of the salsa spectrum. You can amp up the heat by adding more jalapeño or introducing hotter spices.
Ingredients:
1 pound tomatoes
1 jalapeño, sliced in half and seeds removed
2 tablespoon olive oil
2 teaspoon cumin
1 teaspoon cayenne pepper
½ onion, coarsely chopped
2 gloves of garlic, chopped
handful of cilantro, including stems
1 (15 ounce) can chopped tomatoes
salt and pepper to taste
Directions: Preheat the oven to 375 degrees Fahrenheit and prepare a baking sheet with parchment paper. Slice the tomatoes in half and place them in one layer on the baking sheet with the halved jalapeño pepper. Mix the olive oil with the cumin and cayenne and divide it over the tomatoes and jalapeño. Roast for 50 to 60 minutes, until the tomatoes are roasted and soft.
Let the roasted tomatoes cool for about 10 minutes. Transfer to a blender and add the onion, garlic, cilantro and the canned tomatoes and pulse until combined. A few pulses are enough if you want the salsa to have some chunks, but blend until it reaches your favored consistency. Add salt and pepper to taste and get those tortilla chips ready to dip!
More From Wall St. Cheat Sheet: