7 Hot and Healthy Superfood Recipes to Warm You Up This Winter
The chillier it gets outside, the more tempted we are to eat comfort foods that will help warm us up. Unfortunately, many of the rich and creamy dishes that we turn to are often filled with calories, fat, and sodium. But you don't need to pack on winter pounds trying to stay warm.
Instead, you can prepare hot and hearty dishes that are packed with superfoods. These nutritious meals will serve you a powerful dose of vitamins, minerals, and antioxidants, ensuring you can satisfy your cold-weather cravings while following a healthy diet. Ready to make a toasty meal you can feel good about eating? Here are seven superfood recipes that will keep you warm.
1. Multigrain Hot Cereal With Cranberries and Oranges
Get your day off to a healthy start by preparing Martha Stewart's Multigrain Hot Cereal With Cranberries and Oranges. This dish is filled with nutritious ingredients, but the true star of this cereal is the buckwheat. Care 2 explains that buckwheat is filled with high-quality, easily digestible proteins and can help lower your blood sugar. Furthermore, the Washingtonian adds that it's filled with manganese, magnesium, copper, and zinc, all of which are great for your immune system.
Ingredients:
1 cup cranberries, fresh or frozen
2 oranges, peeled and segmented
2 cups apple juice
1 cup cracked wheat
½ cup soy flakes
½ cup buckwheat kasha
¼ cup toasted hazelnuts
Directions: Heat a medium skillet over medium-high heat. Add cranberries and 2 tablespoons water. Cook until cranberries soften and release their juices, about 2 minutes. Stir in orange segments. Remove from heat and set aside. Bring apple juice and 3 cups water to a boil in a large saucepan.
Add cracked wheat, reduce to a simmer, cover, and cook for 15 minutes. Add soy flakes, and cook, covered, 5 minutes more. Add the buckwheat, and cook, covered, 10 minutes more. Uncover, and cook 5 minutes to let excess liquid evaporate. Spoon into individual bowls. Add hazelnuts and spoon fruit on top. Serve hot.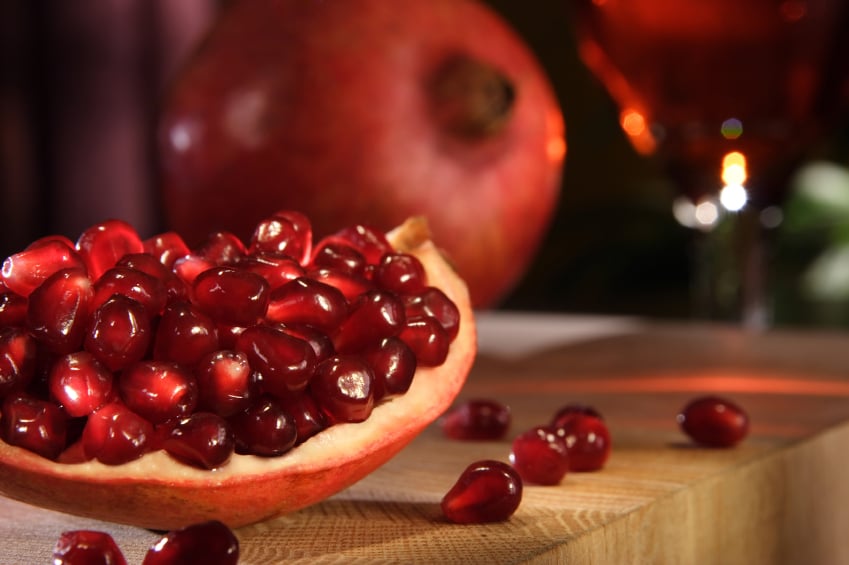 2. Quinoa Salad With Pomegranate Seeds
Looking for a hot and satiating salad that will work wonderfully for lunch or dinner? Glue & Glitter's recipe contains several superfoods: pomegranate seeds, quinoa, kale, and avocado. Shape applauds pomegranate seeds for their many health benefits, explaining that one serving contains nearly 40% of your vitamin C for the day. They can also lower your cholesterol and are high in fiber.
Ingredients:
1 cup quinoa
1½ cups water
2 packed cups kale, chopped into bite-size pieces
Juice of 1 lemon
¼ cup olive oil
½ teaspoon salt
1 cup pomegranate seeds
1 Haas avocado, chopped
½ cup onion, minced
¼ cup additional olive oil
Directions: Cook the quinoa in water. To cook quinoa on the stove, put the quinoa and water in a 2-quart pot and bring to a boil. Lower the heat and simmer for 15 minutes. When the quinoa is cooked, transfer to the large bowl that you'll be serving your salad in. Meanwhile in a separate bowl, combine the kale, lemon juice, olive oil, and salt.
Make sure the kale is well-coated and then set it aside to wilt for at least 10 minutes. When the quinoa has cooled, transfer the kale mixture, pomegranate seeds, avocado, onion, and additional olive oil to the bowl with the quinoa, and toss well. You can serve immediately, or if you prefer a chilled salad, make it a day ahead.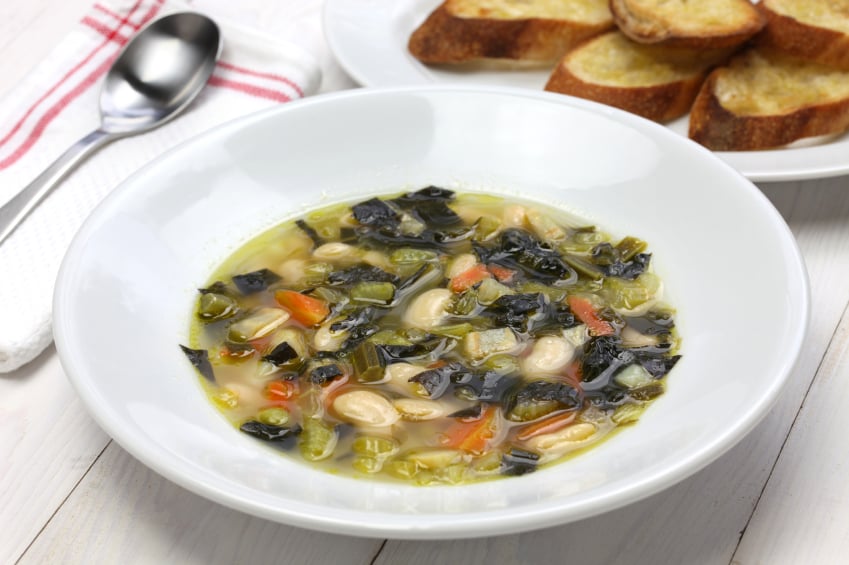 3. White Bean and Kale Stew
Stew is a quintessential dish for the cold-weather months. If you'd like a warm and steamy bowl of stew that you can feel good about eating, we recommend making Whole Living's recipe. It's filled with fabulous flavors and good-for-you foods, including kale. WebMD notes that just one cup of kale contains 3 grams of protein, 2.5 grams of fiber, vitamins A, C, and K, and folate. This recipe yields 6 servings.
Ingredients:
2 tablespoons extra-virgin olive oil
1 onion, diced
2 cloves garlic, chopped
2 carrots, peeled and diced
2 stalks celery, diced
Coarse salt and freshly ground black pepper
1 can (15 ounces) whole tomatoes, chopped (juice reserved)
½ pound small red potatoes, scrubbed and diced
1 can (15 ounces) white beans, drained and rinsed
1 bunch kale (1 pound), stems removed and leaves torn into small pieces
½ cup freshly grated Parmesan
Directions: Heat oil in a large pot over medium heat. Add onion, garlic, carrots, and celery and season with salt. Cook vegetables, stirring, until tender, about 8 minutes. Increase heat to medium-high and add tomatoes and their juice. Cook, stirring, until mixture begins to caramelize, about 3 minutes. Add 7 cups water, potatoes, and beans, and bring soup to a boil. Reduce heat and simmer until potatoes are tender, about 10 minutes, then stir in kale. Cook, covered, until tender, about 2 minutes, then season with salt and pepper. Top with Parmesan.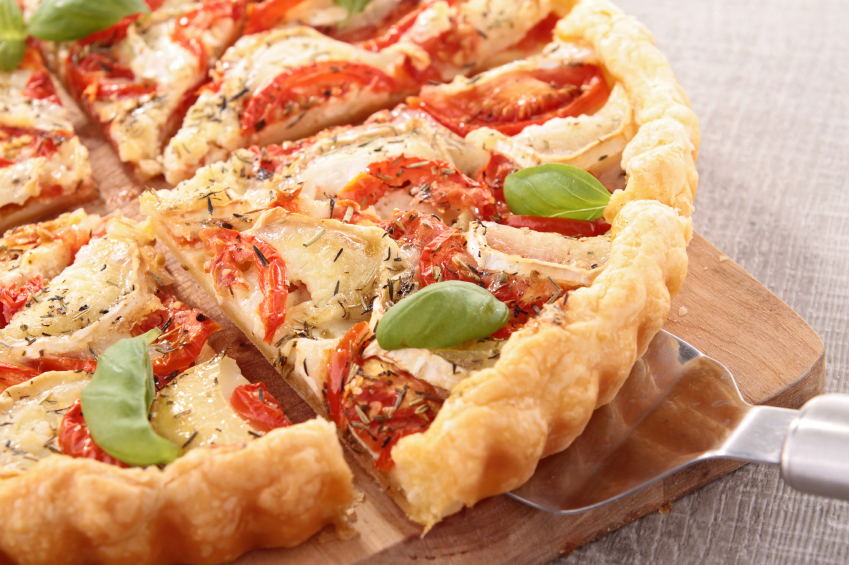 4. Tomato and Camembert Tart
Country Living's recipe via Delish creates a healthy dinner tart that is sure to warm you up. Tomatoes take center stage in this dish — Fit Day notes that one medium tomato contains 40% of the recommended daily amount of vitamin C, can help ward off cancer, and reduces your risk of heart disease.
Ingredients:
Tart dough
1½

 

cups 

all-purpose flour

6

tablespoons 

(¾ stick)

cold unsalted butter

, cut into ½-inch pieces

½ 

teaspoon 

salt

½ 

teaspoon 

coarsely ground pepper

2

tablespoons 

(add more as needed)

extra-virgin olive oil

1

tablespoon 

water
Tart
1

tablespoon 

Dijon mustard

½ 

cup 

grated Gruyère cheese

4

plum tomatoes

, cut into ½-inch slices and seeds removed

6

ounces 

Camembert cheese

, sliced into ⅛ -inch strips

½ 

cup 

extra-virgin olive oil

¼ 

cup 

fresh parsley

, chopped

¼ 

cup 

fresh basil

, chopped

1

teaspoon 

fresh rosemary

, finely chopped

1

tablespoon 

fresh thyme leaves

1

small

bay leaf

, finely crumbled

1

clove 

garlic

, minced
Directions: Preheat the oven the 375 degrees Fahrenheit. Make the tart dough. Using a pastry blender or two knives, combine the flour, butter, salt, and pepper until mixture resembles coarse meal. Using a fork, mix in 2 tablespoons of the oil and the water just until the bottom of the mixture begins to cling together. If necessary, add an additional tablespoon of oil. Gather into a ball, flatten into a disk, wrap in plastic wrap, and chill for 30 minutes.
Roll out the chilled dough into a 14-inch circle and place it into a tart pan; set aside. Spread the mustard over the bottom of the tart shell. Sprinkle the Gruyère evenly over the mustard and alternately place the tomato and Camembert over the Gruyère. In a small bowl, mix together the remaining ½ cup of extra-virgin olive oil, all of the herbs, and the garlic and brush two-thirds of the mixture over the tart. Bake on the middle shelf of the oven for 35 minutes. Remove the tart and brush it with the remaining oil. Serve warm.
5. Sautéed Brussels Sprouts With Parmesan and Pine Nuts
Sautéed Brussels Sprouts with Parmesan and Pine Nuts are chock-full of nutritious ingredients, creating a healthy and flavorful side to serve at dinner. SFGate states that Brussels sprouts contain vitamin C, fiber, folate, and antioxidants. Health's recipe yields 8 servings, with each containing 83 calories, 5 grams of fat, 3 grams of fiber, and 4 grams of protein.
Ingredients:
1½ tablespoons olive oil
1½ pounds thinly sliced Brussels sprouts, trimmed and halved
1 teaspoon sea salt
½ teaspoon freshly ground black pepper
¼ cup red wine vinegar
¼ cup Parmesan shavings
2 tablespoons pine nuts, toasted
Directions: Heat oil in a large nonstick skillet over medium heat; add Brussels sprouts, salt, and pepper. Cook until sprouts are tender and golden, about 6 minutes, stirring occasionally. Remove pan from heat; add vinegar. Toss well. Transfer the sprouts to a serving bowl; top with Parmesan and pine nuts.
6. Chicken With Walnuts and Spinach
Create a hearty and healthy dinner by preparing Prevention's recipe. Best Health writes that walnuts contain omega-3 fatty acids, which can reduce your risk of cancer, Alzheimer's, and inflammatory disease. In addition, they're filled with heart-healthy antioxidants and may be able to help you manage your stress. This dish yields 4 servings, with each containing 404 calories, 34 grams of protein, and 3 grams of fiber.
Ingredients:
⅓ cup chopped onion
1 tablespoon olive oil
1 cup walnut pieces, chopped
1 cup baby spinach, chopped
½ cup grated provolone
4 thin-sliced boneless, skinless chicken breasts, seasoned with ¼ teaspoon salt and ¼ teaspoon black pepper
Directions: Heat oven to 375 degrees Fahrenheit. In a frying pan, cook onion in oil over medium-low heat until softened, 5 minutes. Add ½ cup walnuts and cook 1 minute. Increase heat to medium. Add spinach. Cook until wilted, 2 minutes. Put mixture in bowl and stir in cheese. Divide among chicken slices and roll up to enclose. Spray chicken with oil and roll in remaining nuts. Bake on greased baking sheet 30 to 35 minutes.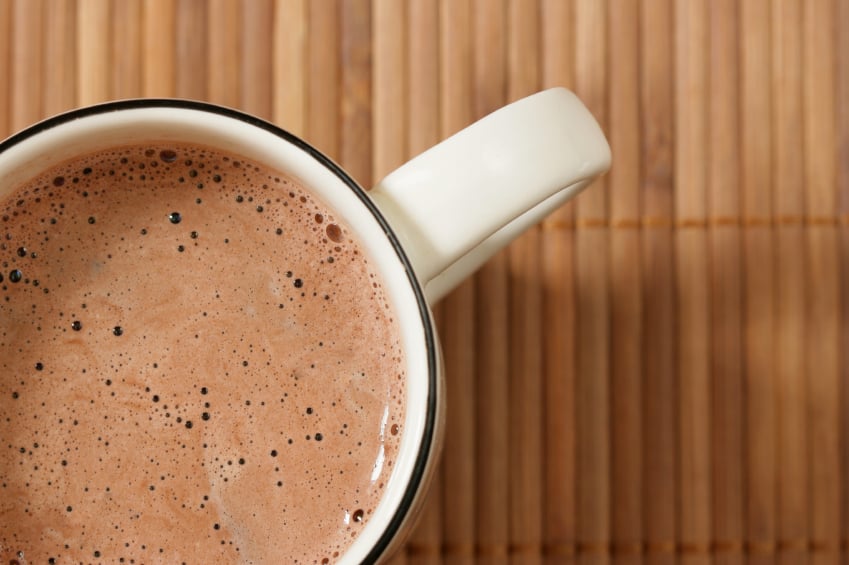 7. Hot Cocoa
We'd be remiss if we didn't mention this healthy beverage, which is perfect for biting-cold days. Filled with 3 superfoods — raw cacao, raw honey, and organic unrefined coconut oil — Mind Body Green's Hot Cocoa is a frothy drink that's nutritious and delicious. Natural News says that raw honey is an antioxidant that promotes digestive health, strengthens the immune system, and can even help eliminate allergies.
Ingredients:
2 cups vanilla almond milk
1 heaping tablespoon raw cacao
1 tablespoon raw honey
1 tablespoon coconut oil
½ teaspoon cinnamon
Directions: Heat the almond milk on the stovetop to just under a boil and then add all the ingredients to your blender and blend for a minute. Enjoy!
More from Life Cheat Sheet:
Want more great content like this? Sign up here to receive the best of Cheat Sheet delivered daily. No spam; just tailored content straight to your inbox.