7 Indulgent Breakfast Recipes for Your Sweetest Morning Yet
Breakfast is the best meal because it's the one time it's acceptable to eat dessert before noon. Many people crave sweet in the morning over savory, and breakfast is the best time to get your sugar in in the form of crepes, french toast, breakfast cookies, and oatmeal. There is a time and a place for everything, and sometimes it's better to get in a healthy breakfast over an indulgent one, but when the craving strikes and you're looking to cater to your sweet tooth in the a.m., try one of these seven recipes that taste conspicuously like dessert. Some are healthier than others, but sometimes a Saturday morning is best started out on a sweet note.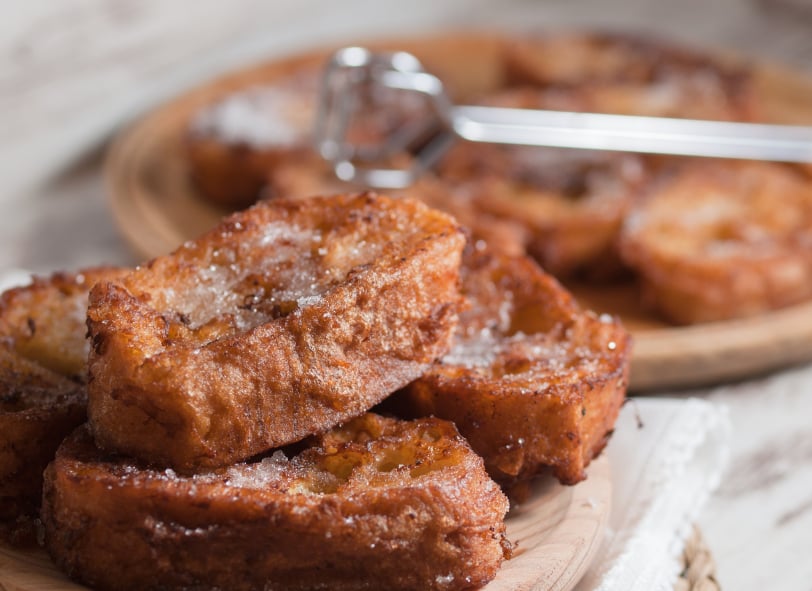 1. Coffee Caramelized Croissant French Toast Sticks
We're starting off strong with these Coffee Caramelized Croissant French Toast Sticks from Half Baked Harvest. Yes, you can go there, and yes you can do it before you've had your first cup of coffee. Or, better yet, have your coffee for breakfast with the french toast sticks. Everyone's had the processed or frozen variety, but these knock those out of the park.
Ingredients:
7 tablespoons salted butter (almost a whole stick), at room temperature
6 tablespoons (or a ¼ cup + ⅛ cup) brown sugar
2 teaspoons instant coffee
1½ cups canned coconut milk (or whole milk)
3 large eggs
1 tablespoon vanilla extract
1½ teaspoons ground cinnamon
8-12 croissants
Fresh berries, for serving
Coffee Maple Syrup
¾ cup pure maple syrup
1 tablespoon instant coffee
Coconut Whipped Cream
1 (15 ounce) can full-fat coconut milk, cold
1 tablespoon powdered sugar
1 teaspoon vanilla
Directions: For whipped cream, flip your cold can of coconut milk upside down and open it. There should be around ½ cup of coconut water at the top. Pour this into a container and save for another use. Scoop out the coconut cream and place in a bowl. Whip the cream for 3 to 5 minutes, until soft peaks form. Beat in the powdered sugar and vanilla. Place in the fridge while you make the french toast.
For coffee maple syrup, combine the syrup and coffee in a small saucepan and place over medium-high heat. Gentle cook the syrup until the mixture comes to a low boil. Reduce the heat to low and simmer five minutes, remove from the heat and set aside.
For the french toast, slice the croissants into 2 to 3 long strips. Mix butter, brown sugar, and instant coffee in a small bowl to combine. Whisk milk, eggs, vanilla, and cinnamon in large bowl to combine. Melt 2 tablespoons of the brown sugar/butter mixture in a large nonstick skillet over medium-high heat. Dip croissant sticks a few at a time into egg mixture to coat. Add 4-6 sticks to the skillet. Cook until bottoms are deep brown, 2 to 3 minutes, turn and repeat until all sides have been caramelized adding more of the brown/sugar butter after every other flip.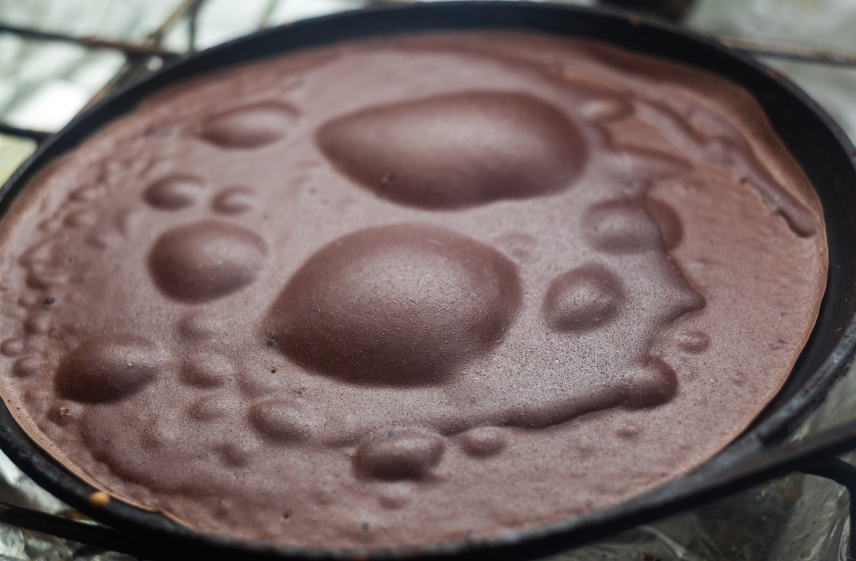 2. Malted Nutella Pancakes
Next up: Malted Nutella Pancakes via Take a Megabite. If these won't pull you out of bed in the morning, we don't know what will. All you need for this indulgent breakfast are the baking staples, nutella, buttermilk, and bananas. Grab the essentials the night before so all you have to do is wake up on a Saturday morning, brew the coffee, and warm the skillet. Oatmeal and eggs are good, but they have nothing on this recipe.
Ingredients:
1 egg
1 cup all-purpose flour
1 cup buttermilk
1 tablespoon sugar
2 tablespoons vegetable oil
1 teaspoon baking powder
½ teaspoon baking soda
¼ teaspoon salt
¼ cup nutella
½ cup malt powder
Bananas, maple syrup (for serving)
Directions: Place a baking sheet in the oven, and heat the oven to 200 degrees Fahrenheit. In a medium bowl, beat egg with hand beater until fluffy. Beat in remaining ingredients just until smooth. Heat skillet over medium heat until a few drops of water sizzle. Spray skillet with cooking spray as you need it. For each pancake, pour scant ¼ cup batter onto the hot skillet top with banana slices and cook until bubbly on top and puffed and dry around the edges. Flip and cook until the other side is golden brown. Place the pancakes in the oven to keep warm until all done. Serve warm with butter and maple syrup.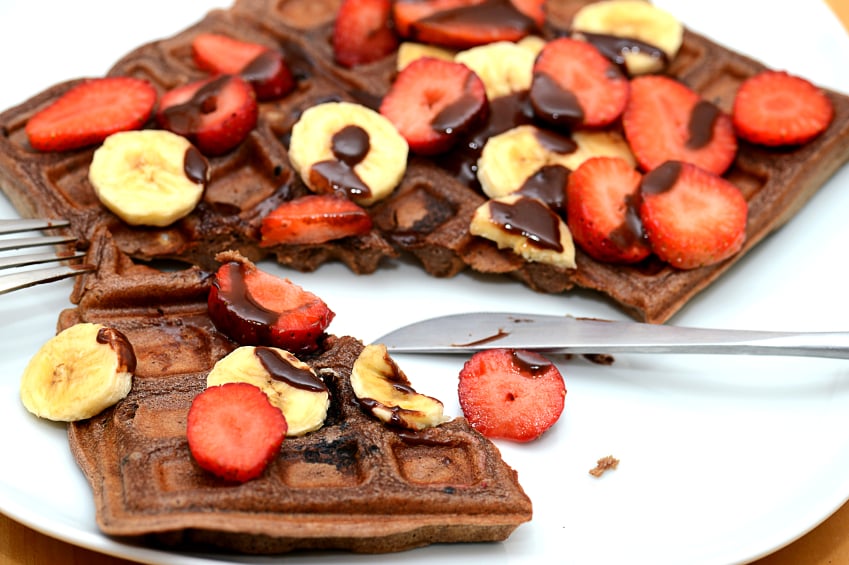 3. Chocolate Stout Waffles
Hold on to your seat belts — we're about to enter the land of breakfasts laden with chocolate and alcohol. Everything in moderation, right? You're going to need some serious self-control if you decide to welcome the morning with these Chocolate Stout Waffles from Hungry Girl Por Vida. She combines waffles, chocolate and beer to come up with one kick-butt breakfast combination, and after eating one bite of this confection, you'll wonder why anyone would start their day any other way.
Ingredients:
2¼ cups all purpose flour
2 tablespoons quality cocoa powder
1 teaspoon salt
4 teaspoons baking powder
1¼ teaspoons baking soda
2 tablespoons sugar
5 tablespoons unsalted butter
1 teaspoon vanilla extract
¾ cup milk
1 cup stout beer
2 large eggs
Directions: In a large mixing bowl whisk together flour, cocoa, salt, baking powder, baking soda, and sugar. Set aside. In a small dish whisk eggs to break up and set aside. In a small saucepan, heat butter with milk until butter is melted. Measure out a cup of stout. Make a well in the center of the dry ingredients and whisk in the egg, warm milk and butter, and finally the stout to combine. Set batter aside and heat the waffle iron (cook waffles in iron according to manufacturers instructions) while you make the marshmallow sauce.
4. Chocolate Peanut Butter Oatmeal
We're going a little healthier for this next indulgent breakfast recipe, but don't worry, this one still involves chocolate. Chocolate and peanut butter, that is. Leave it to Alida from Alida's Kitchen to take the heavenly combination and incorporate it into an oatmeal recipe. Chocolate Peanut Butter Oatmeal is no doubt decadent tasting, but also nutritious thanks to the whole grains from the oatmeal, and it's a breakfast you'll feel good about. Oatmeal doesn't have to be boring, and this recipe proves once again that a little chocolate and peanut butter can transform just about anything.
Ingredients:
½ cup quick oats
1 tablespoon unsweetened cocoa powder
1 tablespoon natural peanut butter (chunky or creamy)
1 tablespoon flax seed meal (optional)
1 cup water
1 very ripe banana, mashed
Chocolate chips and peanuts
Directions: For combined oatmeal, put oats, cocoa, peanut butter, flax seed, and water in microwavable bowl. Microwave on high for 1½ to 2 minutes, or until oats have absorbed the water to desired consistency. Stir in mashed banana and microwave on high for another 20 to 30 seconds. Garnish as desired, and serve.
For oatmeal with chocolate/peanut butter swirl, put ¼ cup oats in 2 separate microwavable bowls. Add cocoa and flax seed (if using) to one bowl. Add peanut butter to the other bowl. Pour ½ cup water into each bowl. Microwave both bowls on high for 1 to 1½ minutes, or until water has absorbed to desired consistency. Stir mashed banana into peanut butter bowl until blended. Drop dollops of each oat mixture into serving bowl. Use a knife to stir/swirl mixture. Garnish desired and serve.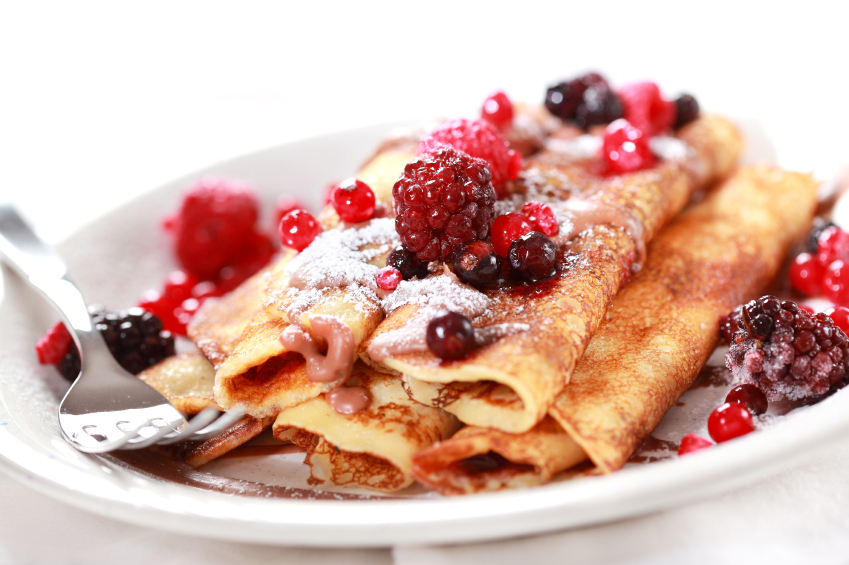 5. Berry-Filled Cinnamon Crepes
Or, if you actually don't want to have chocolate for breakfast, you could have these Berry-Filled Cinnamon Crepes from Cooking Light. They might not sound as decadent as the indulgent recipes we've already covered, but these crepes are light, satiating, and naturally sweetened. They're the perfect way to start a summer day off, and unbeknownst to many, crepes are very easier to make.
Ingredients:
¼ cup fresh raspberries
¼ cup fresh blueberries
⅓ cup fresh blackberries
¼ cup quartered small strawberries
1 tablespoon granulated sugar
1 banana, cut into ½-inch slices
2 cinnamon crepes
Powdered sugar (optional)
Directions: Combine first 6 ingredients in a saucepan over medium-low heat. Cook 4 minutes or until thoroughly heated, stirring occasionally. Place 1 cinnamon crepe on each of 2 plates; spoon about ½ cup fruit mixture in center of each crepe. Fold bottom edge of crepe (closest to you) over fruit; fold in both sides of crepe over fruit. Arrange, seam sides up, on plates. Sprinkle with powdered sugar, if desired.
6. Cinnamon Baked French Toast
Baked French Toast, anyone? This recipe from The Pioneer Woman is the perfect make-ahead breakfast for a slow Saturday morning when only an indulgent morning meal will do. It requires the traditional pantry staples you probably already have on hand, and comes together in under 15 minutes. Prepare it the night before, bake it for 45 minutes in the morning, and prepare for your house to smell heavenly. Mornings never tasted so good.
Ingredients:
French Toast
1 loaf crusty sourdough or French bread
8 whole eggs
2 cups whole milk
½ cup whipping (heavy) cream
¾ cups sugar
2 tablespoons vanilla extract
Topping
½ cup all-purpose flour
½ cup firmly packed brown sugar
1 teaspoon cinnamon
¼ teaspoon salt
1 pinch nutmeg (optional)
1 stick cold butter, cut into pieces
Fresh fruit (optional)
Directions: Grease a 9-by-13-inch baking pan with butter. Tear bread into chunks (or cut into cubes) and evenly distribute in the pan. In a medium sized bowl mix together eggs, milk, cream, sugar, and vanilla. Pour evenly over the bread. Cover tightly and store in the fridge for several hours or overnight.
In a separate bowl, mix flour, brown sugar, cinnamon, and salt. Add nutmeg if desired. Add butter pieces and cut them into the dry mixture until mixture resembles fine pebbles. Store in a Ziploc in the fridge. When you're ready to bake the casserole, preheat oven to 350 degrees Fahrenheit. Remove casserole from the fridge and sprinkle crumb mixture over the top. (If you're using fruit, sprinkle on before the crumb mixture.) Bake for 45 minutes for a softer, more bread pudding texture. Bake 1 hour or more for a firmer, less liquid texture. Scoop out individual portions. Top with butter and drizzle with maple syrup.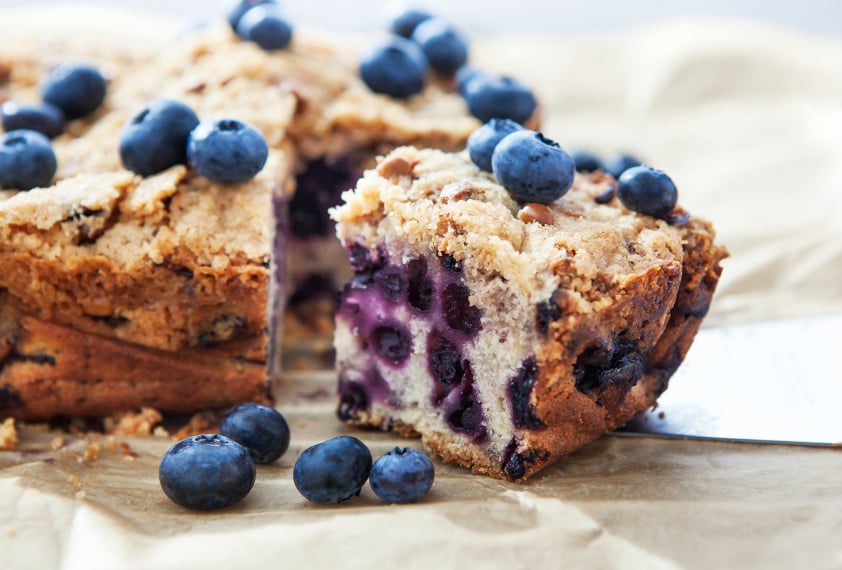 7. Blueberry Coffee Cake
Last up, cake for breakfast. Coffee cake, that is. Take this recipe for Blueberry Coffee Cake from Ellie Krieger and treat yourself in the a.m. There's nothing a little sugar in the morning can't fix, and no one can fault you for indulging your sweet tooth with this coffee cake. What's more, blueberries are a fruit, so this breakfast is basically healthy!
Ingredients:
Cooking spray
1 cup all-purpose flour
1 cup whole-wheat pastry flour or regular whole-wheat flour
1 teaspoon baking soda
½ teaspoon salt
3 tablespoons sugar
½ teaspoon ground cinnamon
½ cup chopped walnuts
½ cup packed brown sugar
2 tablespoons butter, at room temperature
2 tablespoons canola oil
2 large eggs
1 teaspoon vanilla extract
1 cup plain nonfat yogurt
1 cup fresh blueberries, or frozen and thawed
Directions: Whisk together the all-purpose and whole-wheat flours, baking soda, and salt. In a small bowl, stir together the granulated sugar, cinnamon, and walnuts. In a large bowl, beat the brown sugar, butter and oil until fluffy. If necessary, use the back of a spoon to press out any lumps in the brown sugar. Beat in the eggs, 1 at a time, beating until fully combined. Beat in the vanilla and yogurt. Add the flour mixture in 2 batches, stirring until just combined.
Spread half of the batter into the prepared pan. Sprinkle half of the nut mixture over the batter and top with the blueberries, gently pressing them into the batter. Spoon the rest of the batter into the pan, smoothing the top. Sprinkle the remaining nut mixture over the cake, pressing gently. Bake until a wooden toothpick inserted in center comes out clean, about 30 to 35 minutes. Let cool slightly and then unmold and allow to cool completely on a cooling rack. Cut the cake into 2-inch squares.
More from Life Cheat Sheet: