7 Marvelous Mango Recipes
Vibrant, sweet, and juicy, mangos are appealing to the eye and the tastebuds — precisely why you need to be baking and cooking with them all year round. Mango.org explains that since there are two mango growing seasons (spring and fall) one of the six most common varieties are likely to be in your grocery store no matter when you go searching for this piece of fruit.
From Mexico, there are Hadens (April and May) and Ataulfos (March to July); Haiti has the Francis–in season from May to July. In the U.S. and Mexico are Keitts in August and September; while from January to March and June to August Mexico, Ecuador, and Peru are producing Kent mangoes. Finally, there is the Tommy Atkins grown primarily in Mexico, Guatemala, Brazil, Ecuador, Peru during two seasons: March to July and October to January.
There are subtle differences in the flavors and textures of the various mangoes. Kents, for example, are sweet and rich while the Tommy Atkins is more mild but still sweet. No matter which variety, you'll be enjoying a sweet fruit that is a incredible source of vitamins C, A, and B6 as well as being a good source of fiber, folate, and copper. So what are you waiting for? Get the mighty benefits and succulent taste of the mango with one of these seven recipes.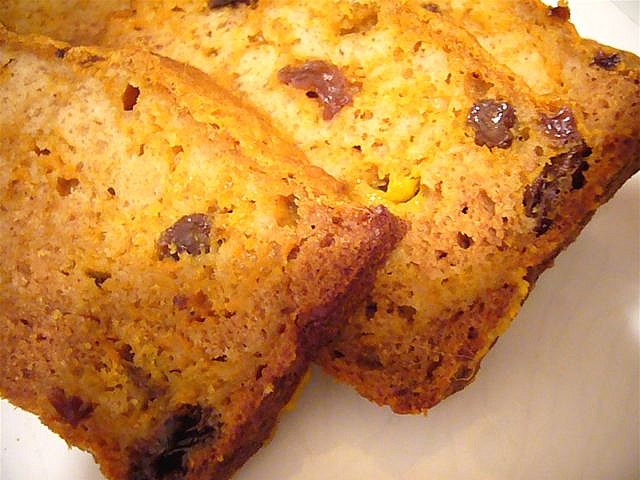 1. Mango Bread
Turn breakfast into a tropical retreat by making AllRecipes.com's mango bread. The recipe makes two loaves of a quick bread that is packed with add-ins like raisins, walnuts, and coconut — everything you need to make for a spectacular breakfast or snack.
Ingredients:
2 cups all-purpose flour
2 teaspoons baking soda
1/2 teaspoon salt
2 teaspoons ground cinnamon
1/2 cup butter, softened
1/2 cup vegetable oil
1 1/2 cups white sugar
3 eggs
1 teaspoon vanilla extract
3 cups peeled, seeded, and chopped mango
1/2 cup raisins
1/2 cup chopped walnuts
1/2 cup shredded coconut
Directions: Preheat oven to 350 degrees Fahrenheit. Lightly grease two 9 x 5 inch loaf pans. In a large bowl, sift together flour, baking soda, salt, and cinnamon. In a large bowl, beat together the butter, oil and sugar until light and fluffy. Stir in the eggs one at a time, beating well with each addition, then stir in the vanilla. Blend this mixture into the flour mixture; just to combine. Fold in the mango, raisins, walnuts, and coconut; mixing just enough to evenly combine. Let stand for 20 minutes then bake in preheated oven for 50 to 60 minutes or until a toothpick inserted into center of the loaf comes out clean.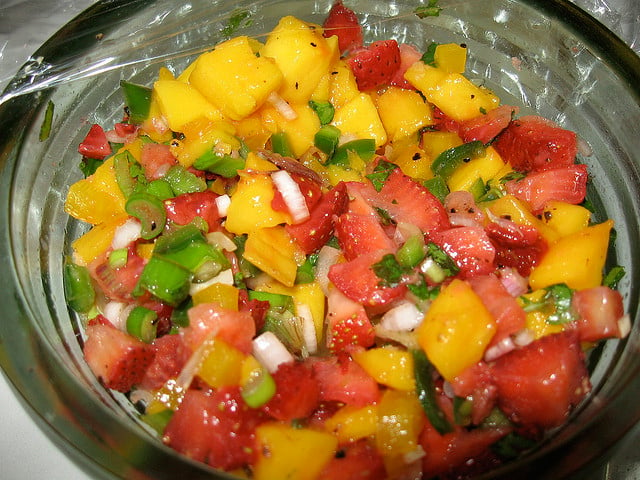 2. Strawberry Mango Salsa
Get a spicy-sweet combination from your salsa by pairing strawberries, mango, and honey with the heat of jalapeño peppers — exactly what Fresh Tastes for PBS did. Including the seeds of peppers increases the kick, and if you have a milder palette, do not put the seeds in the salsa. It makes about 2 cups of salsa.
Ingredients:
1 pint strawberries
1 large mango, preferably manila or champagne
3/4 cup chopped fresh cilantro (about one small bunch)
1/4 red onion, minced
1 whole jalapeño, minced
Juice of 2 limes
1 tablespoon honey
Directions: Chop up the strawberries and mango into very small bits. Place in a bowl with the cilantro, minced red onion, and minced jalapeño. Add honey and lime juice and stir well.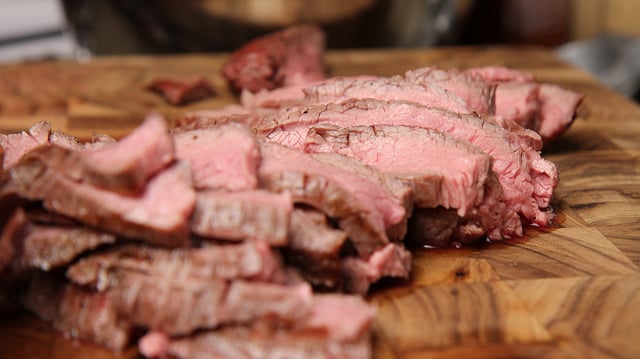 3. Asian Steak Salad With Mango
For Real Simple's salad, you could prepare the steak as stated, or fight leftover boredom by using the other stellar ingredients in this salad to dress up your spare steak. The salad serves four, and you can pick up pickled ginger in the international aisle of most large grocery stores.
Ingredients:
3/4 pound sirloin steak (1 inch thick)
kosher salt and black pepper
1 teaspoon grated lime zest
3 tablespoons fresh lime juice
1 tablespoon honey
1 tablespoon chopped pickled ginger
2 teaspoons low-sodium soy sauce
3 tablespoons canola oil
1 large head romaine lettuce, cut into strips (about 7 cups)
1 mango, cut into thin strips
1 red bell pepper, thinly sliced
1/2 cup fresh basil leaves, sliced
2 scallions, thinly sliced
1 teaspoon toasted sesame seeds
Directions: Heat a large skillet over high heat. Season the steak with 1/4 teaspoon each salt and black pepper. Cook 4 to 5 minutes per side for medium-rare. Let rest at least 5 minutes before slicing.
Meanwhile, in a large bowl, whisk together the lime zest and juice, honey, ginger, soy sauce, oil, and 1/4 teaspoon salt. Add the lettuce, mango, bell pepper, basil, and scallions, and toss to combine. Gently fold in the steak and sprinkle with the sesame seeds.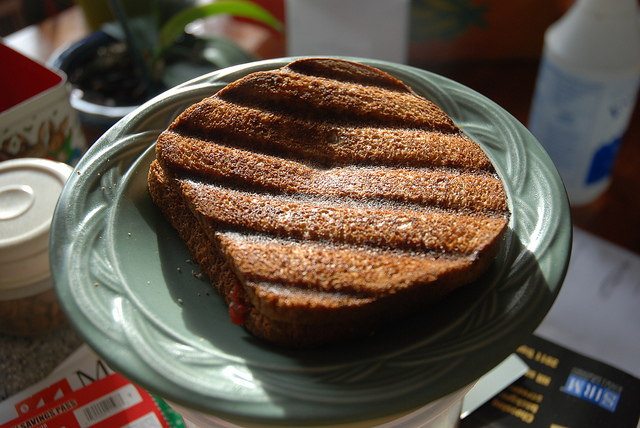 4. Grilled Cheese With Mango Chutney
Mango chutney has a lot of uses, especially for sandwiches. You'll never view grilled cheese the same after spreading Closet Cooks' mango chutney on bread before giving it the grilling treatment. It is also fantastic with grilled chicken sandwiches, turkey wraps, and just about any other bread-meat combination you can think of. The chutney makes over four cups, so if you do not want to can and seal the extra, cut the recipe in half.
Ingredients:
Chutney
6 cups mango (stoned, peeled, chopped)
1 onion (chopped)
1 red chili (chopped)
1 tablespoon garlic (grated)
1 tablespoon ginger (grated)
2 cups brown sugar
1 cup raisins
6 cardamom pods (crushed and ground)
1/2 teaspoon ground turmeric
1/2 teaspoon ground cloves
1/4 teaspoon ground cinnamon
1 teaspoon cayenne
3 cups vinegar
Grilled Cheese
2 slices bread
1 tablespoon room temperature butter
2 slices cheese (cheddar, gruyere, etc.)
2 tablespoons mango chutney
Directions: For the chutney, place all chutney ingredients in a large pot and boil until it thickens, about 30-60 minutes. Pour into sterilized jars and seal. For the sandwich, assemble all ingredients to taste and grill until the bread is golden brown and the cheese has melted.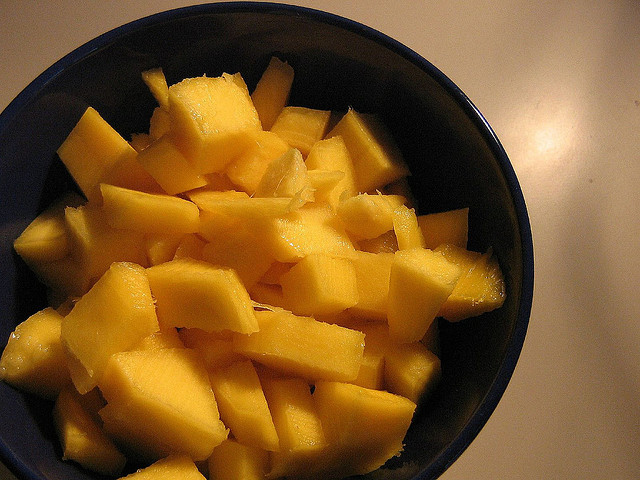 5. Mango and Black Bean Salad
As far as side dishes go, they do not get much easier or more gratifying than Cooking Light's rice salad filled with protein-rich beans and bright mango. It will serve six, based on 2/3 cup sized portions.
Ingredients:
1 1/2 cups chopped peeled ripe mango
1 cup thinly sliced green onions
1/2 cup cooked wild or brown rice
3 tablespoons finely chopped fresh cilantro
2 tablespoons roasted tomatillo or fresh salsa
2 tablespoons fresh lime juice
2 tablespoons extra virgin olive oil
3/4 teaspoon salt
1/4 teaspoon freshly ground black pepper
1 (15-ounce) can organic no-salt-added black beans, rinsed and drained
Directions: Combine all ingredients in a large bowl. Toss gently to mix.
6. Mexican Mango Cake
Marcela Valladolid made this mango cake on her Food Network show, for a fresh dessert. When making the topping, start with only ¼ cup granulated sugar, especially if you are not sure how sweet your mango is. Taste as you process, and add extra if necessary.
Ingredients:
Cake
1 1/2 cups or 3 sticks unsalted butter, at room temperature, plus more for greasing the pan
3 cups cake flour, plus more for pan
1 1/2 teaspoons baking powder
1/2 teaspoon salt
6 large eggs
2 1/2 teaspoons vanilla extract
2 1/2 cups granulated sugar
2/3 cup buttermilk
Topping
2 cups chopped fresh or frozen and thawed mango
2 tablespoons water, plus extra, as needed
1/4 cup granulated sugar, plus extra, as needed
4 ounces cream cheese
2 tablespoons tequila, optional
Directions: Position a rack in the center of the oven. Preheat the oven to 350 degrees Fahrenheit. Liberally butter and flour a 10-inch tube or Bundt pan. Sift the flour, baking powder, and salt into a large bowl. In another large bowl, using an electric mixer beat the 1 1/2 cups of butter and sugar until light and fluffy. Add the eggs, beating well after each addition. In batches, add the flour mixture, alternating with the buttermilk and ending with the flour mixture.
Pour the batter into the prepared cake pan. Bake until the cake is golden and a cake tester inserted into the center comes out clean, about 45 to 50 minutes. Transfer the cake to a wire rack and cool completely in the pan. Invert the cake onto the wire rack, then put it on a cake plate or platter. (Cook's note: The cake can be prepared 1 day ahead. Cover tightly with plastic wrap and store at room temperature.)
For the topping, combine the mango, water, sugar cream cheese, and tequila, if using, in a blender or food processor. Blend until smooth and thick, adding extra water, if needed. Taste and adjust the sweetness with extra sugar, if needed. Spoon the mango topping evenly over the top of the cake, cut into slices and serve.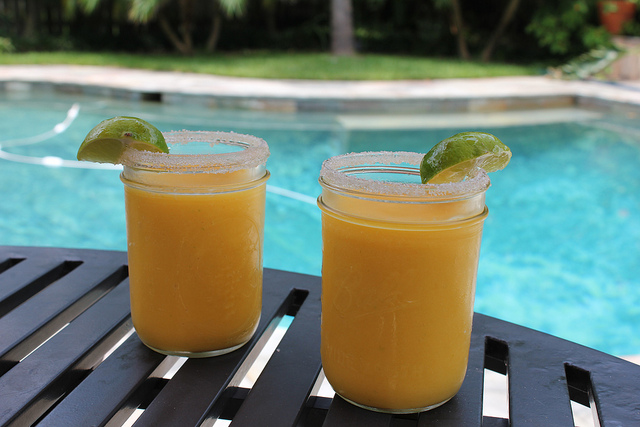 7. Mango Margarita 
For anyone in the over-21 crowd who prefers to drink their desserts, Gourmet's mango margaritas via Epicurious will provide the blended, frozen, sweet treat you desire. If you like the salt-rimmed glasses that accompany traditional margaritas, use sugar for this recipe instead.
Ingredients:
1 1/2 cups diced peeled ripe mango
3 ounces (about 1/3 cup) white tequila
1 ounces (2 tablespoons) Cointreau or other orange liqueur
2 ounces (1/4 cup) fresh lime juice
3 tablespoons superfine granulated sugar
2 cups ice cubes
Directions: Blend all ingredients in a blender until smooth.
More From Wall St. Cheat Sheet: