7 Nutritious Meals for a Post-Vacation Detox
Vacations are for relaxing, eating, drinking, and exploring, but after it is over, many of us experience at least some form of post-vacation dejection, along with some post-vacation bloat. You're supposed to indulge on vacation — eat your ice cream and enjoy it, too — but after your break from reality, you might find yourself craving some food that is actually good for you. So, if you are looking for some lighter meals in the wake of your holiday, you've come to the right place. Today we're highlighting seven nutritious meals around the web that will keep things healthy but interesting, and before you know it, you'll be back on the healthy train and ready to start planning your next getaway.
1. Arugula, Grape, and Sunflower Seed Salad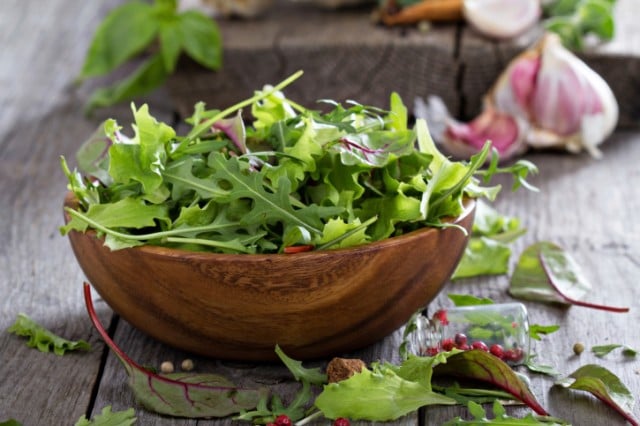 We start off strong with some greens: fresh, seasonal greens to be exact. This salad from Cooking Light is the perfect way to get back on track after your vacation, and it is even vegetarian, so you can serve to all meat-lovers and meat-haters alike. Pair this salad with more fresh fruit or a chilled soup and you have the perfect light meal. Eat nutrious and still enjoy delicious — it's the only way to go.
Ingredients:
3 tablespoons red wine vinegar
1 teaspoon honey
1 teaspoon maple syrup
½ teaspoon stone-ground mustard
2 teaspoons grapeseed oil
7 cups loosely packed baby arugula
2 cups red grapes, halved
2 tablespoons toasted sunflower seed kernels
1 teaspoon chopped fresh thyme
¼ teaspoon salt
¼ teaspoon freshly ground black pepper
Directions: Combine vinegar, honey, syrup, and mustard in a small bowl. Gradually add oil, stirring with a whisk. Combine arugula, grapes, seeds, and thyme in a large bowl. Drizzle vinegar mixture over arugula; sprinkle with salt and pepper. Toss gently to coat.
2. Grilled Peach Soup with Goat Cheese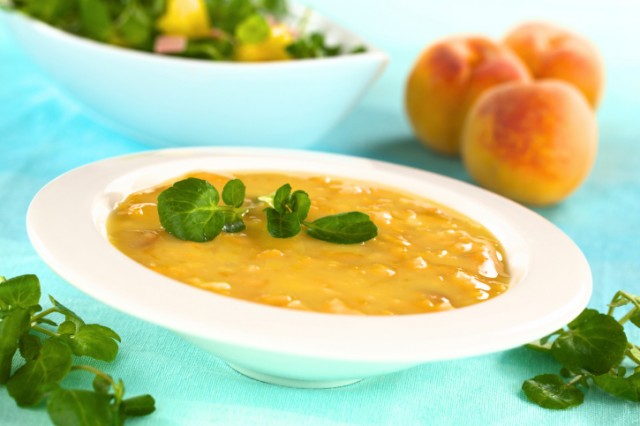 Chilled soup can serve as another healthy dinner option when you are craving something nutritious and can't look at one more carb post-vacation. Unlike warm, comforting winter soups, chilled soup such as this chilled peach soup with goat cheese from Food & Wine can help cool you down without requiring any serious cooking time. As long as you have time to make this soup ahead and chill it overnight, you can expect a flavorful dish that you can slurp with a spoon come dinnertime.
Ingredients:
3 cups sliced peeled peaches (about 4 peaches)
¼ cup finely diced peeled seedless cucumber, plus thin slices for garnish
¼ cup finely diced yellow bell pepper, plus thin slices for garnish
¼ cup diced dried apricots
2 tablespoons honey
3 tablespoons crumbled fresh goat cheese, plus more for garnish
¼ cup white balsamic vinegar, plus more for seasoning
¼ cup plus 2 tablespoons extra-virgin olive oil, plus more for drizzling
Kosher salt
1 large garlic clove
2 cups diced baguette (½ inch)
Basil leaves, for garnish
Freshly ground black pepper
Directions: In a bowl, toss the peaches, diced cucumber, yellow pepper, and apricots. Add the honey, 3 tablespoons of goat cheese, ¼ cup of balsamic vinegar, and 2 tablespoons of the olive oil. Stir in 1½ teaspoons of salt. Add the garlic. Cover and refrigerate overnight.
Discard the garlic. Transfer the contents of the bowl to a blender and purée. Add ¼ cup of water and purée until very smooth and creamy; add more water if the soup seems too thick. Season with salt and vinegar. Refrigerate the soup until very cold, about 1 hour.
Meanwhile, in a medium skillet, heat the remaining ¼ cup of olive oil. Add the diced bread and cook over moderate heat, stirring, until golden and crisp, about 2 minutes. Using a slotted spoon, transfer the croutons to paper towels and season with salt. Pour the peach soup into shallow bowls and garnish with the sliced cucumber, sliced bell pepper, goat cheese, croutons and basil. Drizzle lightly with olive oil, season with black pepper, and serve.
3. California Chicken, Veggie, Avocado, and Rice Bowls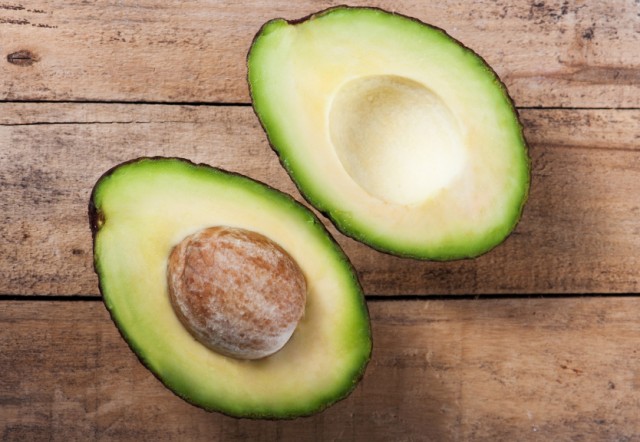 Here's another recipe from Half Baked Harvest that will get you the nutrients you're craving but keep you from eating yet another mind-numbing salad. These California chicken, veggie, avocado, and rice bowls are reminiscent of the dishes that you can usually only get at places like Chipotle, but they will convince you that you can perfect the tortilla-less bowls, too. Round up your ingredients and pre-heat the grill. This dinner may not taste like the daily hamburgers and hot dogs you had on vacation, but just a warning: it may be better.
Ingredients:
Chicken
1 pound boneless skinless chicken breast or tenders, cubed if using skewers, leave whole if not
¼ cup olive oil
4 cloves garlic, minced or grated
½ teaspoon onion powder
½ teaspoon pepper
¼ teaspoon cayenne
½ teaspoon smoked paprika
¼ cup fresh parsley, chopped (may sub 1 tablespoon dried)
¼ cup fresh basil, chopped (may sub 1 tablespoon dried)
Rice + Veggies + Avocado
1½ cups jasmine or basmati rice
3 cups water
2 red pepper, cut into fourths
1 zucchini, sliced into ¼-inch rounds
1 tablespoon olive oil
Salt + pepper
2 avocados, mashed very well
Juice of 1 lemon
½ cup fresh parsley, chopped
1 clove garlic, minced or grated
Salt + pepper, to taste
1 pint grape tomatoes, halved
¼ cup walnuts, toasted
½ cup blue cheese, crumbled (optional)
Directions: In a large bowl, combine the olive oil, garlic, onion powder, pepper, cayenne, smoked paprika, parsley, and basil. Add the chicken and toss well. Cover and place in the fridge while you prepare the rest of the meal.
Make the rice. Add the water to a medium size pot. Bring to a low boil and then add the rice. Stir to combine and then place the lid on the pot and turn the heat down to the lowest setting possible. Allow the rice to cook 10 minutes on low and then turn the heat off completely and let the rice sit on the stove, covered for another 20 minutes. After 20 minutes remove the lid and fluff the rice with a fork. Note that rice can cook differently for everyone, this is just what works for me.
Preheat the grill to medium high heat. Add the red pepper and zucchini to a gallon size ziplock bag. Add 1 tablespoon of olive oil and a pinch of salt and pepper. Seal the bag and shake well so the veggies are coated with olive oil. Remove the chicken from the fridge and if using skewers, skewer the chicken. Grill the chicken for 3 to 4 minutes per side, gently flipping 2 to 3 times until chicken is cooked through and has light char marks. While the chicken is grilling grill the zucchini for about 4 minutes on each side, or until tender and the red peppers for about 5 minutes flipping once or twice during cooking. You may also use a grill pan to do this or even just cook everything on the stove.
Remove everything from the grill and let cool 5 minutes. Once cool, slice the red peppers into strips and if you have whole chicken breast cut those into cubes. Add the mashed avocados to a bowl. Stir in the lemon juice, parsley, garlic and salt and pepper to taste. Mix well.
To assemble the bowls, divide the rice among 4 bowls or plates. Top each bowl of rice with equal amounts of chicken, grilled peppers and zucchini. Add a large dollop of the avocados and then add the fresh tomatoes and walnuts. Sprinkle with blue cheese if desired. Serve warm.
4. Kale Salad with Oranges, Almonds, and Avocado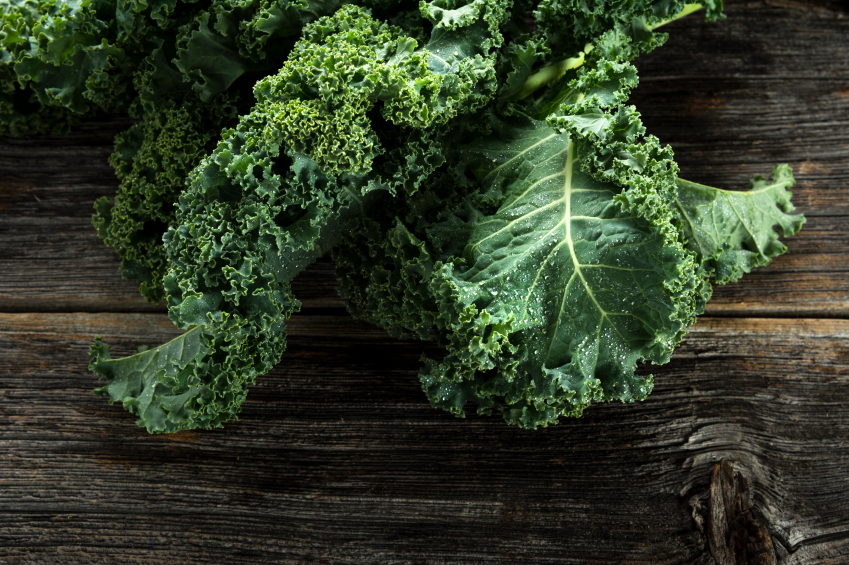 Back to the greens, we come to a salad recipe that the developer behind this formula deems her "detox salad." So, craving a detox? Serve this right up! Requiring only a handful of ingredients, this kale salad with oranges, almonds, and avocado from Eat Live Run just about screams healthy, but will still keep you satiated, and what's more, when you have something this nutritious for dinner, you just about automatically deserve dessert.
Ingredients:
1 bunch lacinato kale ("dinosaur" kale), washed and roughly chopped
2 juicy oranges
3 tablespoons extra virgin olive oil
½ avocado, diced
2 tablespoons sliced toasted almonds
Pinch of sea salt
Pinch of black pepper
Directions: First, make the dressing. Combine the juice of one orange with the olive oil, pinch of sea salt, and pepper. Shake or stir until very well combined. Set aside. To assemble the salad, peel the other orange and separate the sections. Chop orange sections roughly and place in a bowl with the kale, chopped avocado and almonds. Drizzle about half the dressing over salad and toss well to coat. Enjoy now or stick in the fridge and eat later. Dressing will stay good in a sealed jar for a about a week.
5. Red Rhubarb Quinoa
Here's another nutritious dish that only employs ingredients perfectly in season. Enter: red rhubard quinoa from Prevention.com. Your food will not only look pretty, it'll taste good, too. This recipe will prove you to that a post-vacation detox can still be delicious — it's just up to you to cook and eat seasonally.
Ingredients:
Salad
2 heads Bibb lettuce
1½ cups red quinoa, cooked
1 cup Daikon radish, shredded
1 cup purple cabbage, shredded
½ medium red onion, sliced
1 large carrot, shredded
1 large McIntosh apple, sliced
1 pint cherry tomatoes
1 cup organic salsa
½ cup canned pumpkin
⅓ cup salted pistachios
Dressing
¼ cup honey
⅓ cup green tea, brewed
4 stalks rhubarb, sliced
½ shallot, sliced
⅓ cup apple cider vinegar
1 tsp. spicy brown mustard
½ cup Barlean's flax oil
Directions: Combine the first eight salad ingredients in a large salad bowl. To make the dressing, combine agave nectar and brewed green tea in a medium saucepan and bring to a boil; add rhubarb and shallot. Boil for 4 more minutes, stirring often. Reduce to a simmer; add apple cider vinegar and cook for another 12 minutes or until liquid is reduced by half and rhubarb is tender. Remove from heat; set aside to cool.
Transfer rhubarb mixture to a food processor with remaining dressing ingredients; pulse until smooth. Serve atop salad; top with a spoonful of pumpkin, salsa and pistachios.
6. Grilled Heirloom Tomato Soup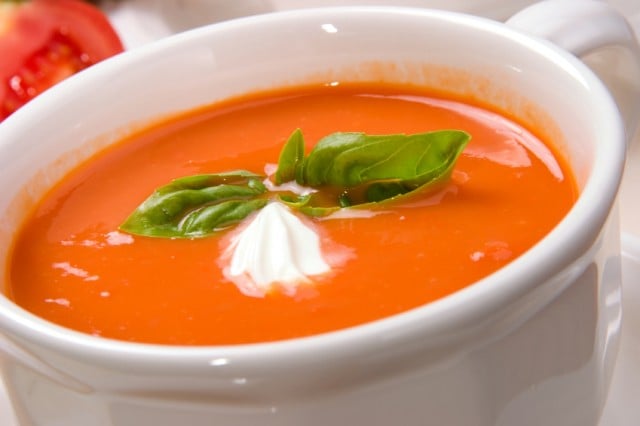 Up next is another figure-friendly chilled soup. This chilled heirloom tomato soup from Vegetarian Times is just begging to be made by those still wallowing in a post-beach depression, and its bright color will cheer you right up. Gather your tomatoes, coconut water, coconut milk, and various cooking staples. Tomato soup isn't only reserved for the winter. It can be on-call in the summertime, too.
Ingredients:
3 pounds red and orange heirloom tomatoes (or Roma tomatoes)
2 tablespoons olive oil
2 large shallots, finely chopped (½ cup)
¼ teaspoons cumin seeds
1½ tablespoons tomato paste
2 teaspoons sriracha chile-garlic sauce
1 small red bell pepper, diced (1 cup)
3 tablespoons lime juice
3 cups coconut water
⅓ cup unsweetened full-fat coconut milk, plus extra for drizzling
1 cup halved heirloom cherry tomatoes
Directions: Halve large tomatoes; scoop out seeds and juicy interior over bowl. Pour and press seeds through fine mesh sieve or cheesecloth over bowl to extract juice. Discard seeds, and set juice aside. Chop remaining tomato shells, and set aside.
Heat oil in large skillet over medium-high heat. Add shallots, and cook 2 minutes. Stir in cumin seeds, tomato paste, and sriracha, then add bell pepper and chopped tomatoes. Simmer 5 to 6 minutes. Cool. Transfer mixture to blender. Add reserved tomato juice, lime juice, coconut water, and coconut milk, and blend until smooth. Season with salt and pepper, 
if desired, and chill.
To serve, pour soup into small cups, lightly drizzle with coconut milk, and garnish with cherry tomatoes.
 7. Summer Vegetable Frittata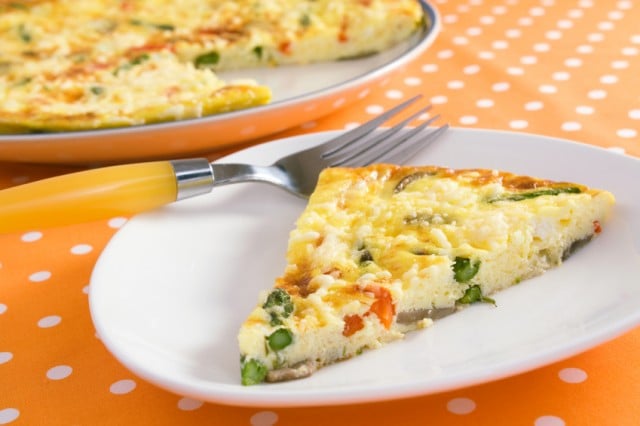 Lastly is a summer vegetable frittata from Cooking Light because some people just want breakfast for dinner, especially when it tastes like this. Many frittatas pack a serious nutrient punch thanks to their many veggies, and this one fits that bill. With zucchini, peppers, onions, tomatoes, and eggs, you really are filling your body with the good stuff with this dish, and it's just an added bonus that it tastes delicious to boot.
Ingredients:
1½ tablespoons olive oil
1 cup diced zucchini
½ cup chopped red bell pepper
⅓ cup chopped onion
1 tablespoon chopped fresh thyme
½ teaspoon salt, divided
¼ teaspoon freshly ground black pepper, divided
2 garlic cloves, minced
½ cup chopped seeded tomato
9 large eggs
Directions: Heat olive oil in a 10-inch nonstick broiler-proof skillet over medium heat. Add zucchini, bell pepper, onion, thyme, ¼ teaspoon salt, ⅛ teaspoon black pepper, and garlic. Cover and cook 7 minutes or until vegetables are tender, stirring occasionally. Stir in tomato. Cook, uncovered, for 5 minutes or until liquid evaporates.
Combine eggs, remaining ¼ teaspoon salt, and remaining ⅛ teaspoon black pepper in a medium bowl; stir with a whisk until frothy. Pour egg mixture into pan over vegetables, stirring gently. Cover, reduce heat, and cook 15 minutes or until almost set in the center.
Preheat broiler. Broil frittata 3 minutes or until set. Invert onto a serving platter; cut into 8 wedges.
More from Culture Cheat Sheet: