7 Pasta Recipes Using Fall's Best Flavors
Stay warm on a cool fall evening by preparing a hearty pasta dinner. Squash, pumpkin, mushrooms, and savory sauces are all fantastic fall flavors that work wondrously with pasta, creating delicious dishes the whole family will enjoy. Ready to use amazing autumnal ingredients to prepare mouth-watering meals? Here are 7 pasta dishes to prepare this fall.
1. Pumpkin Ravioli
You will love everything about Saveur's Pumpkin Ravioli. The fall filling brings out pasta's sweeter side, and consists of almond cookies, cinnamon, honey, and pumpkin. The recipe yields 6 servings.
Ingredients:
Pasta
2 cups all-purpose flour
1 teaspoon salt
1 teaspoon extra-virgin olive oil
3 large eggs, lightly beaten
Filling
1 (2½ pounds) cheese pumpkin, seeds removed and cut into chunks
2 egg yolks, lightly beaten
2 tablespoons extra-virgin olive oil
1 small yellow onion, peeled and finely chopped
1 teaspoon crushed red pepper
6 amaretti, or Italian almond cookies, crushed into crumbs
1 teaspoon ground cinnamon
¼ cup grated Parmigiano-Reggiano
2 tablespoons honey
1 cup dry white wine
1 teaspoon salt
Sauce
6 tablespoons butter
18 fresh sage leaves, chopped
Directions: For the pasta, combine flour, salt, and oil in the bowl of a food processor. With the motor running, slowly pour in eggs and process until dough forms a ball, about 2 minutes. Divide pasta dough into 4 equal parts, then roll out each part with a rolling pin until flat enough to fit into a hand-cranked pasta maker. Roll dough into long thin sheets. Keeping sheets covered with a damp kitchen towel while working, cut into 12 large squares. Arrange in single layers on a tray or baking sheet, using wax paper to separate layers. Cover with plastic wrap and refrigerate until ready to use.
For the filling, preheat oven to 350 degrees Fahrenheit. Bake pumpkin chunks on a lightly oiled baking sheet until tender, 30-45 minutes. Remove from oven and set aside for about 10 minutes. When cool enough to handle, remove and discard skin. Transfer pumpkin pulp to a mixing bowl, mash with a fork, then beat in egg yolks and set aside. Heat olive oil in a large pan over medium heat. Add onions and sauté until soft, about 10 minutes. Add red pepper, amaretti, cinnamon, 2 tablespoons of the Parmigiano-Reggiano, honey, wine, and salt and cook for 3-4 minutes. Mix in pumpkin, cook for 2 minutes, then transfer to a food processor or blender and purée until smooth.
Return pumpkin mixture to the same pan, cover, and keep warm over low heat. For the sauce, heat butter in a small skillet over medium heat. Add sage and cook until butter is golden brown. Remove from heat. Bring a pot of salted water to a boil, then reduce to a simmer. Carefully slip pasta squares into pot and cook until they rise to the surface. Use a large skimmer to remove pasta from the water. Drain well, then lay 1 square on each of 6 plates, spoon pumpkin filling onto squares, and cover with remaining pasta squares. Drizzle sage butter over each square, sprinkle with remaining Parmigiano-Reggiano, and garnish with fresh sage leaves if you like.
2. Orecchiette With Brussels Sprouts, Gorgonzola, and Brown-Butter Pecans
Sweet, nutty flavors combined with orecchiette create a quintessential fall pasta dish. If you'd like a sensational side to serve alongside Fine's Cooking Orecchiette With Brussels Sprouts, Gorgonzola, and Brown-Butter Pecans, prepare Chow's Basic Roasted Acorn Squash. After roasting your acorn, you'll have a delicious dish that's bursting with melted butter and brown sugar.
Ingredients:
Kosher salt
20 ounces Brussels sprouts, trimmed (4 cups)
3½ tablespoons extra-virgin olive oil
Freshly ground black pepper
1 pound dried orecchiette
1½ tablespoons unsalted butter
½ cup coarsely chopped pecans
2 large shallots, minced (¾ cup)
¾ cup heavy cream
4 ounces Gorgonzola, crumbled (1 cup)
1 tablespoon fresh lemon juice
Directions: Position a rack in the lower third of the oven, set a heavy rimmed baking sheet on the rack, and heat the oven to 500 degrees Fahrenheit. Bring a large pot of well-salted water to a boil over high heat. In a food processor fitted with the medium slicing disk, slice the Brussels sprouts. Transfer them to a large bowl, drizzle with the oil, sprinkle with 1¼ teaspoons salt, and ½ teaspoon pepper, and toss until well-coated. Remove the hot baking sheet from the oven and spread the Brussels sprouts on it in a single layer.
Roast, stirring once about halfway through the cooking time, until the Brussels sprouts are tender and flecked with charred bits, 15-20 minutes. Meanwhile, cook the orecchiette according to package directions until just al dente. In a medium heavy duty skillet, melt ½ tablespoons of the butter over medium heat. Add the pecans and cook, stirring frequently, until the butter is deeply browned and the pecans are toasted, about 3 minutes.
Transfer to a plate and set aside. Melt the remaining 1 tablespoon butter in the skillet over medium heat. Add the shallots and cook, stirring occasionally, until softened, 2-3 minutes. Add the cream and bring to a simmer. Off the heat, add 3 ounces (¾ cup) of the Gorgonzola and stir until melted. Drain the orecchiette and return it to the pot. Add the Brussels sprouts, Gorgonzola sauce, and lemon juice and toss well. Serve, sprinkled with the pecans and the remaining Gorgonzola.
3. Fall Pasta Primavera
All You lets you choose which fall veggies you'd like to pair with your whole wheat bow tie pasta. You can also dig into this dinner guilt-free — it's nutritious, antioxidant-packed, and each serving contains 16 grams of protein and 13 grams of fiber.
Ingredients:
1 tablespoon olive oil
5 cups peeled, chopped fall vegetables such as carrots, turnips, parsnips, and beets
1 clove garlic, chopped
1 cup low-sodium vegetable broth
12 ounces whole-wheat bow-tie pasta
¼ cup chopped parsley
1½ teaspoons grated lemon zest
Grated Parmesan
Directions: Warm olive oil in large nonstick skillet over medium heat. Add chopped vegetables; sauté for 8 minutes. Add garlic; sauté 1 minute longer. Pour in vegetable broth. Cover, reduce heat to low, and simmer until vegetables are tender. Transfer to a bowl. Boil pasta in a pot of salted water until al dente. Reserve 1 cup cooking liquid; drain pasta, then add to vegetables. Sprinkle with chopped parsley and lemon zest, and toss to coat. Top with grated Parmesan.
4. Fiorentini With Butternut Squash
Bon Appétit presents a simple yet zesty pasta dish that is rich with fall flavors, including butternut squash. Whole Living applauds squash for its many benefits, particularly the potassium, vitamin B6, fiber, and folate it contains. This recipe yields 6 servings.
Ingredients:
2 tablespoons olive oil
2 tablespoons unsalted butter
5 cups shredded butternut squash (from about ½ peeled medium squash; shredded with the coarse grating attachment on a food processor or on a box grater)
¼ cup thinly sliced fresh sage
1 pound fiorentini or other short curled pasta
Kosher salt
½ cup finely grated Parmesan or Grana Padano plus more
Directions: Heat oil and butter in a large heavy pot over medium heat. Add squash and sage and cook, stirring occasionally, until squash begins to brown, about 2 minutes. Meanwhile, cook pasta in a large pot of boiling salted water, stirring occasionally, until al dente.
Drain pasta, reserving 2 cups pasta cooking liquid. Add pasta and ½ cup pasta cooking liquid to squash and stir to coat. Cook over medium heat, stirring, adding more cooking liquid as needed, until sauce coats pasta. Stir in ½ cup Parmesan. Divide pasta among bowls; top with more Parmesan.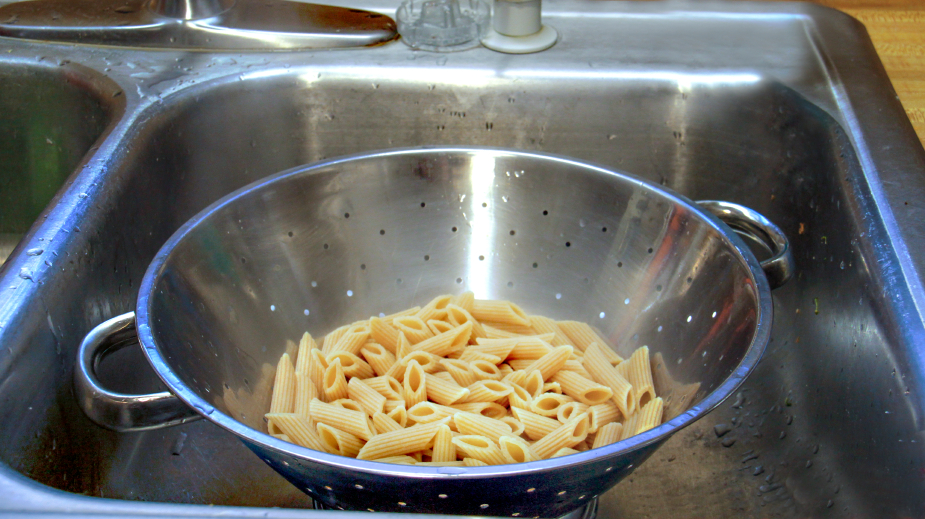 5. Pasta With Pumpkin and Sausage
Pumpkin, sausage, and superb seasonings create a warm and hearty meal. Food Network's recipe yields 4 servings. Looking for the perfect pairing? Consider preparing Eating Well's recipe via Delish for a Crunchy Pear and Celery Salad. It'll be a match made in heaven!
Ingredients:
1 tablespoon extra-virgin olive oil, plus 1 tablespoon
1 pound bulk sweet Italian sausage
4 cloves garlic, cracked and chopped
1 medium onion, finely chopped
1 bay leaf, fresh or dried
4 to 6 sprigs sage leaves, cut into chiffonade, about 2 tablespoons
1 cup dry white wine
1 cup chicken stock, canned or paper container
1 cup canned pumpkin
½ cup (3 turns around the pan) heavy cream
⅛ teaspoon ground cinnamon
½ teaspoon ground nutmeg, ground or freshly grated
Coarse salt and black pepper
1 pound penne rigate, cooked to al dente
Romano or Parmigiano, for grating
Pumpernickel or whole grain bread, as an accompaniment
Directions: Cook your pasta according to package directions. Heat a large, deep, nonstick skillet over medium-high heat. Add 1 tablespoon of olive oil to the pan and brown the sausage in it. Transfer sausage to paper towel-lined plate. Drain fat from skillet and return pan to the stove. Add the remaining tablespoon oil, and then the garlic and onion. Sauté 3-5 minutes until the onions are tender. Add bay leaf, sage, and wine to the pan. Reduce wine by half, about 2 minutes. Add stock and pumpkin and stir to combine, stirring sauce until it comes to a bubble.
Return sausage to pan, reduce heat, and stir in cream. Season the sauce with the cinnamon and nutmeg, and salt and pepper, to taste. Simmer mixture 5 to 10 minutes to thicken sauce. Return drained pasta to the pot you cooked it in. Remove the bay leaf from sauce and pour the sausage pumpkin sauce over pasta. Combine sauce and pasta and toss over low heat for 1 minute. Garnish the pasta with lots of shaved cheese and sage leaves. Serve pumpkin sausage pasta with pumpernickel or whole grain bread.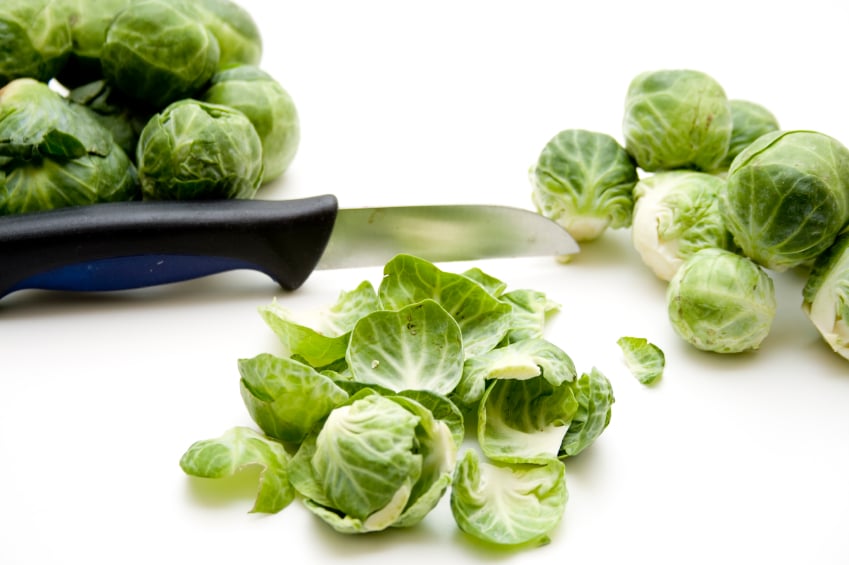 6. Autumn Penne Pasta With Sautéed Brussels Sprouts and Light Ragu
SkinntyTaste.com delivers a fall dinner dish that is extraordinarily nutritious. This hearty and pleasant-tasting pasta includes sauteed Brussels Sprouts and a savory sauce that calls for ground turkey. The recipe yields 8 servings, with each containing 326.1 calories, 6.9 grams of fat, 15.7 grams of protein, and 8.8 grams of fiber.
Ingredients:
1 sweet or hot pork sausage link, casing removed, crumbled
¾ pound 93 percent lean ground turkey
4 teaspoons olive oil, divided
4 cloves garlic, sliced thin
10 ounces Brussels sprouts, weight after outer leaves and stems removed
1 small onion, diced small
1 carrot, peeled and diced small
1 celery stalk, diced small
28 ounces crushed tomatoes
1 bay leaf
Pinch crushed red pepper
Kosher salt and fresh ground pepper, to taste
1 pound high fiber, low carb or whole wheat pasta (brown rice pasta for gluten-free)
Directions: In a large, wide skillet, add sausage and turkey over medium-high heat, breaking up the sausage and turkey as it cooks into small pieces. When completely cooked through; set aside in a bowl. With a sharp knife, cut the brussels sprouts into thin shreds. To the skillet, add 2 teaspoons of oil over medium heat. When hot, add the garlic and cook until golden.
Add shredded Brussels sprouts, salt, and pepper and sauté until tender crisp, about 4-5 minutes; set aside in another bowl. To the same skillet, add remaining 2 teaspoons of oil over medium-high heat. Add onion, carrot, and celery, stirring well to coat with oil. Cook, stirring occasionally, until the vegetables turn golden brown, about 10-12 minutes. Add crushed tomatoes, sausage and turkey, bay leaf, crushed red pepper, salt, and fresh pepper to taste.
Reduce heat to low, cover and simmer about 30-40 minutes, or until sauce thickens. Meanwhile, while sauce is simmering, put a large pot of salted water to boil for the pasta. Add the pasta to the water 10 minutes before the sauce is done and cook pasta al dente. Drain and add the pasta to the skillet and toss with the sauce. Add cooked brussel sprouts, toss, and place in a large pasta bowl.
7. Whole Wheat Linguine and Braised Mushrooms
Whole Wheat Linguine and Braised Mushrooms creates a healthy dinner dish that your family will love. The seared and seasoned mushrooms are the true star of Whole Living's recipe, which yields 4 servings. Best Health explains that mushrooms promote immune function and contain selenium, antioxidants, and vitamin D.
Ingredients:
2 cups Braised Mushrooms
½ cup water (or low-sodium chicken stock)
2 tablespoons fresh thyme
4 cups whole wheat linguine
 ¼ cup reserved pasta water
Coarse salt and freshly ground pepper
 ¼ cup grated Pecorino
Directions: In a large pan over high heat, warm mushrooms, water, and thyme, about 30 seconds. Add linguine and reserved pasta water. Toss until heated through. Season with salt and pepper. Top with Pecorino before serving.
More from Life Cheat Sheet:
Want more great content like this? Sign up here to receive the best of Cheat Sheet delivered daily. No spam; just tailored content straight to your inbox.