7 Quick and Easy Casseroles for Impressing Holiday Guests
When it comes to feeding a crowd during the hectic holiday season, nothing quite does the trick like a comforting casserole dish. These easy-to-assemble sides and entrées can do wonders to satisfy the taste buds of almost any house guest. Each recipe provides a warm and soothing meal, best enjoyed during the brisk, wintry days of December.
These seven casseroles make for warm, welcoming, and low-maintenance dishes over the holidays. Whether you're entertaining guests for breakfast, dinner, or any meal in between, we've got you covered!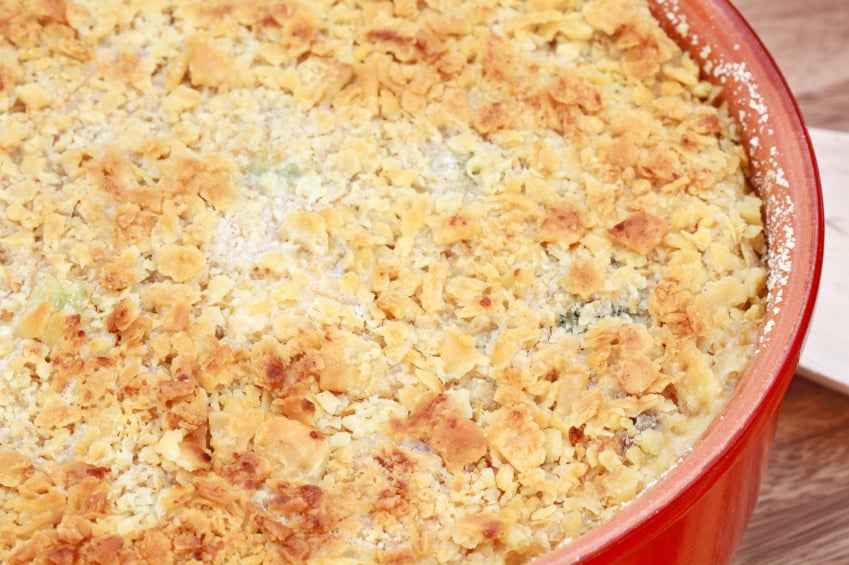 1. Crispy Chicken and Mushroom Casserole
For a comforting blend worthy of any holiday table, serve The Lemon Bowl's Crispy Chicken and Mushroom Casserole. Whole-wheat pasta lends this dish an extra boost of protein and fiber, and whipping up your own creamy mushroom mixture will make you wonder why you ever tried the canned variety in your casseroles. The dish takes an hour and 15 minutes to complete, with a quick 30 minutes of prep time before popping it into the oven. Using leftover rotisserie chicken can be an added time-saver. The recipe yields 6 servings.
Ingredients:
1 pound whole-wheat farfalle (or short pasta of choice)
1 tablespoon butter, unsalted
1 cup diced onion
2 celery stalks, diced
2 teaspoons salt, divided
2 garlic cloves, grated
1 cup sliced mushrooms
2 tablespoons flour
2 cups chicken broth
3 cups cooked chicken, diced
32 ounces plain low-fat yogurt
2 cups shredded mozzarella cheese, divided
2 tablespoons lemon juice
1 tablespoon Worcestershire sauce
½ teaspoon pepper
½ cup panko
1 tablespoon olive oil
Directions: Preheat oven to 350 degrees Fahrenheit and spray a 9-by-13-inch baking pan with cooking spray.
Cook pasta according to package directions and set aside. Heat butter in a large skillet over medium heat until melted. Stir in onion, celery, and 1 teaspoon of the salt. Cook until softened, 3 to 4 minutes before adding garlic and mushrooms. Continue cooking until mushrooms are soft, 3 to 4 additional minutes.
Sprinkle flour into the pan and stir for 30 to 60 seconds or until flour is absorbed into the pan. Pour in chicken broth and bring to a boil. Reduce heat to low and simmer until sauce thickens, 7 to 9 minutes.
In a large bowl, toss together cooked pasta with diced chicken, plain yogurt, remaining 1 teaspoon salt, half of the cheese (1 cup), lemon juice, and Worcestershire sauce. Add in reduced mushroom sauce to the bowl and stir again.
Pour pasta mixture into the prepared baking dish and spread in an even layer. In a small bowl, mix together remaining 1 cup cheese with panko and olive oil. Sprinkle mixture evenly on top of the casserole. Bake until golden-brown and bubbly, 45 to 50 minutes. Let rest 5 to 10 minutes before serving to let the casserole settle.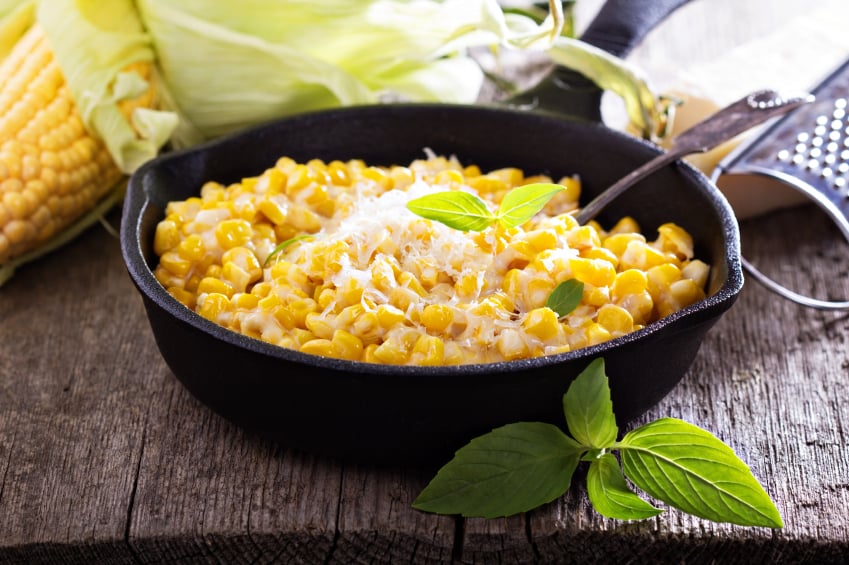 2. Green Chili and Corn Casserole
For a taste of soothing holiday goodness that requires quick and easy prep, choose Amy in the Kitchen's Green Chili and Corn Casserole. You can opt for canned or fresh corn and green chilies, depending on how much time you have to prepare. The dish consists of a creamy blend of staple ingredients — butter, cream cheese, and milk — all offering a true taste of Southern comfort. The recipe takes an hour to make and yields 6 servings.
Ingredients:
4 tablespoons butter
8 ounces cream cheese
¼ cup milk
2 (15.25-ounce) cans corn
1 (4-ounce) can green chiles
1 teaspoon salt
2 teaspoons dried parsley
Directions: Preheat oven to 300 degrees Fahrenheit.
In a heavy saucepan, melt butter, cream cheese, and milk over medium heat. Stir until smooth Add corn, chiles, and salt. Stir to combine. Place into an 8-by-8-inch baking dish, sprinkle with dried parsley, and bake for 30 minutes.

3. Cheesy Scalloped Potato Casserole
For a quick casserole full of rich and savory flavor, treat your guests to this Cheesy Scalloped Potato Casserole from Erren's Kitchen. The dish combines rich cream, cheddar, and Parmesan cheeses with soft, sliced potatoes and light seasonings. The result is a comfort food baked to a wonderful crisp on top, with cheesy, potato-packed goodness inside the dish. The recipe takes an hour to make and yields 4 servings.
Ingredients:
1½ cups cream
1 bay leaf
Handful of fresh parsley, tied with cooking twine
2 garlic cloves, peeled and crushed
2 pounds potatoes, peeled and sliced
Salt and freshly ground black pepper
½ cup grated Parmesan cheese, plus more for topping
1 cup grated white cheddar
Butter, for greasing
Directions: Preheat oven to 400 degrees Fahrenheit. Grease a casserole dish with butter.
In a saucepan, heat the cream with the bay leaf, parsley, and garlic and simmer for 5 minutes. Salt and pepper to taste. Using a slotted spoon, remove the bay leaf, garlic and parsley. Mix in the Parmesan cheese and set aside.
Slice the potatoes and add them to a large bowl. Pour the cream over potato slices. Mix to coat the potatoes. Mix gently to incorporate. Add the mixture to the casserole dish and spread the mixture evenly over the dish.
Top with some Parmesan cheese and cheddar, then cover the dish with aluminum foil. Bake for 30 minutes. Remove the foil and bake another 10 minutes or until the top is golden-brown.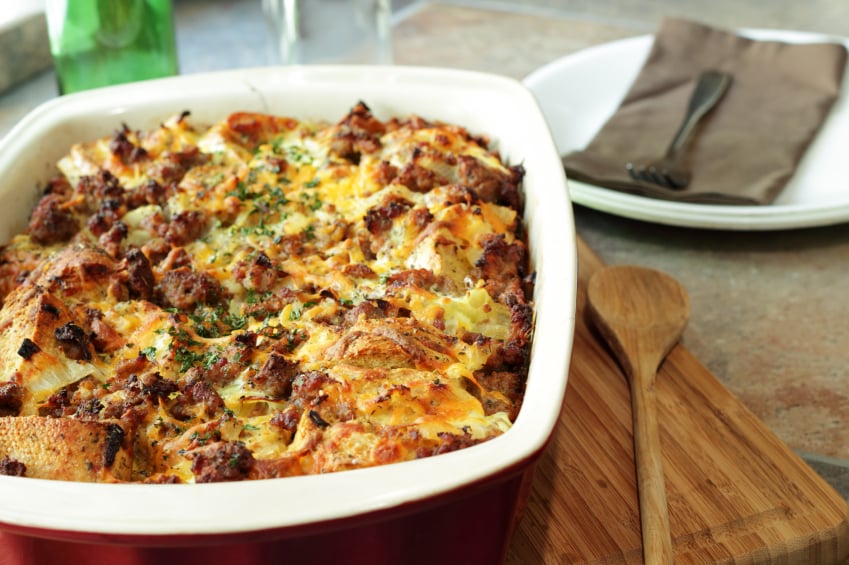 4. Sausage Egg and Cheese Overnight Casserole
Having overnight guests for the holiday? You'll satisfy their morning cravings in no time at all with this Sausage, Egg, and Cheese Breakfast Casserole from Catz In the Kitchen. For an added bit of flavor, you can even try maple breakfast sausages. The dish can be prepared ahead of time, then reheated with ease on the morning you wish to serve it. The recipe serves 8 people — enough for all your guests and family members to dig in without being shy.
Ingredients:
1 pound breakfast sausage
1 loaf crusty Italian bread
1 cup shredded mozzarella cheese
1 cup shredded cheddar cheese
8 eggs
1 cup milk
Directions: Brown sausage in skillet. Slice Italian bread into 1-inch thick slices and cut off crusts. Grease high-sided, 9-by-13-inch baking dish and arrange bread so that it completely covers the bottom of the dish. Drain sausage and spread evenly over bread. Sprinkle cheeses evenly over bread and sausage.
In separate bowl, beat eggs and milk. Pour evenly over all ingredients in pan. Let set covered in fridge overnight.
When ready to serve, preheat oven to 350 degrees Fahrenheit and remove covering. Bake for about 35 minutes, or until knife poked in center comes out clean. Let stand a few minutes before serving.
5. Cauliflower-Fennel Casserole
Make your cauliflower shine this year by serving this Cauliflower Fennel Casserole from Noshing With the Nolands. The dish incorporates the distinct, anise-like taste of fennel to complement mild cauliflower, all draped in gooey Swiss and white cheddar cheeses. The crust consists of crispy crackers and lightly fried shallots for added flavor, while horseradish adds character to the finish. The recipe takes an hour and 15 minutes to make and yields 8 servings.
Ingredients:
½ large cauliflower, cut into florets
1 large fennel bulb, cut into small chunks
¼ cup butter
2½ tablespoons flour
2 cups whole milk
2 cups old white cheddar cheese, grated
½ cup Swiss cheese, grated
1 teaspoon horseradish
Salt and pepper
Cracker topping
20 square saltine crackers, crushed
1 large shallot, fried lightly in 1 tablespoon olive oil
2 tablespoons butter, melted
Directions: Cook cauliflower in a pot of boiling water until just tender and then drain. Cook the fennel in salted boiling water until just tender, not mushy, and drain.
Preheat oven to 375 degrees Fahrenheit. While the vegetables cook, melt ¼ cup butter in a heavy saucepan over medium low heat and whisk in flour. Continue to cook for about 2 to 3 minutes. Slowly add in the milk while whisking and bring to a boil. Turn the heat down and simmer the sauce, stirring occasionally for 8 minutes. Remove from heat and stir in cheese, salt, and pepper. Pour over the cauliflower and fennel. Toss gently to coat. Pour into a baking dish.
Mix together the crumbs, shallots, and melted butter. Top the cauliflower. Bake for 20 to 30 minutes until bubbly and top is golden-brown. Don't let the shallots burn. Serve immediately.
6. Eggplant Gratin
This Eggplant Gratin can be served as a hearty side or as a vegetarian-friendly entrée for the holiday season. Its exceptional flavors will have guests thinking you worked for hours and are sure to leave a lasting impression on your friends and family. The taste of fresh eggplant is enhanced by the addition of chives, thyme, and parsley, while creme fraîche and Parmesan cheese form a crispy, irresistible crust on the outer layer of the dish. The Iron You's recipe yields 6 generous servings.
Ingredients:
2 medium eggplants, sliced into ½-inch-thick slices
2 tablespoons olive oil
2 cups tomato sauce
3 tablespoons chopped fresh chives
3 tablespoons chopped fresh parsley
1 tablespoon thyme leaves
¾ pint creme fraîche (or heavy cream)
1 cup grated Parmesan cheese
Fine grain salt
Ground black pepper
Directions: Preheat oven to 375 degrees Fahrenheit and place a rack in the middle.
Season eggplant slices with salt and pepper, and lightly brush with olive oil. Heat a large griddle pan (or skillet) over medium-high heat and fry eggplant slices in batches until golden on both sides. Set aside.
Place creme fraîche (or heavy cream) in a small saucepan over low heat, bring to a simmer, and let reduce to half. Stir in half of the grated Parmesan and all of the chopped herbs. Season with a pinch of salt and pepper and set aside.
Lightly grease a 9-inch casserole dish or gratin pan. Cover the bottom of the baking dish with some tomato sauce and arrange eggplant slices on top to form a uniform layer. Cover the eggplant with some tomato sauce and some Parmesan cheese. Repeat to make three layers, making sure to end with a uniform layer of tomato sauce.
Ladle over the reduced creme fraîche and sprinkle on a final layer of Parmesan cheese. Bake uncovered in the oven for about 30 minutes, until browned and bubbling. Let rest briefly before serving.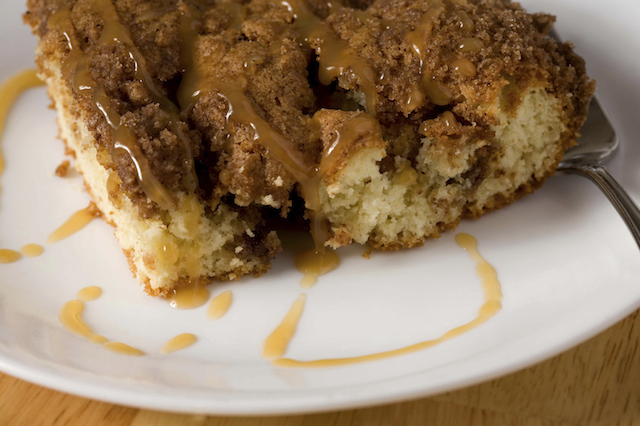 7. French Toast Casserole
If you're still playing host to friends and family at your house for the holidays, perhaps you'll wish to opt for a simple and sweet dish to greet the brisk winter mornings. Try serving this indulgent French Toast Casserole from Carmel Moments along with the morning coffee — it'll be a hit among guests of all ages! The flavors of cinnamon, brown sugar, and butter play beautifully off the texture of oven-crisped French bread. You can serve with maple syrup and top off with pecans for an added crunch. The recipe comes together in about 20 minutes and can be refrigerated until you're ready to bake it and serve.
Ingredients:
1 loaf French or other crusty bread
6 eggs
2 cups milk
¾ cup half-and-half
½ cup sugar
1 tablespoon vanilla
1 teaspoon cinnamon
Topping
½ cup packed brown sugar
¼ cup all-purpose flour
1 teaspoon cinnamon
3 tablespoons cold butter
Directions: Cut bread into cubes or tear into small pieces. Place in a greased 9-by-13-inch baking pan.
In a medium bowl, whisk together eggs, milk, half-and-half, sugar, vanilla, and cinnamon. Pour over bread in pan. Cover and refrigerate for 2 hours or overnight.
Preheat oven to 350 degrees Fahrenheit. In a small bowl, combine brown sugar, flour, and cinnamon. Cut butter into small pieces and place over flour mixture. Using a fork, blend butter into mixture until it resembles small crumbs. Sprinkle over bread in pan. Cover and bake for 20 minutes.
Remove foil and bake for another 20 to 25 minutes or until golden brown and cooked through.
More from Life Cheat Sheet:
Want more great content like this? Sign up here to receive the best of Cheat Sheet delivered daily. No spam; just tailored content straight to your inbox.