7 Quick and Healthy Recipes Helping You Get Ready for Swimsuit Season
Swimsuit season is right around the corner, meaning it's time to get into bikini-body shape — and quickly. Don't consider liquid detoxes or crash diets; instead, opt for good old-fashioned healthy eating. These 7 recipes are low in calories and chock-full of nutritious and fiber-filled ingredients, ensuring you lose wait while feeling full. The best part? Many of these recipes take less than 30 minutes to make. Whether you need a few healthy breakfast, lunch, or dinner dishes, we've got you covered (Don't worry dessert lovers, there's even a recipe for you!). For even better weight-loss results, supplement your nutritious meals with a killer workout. There are even workouts for those of who only have a few minutes to spare. Ready to get in great shape for summer? Head to the kitchen and whip up these quick and healthy dishes!
1. Broccoli and Feta Omelet with Toast
Start your day on a nutritious note with Health's broccoli and feta omelet with toast. Fiber-filled broccoli and protein-rich eggs will keep you sustained for hours, while feta cheese and dill ensure this diet dish is anything but bland. The recipe yields 1 serving, which only takes 10 minutes to make. One omelet and two pieces of toast contain 390 calories, 19 grams of fat, 23 grams of protein, and 6 grams of fiber.
Livestrong notes that eating broccoli a few times a week can cut the number of calories you consume, while ensuring you get plenty of fiber, vitamins, and minerals.
Ingredients:
Cooking spray
1 cup chopped broccoli
2 large eggs, beaten
2 tablespoons feta cheese, crumbled
¼ teaspoon dried dill
2 slices rye bread, toasted
Directions: Heat a nonstick skillet over medium heat. Coat pan with cooking spray. Add broccoli, and cook 3 minutes. Combine egg, feta, and dill in a small bowl. Add egg mixture to pan. Cook 3 to 4 minutes; flip omelet and cook 2 minutes or until cooked through. Serve with toast.
2. Whole-Grain Banana Muffins
Getting beach-body ready doesn't mean you need to give up your morning muffin. Just follow Real Simple's lead, and make the popular baked good healthier using whole-wheat flour, flax meal, yogurt, bananas, and almonds. Making whole-grain banana muffins is also quite easy: Whisk your dry ingredients in one bowl, and in a separate bowl, whisk together the bananas, eggs, yogurt, butter, and vanilla. Whisk the wet ingredients into the dry until just combined, and divide the batter into muffin cups. The recipe yields 12 servings.
Ingredients:
1½ cups whole-wheat flour, spooned and leveled
¾ cup sugar
¼ cup flax meal
1 teaspoon baking soda
1 teaspoon fine salt
2 ripe bananas, mashed (about 1 cup)
2 large eggs
½ cup plain Greek yogurt
6 tablespoons unsalted butter, melted
1 teaspoon pure vanilla extract
¼ cup sliced almonds
Directions: Heat oven to 375 degrees Fahrenheit. Line a standard 12-cup muffin tin with paper liners. Whisk together the flour, sugar, flax meal, baking soda, and salt in a large bowl. In a separate bowl, whisk together the bananas, eggs, yogurt, butter, and vanilla extract. Whisk the wet ingredients into the dry ingredients until just combined.
Divide the batter among the prepared muffin cups and top with the almonds. Bake until a toothpick inserted in the center of a muffin comes out clean, 20 to 25 minutes. Let cool in the tin for 5 minutes, then transfer to a wire rack to cool completely.
3. Couscous Salad with Chickpeas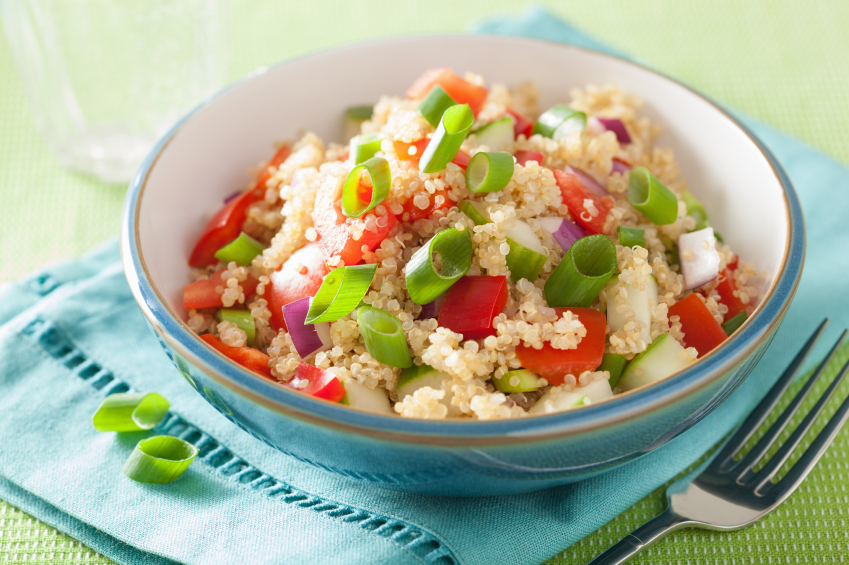 Eating a filling, nutritious lunch will keep you feeling energized and satisfied all afternoon. Whole-wheat couscous, chickpeas, tomatoes, and feta cheese add tons of noteworthy nutrients, while lemon juice, cinnamon, mint, and smoked paprika ensure this dish is seasoned to perfection. For a ready-made lunch, prepare Cooking Light's recipe the night before, cover it, and store in the fridge. One serving contains 351 calories, 16.2 grams of fat, 11 grams of protein, and 7.7 grams of fiber.
Ingredients:
1 cup uncooked whole-wheat couscous
½ teaspoon salt, divided
½ teaspoon black pepper, divided
⅛ teaspoon ground cinnamon
1 cup boiling water
3 tablespoons extra-virgin olive oil
3 tablespoons fresh lemon juice
1½ teaspoons minced garlic
Dash of sugar
⅓ cup chopped fresh mint
¼ cup thinly sliced green onions
⅛ teaspoon smoked paprika
1 (15-ounce) can chickpeas (garbanzo beans), rinsed and drained
1 large ripe tomato, chopped
¾ cup (3 ounces) crumbled feta cheese
Directions: Place couscous, ¼ teaspoon salt, ¼ teaspoon pepper, and cinnamon in a bowl. Stir in boiling water; cover and let stand 10 minutes. Fluff with a fork. Combine oil, juice, garlic, and sugar. Add oil mixture, remaining ¼ teaspoon salt, ¼ teaspoon pepper, mint, and next 4 ingredients. Sprinkle with cheese.
4. Crab and Avocado Salad
Crab and avocado are a somewhat unexpected — but delicious — pairing, creating a superb salad that will curb your midday hunger. Food Network's dish also contains green beans, fresh herbs, anchovy fillets, romaine lettuce, whole-wheat croutons, and cherry tomatoes, and is topped off with a light yogurt dressing. With one serving containing 314 calories, 14 grams of fat, 22 grams of protein, and 8 grams of fiber, this is a great lunch to help whip you into swimsuit shape!
Ingredients:
Kosher salt
½ pound haricots verts or green beans, halved
⅔ cup low-fat plain yogurt
3 tablespoons low-fat mayonnaise
1 to 2 tablespoons fresh lemon juice
½ cup chopped fresh chives
¼ cup chopped fresh basil
3 anchovy fillets, chopped
Freshly ground pepper
½ pound lump or claw crabmeat
1 Hass avocado, halved, pitted and diced
3 romaine hearts, chopped
1½ cups whole-wheat croutons
1 pint cherry tomatoes, halved
Directions: Bring a saucepan of salted water to a boil. Add the haricots verts and cook until crisp-tender, 3 to 5 minutes. Drain and run under cold water to stop the cooking. Purée the yogurt, mayonnaise, lemon juice, chives, basil, and anchovies in a blender until smooth. Season with salt and pepper.
Toss the crabmeat, half of the avocado, and about 1 tablespoon of the yogurt dressing in a small bowl. Toss the romaine, croutons, haricots verts, and the remaining avocado with the remaining dressing in a large bowl. Divide the romaine salad among plates, top with the tomatoes, and place some of the crab mixture in the center.
5. Turkey and Quinoa Meatloaf
It's time to say goodbye to fat-filled meatloaf, and switch to AllRecipes.com's lean turkey and quinoa meatloaf. It has great texture, fantastic flavor, and is chock-full of good-for-ingredients. The secret to this dish's success lies with the quinoa: It provides the meatloaf with a rich texture and a nice nuttiness. The recipe makes 5 servings; each has 259 calories, 11 grams of fat, 25.3 grams of protein, and 1.1 grams of fiber.
Ingredients:
¼ cup quinoa
½ cup water
1 teaspoon olive oil
1 small onion, chopped
1 large clove garlic, chopped
1 (20-ounce) package of ground turkey
1 tablespoon tomato paste
1 tablespoon hot pepper sauce
2 tablespoons Worcestershire sauce
1 egg
1½ teaspoons salt
1 teaspoon ground black pepper
2 tablespoons brown sugar
2 teaspoons Worcestershire sauce
1 teaspoon water
Directions: Preheat an oven to 350 degrees Fahrenheit. Bring the quinoa and water to a boil in a saucepan over high heat. Reduce heat to medium-low, cover, and simmer until the quinoa is tender, and the water has been absorbed, about 15 to 20 minutes. Set aside to cool. Heat the olive oil in a skillet over medium heat. Stir in the onion; cook and stir until the onion has softened and turned translucent, about 5 minutes. Add the garlic and cook for another minute; remove from heat to cool.
Stir the turkey, cooked quinoa, onions, tomato paste, hot sauce, 2 tablespoons Worcestershire, egg, salt, and pepper in a large bowl until well combined. The mixture will be very moist. Shape into a loaf on a foil lined baking sheet. Combine the brown sugar, 2 teaspoons Worcestershire, and 1 teaspoon water in a small bowl. Rub the paste over the top of the meatloaf. Bake in the preheated oven until no longer pink in the center, about 50 minutes. An instant-read thermometer inserted into the center should read at least 160 degrees Fahrenheit. Let the meatloaf cool for 10 minutes before slicing and serving.
6. Lemon-Thyme Chicken with Sautéed Vegetables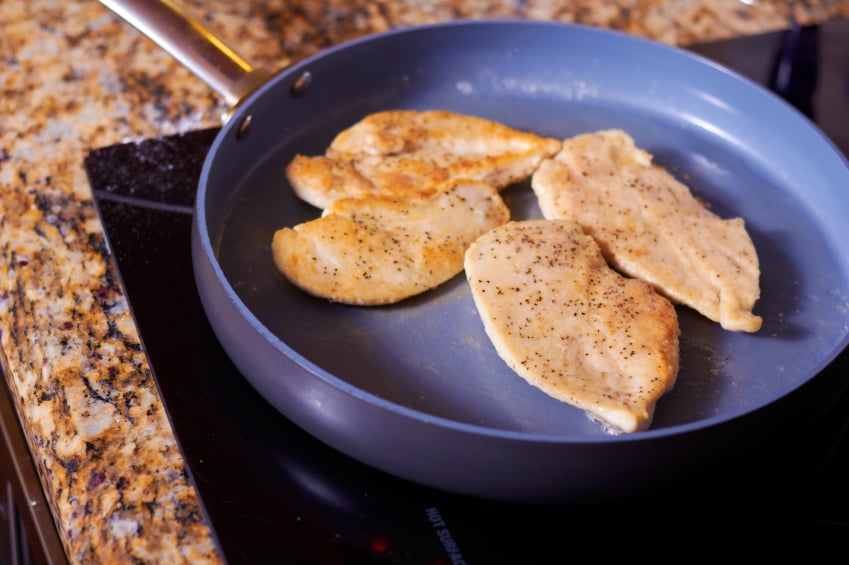 In just 20 minutes, you can have Fitness' recipe, which was developed by Anna Berman, ready to go. Chicken breasts are seasoned with lemon juice, garlic, and thyme, and paired with a healthy side consisting of edamame, tomatoes, zucchini, and feta. Light, satisfying, and delicious, one serving contains 327 calories, 28 grams of protein, 13 grams of fat, and 5 grams of fiber.
Ingredients:
4 tablespoons

lemon

 juice
1 tablespoon chopped garlic, divided
1 tablespoon chopped fresh thyme, divided
Salt
Freshly ground black pepper
1 pound chicken breast tenders, lightly pounded
4 teaspoons canola oil
1 medium shallot, sliced
1½ cups frozen shelled edamame, thawed
1½ cups grape tomatoes, halved
2 medium zucchini
⅓ cup crumbled feta
Directions: In a ziplock bag, combine 3 tablespoons lemon juice, 2 teaspoons garlic, and 2 teaspoons thyme; season to taste with salt and black pepper. Add chicken tenders, seal the bag, and gently turn to coat. Set aside. Heat 2 teaspoons canola oil in a large skillet over medium-high heat. Add shallot, remaining garlic, edamame, and tomatoes; sauté 4 minutes.
Use a vegetable peeler to slice zucchini into long ribbons. Add zucchini and remaining lemon juice and thyme to vegetables in skillet; sauté 2 to 3 minutes. Transfer to a serving bowl, stir in feta, and season with salt and black pepper to taste. Add remaining oil to skillet. Remove chicken from marinade and saute 2 to 3 minutes a side or until cooked through. Serve with vegetables.
7. Pineapple-Raspberry Parfaits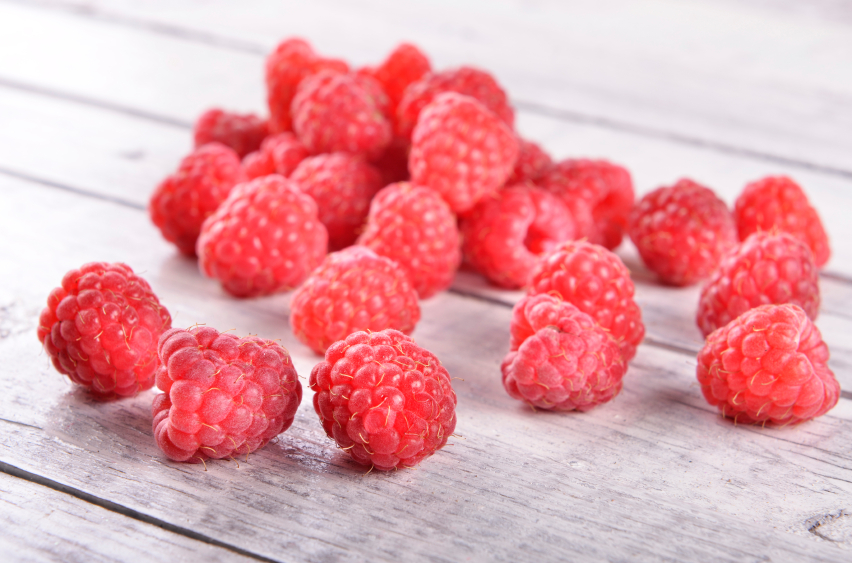 Don't deprive yourself for the sake of swimsuit season! Simply swap your regular sweets for healthier versions, and you can shed pounds while satisfying your sweet tooth. Eating Well's pineapple-raspberry parfait can be whipped up in 5 minutes and only requires 3 simple ingredients: nonfat peach yogurt, raspberries, and pineapple. Layer them in a glass, and you'll have a delicious dessert that contains 109 calories, 0 grams of fat, 5 grams of protein, and 3 grams of fiber.
Ingredients:
2 (8-ounce) containers nonfat peach yogurt
½ pint fresh raspberries
1½ cups fresh, frozen or canned pineapple chunks
Directions: Divide and layer yogurt, raspberries, and pineapple into 4 glasses.
More from Culture Cheat Sheet: