7 Recipes Bringing the Best of Brazil to Your Home
Between the World Cup this summer and the Olympics in 2016, we've got Brazil on the brain — and not only when it comes to sports. Brazilian food draws on other cuisines, like Italian and Portuguese. Dishes vary by region, with localities putting their own stamp on meals and specific recipes. Before Brazil takes over your television, let it take over your kitchen with these seven recipes.
1. Rabanada
Take the French out of your French toast by making rabanadas, the Brazilian (and Portuguese) take on the popular breakfast item. Common at Christmastime, make rabanadas when you want a special treat for breakfast. Although this recipe from Chow says to soak the bread for at least four hours, other recipes shorten the time considerably — such as this one which only soaks the bread for about half an hour. It also skips the candy thermometer, judging the heat of the pan by the sizzle of the oil.
Ingredients:
1 medium sweet or sourdough baguette
3 large eggs
¾ cup sweetened condensed milk
6 tablespoons whole milk
½ teaspoon vanilla extract
¼ teaspoon fine salt
½ cup granulated sugar
1 tablespoon unsweetened cocoa powder
¼ teaspoon ground cinnamon
Vegetable oil, for frying
Directions: Cut baguette on the bias into 1-inch-thick slices (you should have about 16 slices). Place eggs, condensed milk, whole milk, vanilla extract, and salt in a medium bowl and whisk until evenly combined. Pour mixture into a shallow dish that will snugly hold all of the bread (a glass baking dish or a large pie plate) and add baguette slices. Turn slices to coat well in the mixture. Cover with plastic wrap and refrigerate until egg mixture is almost completely absorbed, at least 4 hours or up to overnight.
Place sugar, cocoa powder, and cinnamon in a small bowl and mix until evenly distributed; set aside. When the bread has finished soaking, fill a medium pot with oil to a depth of 2 inches. Heat over medium heat until the oil registers 330 degrees Fahrenheit on a deep-fat, or candy thermometer. Place reserved cinnamon-cocoa mixture on a plate and set aside. Line another plate with paper towels and set aside.
Remove bread slices from the egg mixture, allowing any excess to drip off. Place 4 to 6 pieces of bread in the hot oil but don't overcrowd the pot. Fry until bread slices are dark golden brown on one side, about 4 to 5 minutes. (You'll want the oil to maintain a temperature of 325 degrees Fahrenheit while the bread is frying; adjust the heat as necessary.) Flip and fry another 4 to 5 minutes. Remove to the paper-towel-lined plate to drain. While still hot, dredge French toast in the cinnamon-cocoa mixture and shake off any excess. Repeat the frying process with the remaining bread slices and serve.
2. Feijoada and Farofa
Emeril Lagasse is responsible for giving this two-for-one recipe to Food Network. Feijoada, an online guide to Brazil states, is considered the national dish. Beef and pork are added to a thick black bean stew that is traditionally cooked in a clay pot. Farofa, Honest Cooking explains, is a side dish that is meant to be mixed with rice, beans, meat, etc. — because on its own, it can have a gritty texture.
Ingredients:
2 tablespoons olive oil
2 cups chopped onions
2 tablespoons chopped garlic
2 bay leaves
Salt
Freshly ground black pepper
1 pound chorico sausage, sliced 1/4-inch thick
1 pound carne seca or other salted cured beef, soaked overnight and cubed
1 pound baby back spareribs, cut into individual ribs
1 pound black beans
10 cups water
4 cups sautéed collared or kale greens
4 cups cooked white rice
Brazilian hot sauce
Garnish: 1 orange, halved and cut into thin slices and Farofa
Farofa
3 tablespoons butter
2½ cups manioc flour
Salt
Directions: In a large heavy-bottom saucepan, over medium heat, add the oil. When the oil is hot, add the onions and garlic. Crush the bay leaves and add to the pan. Season with salt and pepper. Sauté for 5 minutes. Add the sausage. Continue to cook for 4 minutes. Add the cubed beef, ribs, beans and water. Bring the liquid to a boil, reduce the heat to medium low and simmer until the beans are tender, about 2 1/2 hours. Adding water as necessary to keep the beans covered. Using the back of a ladle, mash 1/4 of the beans. Reseason with salt and pepper if needed. To serve, spoon some of the greens and rice onto each serving plate. Spoon the Feijoada over the rice. Shake some of the hot sauce over the entire plate. Garnish with the orange slices and farofa.
To make the farofa, in a large saute pan, over medium heat, melt the butter. Add the flour. Season with salt. Saute until golden, about 3 to 5 minutes. Remove from the heat.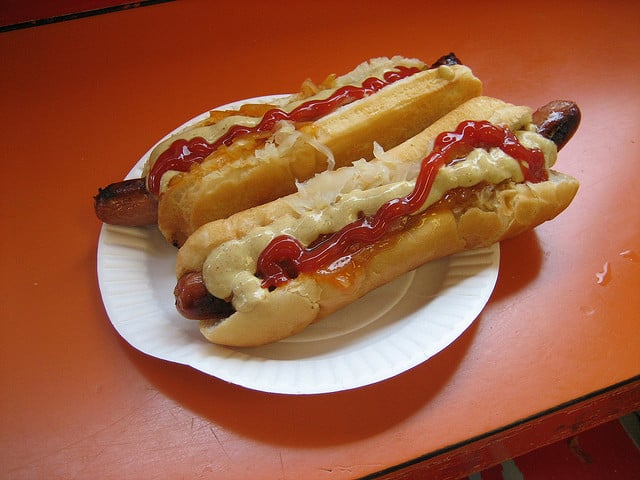 3. Podrão
The Latin Kitchen says to experiences classic street food in Rio de Janeiro, you need to try podrão, which are hot dogs that are simmered in sauce and covered in as many toppings as you'd like (examples follow). When a trip to Rio isn't around the corner, make their at-home version and indulge in a Brazilian late-night snack.
Ingredients:
1 tablespoon extra virgin olive oil
1 medium white onion, thinly sliced
1 medium green bell pepper, seeded and thinly sliced
2 cloves garlic, minced
6 all-beef, pork or turkey hot dogs sliced into thirds
1 (14.5-ounce) can stewed tomatoes
¼ teaspoon dried oregano
6 hot dog buns
kosher salt and freshly ground black pepper
Toppings
ketchup, mayonnaise and mustard
hard boiled quail eggs
canned peas and/or corn, drained and rinsed
grated parmesan cheese
French fried matchstick potatoes
Directions: Warm the oil in a stock pot and add the onion, pepper and garlic. Cook, stirring until softened. Add the hot dogs, tomatoes, oregano, salt, and pepper and simmer over low heat for 15 minutes. Serve hot, scooping the sauce and a few hot dog segments into a bun with your choice of typical food truck toppings.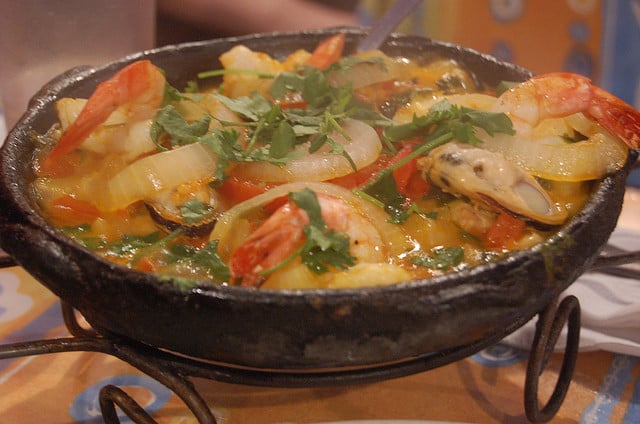 4. Moqueca
Beef and beans aren't your only option when it comes to Brazilian stews. Moqueca is a fish stew, and in this recipe from Saveur you do not necessarily have to use catfish filets, as any white fish will work. It serves between six and eight people. South America, a travel site, says that in Brazil, moqueca differs by region, but in most places it is simmered for several hours in a clay pot, creating a thick, rich stew.
Ingredients:
1½ pound boneless, skinless catfish filets, cut into 2 inch pieces
8 ounces medium shrimp, peeled and deveined
¼ cup fresh lime juice
8 cloves garlic, minced
Kosher salt and freshly ground black pepper, to taste
3 tablespoons olive oil
1½ small yellow onions (1 minced, ½ thinly sliced)
1 Italian frying pepper, stemmed, seeded (half minced, half thinly sliced)
2 plum tomatoes, cored (1 minced, 1 thinly sliced)
1 cup fish or vegetable stock
1 cup coconut milk
2 tablespoons palm oil
¼ cup minced cilantro
½ cup minced Thai basil leaves
Cooked white rice, to serve
Directions: Toss fish, shrimp, juice, half the garlic, and salt and pepper in a bowl; set aside. Heat olive oil in a 6-quart Dutch oven over medium-high heat. Add remaining garlic, minced onion, and minced pepper; cook until soft, about 6 minutes. Add minced tomatoes; cook until broken down, about 5 minutes. Add stock, coconut milk, and palm oil; boil.
Drain fish and shrimp and add to pot; cook until just cooked through, about 7 minutes. Add sliced onion, pepper, and tomato; cook, covered, for 5 minutes. Stir in cilantro and basil; season with salt and pepper. Serve with rice.
5. Pão de Queijo
For a bread to serve alongside your stews, or for a small inclusion of Brazilian food at your table, make pão de queijo. Many recommend eating the cheesy bread hot, so if you are not immediately devouring Epicurious version, warm it slightly before serving.
Ingredients:
2 cups tapioca flour
1 cup milk
½ cup butter (or margarine)
1 teaspoon salt
1½ cups grated Parmesan cheese
2 eggs
Directions: Preheat oven to 400 degrees Fahrenheit. In the mean time bring the milk, salt, and butter to a boil in a sauce pan while constantly stirring mixture. Once boiling remove the mixture of milk, salt, and butter from heat. Slowly add tapioca flour, stirring constantly until thoroughly mixed. Add the cheese and eggs to mixture. Mix until smooth. Fill each mini muffin cup all the way up. Bake until golden brown, usually about 20 minutes.
6. Pizza a Portuguesa
Brazil puts its cultural stamp on pizza too, but as the name suggests, there is a heaping dose of Portuguese influence too. In discussing this recipe and pizza, From Brazil to You says the name might come from the ingredients since eggs and sausage feature prominently in Portuguese food. Cultural cues come from the Italians as well; when pizza was brought to Brazil, it was from immigrants to São Paulo who brought a thin, crisp crust with them.
Ingredients:
1 (12-inch) homemade or store-bought pizza crust (thin and crispy for a traditional pizza)
olive oil to brush crust and drizzle the pizza (optional)
⅓ cup tomato sauce
3 cups mozzarella cheese, shredded
8-10 thin slices deli smoked ham
6-8 slices of chouriço (chorizo) sausage, stir-fried (optional)
1 large tomato, sliced
1 medium yellow onion, sliced
½ medium green bell pepper, small diced
2 large hard-boiled eggs
6-8 pitted black olives
fresh oregano
a pinch Kosher salt
a pinch freshly ground black pepper
Directions: Preheat the oven to 425 degrees Fahrenheit or at the temperature indicated on the package for your dough. Line a large, round baking sheet with parchment paper.
To make the pizza a Portuguesa: Brush one (12-inch) pizza crust with olive oil if desired — it seals the crust and makes it crispier. Spread the tomato sauce on top and then distribute the shredded cheese. Overlap the ham in the center of the pizza, and arrange the slices of sausage (optional), tomato and onion. Slice one of the hard-boiled eggs and reserve to decorate the pizza when it comes out of the oven. Chopped the yolk of the other hard-boiled egg and sprinkle in the center of the pizza. Decorate with black olives, sprinkle the oregano, and season with salt and pepper.
Bake for 10 minutes (or follow instructions on the package of the pizza crust), remove from oven, and decorate with the slices of hard-boiled egg. Drizzle the pizza a portuguesa with a little bit of olive oil if desired. Enjoy!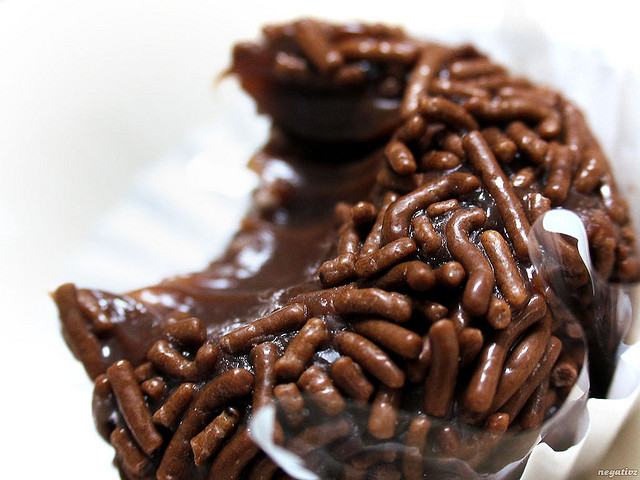 7. Brigadeiro
A sweet candy truffle made of chocolate and perfect for sharing? Sign us up! Betty Crocker and Blogging Foods has the low-down on how to make this addicting dessert. There will be about forty brigadeiros when you are done.
Ingredients:
2 cans (14 ounces each) sweetened condensed milk (not evaporated)
¼ cup unsweetened baking cocoa
2 tablespoons unsalted butter
½ cup chopped pistachio nuts
⅓ cup chopped sliced almonds
⅓ cup shredded coconut
⅓ cup chocolate candy sprinkles
⅓ cup colored candy sprinkles
Directions: Grease large shallow pan or platter with butter. In 4-quart nonstick heavy saucepan, heat condensed milk, cocoa and 2 tablespoons butter to boiling, stirring constantly with wooden spoon. Reduce heat to medium-low; cook 10 to 15 minutes, stirring constantly, until mixture is thick and shiny and starts to pull away from bottom and side of saucepan when pan is tilted. Pour mixture into shallow pan; cool completely (refrigerate to firm up faster).
Place remaining ingredients in separate small bowls. Use teaspoon or melon baller to scoop truffle mixture, then use greased hands to shape into 1 to 1½-inch balls. Roll each ball in pistachios, almonds, coconut or sprinkles. Place in mini paper baking cups. Store tightly covered at room temperature up to two days or in the refrigerator up to one week.
More From Wall St. Cheat Sheet: