7 Recipes for a Graduation Celebration
One way to cut costs when throwing a graduation party is to make some — or all — of the food yourself. By using some store-bought ingredients, like refrigerated pizza dough or brownie mixes, you can cut back on your stress level, too. To get you started on planning your graduation party menu, here are seven recipes that you guests will love and are easy to make.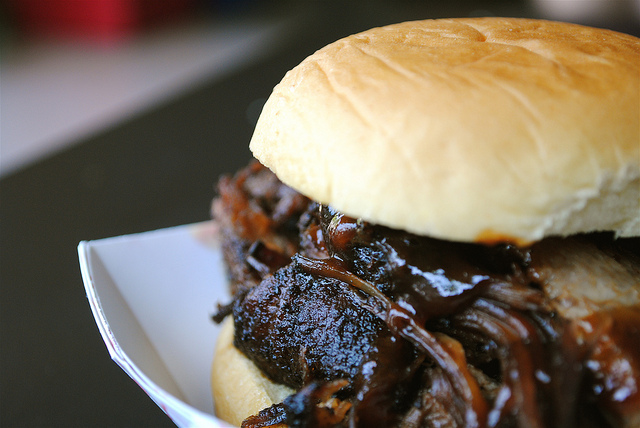 1. Barbecue Pulled Pork
Making pulled pork in the crockpot will not only save you time, but you also won't have to search for a dish to serve this About.com recipe in, either. Instead, you can leave the meat in the slow cooker on a low or keep warm setting, and guests can serve themselves. Have sandwich buns, cornbread, wraps, or slaw nearby on the table, as well.
Ingredients:
4-pound pork roast (boneless pork shoulder or Boston butt)
2 onions, sliced, divided
1 onion, chopped
5 or 6 whole cloves
2 cups water
16 ounces bottle of your favorite barbecue sauce
salt and pepper
Directions: Place one sliced onion at the bottom of crock pot. Stud pork roast with cloves and season with salt and pepper. Place roast in slow cooker on top of the sliced onion. Cover with the second sliced onion and add enough water to fill Crock Pot two-thirds of the way. Cover and cook on low 8-12 hours.
Remove roast. Remove and discard cloves, bone, and fat, as well as any water, onions, and grease remaining in pot. When pork roast is cool enough to handle, use a fork or your fingers to pull it apart until the entire roast is shredded. Return the pulled pork to the crockpot. Mix in the chopped onion and BBQ sauce and cover. Heat on high for 1-3 hours or until the onions are soft.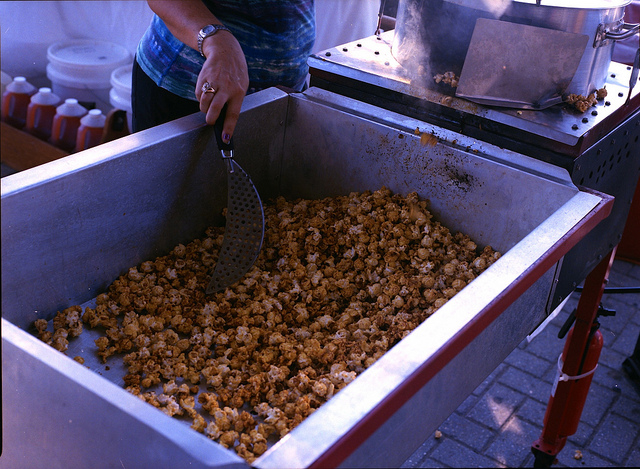 2. Brown Sugar Kettle Corn
Snacks are a must have at any party, and brown sugar kettle corn can be an alternative to chips and dips. You can make Marcus Samuelsson's recipe a few hours ahead of your party, storing the pre-made popcorn in an airtight container.
Ingredients:
½ cup unpopped corn kernels
¼ cup brown sugar
3 tablespoons olive oil
1 tablespoon sea salt
Directions:  Heat the olive oil in the bottom of a big pot, then add the sugar and corn kernels and stir well, letting the kernels get fully coated. Cover the pot and wait for the first few kernels to pop. Using pot holders, take the pot by the handles on both sides and swish the kernels around in a circular motion inside so that the sugar doesn't burn. Do this periodically, taking the pot momentarily off the direct flame. Once the popping slows down noticeably, turn off the flame and let sit for a few minutes to cool. Scoop the popcorn into a large bowl and sprinkle immediately with sea salt.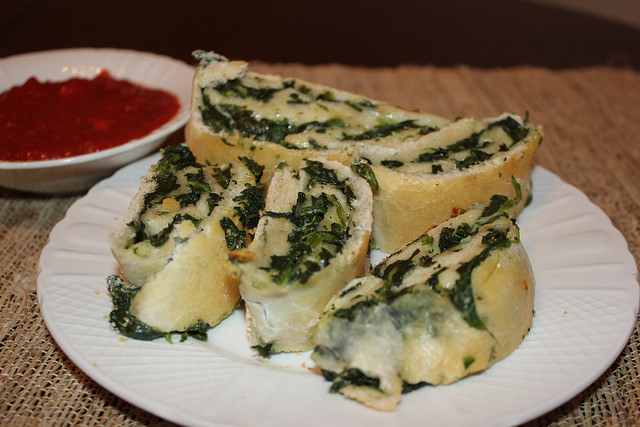 3. Stromboli
For a meat-free option, make Rachel Ray's spinach and artichoke-filled stromboli. For pizza lovers, a variety of stromboli options may be the easiest way to get the flavor they love in easily baked, easily eaten snacks.
Ingredients:
2 eggs, divided
½ cup fresh ricotta cheese
about ½ teaspoon grated nutmeg
zest of 1 lemon
salt and pepper
2 cloves garlic, grated
1 box frozen spinach, defrosted (10 ounces)
1 jar artichoke hearts (14 ounces), chopped
½ cup Parmigiano Reggiano cheese
1 store-bought pizza dough
2 cups shredded provolone cheese
sesame seeds, for sprinkling
garlic flakes, for sprinkling
onion flakes, for sprinkling
Directions: Preheat oven to 400 degrees Fahrenheit. Beat 1 egg in a large bowl with the ricotta, nutmeg, lemon zest, salt, and pepper. Mix in the garlic, spinach, artichoke hearts, and Parmigiano Reggiano cheese. In a small bowl, whisk the remaining egg with a splash of water to make an egg wash; set aside.
On a floured surface, roll out the pizza dough into a rectangle about 9½ by 13 inches. Spread the filling evenly out onto the entire dough, making sure not to get too close the any of the edges. Top with the provolone cheese.
Roll the stromboli, starting at one of the long sides, tucking in both ends firmly, and turn over about four times until you are left with just the one edge. Brush the edge with egg and gently press to seal. Turn the stromboli over so that the seam is facing down on the sheet tray. Lightly brush the egg wash over the top of the stromboli, covering the entire surface. Sprinkle with sesame seeds, garlic flakes, and onion flakes. Cut slits about 1½ inches apart down the top of the stromboli so that steam can escape while baking. Bake until golden brown, about 35-40 minutes.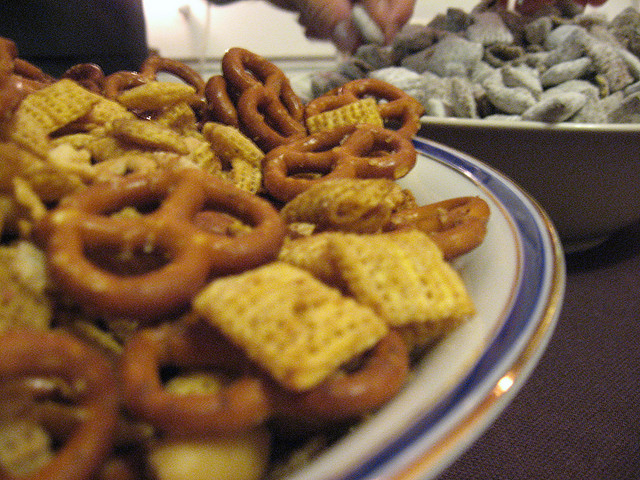 4. Cajun Chex Mix
Balance out your sweet kettle corn snack with a spicy option, like Taste of Home's cajun chex party recipe. The party mix will store well, so you can make it a day or two ahead of time and keep it in an airtight container. The measurements below yield around 8 cups.
Ingredients:
2½ cups Corn Chex
2 cups Rice Chex
2 cups Crispix
1 cup miniature pretzels
1 cup mixed nuts
½ cup butter, melted
1 tablespoon dried parsley flakes
1 teaspoon celery salt
1 teaspoon garlic powder
¼ to ½ teaspoon cayenne pepper
¼ teaspoon hot pepper sauce
Directions: Preheat oven to 250 degrees Fahrenheit. In a large bowl, combine the cereals, pretzels, and nuts. Pour into an ungreased 15-by-10-by-1-inch baking pan. Combine the remaining ingredients; pour over cereal mixture and stir to coat. Bake for 40-60 minutes, stirring every 15 minutes. Store in airtight containers.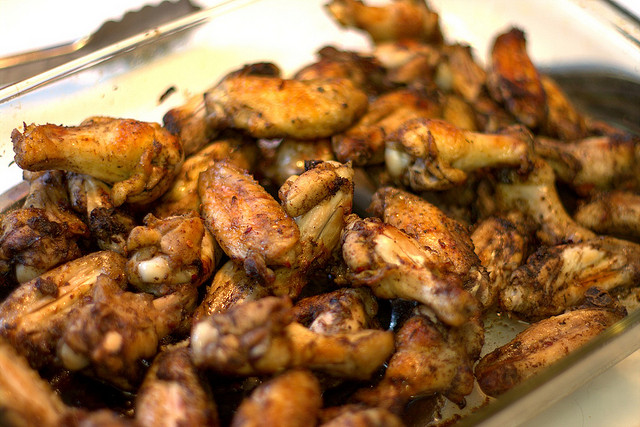 5. Grilled Chicken Wings
Chicken wings are always a crowd pleaser, and since this Bon Appétit recipe is made on the grill, the cook can still talk and socialize with party guests while preparing food. Herbs aren't your only option, though — check out Fine Cooking's sauce recipes and follow those marinade directions instead if you're in the mood for glazed finish for your wings. The recipe serves four, so adjust to your needs.
Ingredients:
4 garlic cloves, finely chopped
¼ cup chopped fresh oregano
¼ cup chopped fresh rosemary
¼ cup olive oil
Kosher salt, freshly ground pepper
2 pounds chicken wings
Directions: Combine garlic, oregano, rosemary, and oil in a large resealable plastic bag; season with salt and pepper. Add chicken wings, seal bag, and turn to coat. Chill at least 1 hour or overnight.
Prepare grill for medium heat. Remove wings from marinade and grill, covered and turning occasionally, until golden brown and crisp, 15-20 minutes.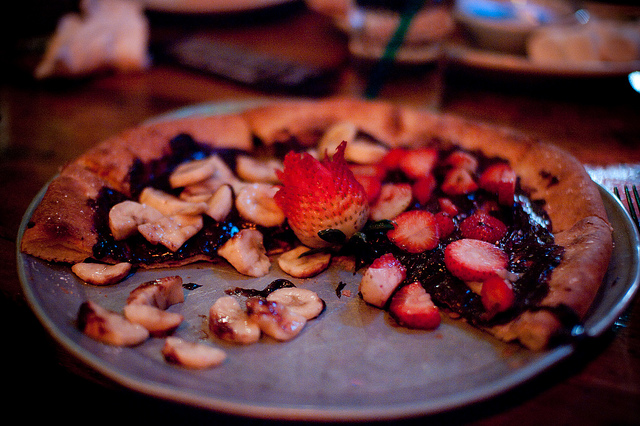 6. Dessert Pizza
Even if you're making a lot of the menu yourself, you'll probably order the cake from a bakery. A number of other bite-sized sweets will help fill out your dessert table and are easy to make, like Giada de Laurentiis's dessert pizza. If you don't think everyone will like hazelnuts, try a fruit topping instead.
Ingredients:
1 (16-ounce) purchased pizza dough (or homemade)
2 teaspoons butter, melted
¼ cup chocolate-hazelnut spread (such as Nutella)
½ cup semisweet chocolate chips
2 tablespoons milk chocolate chips
2 tablespoons white chocolate chips
2 tablespoons chopped hazelnuts, toasted
Directions: Line a heavy large baking sheet with parchment paper. Roll out the dough to a 9-inch-diameter round. Transfer the dough to the prepared baking sheet. Using your fingers, make indentations all over the dough. Brush the dough with butter, then bake until the crust is crisp and pale golden brown, about 20 minutes. Immediately spread the chocolate-hazelnut spread over the pizza then sprinkle all the chocolate chips over. Bake just until the chocolate begins to melt, about 1 minute. Sprinkle the hazelnuts over the pizza. Cut into wedges and serve.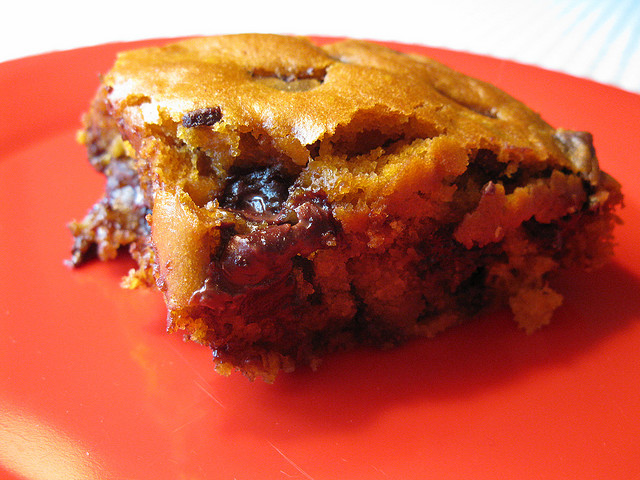 7. Chocolate Chip Cookie Brownies
Betty Crocker has what has to be one of the easiest desserts to put together that will keep guests from having to choose between cookies and brownies by combining them into one delightful dessert. Since you'll be pressed for time getting everything else around the house ready, a recipe like this one that relies on mixes is an essential, since you won't have to spend too much time in the kitchen.
Ingredients:
1 box (2.4 ounces) Betty Crocker Original Supreme Premium brownie mix
Water, vegetable oil, and egg called for on brownie mix box
1 pouch (1.5 ounces) Betty Crocker chocolate chip cookie mix
½ cup butter or margarine, softened
1 egg
1 container chocolate frosting, if desired
Directions: Heat oven to 350 degrees Fahrenheit (325 degrees Fahrenheit for dark or nonstick pan). Spray bottom only of 13-by-9-inch pan with cooking spray, or grease with shortening. Make brownie mix as directed on box. Spread in pan.
Make cookie mix as directed on pouch, using butter and 1 egg. Drop dough by rounded tablespoonfuls evenly onto brownie batter; press down lightly. Bake 42-47 minutes or until toothpick inserted 2 inches from side of pan comes out almost clean. Cool on cooling rack 30 minutes. Frost with frosting. For brownies, cut into 7 rows by 6 rows.
More From Wall St. Cheat Street: