7 Recipes for a Healthier Halloween: Spook-Free Nutrition
Despite many kids' wishful thinking, Halloween shouldn't be a day that consists only of sugar. Before you attend a holiday party or send your little ones trick-or-treating, make sure you've all eaten something healthy that will help prevent a candy binge later on. The best part? There are plenty of nutritious ways to get into the scary spirit. From spooky snacks to candy corn quesadillas, your family will love these healthy and festive dishes. Get ready to create graveyard pizza and snack-o'-lantern fruit cups using these 7 recipes.
1. Jackson Pollock Candied Apples
This is a healthy and delicious treat to enjoy on Halloween. Cooking Light's recipe puts a fun spin on a candied apple by using bittersweet chocolate to decorate it. Think of the apples as your canvas and the chocolate as your paint.
Ingredients:
6 Granny Smith apples
3 ounces bittersweet chocolate, coarsely chopped
2½ ounces premium white baking chocolate, coarsely chopped
Directions: Wash and dry apples; remove stems. Insert a wooden stick into the stem end of each apple. Place bittersweet chocolate in a glass bowl; microwave at high 1 minute or until melted, stirring every 20 seconds until smooth. Working with 1 apple at a time, hold apple over bowl. Using a spoon, drizzle apple with about 2 teaspoons bittersweet chocolate. Place apple, stick side up, on a baking sheet covered with wax paper. Repeat procedure with remaining apples.
Place white chocolate in a glass bowl; microwave at high 1 minute or until melted, stirring every 15 seconds until smooth. Working with 1 apple at a time, hold apple over bowl. Using a spoon, drizzle apple with about 1½ teaspoons white chocolate. Place apple, stick side up, on baking sheet covered with wax paper. Repeat procedure with remaining apples. Chill apples until ready to serve
2. Ghostly Pumpkin Pudding
Food Network proves you can enjoy a tasty Halloween treat using healthy ingredients. Ground cinnamon, pumpkin, and milk provide vitamins, calcium, and antioxidants, while the toppings let you create cute faces for your ghoulish ghosts. The recipe yields 12 servings.
Ingredients:
Pudding:
1 package gelatin
2 cups whole milk
1 cup sugar
6 large egg yolks (reserve 2 whites for topping)
¼ teaspoon ground cinnamon
¼ teaspoon fine salt
1 (15-ounce) can pure pumpkin puree
Topping:
2 large egg whites
⅓ cups sugar
½ teaspoon cream of tartar
1 pinch fine salt
Small candy, for eyes
Directions: To prepare the pudding, put 1 tablespoon of cold water in a large bowl. Sprinkle gelatin over the surface, do not stir, and set aside until gelatin softens and blooms. Bring a few inches of water to a boil in a saucepan that can hold a stand mixer's bowl above the water. Whisk milk, sugar, yolks, cinnamon, and salt in a heat-proof bowl. Set the bowl above the boiling water and cook, stirring constantly with a heat-proof spatula, until mixture begins to thicken and coats the back of a spoon and almost boils, 10-12 minutes. Immediately remove from the heat and pour over the gelatin, whisking constantly until gelatin is completely dissolved and evenly distributed. Whisk in pumpkin until combined and completely smooth.
Evenly divide mixture into 12 small, 3-ounce cups and refrigerate until set, about 4-8 hours. To make the topping, bring a few inches of water to a boil in a saucepan that can hold a stand mixer's bowl above the water. Whisk the 2 egg whites, sugar, cream of tarter, and salt in the bowl by hand. Set the bowl above the boiling water and continue whisking until the mixture is hot to the touch and the sugar dissolves, about 1-2 minutes. Transfer bowl to mixer and beat with the whisk attachment at medium-high speed until eggs hold a stiff peak, about 5 minutes. Spoon topping onto puddings in the shape of a ghost. Decorate with candy eyes and refrigerate until ready to serve.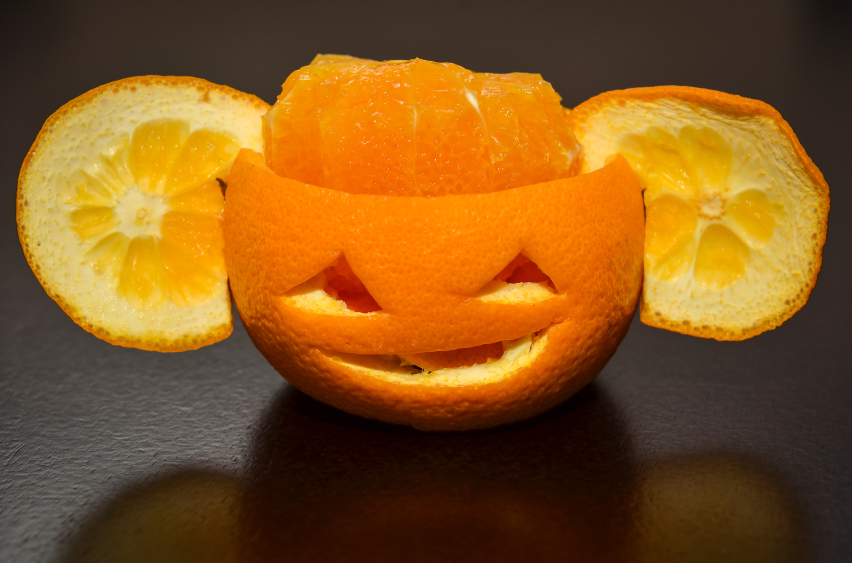 3. Snack-o'-Lantern Fruit Cups
Whether you are hosting a scary party or simply want a festive snack, you will loved Seeded at the Table's Snack-o'-Lantern Fruit Cups, which were adapted from Disney Family Fun Magazine. You can even carve the oranges a day in advance for minimal preparation on Halloween. Just be sure to keep them refrigerated.
Ingredients:
Oranges
Fruit of your choosing
Directions: Slice top off the navel orange. Run a knife around its interior to hollow it out. Scoop out the orange segments and reserve for filling. Carve pumpkin face on one side of the orange. Repeat for other oranges. Use a paper towel to gently soak up any remaining juice inside the oranges. Dice up desired fruit, including the reserved orange segments and fill each cup. Set the lid back on top and serve.
4. Frozen Banana Mummies and Hairy Creature Things
This is a great Halloween treat to have your kids help you prepare. Lexie's Kitchen & Living's recipe uses bananas, cocoa butter, and coconut sugar to create adorable and quirky-looking monsters. It yields 12-15 servings.
Ingredients:
3 large bananas
3 tablespoons gently melted, food-grade cocoa butter
3 tablespoons powdered coconut sugar
Candy eyes: chocolate chips, currants, or raisins
Directions: Peel and slice the bananas into 1½ chunks. Skewer bananas with lollipop sticks or use kebab skewers cut in half. Place on a parchment-lined baking sheet and freeze. For the candy coating, mix the melted cocoa butter with the powdered sugar in a small bowl. Spoon a little drop of candy coating on a frozen banana and stick on an eye or two. Using a spoon, drizzle candy coating over the bananas in all directions, avoiding the eye.
To make the "things," mix a few drops of yellow and a drop of red decorating colors with some unsweetened shredded coconut. To assemble, attach eyes with a dot of candy coating. Drizzle candy coating on to coat front, avoiding eyes. Sprinkle with coconut. Drizzle to coat back. Sprinkle again. Drizzle to coat top. Sprinkle again.
5. Graveyard Veggie Pizza Recipe
Create a terrifyingly healthy dinner by preparing Taste of Home's Graveyard Veggie Pizza. If you're looking for a way to make your scary supper even more festive, consider serving it with Kraft's Ghoulish Punch or Pillsbury's Chilling Jack-o'-Lantern Smoothies. This veggie-packed pizza yields 15 servings.
Ingredients:
2 cups all-purpose flour
2 teaspoons baking powder
1 teaspoon salt
⅔ cup milk
¼ cup plus 1 tablespoon canola oil, divided
Topping:
3 cups (24 ounces) 4 percent cottage cheese
1 envelope ranch salad dressing mix
½ cup mayonnaise
¼ cup milk
2 cups (8 ounces) shredded part-skim mozzarella cheese
1 cup chopped fresh broccoli
1 cup chopped fresh cauliflower
2 cans (4¼ ounces each) chopped ripe olives
½ cup chopped celery
⅓ cup shredded carrot
¼ cup chopped onion
1 jar (2 ounces) sliced pimientos, drained
1 package (3 ounces) cream cheese, softened
4 teaspoons sour cream
10-15 crackers
Directions: Preheat oven to 425 degrees Fahrenheit. For crust, in a large bowl, combine the flour, baking powder, and salt. Add milk and ¼ cup oil; mix well. Shape into a ball; knead 10 times. On a lightly floured surface, roll into a 15-by-10-inch rectangle. Transfer to an ungreased 15-by-10-by-1-inch baking pan. Press onto the bottom and up the sides of pan. Prick with fork; brush with remaining oil. Bake for 12-14 minutes or until edges are lightly browned. Cool completely on a wire rack.
In a small bowl, combine the cottage cheese, ranch dressing mix, mayonnaise, and milk; spread over crust. Sprinkle with cheese, broccoli, cauliflower, olives, celery, carrot, onion, and pimientos. For tombstones, in another small bowl, beat cream cheese and sour cream until fluffy. Place mixture in a resealable plastic bag; cut a small hole in a corner of bag. Pipe "RIP" onto crackers. Insert into pizza. Refrigerate until serving.
6. 'Candy Corn' Chicken Quesadillas
Rather than vegging out on sugary sweets, why not make a healthy dinner that looks like candy instead? Boulder Locavore's recipe calls for roast chicken, salsa, sour cream, and roasted green chilies and is topped with cheese to give this satisfying supper a candy corn appearance. It yields 6 servings.
Ingredients:
12 corn tortillas
2 cups roast chicken, diced
3 tablespoons salsa
3 tablespoons sour cream
1½ tablespoons green chilies (roasted, canned, or fresh), chopped
Salt and pepper to taste
1 package sliced Monterey Jack or white cheddar (white cheese)
1 package sliced mild or sharp cheddar (dark orange)
1 small block Tillamook (light orange) cheese
Directions: Preheat oven to 350 degrees Fahrenheit. Cut the tortillas into a triangle, leaving the bottom uncut and round. Cut them in pairs so they will match together. Place all tortillas in a sealed zipper plastic bag to prevent drying out. In a small bowl combine the salsa and sour cream; stir to mix. In a medium mixing bowl combine the chicken, green chilies, and salsa/sour cream and stir to completely combine. Salt and pepper to taste. Place one side of a pair of cut tortillas on a large baking sheet. Spoon ⅓ cup of the chicken mixture onto the tortilla and evenly spread it over the tortilla.
Place the corresponding tortilla on top of the chicken mixture. Repeat for all the tortillas to make 6 quesadillas. Using kitchen scissors or a sharp knife, cut the cheese to cover the top tortilla in a candy corn pattern: white for the tip, dark orange for the middle, and light orange for the top. Cover the whole tortilla. Repeat for the remaining quesadillas. Place quesadillas in the oven. Bake until the cheese has totally melted but don't over bake until the cheese is thin and runny, about 5 minutes. Remove from oven, trim any extra cheese if desired and serve.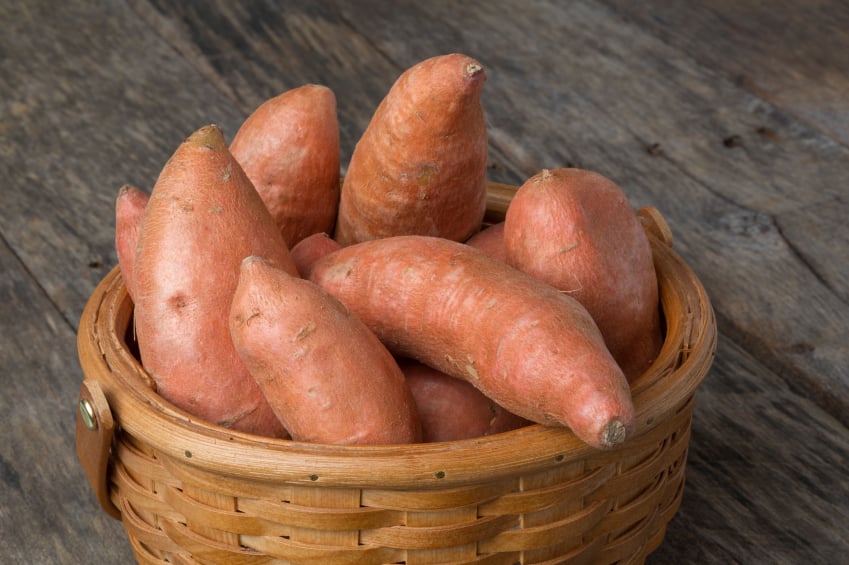 7. Halloween Hassleback Sweet Potato Bugs
Halloween is the perfect time to transform your sweet potatoes into creepy bugs. Web MD notes that sweet potatoes are one of the most nutritious vegetables and are packed with calcium, potassium, and vitamins A and C. Following My Nose ensures you get all of those healthy benefits while sitting down to an oh-so-scary supper.
Ingredients:
Bodies:
4 small (long) sweet potatoes, washed and peeled
Legs: 
3 Brussels sprouts (cut in half after cooking)
6 asparagus tips
6 apple slices
6 banana spears
Stuffing:
10 pepperoni slices
10 small cheese slices
2 tablespoons cream cheese
Faces:
6 raisins
4 nuts
2 small onion wedges
2 small pepper wedges
2 pepper tips
4 small rosemary sprigs
Other:
2 garlic cloves (finely minced)
2 tablespoons honey
⅓ cup melted butter
1 tablespoon of coconut oil
1 medium sized casserole dish
4 small serving plates
Directions
: Melt the butter in two separate small pans. Preheat convection oven to 400 degrees Fahrenheit. Wash and peel the sweet potatoes. Slice into each sweet potato every ¼ inch but don't cut all the way to the bottom. Leave a larger slice on the head end. Coat the bottom of the baking dish with coconut oil. Brush each potato with plain butter. Bake until very soft all the way through, at least 1 hour.While they are baking, get all the other body parts ready. Add the honey to one of the butter pans. Add the minced garlic to the other butter pan.
Prepare and set out all the little parts to arrange on each plate just before serving. Cut up or fold the pepperoni and cheese slices to sizes that will fit into the potato cuts. Get the cream cheese handy. Cut the apple and banana pieces and have them ready to arrange as legs.When the potatoes are 99 percent done, steam your Brussels sprouts and asparagus. When the potatoes are done you have to work quickly to assemble them so they don't get cold before serving. After assembly, generously drizzled hot garlic butter on the savory ones and hot honey butter on the sweet ones.
More from Life Cheat Sheet:
Want more great content like this? Sign up here to receive the best of Cheat Sheet delivered daily. No spam; just tailored content straight to your inbox.