7 Recipes for Cooking With Creamy, In-Season Celeriac
Poor celeriac. No one ever just talks about how delicious this vegetable is. Everyone starts off by talking about how ugly it is. If you don't know what this beautiful root is, you'll likely pass if at a store or market and say, "Ew, what is that thing?" That thing is a sturdy root vegetable with a creamy white interior and all the luscious, refreshing flavor of celery, plus a little sweetness thrown in for good measure. It has the texture of a parsnip crossed with a turnip and all the versatility of a potato. Once you hack away at the rough exterior, you reveal the treasure within.
Celeriac is sometimes called celery root, and it's easy to see why when you get a whole root with the tops attached from the market: It has stalks! Though celeriac is in the same family as celery, those stalks aren't quite the same as the ones you're used to. They're much more like the celery of old: incredibly pungent and not as crisp as the celery we're used to snacking on. Don't throw them out, though, because they're wonderful in stocks and soups.
To prep celeriac, you need something a little more heavy duty than a vegetable peeler; a serrated bread knife does a great job. Cut a flat edge to work on and use the knife to follow the contours of the vegetable. Saw off the peel and the gnarled roots and the whiskers, revealing the milky white interior without carving out too much of the flesh. For a visual, see this video from Gourmet. Then use this long-lasting storage vegetable for these 7 amazing recipes.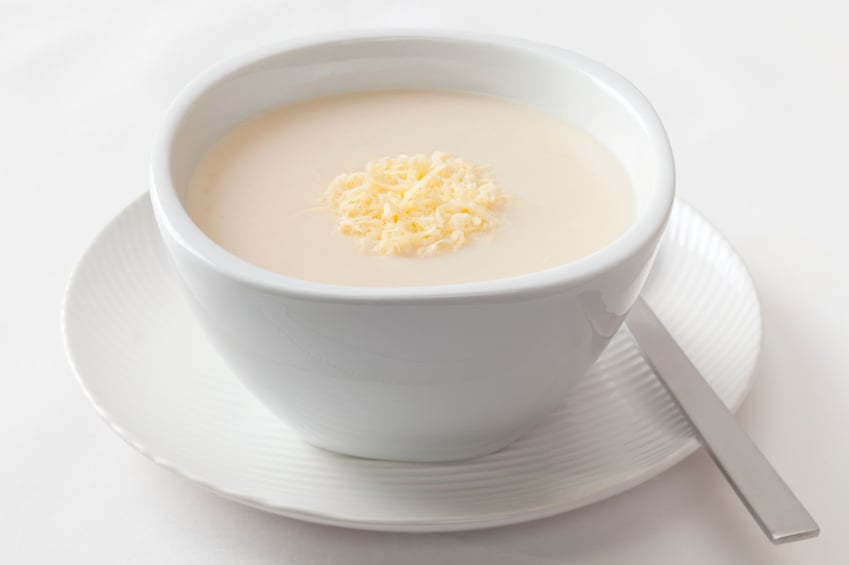 1. Celeriac Soup
Soup is one of the best ways to introduce yourself to this root vegetable. The celeriac cooks down into a creamy concoction of delicate nuttiness, and you end up with the smoothest, most velvety soup without any added dairy. This recipe from Chow uses potatoes for added heft and apples, celeriac's best friend, for complementary balance through both tart and sweet flavors.
Ingredients:
3 tablespoons extra-virgin olive oil, plus more for garnish
1 cup thinly sliced leek, white and light green parts only
2½ pounds celeriac, peeled and cut into 1-inch chunks
12 ounces Yukon Gold potatoes, peeled and cut into 1-inch chunks
1 medium tart apple, such as Granny Smith, peeled, cored, and cut into 1-inch chunks
2 medium garlic cloves, peeled and smashed
2 teaspoons kosher salt, plus more as needed
Freshly ground black pepper
3 cups water
2 cups low-sodium chicken or vegetable broth
Directions: Heat oil in a large saucepan with a tight-fitting lid over medium-high heat until shimmering. Add leek and cook, stirring occasionally, until softened and translucent, about 3 minutes. Add celery root, potatoes, apple, garlic, salt, and a pinch of pepper. Stir to coat vegetables with oil, add water and broth, and bring to a boil. Cover, reduce heat to low, and simmer until vegetables just give way when pierced with a knife, about 20 to 25 minutes.
Remove 1 cup of liquid from the saucepan; set aside. Using a blender, purée the soup in batches until smooth, removing the small cap from the blender lid and covering the space with a kitchen towel. Once blended, transfer the soup back to the saucepan and keep warm over low heat. If the soup is too thick, add the reserved liquid a little at a time until the soup reaches the desired consistency. Taste and season with additional salt and pepper as needed. To serve, drizzle with olive oil.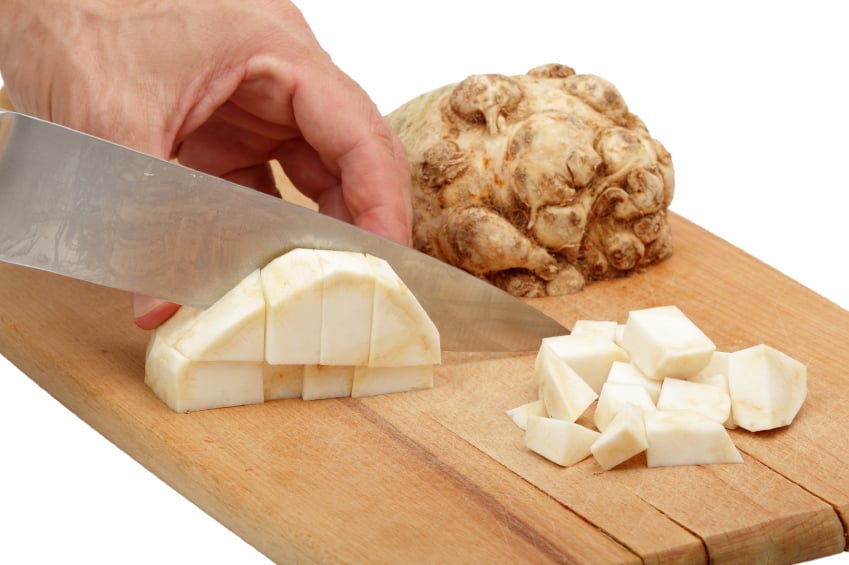 2. Maple-Bacon Roasted Apples and Celeriac
For an amazing cold-weather side dish, Eating Well has concocted this recipe out of roasted celeriac and apples, the dynamic duo, and a maple-bacon glaze. It's easy to see that this publication is based in Vermont with this combination, and it's sure to fill you up and keep you warm! If you can't get real maple syrup, they warn, don't bother with the fake stuff. Instead, combine ¼ cup of brown sugar and a tablespoon of water to mimic the deep flavor in the glaze.
Ingredients:
1 large celeriac, about 1½ pounds, peeled and cut into 1-inch pieces
2 teaspoons extra-virgin olive oil
½ teaspoon freshly ground pepper
¼ teaspoon salt
2 apples, cut into 1-inch pieces
2 slices bacon, chopped
¼ cup pure maple syrup
1 teaspoon chopped fresh thyme or rosemary or ¼ teaspoon dried
Directions: Preheat oven to 450 degrees Fahrenheit.
Toss celery root with oil, pepper, and salt and spread on a rimmed baking sheet. Roast until starting to brown, 10 to 12 minutes. Add apples, toss gently, and continue roasting until the apples and celery root are tender, 6 to 10 minutes more.
Meanwhile, cook bacon in a medium skillet over medium heat, stirring occasionally, until just crispy. Remove to a paper towel-lined plate with a slotted spoon; discard all but 2 teaspoons of the bacon fat. Add maple syrup to the fat in the pan and bring to a boil, scraping up the browned bits. Add the cooked bacon and thyme. When the celery root and apples are tender, gently toss them with the maple-bacon glaze and roast for about 5 minutes more.
3. Celeriac Oven Fries
Technically, because this recipe is from the BBC, these are "chips." The only important reason to point this out is because chips are typically meatier than American fries — they're a bit more like steak fries than shoestrings. Here, celeriac takes the place of potatoes, as it gets creamy on the inside and crispy on the outside in the oven. Since it is a British recipe, they are, of course, seasoned with curry powder. There's nothing quite like a pile of curry chips. Eat beside baked fish, roasted chicken, or on their own with a pint.
Ingredients:
2 large celeriac
3 to 4 tablespoons vegetable oil
1 tablespoon mild curry powder
Directions: Preheat oven to 450 degrees Fahrenheit. Peel the celeriac, slicing off the top and bottom and sweeping down the sides with a heavy, sharp knife to remove the tough skin. Cut the celeriac into thumb-thick slices and then into fat fries.
Bring a very large saucepan of salted water to the boil, throw in the celeriac, and blanch for 2 minutes. Drain and throw back into the saucepan. Add the oil, curry powder and sea salt. Toss until well coated.
Spread the chips over a large heavy baking sheet, leaving plenty of space, and bake for 30 to 35 minutes, tossing once halfway.
4. Celeriac Apple Slaw
Celeriac is delicious raw, too, with a crisp bite and fresh flavor. Shredded, it's a fabulous stand-in for cabbage in a slaw like this one from Kitchen Vignettes for PBS. Though you could leave it as is with just its bright apple cider vinaigrette, Aube also recommends tossing it with blue cheese and walnuts for additional flavor.
Ingredients:
Slaw
1 medium-small celeriac
2 medium crisp sweet red apples
¼ cup finely chopped flat-leaf parsley
1 teaspoon lemon juice
Vinaigrette 
1 tablespoon apple cider vinegar
1 teaspoon dijon mustard
4 tablespoon olive oil
¼ teaspoon salt
⅛ teaspoon cracked black pepper
Directions: Grate or julienne the celeriac until you have approximately 2 cups worth. Wash the apples well and core them, leaving the skins on. Cut into ¼-inch cubes. Toss the apples in the lemon juice, mixing to coat them.
In a medium serving bowl, combine the apples, celeriac, and the finely chopped parsley.
In a small jar, combine all the vinaigrette ingredients and then shake vigorously until combined. Pour over the salad and toss well. Taste before serving and add more salt or pepper if necessary.
5. Celeriac and Lentils With Hazelnuts and Mint
Yotam Ottolenghi is one of those people who can show us the hidden talents of vegetables, coaxing them out with ingenious cross-cultural flare. Celeriac, he claims, is probably his favorite root, and he draws out its nuttiness by pairing it with hazelnuts. Its mild earthiness is played with by the lentils and the thyme. The mint lightens the whole affair, keeping it from becoming too heavy on the palate. Be sure to use green lentils here, preferably French puy lentils, as they hold their shape better than other varieties after cooking.
Ingredients:
2 ounces whole hazelnuts, skin on
7 ounces puy lentils
3 cups water
2 bay leaves
4 thyme sprigs
1 small celeriac, peeled and cut into ½-inch "fries"
4 tablespoons olive oil
3 tablespoons hazelnut oil
3 tablespoons good-quality red wine vinegar
4 tablespoons chopped mint
Salt and black pepper
Directions: Preheat oven to 285 degrees Fahrenheit. Scatter the hazelnuts on a small baking sheet and roast in the oven for 15 minutes. Let them cool, then chop roughly.
Combine the lentils, water, bay leaves, and thyme in a small saucepan. Bring to the boil, then simmer for 15 to 20 minutes, or until al dente. Drain.
Meanwhile, in a separate saucepan, cook the celeriac in plenty of boiling salted water for 8 to 12 minutes, or until just tender. Drain.
In a large bowl mix the hot lentils with the olive oil, 2 tablespoons of the hazelnut oil, the vinegar, some black pepper, and plenty of salt. Add the celeriac and stir well. Taste and adjust the seasoning.
To serve straight away, stir in half the mint and half the hazelnuts. Pile onto a serving dish or in a bowl and drizzle the remaining hazelnut oil on top. Garnish with the rest of the mint and hazelnuts.
To serve cold, wait for the lentils and celeriac to cool down before finally adjusting the seasoning and possibly adding some more vinegar, if you like. Add hazelnut oil, mint, and nuts in the same way as when serving hot.
6. Roasted Celeriac With Smoked Pancetta, Mushrooms, and Leek
Roasted celeriac doesn't have to be paired with its BFF, apples, for a delicious meal. For a more savory, earthy roast celeriac dish, omit the apples and add in mushrooms with this recipe from A Girl Worth Saving. It's best with the smokiness of smoked pancetta, but it can be made with non-smoked pancetta instead, if need be.
Ingredients:
2 celeriacs, peeled well and cut into even-size chunks
9 ounces mushrooms, sliced
7 ounces smoked pancetta or regular pancetta, diced
1 medium leek, white and light green parts only, sliced into thin rounds
½ to 1 tablespoon dried thyme
1 tablespoon butter, melted
Sea salt, to taste
Freshly cracked black pepper, to taste
Directions: Preheat oven to 425 degrees Fahrenheit and line a baking dish with foil or parchment paper. Place diced celeriac root into the baking dish and sprinkle with the dried thyme, some salt, and pepper. Using your hands, toss to coat the seasoning evenly over the celeriac. Coat with melted butter. Roast for 40 minutes, tossing halfway.
While the celeriac is roasting, place a skillet on medium heat. Once hot, add in the diced pancetta. Cook until the pancetta starts to crisp and the fat begins to render out. Remove the pancetta onto a paper towel-lined plate, reserving the fat in the skillet. Add in the sliced leek and cook until just softened. Add in the sliced mushrooms and cook until the the liquid has been coaxed out and the mushrooms are soft. Season with some freshly cracked pepper and add the pancetta back in, lowering the heat.
Remove the roasted celeriac root from the oven and carefully add it into the pancetta mixture.
Toss to mix everything together. Check for seasoning and enjoy!
7. Celeriac and Feta Gratin
Potatoes and celeriac team up in this gratin from House and Garden for a side dish of flavorful comfort. The addition of briny, salty cheese in the place of the normal heavy cream sauce in this gratin adds a lovely departure from the norm, making it feel a little lighter in the belly. You can, of course, trade out the feta and vegetable stock for cream, but it would really change the outcome of the dish.
Ingredients:
Butter, for greasing, plus extra for dotting
1 large celeriac root
2 to 3 large potatoes
1 leek, washed and sliced into thin rounds
1 clove garlic, thinly sliced
2 teaspoons snipped chives
3½ ounces feta cheese, crumbled
7 to 10½ ounces vegetable stock
Directions: Preheat oven to 400 degrees Fahrenheit. Lightly grease a gratin dish with a little butter. Wash and trim the celeriac, then peel using a sharp knife. Cut it into quarters and then cut each quarter into slices.
Thinly slice the potatoes. Place the potatoes in the bottom of the dish, making about 2 layers. Layer half the celeriac slices on top of the potatoes, seasoning lightly as you go. Remember that feta is quite salty. Top with the leeks, garlic, chives, and feta, then finish with a layer of the remaining celeriac.
Pour the hot stock over the vegetables; it should come about halfway up. Dot with a little butter.
Cover with the foil and bake for 50 minutes. Remove the foil, return to the oven and cook for another 20 minutes or until the celeriac is golden and the sauce has thickened. Place under a hot grill for a few moments to brown the gratin. Serve immediately.
More from Life Cheat Sheet:
Want more great content like this? Sign up here to receive the best of Cheat Sheet delivered daily. No spam; just tailored content straight to your inbox.