Pick Up Seasonal Persimmons So You Can Try These 7 Recipes
Filled with fragrant and aromatic flavors, nutrients, and health benefits, the persimmon is a fruit that shouldn't be ignored. They're in season October through February, and Martha Stewart notes there are two main types of persimmon available in the U.S.: Hachiya, which is acorn shaped, and the tomato-shaped Fuyu. The Hachiya is the most flavorful of the two but should only be eaten when they're extremely ripe, while Fuyu are sweeter and work wonderfully in baked goods, jams, sorbets, and other desserts, The Kitchn explains. Whether you're craving fruit-filled muffins, risotto, salad, or cake, we've compiled seven persimmon recipes that will please every palate. Once you get a taste of persimmons, you won't be able to resist them!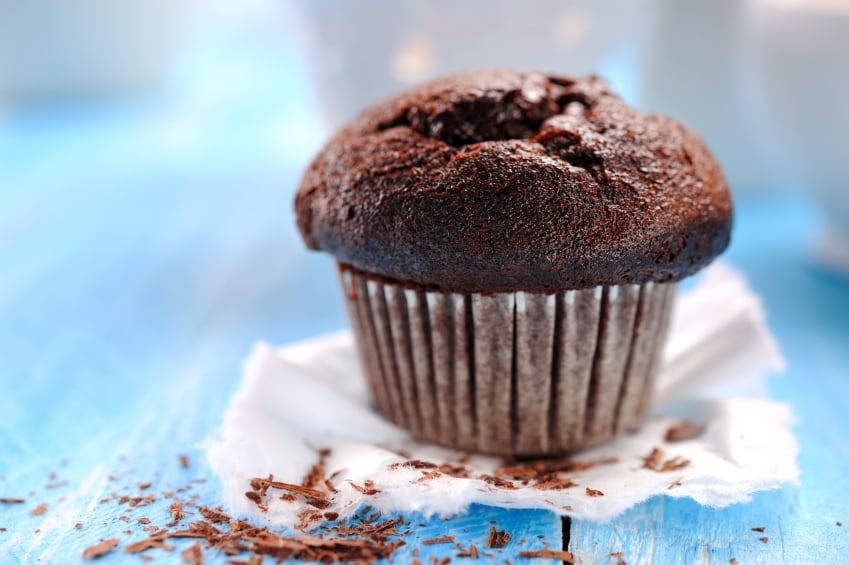 1. Chocolate Persimmon Muffins
A combination of persimmon pulp, bittersweet chocolate, coco powder, and buckwheat flour, Food 52's muffins are a delicious and nutritious way to start your day. The recipe, which was adapted from Kim Boyce's cookbook, Good to the Grain, yields 12 servings.
Ingredients:
1 

pound American persimmon pulp, or Hachiya pulp

6 

tablespoons unsalted butter

½ 

cup light brown sugar

2 

large eggs

½ 

cup buttermilk or plain yogurt

1 

cup buckwheat flour

1½ 

cups all-purpose flour

¼ 

cup plus 2 tablespoons coco powder

2 

teaspoons baking powder

½ 

teaspoon baking soda

4 

ounces bittersweet chocolate chips or chop 4 ounces of a bar with a knife
Directions: Preheat the oven to 350 degrees Fahrenheit. Grease paper muffin liners and put them in the tins. In the bowl of a mixer cream the butter with the light brown sugar. Add the eggs and mix. Scrape down the sides as necessary. Now add the buttermilk and persimmon pulp. Mix until combined. Scrap down the sides. Combine the flours, baking powder and soda along with the coco powder and the salt in a bowl, stir it to mix.
Add it to the wet ingredients and mix until just combined. Scrap down the sides. Add the chocolate chips and mix again to distribute the chips. Using a number 12 scoop or a spoon fill the muffin tins no more then ⅔ full with the batter. Place the muffin pan into the oven. Bake in a preheated 350 degree oven for 35 minutes.
2. Persimmon Bread II
Wake up to a warming breakfast bread by preparing AllRecipes.com's sweet and spicy dish, which includes vibrant spices, walnuts, and of course, persimmon. The moist quick bread yields three 6-by-3-inch loaves.
Ingredients:
1 cup persimmon pulp
2 teaspoons baking soda
3 cups white sugar
1 cup vegetable oil
4 eggs
1½ teaspoons ground cinnamon
½ teaspoon ground nutmeg
1½ teaspoons salt
⅔ cup water
3 cups all-purpose flour
1 cup chopped walnuts
Directions: Preheat the oven to 350 degrees Fahrenheit. Grease three 6-by-3-inch loaf pans. In a small bowl, stir together the persimmon pulp and baking soda. Let stand 5 minutes to thicken the pulp. In a medium bowl, combine sugar, oil, eggs, cinnamon, nutmeg, and salt. Blend until smooth.
Mix in persimmon pulp and water alternately with flour. Fold in nuts. Divide batter into the prepared pans, filling each pan two-thirds full. Bake for 1 hour in the preheated oven, or until a toothpick inserted comes out clean. Cool in pan for 10 minutes before removing to a wire rack to cool completely.
3. Spinach Salad with Persimmon, Jicama and Avocado with Miso Dressing Recipe
If you're looking for a superb salad to enjoy for lunch, we suggest making Cookin' Canuck's dish, which is filled with nutritious fruits and veggies and a sweet and salty dressing. Web MD explains that persimmons are chock-full of health benefits — they're a great source of vitamin A, vitamin C, and fiber. The recipe yields 4 servings.
Ingredients:
Dressing:
4 teaspoons fresh lime juice
4 teaspoons water
1½ tablespoons white miso (fermented soybean paste)
¼ teaspoon black pepper
⅛ teaspoon salt
⅓ cup plus 2 tablespoons olive oil
Salad:
6 ounces fresh spinach leaves
1 pound (about 1½ large) Fuyu persimmons, peeled, halved lengthwise, seeded, and thinly sliced
¼ medium-sized jicama, peeled and sliced into matchstick pieces
1 large, ripe avocado, halved, pitted, and thinly sliced
Directions: To make the dressing, in a blender, combine lime juice, water, white miso, black pepper, and salt. Blend until smooth. With the blender running, slowly pour in olive oil. Stop pouring the olive oil a couple of times throughout this process, with blender running, to insure that the emulsification is forming well.
Season to taste with additional salt and pepper. For the salad, place fresh spinach leaves in a serving bowl. Toss the spinach with a few tablespoons of the miso dressing. Add the persimmon, jicama, and avocado and toss with 2 to 3 additional tablespoons of dressing, to taste. Serve.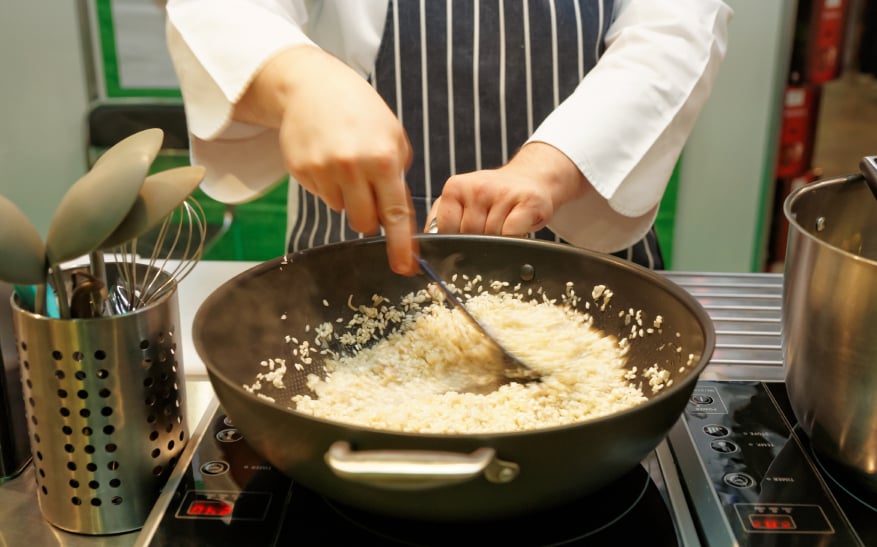 4. Persimmon Risotto
Create an elegant dinner by preparing Macheesmo's recipe via Feastie, which yields 4 servings. It uses rice, shallots, white wine, persimmons, and pomegranate seeds, ensuring you have a filling and nutritious dish. If you'd like to make your meal even heartier, feel free to also add some seared chicken breast into the mix.
Ingredients:
1½ cups arborio rice
¼ cup shallots
⅓ cup white wine
1½ quarts chicken stock
2 persimmons, peeled and chopped
½ lemon, juice only
3 tablespoons olive oil
Pomegranate seeds
Salt and pepper
Seared chicken breasts (optional)
Directions: Preheat the oven to 350 degrees Fahrenheit. Peel and dice persimmons. Dice shallots. Toss chicken breasts with some olive oil and season well with salt and pepper. Heat chicken stock in a large pot until it's simmering. In a large, high-sided pan, add a drizzle of olive oil over high heat. Once it's hot, add chicken breasts, skin side down. Sear for 5 minutes on each side. Transfer seared chicken breasts to an oven-safe dish and bake in the oven at 350 degrees for 30 minutes until they are cooked through.
In the same pan that you used to sear the chicken, add some fresh olive oil and the shallots. Cook for a minute or two over medium high heat until shallots soften. Try to scrape up any bits stuck to the pan. Add rice and continue to cook for a minute or two. Add white wine and continue to cook. At this point you should be able to easily scrape up any bits stuck to the pan. Once white wine is cooked off, ladle in warm chicken stock. Add about ¾ cup of stock at a time and stir risotto as it cooks over medium heat.
When pan is dry, ladle in more stock. Continue doing this until the risotto is soft but still has a tiny bite to it. This will probably take between 4 to 5 cups of stock and about 25 to 30 minutes. When risotto is desired texture, season with salt and pepper and stir in chopped persimmons. To remove pomegranate seeds, cut the pomegranate into quarters and break apart the quarters submerged in a bowl of water. The seeds will sink. Serve risotto with chicken and sprinkled with pomegranate seeds.
5. Halibut with Persimmon Tomato and Dill Relish
A tarty, tangy, and subtly sweet relish complements halibut perfectly. In addition to tasting terrific with many foods, persimmons also contain some noteworthy health benefits. A Demand Media article via SFGate states that they can help limit the hardening of the arteries and may lower your risk for cancer, heart disease, high blood pressure, and diabetes. Cooking Light's recipe yields 6 servings. If you don't want to use your grill, follow Livestrong's instructions on how to grill fish on the stove.
Ingredients:
2 cups diced Persimmon (about 3 medium)
3 tablespoons finely chopped red onion
1 tablespoon finely chopped seeded jalapeño pepper
1 teaspoon chopped fresh dill
2 teaspoons fresh lemon juice
½ teaspoon salt, divided
½ teaspoon freshly ground black pepper, divided
6 (6-ounce) halibut fillets
1 tablespoon extra virgin olive oil
Cooking spray
Dill sprigs (optional)
Directions
: Prepare grill. Combine the first 5 ingredients in a medium bowl; stir in ¼ teaspoon salt and ¼ teaspoon freshly ground black pepper. Toss gently to coat. Brush fish with oil; sprinkle evenly with remaining ¼ teaspoon salt and ¼ teaspoon black pepper. Place fish on grill rack coated with cooking spray; grill 2 minutes on each side or until fish flakes easily when tested with a fork or until desired degree of doneness. Serve with tomato mixture; garnish with dill sprigs, if desired.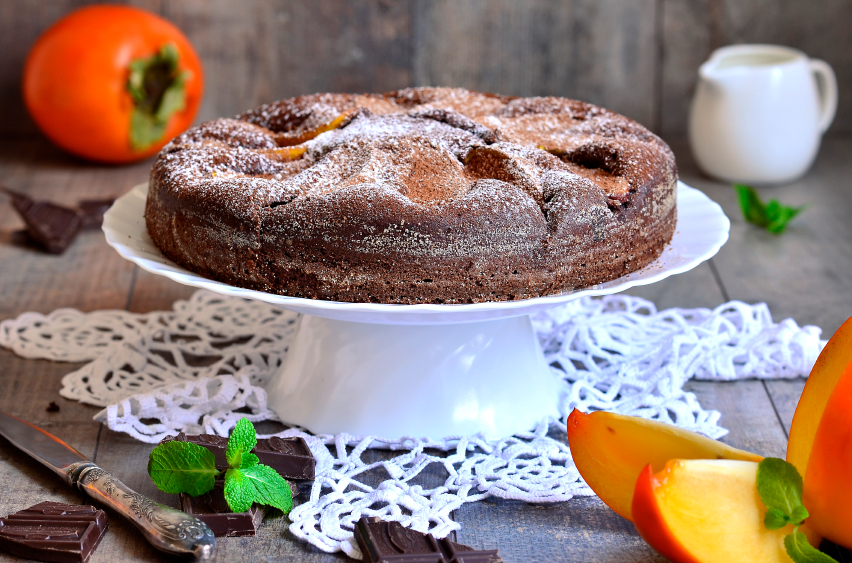 6. Chewy Double Chocolate Persimmon Cake
Chocolaty, chewy, and marvelously moist, Mochachocolata Rita's persimmon cake is a dream come true for dessert lovers. If you'd like to add another tasty touch to this dish, consider serving Bon Appétit's Persimmon Ice Cream via Epicurious alongside it.
Ingredients:
1 cup of persimmon pulp
1 cup flour
⅔ cup of sugar
1 teaspoon baking soda
1 teaspoon baking powder
2 tablespoons vegetable oil plus 1 tablespoon butter
½ teaspoon salt
½ teaspoon cinnamon
½ teaspoon nutmeg
5 heaping tablespoons chocolate powder
1 teaspoon instant coffee granules
2 big handful of dark chocolate chips
Directions: Preheat oven to 350 degrees Fahrenheit; mix all dry ingredients in a mixing bowl, make a well, add persimmon pulp, vegetable oil, and butter, and mix until just combined. Add chocolate chips, grease a cake pan, pour cake batter, and bake until a skewer stuck in the middle of the cake comes out clean.
7. Raw Mini Persimmon Cheesecake
Vivapura's bite-size cheesecakes are bursting with nutritious ingredients, including flax seed, pecans, dates, shredded coconut, and persimmons. Interestingly, PopSugar explains that the fiber found in persimmons is called pectin, which can help control your appetite. Eating the fruit may also help you feel less bloated, making it a great addition to any dessert.
Ingredients:
Crust:
1 slightly heaping cup pecans
¾ cup shredded coconut
½ cup pitted packed dates, chopped
2 tablespoons ground flax seed
1½ teaspoons water
Filling:
2 cups peeled, diced, packed persimmon
¾ cup cashews
3 tablespoons maple syrup or agave
1 tablespoon mandarin juice (or orange juice)
½ teaspoon pure vanilla extract
¼ cup melted coconut oil
¼ cup melted coconut creme
Directions: To make the crust, completely grind the pecans, coconut, dates, and flax in a food processor. Add the water and continue to process until the mixture holds together. Press the dough into the bottoms of mini silicone muffin cups.
To make the filling, blend all but the coconut oil and coconut creme in a high speed blender until smooth. Add the oil and creme. Blend to incorporate. Pour the filling over the crusts. Set in the freezer for 12 hours and then remove the silicone cups and transfer the cheesecakes to the fridge. Garnish with diced persimmon.
More from Life Cheat Sheet:
Want more great content like this? Sign up here to receive the best of Cheat Sheet delivered daily. No spam; just tailored content straight to your inbox.