7 Recipes Unrolling New Uses for Pizza Dough
Let's say that lurking in the back of your freezer is a can of pizza dough and you have no desire to make a pizza. Or perhaps you have too many cans of dough taking up space and you need a new use for a couple of them. Whatever case, you need to come to the conclusion that there are other ways to capitalize on your pre-made dough than by tossing together a pizza pie. But these seven recipes aren't only for store-bought doughs – they are excellent ways to use up leftover homemade dough, too!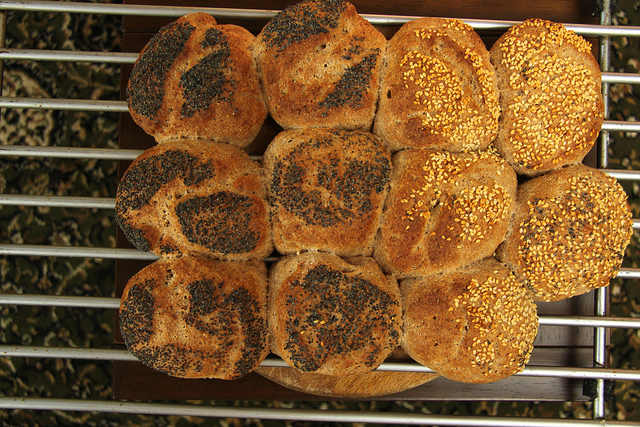 1. Salt and Pepper Rolls
You're only four ingredients and one Martha Stewart recipe away from freshly baked dinner rolls. With a few more ingredients — like red pepper flakes or thyme — you could give the rolls a little extra flavor.
Ingredients:
3 tablespoons extra-virgin olive oil
1 pound pizza dough, thawed if frozen
coarse salt and ground pepper
Directions: Preheat oven to 350 degrees Fahrenheit, with rack in lower third. Place 2 tablespoons olive oil in an 8-inch square baking dish. Divide pizza dough into 16 pieces. Form each piece into a tight ball and place in dish, turning to coat with oil. Cover dish with plastic wrap; set aside in a warm, draft-free place until balls double in size, 40-45 minutes (or refrigerate overnight; bring to room temperature and let rise before baking). Season each roll with salt and pepper and bake until golden brown, 35 minutes. Brush rolls with 1 tablespoon oil and let cool slightly. Serve warm.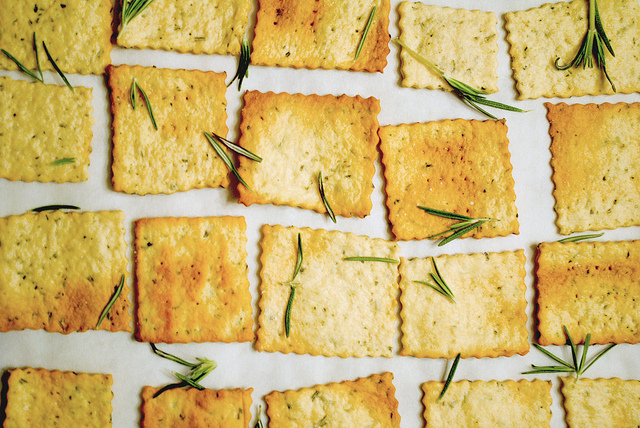 2. Pizza Dough Crackers
Just like with the dinner rolls, Ruby Red Apron's crackers are built from a blank canvass of pizza dough. Any topping is fair game, from garlic and Parmesan to a blend of poppy and sesame seeds. You can further customize the crackers by shaping them with cookie cutters.
Ingredients:
½ pound pizza dough (thawed)
melted butter or beaten egg (for brushing crackers)
any of your favorite cracker toppings (poppy seeds, sesame seeds, grated cheese, spices)
Directions: Preheat oven to 450 degrees Fahrenheit. Lightly grease a baking sheet. On a lightly floured surface, roll out pizza dough to ⅛-inch thickness. Cut out shapes with a small biscuit cutter, cookie cutters, or a sharp knife. Transfer to baking sheet. Brush tops with melted butter or beaten egg. Sprinkle with your desired toppings. Bake 6-9 minutes or until golden brown. Turn oven off and keep them in the warm oven for extra crispness. Store in an airtight container.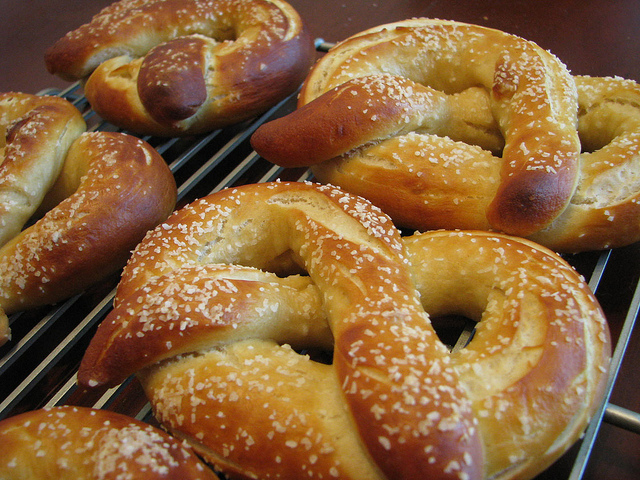 3. Soft Pretzels/Bagels
With a little help from Cinnamon Spice and Everything Nice, you can turn your pizza dough into soft pretzels instead. It should be noted that if you can't seem to get the hang of shaping the pretzels, you can make a salted "bagel" by forming a circle with the dough instead.
Ingredients:
pizza dough (store-bought or homemade)
melted butter or 1 egg beaten with 1 tablespoon water
coarse salt
Directions: Preheat oven to 450 degrees Fahrenheit. Line a large baking sheet with parchment paper or a silpat. Divide the dough into 3- or 4-ounce pieces of dough (⅓- ½ cup each). On a lightly floured surface, roll out under your palm into 20- to 24-inch-long ropes. It may take a few minutes to get them that long — roll them out, allow the dough to rest for a few minutes, then repeat until you get to desired length. You can also pick up the dough and roll it between the palms of your hands, working your way down the length of the rope.
Form the ropes into pretzels by making a circle with them, then twisting the two ends together and bringing it down onto the bottom of the circle. Place on baking sheet, brush with butter or egg, and sprinkle with salt. Repeat until all the pretzels are made. Bake 12-16 minutes, depending on their size, until golden brown. They are best eaten warm or within a few hours of baking. If you do not plan on eating the pretzels right away, you can reheat them for 5-10 minutes in a 350 degree Fahrenheit oven.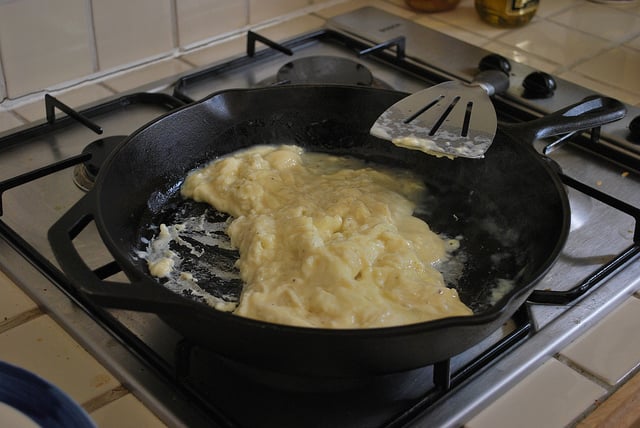 4. Cheese and Egg Breakfast Braid
A warm, gooey, filling breakfast is what you'll be making from your pizza dough with this recipe from Food.com. Brushing the bread with egg white will give the braid a browned, slightly shiny crust. This recipe serves six.
Ingredients:
1 can pizza dough
1 tablespoon olive oil
¼ cup onion, chopped
¼ cup mushroom, diced
4 eggs, beaten
¾ cup reduced-fat cheddar cheese
¼ cup green chili, chopped
Directions: Preheat oven to 425 degrees Fahrenheit. Unroll dough onto a baking sheet coated with cooking spray; pat into a 15-by-10-inch rectangle. Heat oil in a large skillet over medium heat. Add onion and mushrooms; cook until tender. Stir in eggs and chiles; cook until set. Remove from heat.
Sprinkle ½ cup cheese lengthwise down center of dough, leaving about a 2½-inch border on each side. Spoon egg mixture evenly over cheese. Sprinkle remaining cheddar over egg mixture.
Make 2-inch-long diagonal cuts about 1 inch apart on both sides of dough to within ½ inch of filling using a sharp knife or kitchen shears. Arrange strips over filling, alternating strips diagonally over filling. Press ends under to seal. Brush with egg white if desired. Bake for 15 minutes or until golden brown. Let stand 5 minutes. Cut crosswise into slices.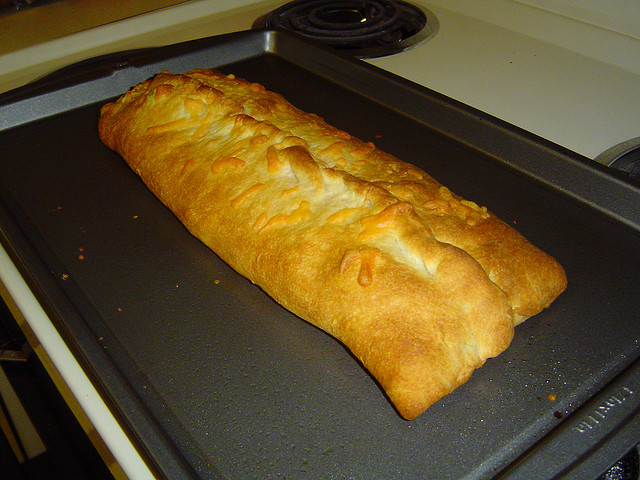 5. Stromboli
Just because you're avoiding pizza doesn't mean you have to ignore pizza-flavored foods. The turkey in this Kraft recipe switches things up, but you could always replace it with chopped chicken, ground beef, or pepperoni. Omit the meat entirely for a vegetarian version; you may want to add more cheese and vegetables if you choose this option.
Ingredients:
1 can (11 ounces) refrigerated pizza dough
6 big slices of cheese
7.5 ounces smoked turkey breast, coarsely chopped
½ cup coarsely chopped roasted red peppers
1 teaspoon dried basil leaves
1 egg
1 tablespoon water
Directions: Preheat oven to 375 degrees Fahrenheit. Unroll pizza dough on lightly floured surface. Roll out or pat into 12-inch square; top with cheese, turkey, peppers, and basil, leaving ½-inch rim around all sides. Roll up; pinch seam and ends together to seal.
Place, seam side down, on foil-covered baking sheet. Beat egg and water; brush onto dough. Bake for 22-25 minutes or until golden brown. Cool for 10 minutes before slicing.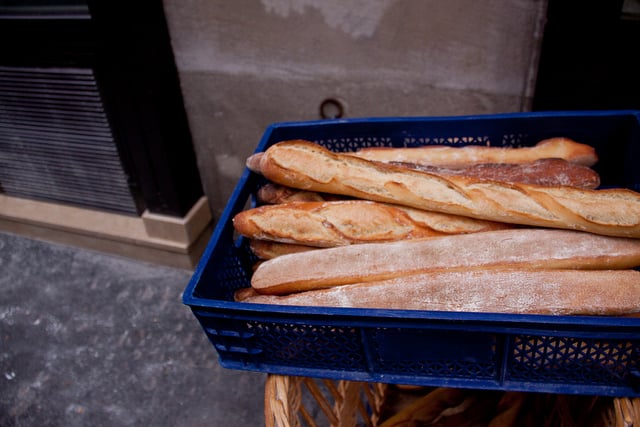 6. Baguettes and Bruschetta
Having tomatoes, basil, and all the other assorted ingredients for bruschetta but no baguettes will no longer be a problem once you realize you can use your pizza dough to make baguettes, and therefore bruschetta. Just use the method described by XOJane for making baguettes and your favorite bruschetta recipe, like this one from AllRecipes.com.
Ingredients:
pizza dough
8 roma (plum) tomatoes, diced
⅓ cup chopped fresh basil
¼ cup shredded Parmesan cheese
2 cloves garlic, minced
1 tablespoon balsamic vinegar
1 teaspoon olive oil
¼ teaspoon kosher salt
¼ teaspoon freshly ground black pepper
Directions: Roll pizza dough into a baguette shape and score the top with a sharp knife on the diagonal a few times. Let rise for about 30 minutes, then bake at 375 degrees Fahrenheit on a floured baking sheet, or until bread has turned golden brown. Remove and let cool before slicing.
For the bruschetta, in a bowl, toss together the tomatoes, basil, Parmesan cheese, and garlic. Mix in the balsamic vinegar, olive oil, kosher salt, and pepper. Serve on toasted bread slices.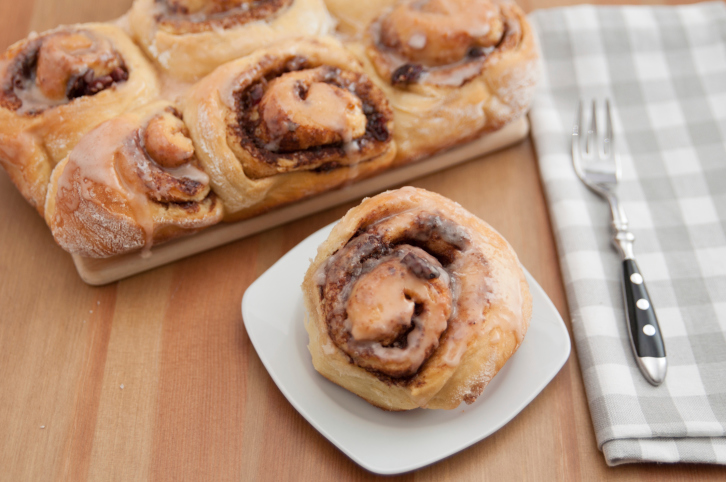 7. Cinnamon Rolls
Sticky and sweet, it is hard to resist cinnamon rolls — that is, until you start thinking about the process that goes into making them at home. That process just got even easier because Mario Batali has provided a way to make cinnamon rolls (using pizza dough, of course).
Ingredients:
Rolls
½ pound pizza dough (bought from local pizzeria or grocery store)
½ stick melted butter
½ cup granulated sugar
1 tablespoon cinnamon
flour, for dusting
Icing
2 cups powdered sugar
about 4 drops vanilla extract (optional)
¼ cup boiling water
Directions: Preheat oven to 375 degrees Fahrenheit. Butter a small cake pan and set aside. On a clean, floured surface, roll out the pizza dough using a rolling pin. When the dough is ⅛-inch thick, pour the melted butter generously on top of the dough, spreading evenly. Sprinkle the sugar and cinnamon on top of that.
Carefully roll the dough, working away from you. Using a chef's knife, cut the dough into even slices about 3 inches thick. Place the slices in the cake pan and bake for about 40 minutes. While the rolls are baking, prepare the icing by placing powdered sugar in a bowl. Boil the water and pour in the sugar while whisking. Add vanilla if you'd like. Check consistency. If its too thick, add more water. If its too loose, add more sugar. Serve warm or at room temperature.
More From Wall St. Cheat Sheet: