7 Recycled Materials That Help You Go Green in the Kitchen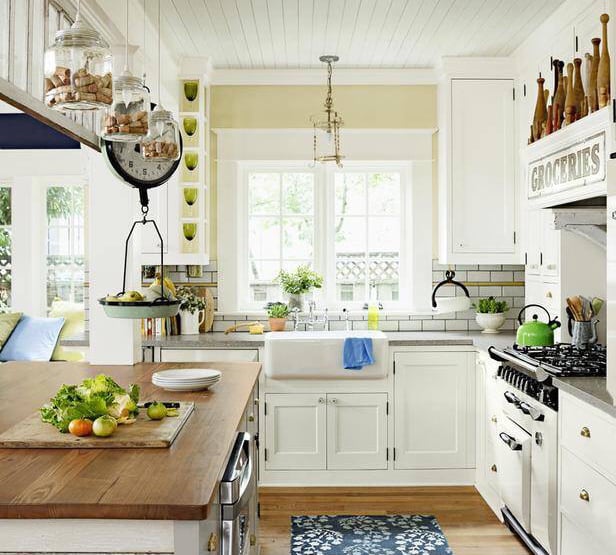 [sc_inpost_bigbox ad_name="kitchen-remodel" position="alignright"]While the kitchen may be the hub of the home, it's also one of the most expensive and difficult rooms to design. Fortunately, kitchens lend themselves brilliantly to salvaged and recycled products. With careful planning and execution, recycled materials will not only look great, but save you thousands in the process. See below, as we found seven recycled materials perfect for your kitchen.
Countertops
The easiest way to incorporate recycled materials into your kitchen design is through your counters. There are plenty of materials out there than can be used for your cooking, eating, and prep surfaces.
1. Bamboo Countertops
Believe it or not, bamboo is actually stronger and more durable than most hardwoods. While bamboo is an abundantly renewable resource, most bamboo comes from overseas, so an added cost, both to you and the environment, is added. According to ImproveNet's bamboo cost estimator, the average cost of 50 square feet of bamboo counters ranges between $2,000 and $3,000.
2. Stainless Steel Countertops
When it comes to durable kitchen counters, few (if any) beat stainless steel. In fact, stainless steel holds up in most commercial kitchens, making it a more than functional choice for many residential kitchens.
Many people like the polished look of stainless steel as well as the ease of cleaning it. Stainless steel can be expensive, with the average minimum cost coming in at $67.76 per square foot. Stainless steel is made of 60 percent recycled content and can be coordinated with nearly any type of flooring, cabinetry, or wall color.
3. Recycled Glass Countertops
Other than reclaimed wood, few recycled countertop options offer a greener solution than recycled glass. Recycled glass countertops use a minimum of 85 percent post-consumer recycled glass materials. Because glass accounts for 5-10 percent of consumer waste, recycling the glass into materials such as countertops for homes helps reduce the amount of waste sent to landfills and also saves energy.
There are many advantages in choosing recycled glass counters. Those include:
Unique: No two slabs are alike
Can choose from a variety of shades and colors
Glass does not stain
More affordable than granite
The average minimum cost of recycled glass countertops is $75.09/sf.
4. Butcher Block Countertops
Butcher blocks are quickly gaining steam through the remodeling world, as they offer a down-to-earth and traditional feel in any kitchen. While many homeowners use custom butcher blocks, others are looking into reclaimed wood from a variety of sources such as reclaimed shipping pallets or deconstructed buildings. If you go with a reclaimed wood option, you can sand and stain it to match your flooring or cabinetry. Fortunately, the average minimum cost per square foot of a butcher block countertop is only $39.87.
Flooring
5. Reclaimed Wood Flooring
With reclaimed wood, every board is unique. Using reclaimed wood as flooring means that the floor will look unlike any other. These floors add character to a home. Reclaimed wood is perfect for fixer uppers on a budget or for homeowners who really want to bring out that rustic vibe.
As you know, reclaimed wood is a sustainable material and keeps materials from going to the landfill. Reclaimed wood comes in on the cheap side with the average minimum costing $8.18 per square foot.
6. Engineered Wood Flooring
While many homeowners are going with solid hardwood flooring, there are others going the eco-friendly route with engineered wood flooring. Engineered maple flooring is an alternative to traditional solid hardwood and more environmentally friendly than other types of hardwood. Manufacturers use thin strips of maple as a veneer on the surface of the wood. Some companies use a cheaper wood to fill out the boards, while other companies use wood scraps and recycled materials as a filler. Unstained maple flooring generally costs $6 to $8 per square foot.
7. Rubber Flooring
While many think rubber flooring is only used in gyms across America, homeowners are putting them in unexpected rooms around the home, including the kitchen. They are cheap ($3.25/sf), versatile, easy to install and water-resistant.
[sc_inpost_ad ad_name="kitchen"]
While rubber flooring is available as a 100 percent green material made from recycled rubber, synthetic rubber flooring is not a renewable resource. Rubber flooring is also made from natural rubber, which tends to be more durable.
Other Ideas
There are plenty of other ways to use reclaimed or recycled products around your kitchen. They include:
Salvaged wood for cabinets
Old fences or barn wood for your kitchen island
Wooden crates as cabinets or drawers
Final Notes
If you're planning to use recycled components for your remodeled kitchen, give yourself twice the time you would normally take to find them. Planning is key.
More From Life Cheat Sheet:
Want more great content like this? Sign up here to receive the best of Cheat Sheet delivered daily. No spam; just tailored content straight to your inbox.