7 Scrumptious Spinach Recipes to Prepare for Dinner
Spinach is an amazing superfood. Filled with vitamin K, iron, and other essential nutrients, this leafy green vegetable is about as healthy as a food can get. If you'd like to incorporate Popeye's go-to food into your daily diet, these seven recipes will get you well on your way. From stuffed portobello mushrooms to Parmesan soufflés and everything in between, these spinach recipes create delicious dinners you can feel good about eating.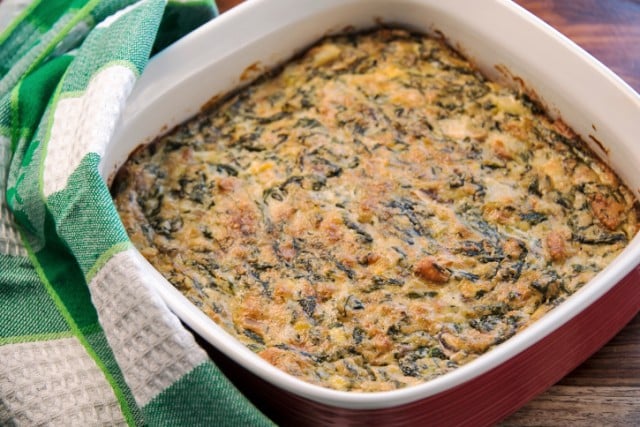 1. Baked Spinach
AllRecipes.com's baked spinach is great for a family meal or a small get-together. Filled with spinach, cheese, and savory seasonings, this baked delight won't disappoint. The recipe yields 8 servings.
Ingredients:
1¼ pounds spinach
¼ cup all-purpose flour
3 eggs, beaten
¾ cup shredded cheddar cheese
½ cup dried bread crumbs
2 tablespoons chopped fresh parsley
¼ cup butter, melted
1 cup milk
½ teaspoon salt
⅛ teaspoons ground black pepper
Directions: Preheat oven to 350 degrees Fahrenheit. Grease a 2-quart baking dish. Clean spinach thoroughly. Remove all excess water. Chop spinach. Arrange spinach and flour in layers; nestle beaten eggs about midway between the layers. Combine cheese and bread crumbs. Mix in optional parsley, if desired. Sprinkle over top of spinach. Mix butter or margarine, milk, salt, and pepper. Pour over all ingredients. Bake in oven at 350 degrees Fahrenheit for 50 minutes to 1 hour.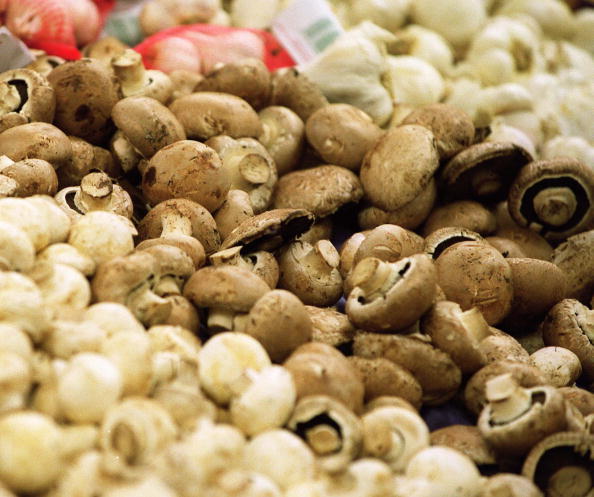 2. Cheese-and-Spinach-Stuffed Portobellos
Picture the filling of a vegetarian lasagna: ricotta, spinach, and Parmesan cheese. Now, imagine those ingredients filling a roasted portobello mushroom cap. Mouthwatering, right? Eating Well's recipe, which yields 4 servings, contains 201 calories and 10 grams of fat per serving.
Ingredients:
4 large portobello mushroom caps
¼ teaspoon salt
¼ teaspoon freshly ground pepper, divided
1 cup part-skim ricotta cheese
1 cup finely chopped fresh spinach
½ cup finely shredded Parmesan cheese, divided
2 tablespoons finely chopped kalamata olives
½ teaspoon Italian seasoning
¾ cup prepared marinara sauce
Directions: Preheat oven to 450 degrees Fahrenheit. Coat a rimmed baking sheet with cooking spray. Place mushroom caps, gill-side up, on the prepared pan. Sprinkle with salt and ⅛ teaspoon pepper. Roast until tender, 20 to 25 minutes. Meanwhile, mash ricotta, spinach, ¼ cup Parmesan, olives, Italian seasoning, and the remaining ⅛ teaspoon pepper in a medium bowl.
Place marinara sauce in a small bowl, cover, and microwave on high until hot, 30 seconds to 1½ minutes. When the mushrooms are tender, carefully pour out any liquid accumulated in the caps. Return the caps to the pan, gill-side up. Spread 1 tablespoon marinara into each cap; cover the remaining sauce to keep warm. Mound a generous ⅓ cup ricotta filling into each cap and sprinkle with the remaining ¼ cup Parmesan. Bake until hot, about 10 minutes. Serve with the remaining marinara sauce.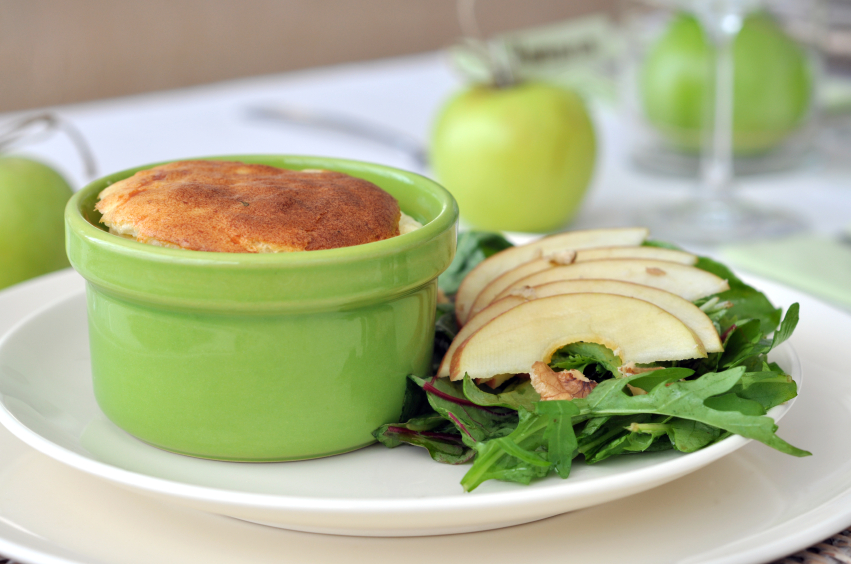 3. Spinach and Parmesan Soufflés
You will be pleasantly surprised by how flavorful Cooking Light's recipe is, which is thanks to the nutty flavor that comes from the Italian Parmigiano-Reggiano cheese. The savory cheese works delightfully well with the baby spinach and seasonings, creating a filling and delicious dinner dish. This recipe yields 4 servings.
Ingredients:
Cooking spray
1½ tablespoons dry breadcrumbs
1 (6-ounce) package fresh baby spinach
⅔ cup fat-free milk
2 tablespoons all-purpose flour
⅛ teaspoon salt
⅛ teaspoon ground nutmeg
⅛ teaspoon freshly ground black pepper
½ cup (2 ounces) freshly grated Parmigiano-Reggiano cheese
2 large egg yolks
4 large egg whites
¼ teaspoon cream of tartar
Directions: Place a baking sheet in the oven. Preheat oven to 425 degrees Fahrenheit. Coat 4 (6-ounce) ramekins with cooking spray; sprinkle evenly with breadcrumbs, tilting and turning dishes to coat sides completely. Heat a large nonstick skillet over medium-high heat. Lightly coat pan with cooking spray. Add spinach; cook for 2 minutes or until spinach wilts, tossing constantly. Place spinach in a colander; let stand 5 minutes. Squeeze excess liquid from spinach. Coarsely chop spinach. Combine ⅔ cup milk and the next 4 ingredients (through black pepper) in a small saucepan over medium-high heat, stirring with a whisk until smooth. Cook for 2 minutes or until mixture is thick and bubbly, stirring constantly. Spoon mixture into a large bowl and let stand for 10 minutes. Stir in spinach, cheese, and egg yolks.
Combine egg whites and cream of tartar in a large bowl; let stand at room temperature for 15 minutes. Beat with a mixer at high speed until medium peaks form (do not overbeat). Gently stir ¼ of egg whites into spinach mixture and gently fold in the remaining egg whites. Gently spoon mixture into prepared dishes. Sharply tap dishes 2 or 3 times on counter to level. Place dishes on preheated baking sheet; return baking sheet to 425-degree-Fahrenheit oven. Immediately reduce oven temperature to 350 degrees Fahrenheit; bake soufflés at 350 degrees for 21 minutes, or until puffy and golden brown. Serve immediately.
4. Stuffed Shells with Lentil Ragout and Spinach
Tree Hugger's vegetarian-friendly dish has a superior depth to it due to the cinnamon and cayenne pepper included in this scrumptious recipe. It's a great way to spice up your spinach while preparing a healthy meal that everyone will look forward to.
Ingredients:
1 small cinnamon stick
¼ medium-size onion, peeled but left intact, plus ½ onion minced
½ cup dried brown or green lentils
3½ teaspoon salt
½ package jumbo pasta shells (about 20 pieces)
3 tablespoons olive oil
1 medium-size carrot, peeled and diced
1 celery stalk, diced
3 cloves garlic, minced
¼ cup red wine (make sure it is vegan)
1 sprig fresh thyme, or ½ teaspoon dried
2½ cups tomato puree
¼ teaspoon cayenne
Ground black pepper
4 cups spinach, washed thoroughly, stems removed and finely chopped
Parmesan cheese for garnish (optional, omit for vegan version)
Directions: Bring 1 cup water to a boil with cinnamon stick and the intact ¼ onion in a small saucepan. Add the lentils, cover, and lower the heat to low. Cook for 25 minutes. Discard the cinnamon and onion. Add ½ teaspoon of the salt and stir. In a large saucepan, bring 3 quarts of water to a boil. Add the shells and 2 teaspoons of the salt and cook for 12 minutes; the shells will still be a little tacky. Drain and transfer to a baking sheet to cool. Untangle the shells to prevent sticking. Meanwhile, in a large saucepan, heat the oil over medium heat and add the carrot, celery, the minced ½ onion, and garlic. Stir and cook until softened, about 8 minutes. Add the wine and thyme, allowing the wine to reduce for about 2 minutes. Add the tomato puree and cayenne, stir to combine, and cook over low heat for 10 to 15 minutes.
Add the lentils and cook for an additional 5 to 10 minutes. Add the remaining 1 teaspoon of salt and the black pepper, and taste, adding more as you see fit. Discard the thyme sprig, if using fresh. Stir in the spinach, turn off the heat, and cover. Heat the oven to 350 degrees Fahrenheit. Ladle a small amount of ragout into a square or rectangular baking dish. Line up the shells in a dish. Then, with a small spoon, fill each shell with the ragout. Top off the shells with a ladleful of ragout, followed by cheese, if using. Bake for 30 minutes.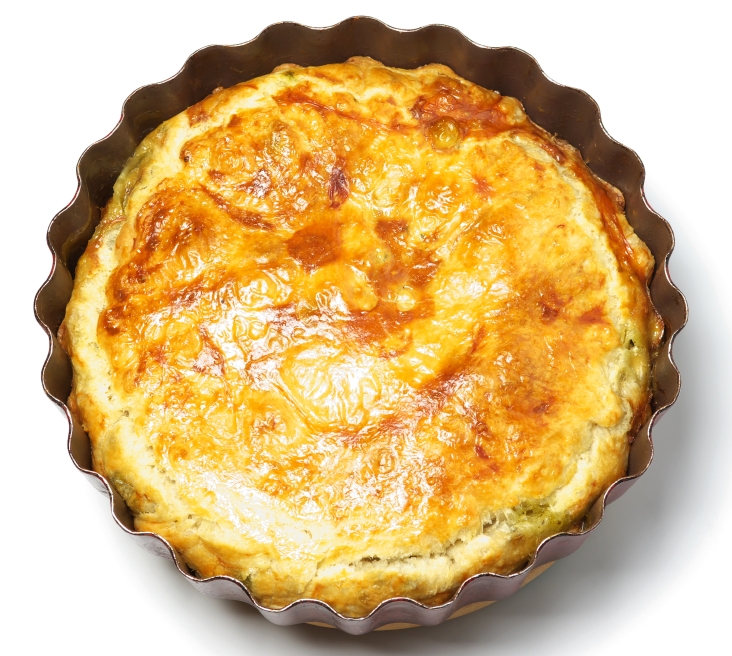 5. Skillet Spinach Pie
Martha Stewart's recipe is a combination of chopped spinach, crumbled feta, ricotta, and fresh seasonings. This vegetarian offering works well as a main dinner dish or as a filling side to meat or chicken. Anticipate spending about 25 minutes preparing this recipe, which yields 4 servings.
Ingredients:
½ stick unsalted butter
1 small yellow onion, chopped
20 ounces frozen chopped spinach, thawed and squeezed dry
1 cup whole-milk ricotta
3 large eggs
¼ cup crumbled feta
2 tablespoons chopped fresh dill
Coarse salt and pepper
4 sheets frozen phyllo dough, thawed
Directions: Preheat oven to 375 degrees Fahrenheit. In a 10-inch nonstick, oven-safe skillet, melt butter over medium. Transfer 2 tablespoons to a small bowl. Add onion to skillet and cook, stirring, until softened, 5 minutes. Remove from heat and let cool slightly. Stir in spinach, ricotta, eggs, feta, dill, 1 teaspoon salt, and ¼ teaspoon pepper. Lay 1 sheet phyllo on a work surface and lightly brush with reserved melted butter. Lay over spinach mixture, folding edges under to fit inside skillet. (Keep extra phyllo covered while you work.) One at a time, brush remaining 3 sheets and add to skillet, rotating and scrunching each sheet slightly so edges are offset and top is ruffled. Bake until golden brown and heated through, about 30 minutes.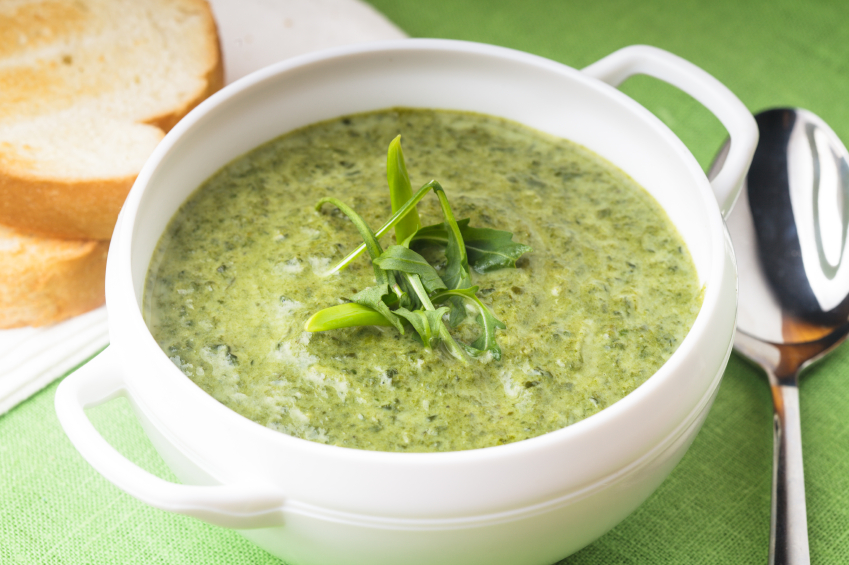 6. Tuscan White Bean and Spinach Soup
This quick dish makes the perfect amount for a dinner for four. Food.com suggests pairing it with a nice dinner salad for a magnificent main meal, but the soup works just as well as a nice starting course. Each healthy serving contains 218.3 calories and 3.3 grams of fat.
Ingredients:
2 

teaspoons

 

olive oil

1 

garlic clove, finely minced

1 

shallot, finely diced

3 to 4 

cups

 fat-free chicken broth or 

3 to 4 

cups 

vegetable stock

1

 

(14½ ounce)

 can 

diced tomatoes

1

 

(14½ ounce)

 can 

white beans (cannellini or other)

½ 

cup

 whole-wheat pasta shells or ½ 

cup

 

shell pasta

1 

teaspoon

 

rosemary

3 

cups

 b

aby spinach, cleaned and trimmed

⅛ 

teaspoon

 

black pepper

1 

dash

 

crushed red pepper flakes
Directions: In a large sauce pan, sauté the shallots and garlic in the olive oil. Add broth, tomatoes, beans, and rosemary to pot. Season with black and red pepper. Bring to boil. Add pasta and cook 12 minutes. If the soup seems too thick for your liking, add a bit more broth. Add spinach and cook until wilted.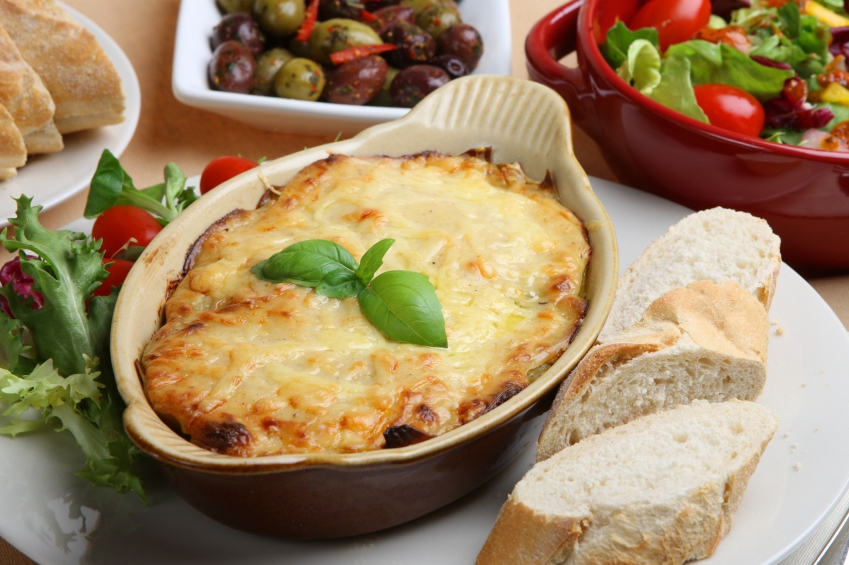 7. Spinach-Ravioli Lasagna
You'll be amazed at how easy it is to prepare Southern Living's spinach-ravioli lasagna. It uses common items, such as store-bought pesto, jarred Alfredo sauce, and frozen cheese-filled ravioli, creating an almost effortless main dinner dish. This recipe yields 6 to 8 servings.
Ingredients:
1 (6-ounce) package fresh baby spinach, thoroughly washed
⅓ cup refrigerated pesto sauce
1 (15-ounce) jar Alfredo sauce
¼ cup vegetable broth
1 (25-ounce) package frozen cheese-filled ravioli (do not thaw)
1 cup (4-ounce) shredded Italian six-cheese blend
Garnishes: chopped fresh basil, paprika
Directions: Preheat oven to 375 degrees Fahrenheit. Chop spinach and toss with pesto in a medium bowl. Combine Alfredo sauce and vegetable broth. Spoon ⅓ of Alfredo sauce mixture (about ½ cup) into a lightly greased 2.2-quart or 11-by-7-inch baking dish. Top with half of spinach mixture. Arrange half of ravioli in a single layer over spinach mixture. Repeat layers once. Top with remaining Alfredo sauce. Bake at 375 degrees Fahrenheit for 30 minutes. Remove from oven and sprinkle with shredded cheese. Bake 5 minutes or until hot and bubbly. Garnish, if desired.
More from Life Cheat Sheet:
Want more great content like this? Sign up here to receive the best of Cheat Sheet delivered daily. No spam; just tailored content straight to your inbox.