7 Seasonal Recipes That Will Bring Out the Best in Your Brunch
As the temperature continues to drop outside, it's the perfect time to heat things up in the kitchen. One of the best ways to lure your friends over on a crisp weekend day is by tempting them with a bountiful brunch filled with fabulous food. Whether you're looking for a hearty meal that's savory or want to show off fall's sweeter side, these seven recipes won't disappoint.
Autumn Quiche with Squash, Pears, and Bacon Squash, pears, cheese, and warm spices create a comforting brunch dish that finds the perfect balance between sweet and savory. All You Need Is Cheese's recipe via Dairy Goodness can also be made ahead of time, creating a weekend meal that's almost effortless. It yields 4-6 servings. Ingredients:
1 pre-baked 9-inch pie shell
¼ cup cooked bacon, thinly sliced
½ cup your choice of squash, diced and blanched
¼ cup white part only leek, thinly sliced and blanched
½ cup pears, peeled and diced
1 cup brie, diced
3 eggs
¾ cup milk or 10 percent cream
1 pinch of nutmeg
1 pinch of cayenne pepper
Salt and pepper to taste
Directions: Preheat the oven to 375 degrees Fahrenheit. Fill the pie shell with the bacon, vegetables, pears, and diced brie. In a bowl, whisk the eggs and the milk or the cream. Add the spices and season to taste. Pour this preparation into the pie shell. Bake in the center of the oven for 25 to 30 minutes. Serve warm or cold.
Fall Vegetable Hash Root veggies are the centerpiece in Southern Living's recipe. The fall produce is cooked to perfection, creating a tender and zesty dish that is perfect for a mid-morning meal. Add a sweet element into the mix by preparing a brunch cocktail to serve with your hash; The Nest introduces the American Flyer, a blend of lime juice, champagne, white rum, and simple syrup that's sure to have your guests feeling warm and fuzzy . Ingredients:
4 thick bacon slices
2 tablespoons olive oil
1 medium-size sweet onion, chopped
1 medium-size sweet potato (about 10 ounces), peeled and cut into ½-inch cubes
2 medium-size turnips (about 12 ounces), peeled and cut into ½-inch cubes
1 tablespoon white wine vinegar
1 pound small fresh Brussels sprouts, quartered
2 garlic cloves, sliced
Directions: Cook bacon in a 12-inch cast-iron skillet over medium heat, turning occasionally, 8 to 10 minutes or until crisp. Remove bacon; drain, reserving 2 tablespoons drippings in the skillet. Coarsely chop bacon. Add oil to hot drippings in skillet. Cook onion and sweet potato in hot oil and drippings over medium heat, stirring occasionally, 5 minutes. Add turnips; cook, stirring occasionally, 8 minutes. Combine vinegar and 2 tablespoons water. Add Brussels sprouts, garlic, and vinegar mixture to skillet. Cover and cook, stirring occasionally, 5 minutes or until vegetables are tender. Stir in bacon. Add salt and pepper to taste.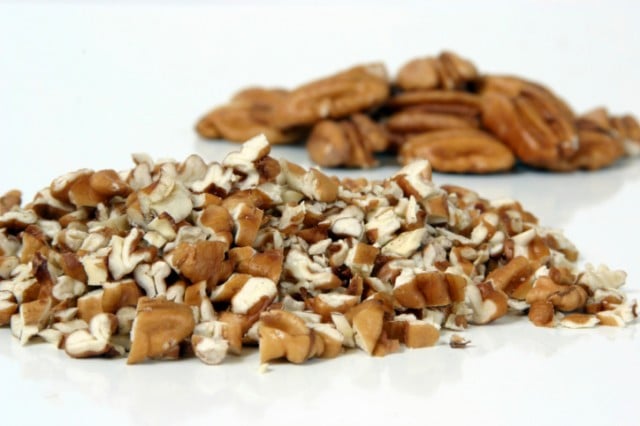 Morning Pecan Casserole Bring pecan pie flavors to your brunch using Midwest Living's casserole. Your tastebuds will thank you for this oh-so-sweet dish that's filled with cinnamon, brown sugar, nutmeg, pecans, raisin bread, and syrup. The recipe yields 10 servings. Plan accordingly with this brunch dish — it needs to be refrigerated overnight. Ingredients:
1 (8-ounce) package brown-and-serve sausage patties
Nonstick cooking spray
1 (16-ounce) loaf raisin bread, cubed
6 eggs
1½ cups milk
1½ cups light cream or half-and-half
1 teaspoon vanilla
¼ teaspoon ground nutmeg
¼ teaspoon ground cinnamon
1 cup packed brown sugar
1 cup coarsely chopped pecans
½ cup butter or margarine, softened
2 tablespoons maple syrup or maple-flavored syrup
Directions: In a medium skillet, brown the sausage patties on both sides over medium-high heat. Drain off the fat; cut patties into bite-size pieces. Meanwhile, spray a 3-quart rectangular baking dish with nonstick cooking spray. Place bread cubes in dish. Add browned sausage pieces. In a large mixing bowl, beat together the eggs, milk, cream, vanilla, nutmeg, and cinnamon. Pour the egg mixture over bread and sausage, pressing bread and sausage into the egg mixture. Cover and refrigerate for 8 hours or overnight. For topping: In a bowl combine brown sugar, pecans, butter or margarine, and maple syrup. Drop by the teaspoon over top of egg mixture. Bake in a 350 degree Fahrenheit oven for 35 to 40 minutes or until a knife inserted near center comes out clean.
Pumpkin French Toast Casserole Daily Dish Recipes proves pumpkin pie isn't just for dessert. Plus, this superb seasonal dish is unbelievably easy to make. It yields 6 servings. Note: This recipe must be refrigerated overnight, so be sure to whip this up the night before. Ingredients:
½ cup butter
12 slices white bread
½ cup brown sugar
2 teaspoons pumpkin pie spice
¼ to ½ cup pumpkin
½ teaspoon vanilla extract
5 eggs
1½ cup milk
Directions: Melt the margarine and pour into a 9-by-13-inch pan. Mix the brown sugar and the pumpkin spice seasoning. In a separate bowl, whisk together the eggs, milk, and vanilla. Layer 6 pieces of bread in the casserole dish. Spread a thin layer of pumpkin on each of the 6 slices of bread. Next, sprinkle half of the brown sugar and pumpkin spice mixture over the top of the pumpkin that is spread on the bread. Now repeat all steps again; layer the rest of the bread on top, then the pumpkin, and the rest of the topping. Pour the egg mixture over the top of all of it and then sprinkle it with the remaining brown sugar/pumpkin spice mixture. Cover and refrigerate overnight or at least 4 to 8 hours. In the morning, cover the dish with tin foil and bake in the oven at 350 degrees Fahrenheit for 30 minutes. Remove from oven, uncover the dish, then bake for an additional 15 minutes uncovered; it should be golden and set. Remove from oven and serve hot. Sprinkle with some powdered sugar if you want. This can also be served plain or with syrup, butter, or whipped cream.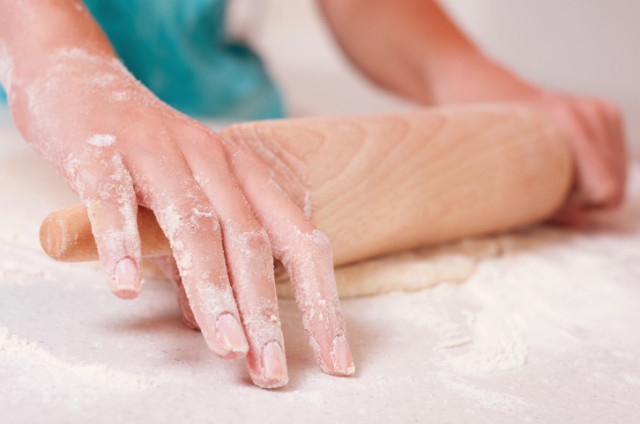 Pear Rosemary Danish Food52's brunch dish consists of a sweet pastry crust, perfect pear filling, and a powdered sugar glaze. Hints of rosemary sprinkled throughout compliment the pear's tart and savory sauce. While you're at it, bring more fall flavors to your table with Crunchy Creamy Sweet's rich and frothy Apple Pie Spice Latte. Ingredients: Crust:
1 cup unsalted butter, chilled
1 tablespoon chopped rosemary
½ cup sugar
½ teaspoon salt
2⅔ cups all-purpose flour
1 large egg
Water
Pear Rosemary Filling:
2½ to 2¾ 

pounds firm, ripe pears

1 

Granny Smith apple

2 to 3 

teaspoons chopped fresh rosemary

1 

teaspoon finely chopped lemon zest

1 

tablespoon fresh lemon juice

3 to 4 

teaspoons sugar

Salt

2 tablespoons unsalted butter
Glaze:
1 cup powdered sugar

½ teaspoon vanilla extract

2 tablespoons whole milk or half-and-half
Directions: To make the crust, cut butter into ½-inch cubes and place in the freezer. Chop enough rosemary for the crust and filling. Preheat your oven to 400 degrees Fahrenheit with a rack in the lower middle position. Combine sugar, salt, and rosemary in the bowl of a food processor. Process for 30 to 60 seconds to further break up the rosemary, and infuse the sugar with the oil. Add the flour and process for 10 to 15 seconds. Scatter the butter cubes over the flour mixture, then pulse to combine, about 12 to 15 1-second pulses. The mixture should resemble wet sand, with some pea-size pieces of butter. Transfer mixture to a medium-size bowl. In a small bowl, whisk the egg and 2 tablespoons of water to combine. Sprinkle the egg mixture over the flour mixture and fold to combine. Start with a fork or spoon, then use your hands once the dough has started to come together. You may need to add another tablespoon or so of water to get the dough to come together. It is a fairly soft dough, but it should not be overly sticky. Divide the dough into 2 unequal portions, the larger being about ⅔ of the dough. Place the smaller portion in the refrigerator. Flour your countertop or a piece of parchment paper. Use a generous amount of flour to prevent the dough from sticking to the counter. Sprinkle the top of the dough lightly with flour as needed to prevent sticking to the rolling pin. Roll the larger portion of the dough out into a rectangle that is large enough to fit into the bottom, and up and slightly over the sides of a 13-by-9-inch baking pan. Roll the dough onto your rolling pin, then transfer the dough to your pan by unrolling it. Press dough into the bottom and sides of the pan. If needed, patch tears with some of the dough overhang or by pressing together with your fingers. Set pan aside and make your filling. To make the glaze and filling, quarter and core pears. Cut each quarter into 4 to 5 chunks. Place in a medium-size bowl. Grate apple on the large holes of a box grater into the bowl containing the pears. Add the rosemary, lemon zest and juice, and sugar. Toss until well-combined. Transfer pear mixture to the prepared crust. Distribute evenly. Sprinkle with salt. Dot with butter and set aside. Roll smaller piece of crust dough into a 13-by-9-inch rectangle on a floured surface. Transfer to the top of the pear mixture. Fold or roll the bottom crust over the top crust and flute the edges, or use a fork to press the edges. Dock the surface of the crust with a fork. Bake for approximately 45 minutes, rotating the danish 180 degrees after 25 to 30 minutes. The edges of the crust should be nicely browned and the top of the crust should be golden brown. Remove from oven and place on a cooling rack. Whisk the glaze ingredients together and drizzle over the danish after it has cooled for 10 to 15 minutes. Cool at least several hours or overnight before cutting and serving.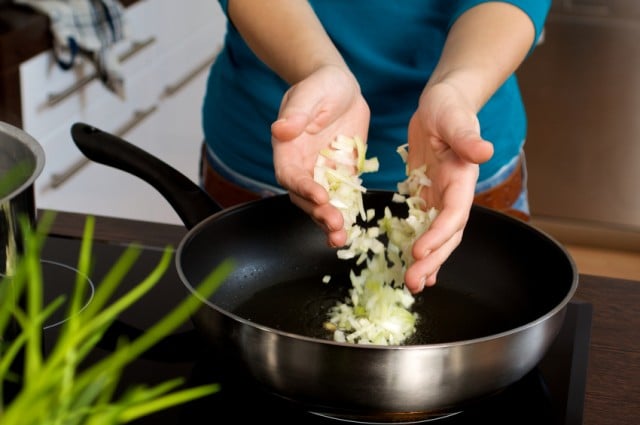 Bacon and Sweet Potato Hash with Avocado Cream The smoky bacon flavor of this savory dish from Serious Eats works well with the sweet potatoes, while the avocado cream and fried egg put a unique spin on an ordinary hash. We recommend serving this delicious meal with Food Network's Bloody Mary; it's a match made in foodie heaven! Ingredients:
2 large, ripe avocados

1 tablespoon juice from 1 lime

Kosher salt and cracked black pepper, to taste

½ pound bacon, cut into ½-inch pieces

1 tablespoon butter

1 medium onion, finely chopped (about 1 cup)

1 large sweet potato (about 1½ pounds) peeled and cut into ½-inch cubes

2 tablespoons vegetable oil

4 eggs
Directions: Combine avocado and lime juice in a food processor and process until a lump-free cream forms; scrape down the sides of the bowl as necessary. Season to taste with salt and pepper. Transfer to a bowl and set aside. Cook bacon in a large skillet over medium-high heat, stirring occasionally until crisp, about 8 minutes. With a slotted spoon, transfer to a paper towel-lined plate. Pour bacon fat into small bowl and set aside. Heat butter in a large stainless steel or nonstick skillet over medium-high heat until melted. Add chopped onion and cook, stirring frequently until onion just begins to brown, about 7 minutes. Pour 1 tablespoon bacon fat over browned onions, then add the cubed sweet potato to the pan, tossing until they are coated in oil. Reduce heat to medium, cover with a lid and cook, shaking and tossing occasionally until sweet potato is softened though, about 15 minutes. Remove lid and increase heat to high. Cook, tossing occasionally until well-browned, about 5 minutes. Stir in chopped bacon, season to taste with salt and pepper, remove from heat and cover until ready to serve. Heat vegetable oil in a large nonstick skillet over high heat until shimmering, fry remaining eggs until desired doneness. Season with salt and pepper. Divide hash between 4 plates. Top each plate with a fried egg and a dollop of avocado cream. Serve immediately.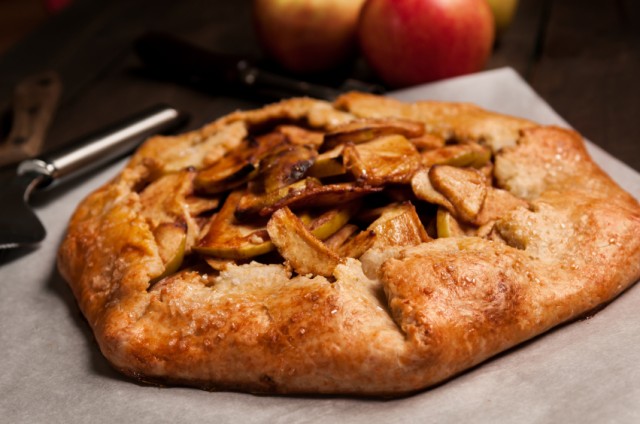 Apple Oven Cake If you're hosting this weekend's brunch, you'll want to make Sunset's apple-themed dish, a morning cake that's effortlessly elegant, yet simple and sweet. The recipe yields 6 servings. Ingredients:
3 tablespoons butter
¼ cup packed light brown sugar
⅛ teaspoon cinnamon
1 sweet apple such as Fuji, peeled and sliced
3 large eggs
¼ teaspoon salt
½ cup flour
½ cup milk
1 tablespoon fresh lemon juice
1 tablespoon powdered sugar
Directions: Preheat oven to 425 degrees Fahrenheit. Melt butter in a 12-inch ovenproof frying pan over high heat. Add brown sugar and cinnamon, swirling to combine. Add apple and cook until just starting to soften, about 3 minutes. Meanwhile, in a blender, whirl together eggs, salt, flour, and milk. Pour egg mixture into pan and bake until puffed and brown, about 15 minutes. Sprinkle with lemon juice and powdered sugar. More from Life Cheat Sheet:
Want more great content like this? Sign up here to receive the best of Cheat Sheet delivered daily. No spam; just tailored content straight to your inbox.